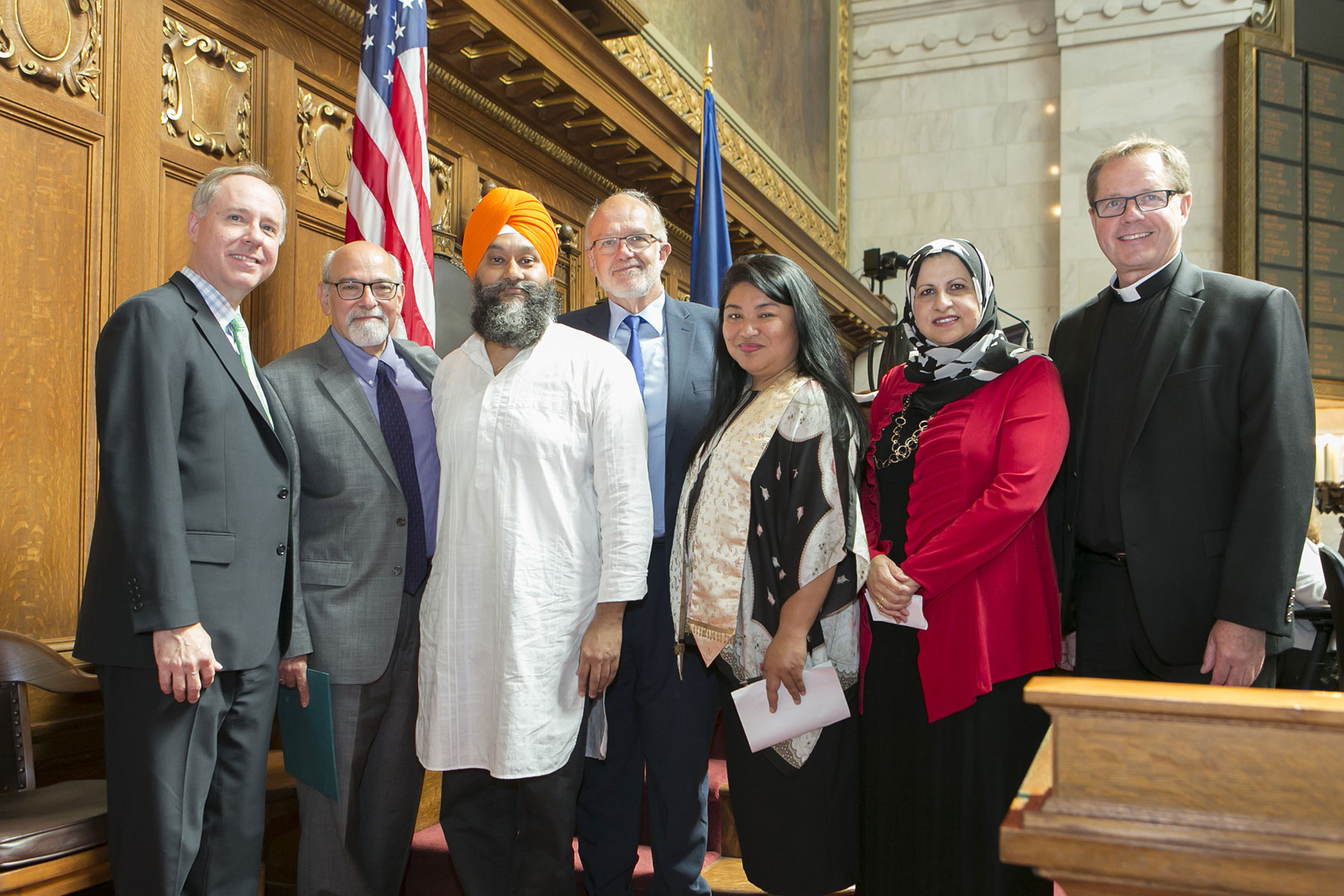 On August 17, the Wisconsin Assembly voted unanimously on a resolution that condemned the violence during a white supremacist rally in Charlottesville, Virginia on August 12. Milwaukee native and president of the Milwaukee Muslim Women's Coalition, Janan Najeeb, was invited to participate with a collection of interfaith leaders to offer prayers before lawmakers took a vote on the resolution. Wisconsin Eye filmed the presentation of prayers, and the entire legislative session. That footage has been edited to present Najeeb's segment, which is included with the text of her prayer. The material is published here in an effort to express the concerns and hopes of the Muslim community in Milwaukee, regarding issues of hate.
In the Name of God, the Source of all Mercy, the Dispenser of Grace.
It is You alone that we worship and to You alone we turn for help and guidance.
Truly it is in the remembrance of your Mercy and your grace that our hearts find solace.
Today our hearts ache for the family of Heather Heyer, the citizens of Charlottesville, and for America.
We pray for calm, hope and the end of fear. Merciful God, remove the arrogance and hatreds that have badly infected our hearts, for hatred and enmity dissolves faith! Bless us with unity and hope.
Break down the walls that separate us; unite us in bonds of love so that we may jointly serve You by working for justice, peace and harmony for all of our neighbors! Anything less is a betrayal of our moral responsibility.
Gracious and Loving God. Help us to understand that today in America, we are not in a struggle based on race, ethnicity, ideology, gender, or persuasion. We are in a struggle between people that stand for brotherhood, compassion, mercy, justice and human dignity on one side and those that stand for hatred, racism, xenophobia and injustice on the other side. We are in a struggle between those that believe all are equal in the sight of God and those that believe God hates the same people they do.
God, fill our hearts with compassion and understanding.
Dear God, protect our citizens on September 9th when the hate group ACT* for America brings white supremacists and neo-Nazi groups to Milwaukee as part of their "America First" nationwide rallies. These are the same groups that held national anti-Shariah rallies in June and are encouraging legislatures around the country, including ours to adopt the slickly renamed "American laws for American Courts" bills, which are meant to malign and stigmatize American Muslims.
Generous God, guide the men and women of this Assembly to principled leadership, give them the courage to speak out against all hate and intolerance.
Help them to work together for the good of our state and the citizens that depend on them, especially the most vulnerable.
God bless this Assembly, God bless our great state of Wisconsin and God bless America.
Amen
– Janan Najeeb, August 17, 2017
* Shortly after the address was given, ACT for America decided to cancel their nationwide rallies due to fear that another situation like Charlottesville would hinder their efforts to promote their anti-Muslim agenda, including pushing anti-Muslim legislation.