Music, technology, and Christmas cheer combine at Cathedral Square Park to help end homelessness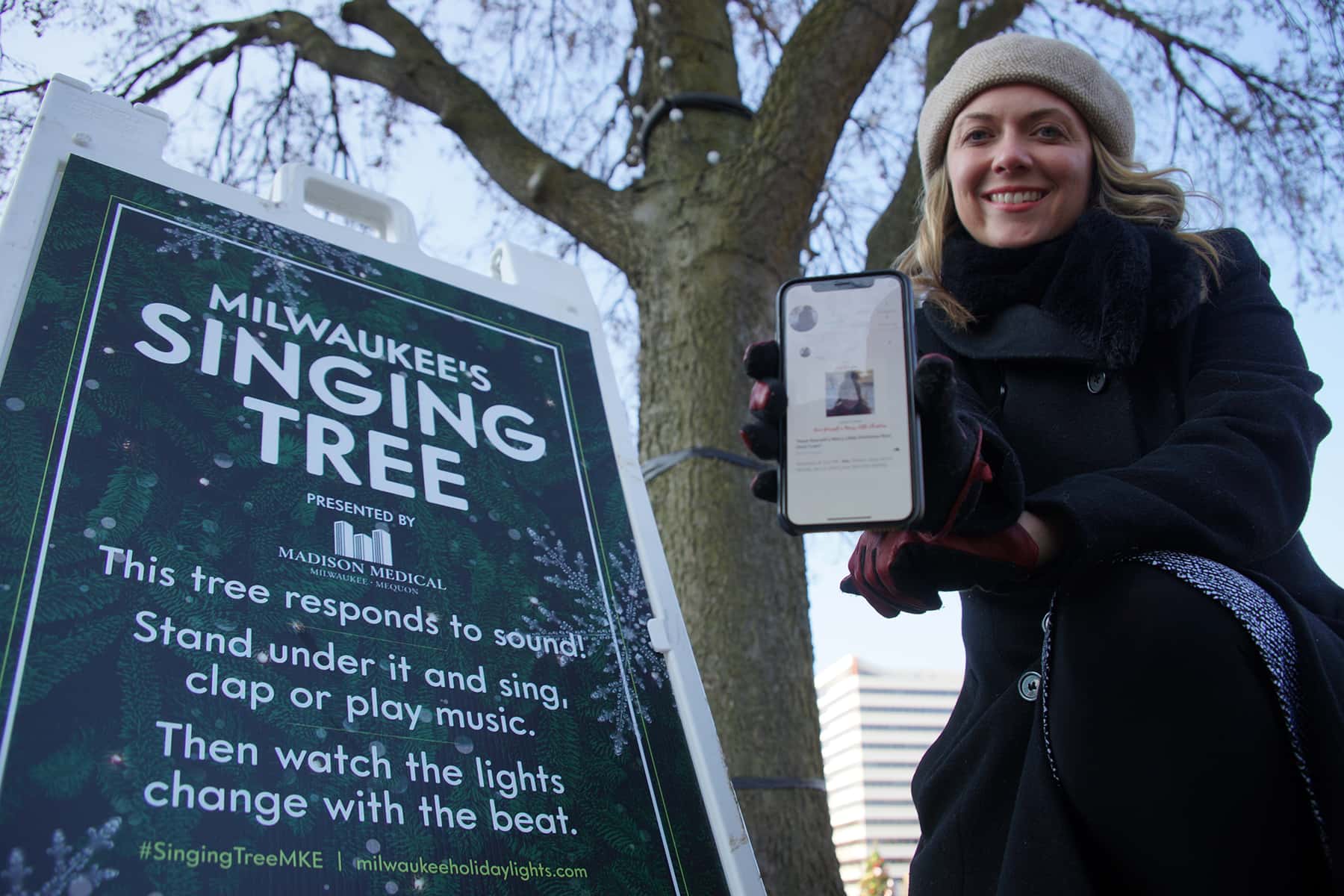 Holiday visitors in Cathedral Square Park were treated to virtual Christmas carols from Sarah Fierek and Lex Allen, at the Singing Tree beginning on December 21.
"Have Yourself a Merry Little Christmas" by Sarah Fierek, featuring Chris Crain, and "Without You Here" by Lex Allen were "dropped" by the geolocation-based music platform AudioDrops. The technology creates a convergence of the digital and physical worlds by adding a location layer on top of streaming services like Spotify and Soundcloud. It enables anyone to "drop" a piece of audio content at a specific spot, making it a special musical destination.
New York-based AudioDrops partnered with Fierek to engage her music fans in Milwaukee, dropping her holiday single exclusively within the Milwaukee Business Improvement District. The goal was to create a "virtual Christmas caroling" experience where families and friends could gather together in the real world to celebrate the holidays.
Fierek wanted to merge a new virtual technology, an iconic Milwaukee music brand like Koss, and a 1944 Judy Garland holiday classic to help people discover music using GPS, while supporting an important local charity. AudioDrops founders Seth Hillinger and Kevin King also configured their digital application to direct donations for her charitable project.
"I wanted to use my voice in humanitarian way," said Fierek. "Instead of collecting a reward through AudioDrops, I'm asking people to consider making a donation to 'Key to Change,' an organization striving to assist homeless individuals in our community."
Fierek recorded her rendition of "Have Yourself a Merry Little Christmas" with friend Chris Crain, who she refers to as Milwaukee's version of a younger Herbie Hancock. The single was originally produced to privately benefit a local community meals program at the Agape Community Center. Years later, the song's official release is also aimed to support another worthy cause, with the hope of building a long lasting memory of Fierek's music and its roots in the music heritage of Milwaukee.
"I am so filled with gratitude for the amazing partnership with Sarah Fierek of 88.Nine Radio Milwaukee, Milwaukee's own Lex Allen, and AudioDrops for elevating awareness of our Key to Change program," said Beth Weirick, CEO Milwaukee Downtown BID #21. "If I had only one wish for the New Year it would be that all will have a safe place to call home. A place filled with love and comfort. Your support of Key to Change can make that wish come true."
After embarking on the project, Fierek recruited her friend and legendary artist Lex Allen to literally put Milwaukee's music scene on the map. "Without You Here" is a new and heartfelt Christmas song, written about Allen's mother. The lyrical message expresses how love remains during a personal absence. It was inspired for all those people who cannot be physically present during the holidays, like our local soldiers overseas, traveling family members, and others who have passed on from this life.
The virtual caroling pop-up event at Cathedral Square Park saw many participants attend, including families who enjoyed the Downtown BID's Jingle Bus Tour. As a special bonus gift, the first 20 people to arrive were given a pair of Koss headphones.
"It was a perfect night to share music and personal stories with friends, old and new," said Allen. "Milwaukee has a supportive community that allows for special events like the one experienced at the Singing Tree. And having Key to Change be involved made this particular event that much closer to my heart. What they are doing to combat homeless is an admirable cause. I encourage everyone to support and give what they can to help someone in need."
Fierek grew up singing along to the radio, 95.5 FM WIFC, tirelessly requesting songs. With a blank cassette tape, microphone, and boom box, she was encouraged to record herself to express her creativity. It paved the way for her eventual career in radio, but she found roadblocks along the way towards achieving her dream as a recording artist.
"I had explored pursuing my passion in my early 20s, and realized the industry was bit cold for young women," said Fierek. "At the time, I didn't feel the music industry had a place for me. But then I recognized all the artists who have consistently pushed the needle, they used their voice for humanitarian efforts and helped ignite needed change in our world."
Earlier this year Fierek found a notebook from her pre-teen years that contained a very special letter. It was an assignment from a reading class, with an aspirational message from that young age written to her older future self. It talked about her desire to pursue a career in music and "help the homeless or others that just needed a little pick me up."
"I was energized by the thought that we have a powerful platform to help others on a musical pursuit, and help our community as we work to be a catalyst for creating a better, more inclusive, and engaged Milwaukee," added Fierek. "Being a musician isn't easy. Not only are you making yourself vulnerable and sharing that vulnerability with others, you also are navigating a very complex business and industry. I learned a lot more about that after releasing this song."
Both holiday singles remain active for listeners at Cathedral Square Park, and the songs will continue to be available online after the holidays. As of Christmas Eve, Midwest Communications had picked up Fierek's single and shared it with 83 radio stations in its network – including 92.9FM, the Christmas station in Nashville.
The public is encouraged to support Key to Change into the New Year and beyond, as the struggles of homeless people in Milwaukee continues after the season of giving is over. Long after Milwaukee Christmas trees have been disposed, and the general population goes about its day-to-day business, the homeless situation for many area residents will remain dire and unchanged.
Lee Matz
Our mission of transformative journalism means that we are editorially independent. Our staff determines what is important news to report on, and in what voice to speak on issues. No one influences our opinion, and no one edits our editors. We are free from commercial bias and are not influenced by corporate interests, political affiliations, or a public preferences that rewards clicks with revenue. As an influential publication that provides Milwaukee with quality journalism, we depend on public support to fulfill our purpose. Our award-winning photojournalism, columns, interviews, and features have helped to achieve a range of positive social impact that enriches our community. Please join our effort by entrusting us with your contribution. Your Support Matters -
Donate Now