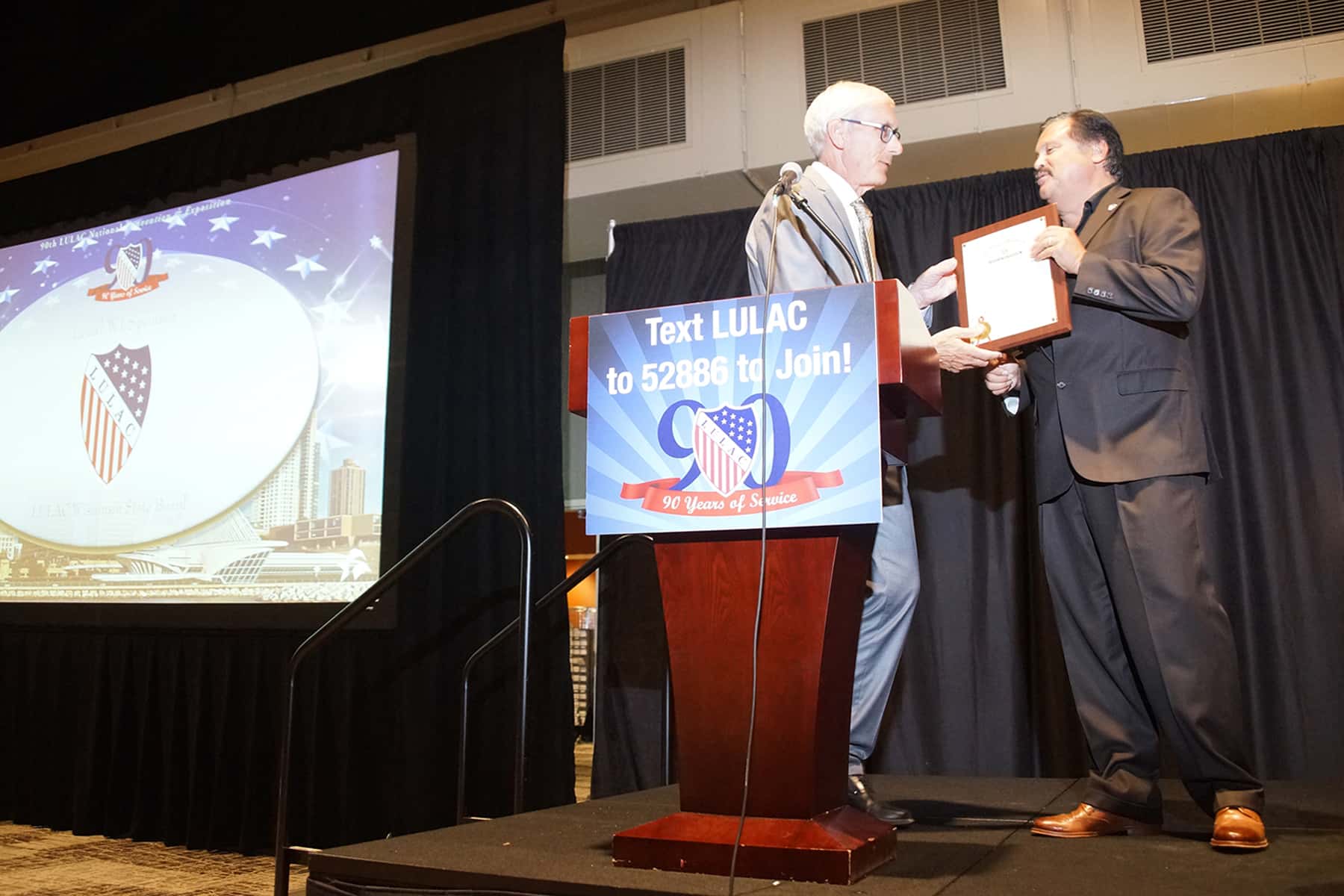 Potawatomi Hotel hosted the Wisconsin Celebration VIP reception on July 10 for the League of United Latin American Citizens (LULAC), kicking off the Civil Rights organization's 90th Annual National Convention and Exposition in Milwaukee.
LULAC is the oldest surviving Latino civil rights organization in the United States. It was established in 1929 by Hispanic veterans of World War I, who sought to end ethnic discrimination against Latinos in America. According to Pew Research, Hispanics will be for the first time the largest racial or ethnic minority group in the electorate in the 2020 election, making their participation even more important and impactful.
"Latinos make up nearly 20% of the United States population and our voice is truly our vote," said Joe Henry to a LULAC Special Advisor. "We are a young community with 28 million eligible members ready to vote. We cherish America's democracy and will continue to fight for the right to vote."
Milwaukee was selected as the host city for the organization's national convention and exposition, celebrating its 90th anniversary by uniting and empowering Hispanic Americans. The four day gathering was expected to bring visitors from across the country and as far as Puerto Rico, with estimates of up to 25,000 to attend. It also provided a national stage for several presidential candidates, including former U.S. Secretary of Housing and Urban Development Julián Castro, U.S. Senator Elizabeth Warren (D-MA), U.S. Senator Bernie Sanders (I-VT), and former U.S. Congressman Beto O'Rourke (D-TX).
"Over the years many Hispanic organizations have come and gone, but LULAC has remained. It is the shield that perseveres and protects our community in America," said Domingo Garcia, LULAC National President. "Today, LULAC'ers are helping refugees on the border. LULAC is fighting to bring deported veterans home and helping make sure that those veterans who served our country receive the care and services they were promised."
During the dinner, local and national leaders shared their plans and hopes for the historic convention. Featured speakers included former Second Lady of the United States Dr. Jill Biden, Governor of Wisconsin Tony Evers, Milwaukee Mayor Tom Barrett, Milwaukee County Executive Chris Abele; NY Mets and Former Milwaukee Brewers All-StarCarlos Gomez, District 12 Alderman Jose Perez, and Wisconsin Representative JoCasta Zamarripa, Domingo Garcia, LULAC National President, Sindy Benavides, LULAC Chief Executive Officer, President and CEO of UMOS and Chair of LULAC National Convention Committee Lupe Martinez, Milwaukee Police Department Chief Alfonso Morales, President of LULAC Council 340 and state director of LULAC Wisconsin Eileen Figueroa, past LULAC National VP-Midwest Darryl Morin, and Marine veteran Eugene Manzanet.
"LULAC has a long-storied history of serving our nation's Hispanic community. From providing legal and financial assistance in Mendez v. Westminster that led to the desegregation of schools, to LULAC's 'Little Schools of the 400' which served as the model for today's Federal Head Start Program, to your efforts right here in our state to defend voting rights, LULAC has played an essential role in forming important policy and legislation," said Governor Tony Evers.
Issues like immigration and the citizenship question on the 2020 census were hot topics. Governor Evers shared his disappointment about the stalled initiative to issue drivers permits to immigrants in Wisconsin. The legislation would have also allowed undocumented students to attend University of Wisconsin schools at the price of instate tuition.
"The Republicans took that out of the budget," Governor Evers said. "At the end of the day, I believe it was all about politics. They chose to be divisive and less pragmatic than it was my hope they would be. But the good news is we are not giving up here in Wisconsin. We are going to have this happen."
Wisconsin Representative JoCasta Zamarripa's district in the State Assembly has the largest population density of Hispanics in Wisconsin. She has proposed legislative bills for years that would allow undocumented immigrants to apply for a drivers permit. She felt the LULAC convention was a good test for next years 2020 Democratic National Convention.
"I believe that, in many ways, this is a dry run for Milwaukee to prepare for hosting the DNC next year," said Representative Zamarripa. "It also says a lot about our community, that these national conventions are choosing Milwaukee. It shows that we're on the cutting edge with young professionals. We're a fast-growing city."
By registering to vote, voting, participating in town halls, and community involvement, Latinos have become an important voting bloc, and one that has threatened the privileged political establishment. Part of the backlash in immigration policy, like previous policy measures, have targeted people of color to deny or mitigate their vote.
"The 2020 national elections are a critical opportunity to position our communities of color towards a better and brighter future," said LULAC CEO Sindy Benavides. "Democracy and voting are one of the most powerful tools we have to harness our potential to organize and advocate for a more equitable future. We urge our members and followers to use your voice, register to vote, and turn out at the polls."