Common Council calls for investigation into use of knee by Milwaukee police to restrain protestor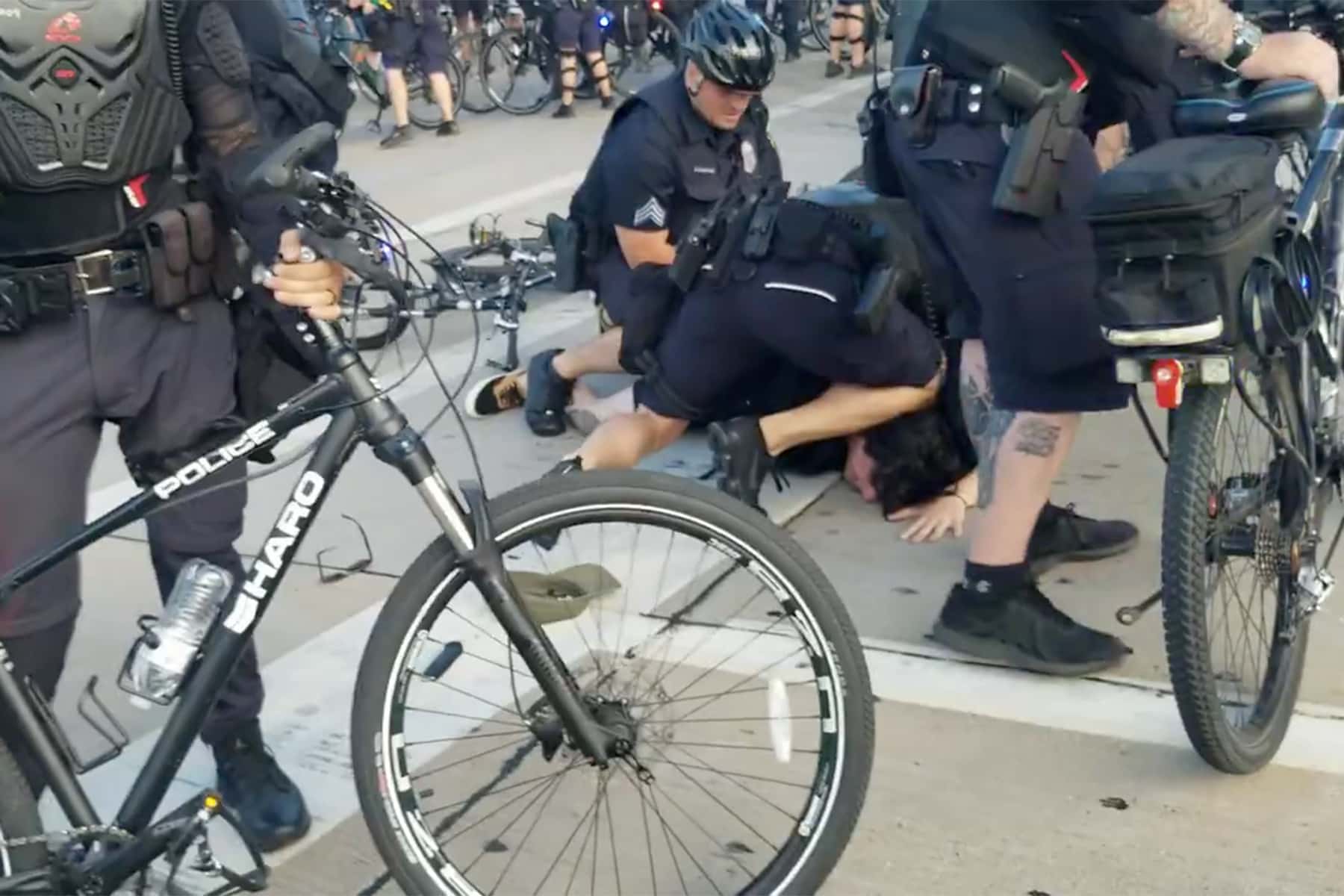 Members of the Milwaukee Common Council released a joint statement on June 5, regarding a June 2 incident where a Milwaukee police officer was filmed restraining a protester using the same method that killed George Floyd in Minneapolis.
The council members called for a formal investigation by the Fire and Police Commission into the June 2 video, which showed a police officer using a knee on the neck and head to pin a protestor to the ground. The incident occurred at N. 6th and W. Vliet Streets during a gathering of protesters and a large response by police.
"The video of the incident has been shared on social media and shown by news outlets, and we find the officer's conduct unacceptable. The knee restraint hold helped to cause the death of George Floyd in Minneapolis, when a police officer forcefully pushed on his neck for nearly 10 minutes on May 25," said Council members in the statement. "It seems more than obvious that the hold should not be used by law enforcement under any circumstances. We also ask that the officer involved in the incident be removed from crowd control duty for the remainder of the protests and unrest."
Signatures of the joint-statement included Alderwoman Milele A. Coggs, Alderman Russell W. Stamper, II, Alderwoman Chantia Lewis, Alderman Khalif J. Rainey, Alderwoman Nikiya Dodd, Alderman Ashanti Hamilton, Alderwoman Marina Dimitrijevic, Alderman Robert J. Bauman, Alderman Cavalier Johnson, Alderman Mark A. Borkowski, Alderman Nik Kovac, Alderman José G. Pérez, Alderman Michael J. Murphy, and Alderwoman JoCasta Zamarripa.
In a press release sent to local news media, an individual who did not reveal their identity for fear of reprisal shared their video of the event and a brief explanation to give context.
I had been protesting peacefully since approximately 4:30pm CST starting at the Milwaukee police headquarters. Aside from a couple individuals shouting comments at officers, everyone was respectful of police and even offered them water. The march remained peaceful as we were turned back from 794 and moved back through downtown. While at the intersection of 6th and McKinley We noticed several officers on bicycles approaching the edge of the group, and a faster rate of speed than I thought safe. As the path narrowed the officers bunched together. Two collided and fell. Almost immediately other officers began grabbing protesters, striking them indiscriminately. The video was started approximately 8 second after a bicycle police officer – within a group of bicycle officers – collided with another officer and fell. This event is what triggered the start of the unrest on June 2.
A joint statement from the Milwaukee nonprofit Leaders Igniting Transformation (LIT) highlighted growing criticism of how city and county officials reacted to local demonstrations in the wake of the George Floyd death. At issue was the behavior of the Milwaukee Police Department and its leadership in response to peaceful protestors.
"Chief Morales released a message via YouTube encouraging Milwaukee to comply with the 'Safer at Home' orders issued by Governor Tony Evers on March 25. Morales mentioned that Milwaukee police officers 'will be in the community working to educate everyone and reduce the confusion' that might arise from the orders," the LIT statement said. "MPD officers do not have the relationships, leadership, or mentality to be a safe resource to Black and Brown people in Milwaukee. An anonymous resident added that communities throughout Milwaukee do not trust the police, or Chief Morales."
Chief Morales oversees a department that is currently allocated almost $300 million for the 2020 budget. Close to half of the City of Milwaukee's entire budget goes to the police department, one that has "repeatedly violated human rights and the law."
"Police funding is about 47% of the city departmental budget in Milwaukee," added LIT. "Does anyone feel like Milwaukee is safer for it? Where instead could the city use those funds to keep people safe and healthy? Jobs, housing, health care, public schools, youth programs, and community programs. So much could be done to make people's lives, especially Black people's lives, better. Defund the police, fund our communities."
Common Council members urged the public that any protesters who have experienced mistreatment, abuse, or injury at the hands of Milwaukee Police should contact the Fire and Police Commission and consider filing a complaint.
"We are all in this together, and as elected leaders we remain committed to pushing for reforms that will keep our city safe for everyone and our departments accountable to city residents," added council members.
Warning: This unedited video contains graphic language and depicts violent actions. Viewer Discretion Advised.
These headline links feature the daily news reports published by Milwaukee Independent about the George Floyd protests, the revival of the Black Lives Matter movement that followed, and their impact on the local community in for 8 months from May to December of 2020.