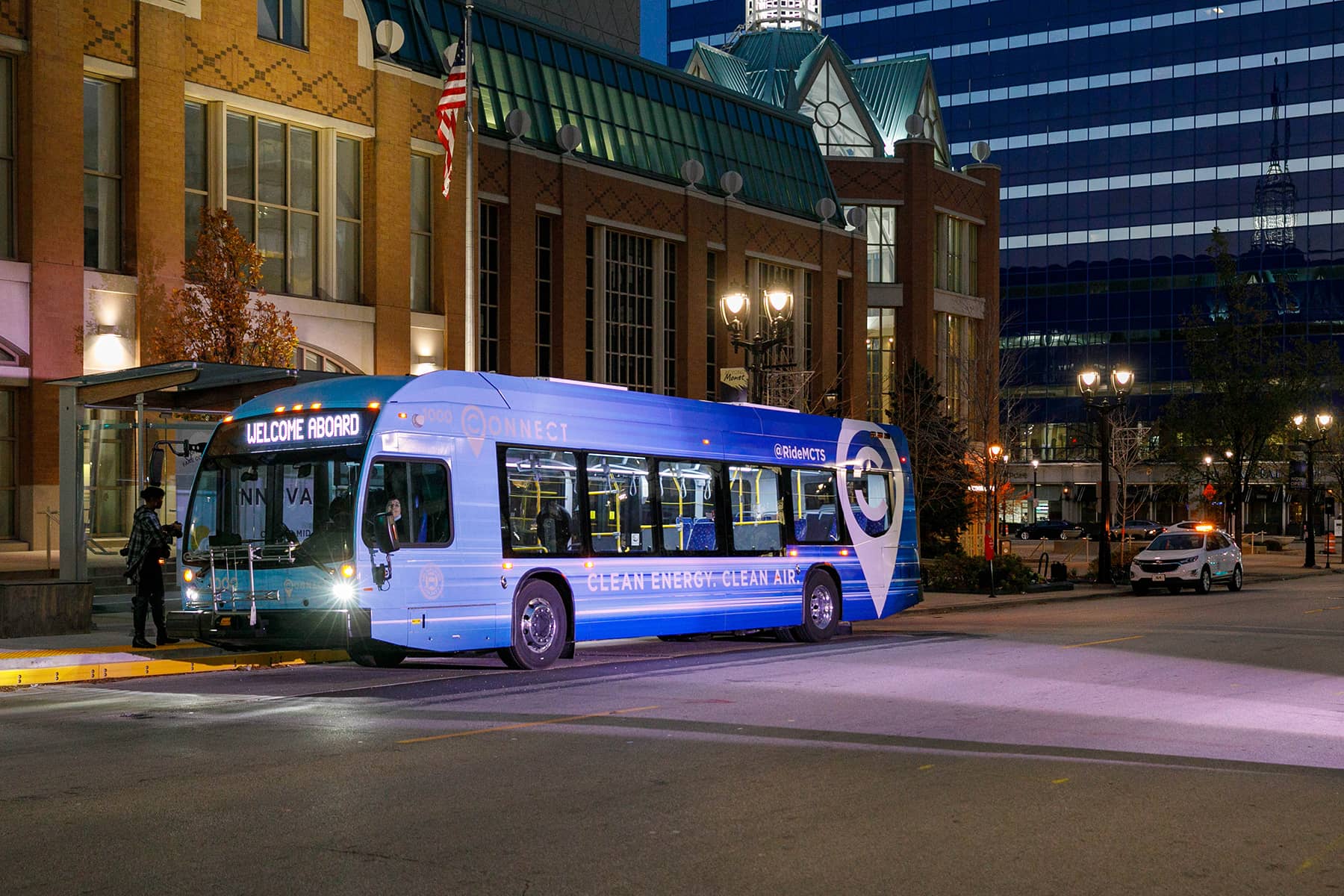 A state-of-the-art bus and new brand for Milwaukee County transit was unveiled on November 10. The first of MCTS's all-electric vehicles was presented at a special celebration on Wisconsin Avenue at the heart of the Bus Rapid Transit (BRT) route.
MCTS Interim President and Managing Director Denise Wandke, who began her career at MCTS 29 years ago as a bus operator, cited the collaboration across local, regional and national levels needed to bring electrification to the MCTS fleet and reach this milestone with the BRT.
"The quest to bring the East-West Bus Rapid Transit System to Milwaukee began years ago. Many stakeholders played a vital role in making the idea a reality for our community," said Wandke. "We can't wait to share the fruits of all this labor when CONNECT begins next year."
Called "MCTS CONNECT," the new BRT brand was specifically designed for the battery electric buses (BEBs) used on the BRT route.
The BEBs feature a sleek new look to highlight their advanced technology. The light blue color scheme was a natural extension of the existing MCTS blue, and a larger than life "C" logo and the phrase "Clean Energy. Clean Air." further showcases the brand. The name CONNECT also fits MCTS's mission to connect the community to jobs, education and life via essential transit services.
Maintenance Director Ron McCorkel, who began his MCTS career as a bus operator 31-years ago, led the vendor selection and manufacturing process.
"We put thousands of hours into the project, really challenging ourselves to give riders a great experience," said McCorkel. "This has been a very exciting project for everyone involved, both inside and outside of MCTS."
With zero emission, the buses will improve air quality across Milwaukee. The first 11 BEBs will reduce fossil fuel utilization of diesel by more than 67K gallons annually. By the fall of 2023, four more BEBs will arrive, bringing the total fleet to 15.
Each bus will be so silent that chimes will ring as the bus nears a stop so that riders with visual impairments will know the bus is arriving. A Quantum system on each bus assists with mobility devices in a more convenient way. Wider doors and a wider aisle give passengers more space to enter and exit the bus. USB charging ports are also available at each seat location.
Passenger service along CONNECT is scheduled to begin June 2023. Fares will be the same as they are across MCTS. Before the service launches, bus operators, route supervisors, mechanics, and dispatchers will undergo a total of 5,100 hours of training to prepare for riders.
"For us, the word "connect" means community and togetherness. The bus is an integral part of Milwaukee – you can't think of one without the other. And the look of the BEB is so new and interesting; it truly invites people to ride," said Kristina Hoffman, Marketing Director for MCTS. "I can't believe we successfully kept this design under wraps for two years. It's so exciting to finally get to share CONNECT with our riders."
MCTS CONNECT Fact Sheet:
The East-West BRT will average more than 9,500 weekday riders by 2035 and increase overall transit ridership in the corridor by 17 percent. Ridership will be fueled by employers, tourism, learning institutions, and medical systems within the half-mile station area around the route including:
9 colleges and universities, and 8 high schools
47,000 residents
120,000 jobs
100+ businesses with 250 or more employees
7 medical facilities
25 hotels
Countless attractions including the county zoo, American Family Field, Fiserv Forum, art museum and Summerfest
Milwaukee County Transit System (MCTS)'s East-West Bus Rapid Transit project is the first of its kind in Wisconsin. Providing improved access to the region's most vital, most traveled, and most congested corridor, the BRT system is changing and improving the landscape of Milwaukee County. This project will affect the state's largest population by revitalizing downtown, changing the entire pedestrian environment, fostering electric vehicles, and connecting employees to jobs.
MCTS CONNECT at a Glance:
32 stations currently
High-frequency transit every 15 minutes
9-mile route each way
Operates primarily along Wisconsin Avenue, Bluemound Road, and a portion of 92nd Street
CONNECT Timeline:
CONNECT demonstrates the successful collaboration of the city, county, state, federal government, and the public. These groups advocated to get dedicated lanes, county building permissions, including City of Milwaukee and Department of Transportation, among others. These stakeholders came together with a shared goal of bringing cultural and economic opportunities to Milwaukee through enhanced public transit.
2016 East-West BRT Feasibility Study
2017-2018 Federal Transit Administration Project Development Engineering/Environmental Review
2018-2020 Final design
2020 Federal government commits $40.9 Million to the project
2021 MCTS awards contract for the manufacturing of 11 Battery Electric Buses
2021 Construction and infrastructure to support BRT service begins
2022 First MCTS Battery Electric Bus arrives. New BRT brand revealed: MCTS CONNECT
2023 Testing and training of operators, mechanics and staff begins for launch of BRT service scheduled for June. Four additional battery electric buses to arrive before the year ends.
About the Battery Electric Buses (BEBs):
Along CONNECT, battery electric buses will deliver quiet comfortable service, less pollution and easy boarding. The eleven Nova Bus LFSe+ buses will support BRT and four more arriving in 2023.
Buses are made by Nova Bus, a division of Volvo, are assembled in Plattsburgh, NY
BAE Systems drive motors and components are built and assembled in Wisconsin (Pleasant Prairie, Racine, Greendale, Pewaukee, Elkhart Lake, and Manitowoc)
Strollers can be more conveniently stored next to parents
Bike racks are in front of the bus
Americans With Disabilities Act enhancements including wider doors and near-level boarding plus ramps for mobility devices
Weighs 18 tons (5 tons more than a clean diesel bus). Each BEB runs on 6 batteries, with each battery weighing 1,300 pounds for a total weight of 7,800 pounds per bus, or nearly 4 tons of battery power
Each bus is zero emission
A diesel heater has been engineered into each battery electric bus to extend the battery life in Wisconsin's extreme climate
A Better Rider Experience on MCTS CONNECT:
32 seats with a capacity for 68 passengers total, with some standing
Easier ADA accessibility with raised bus platforms at all stations
Preboarding payment for shorter loading times
An added heating and cooling unit runs on less than five gallons of diesel per day
BRT Charging Station Facts:
The charging arm at Watertown Plank Road stands 15 feet tall and weighs 3,000 pounds.
ABB, a world leader in electric vehicle infrastructure, manufactured the 450-Kilowatt charger, part of the E-mobility HVC-PD charging system.
The charging arm, called a pantograph, lowers and connects to the rooftop of the bus and charges the electric bus in as little as three to six minutes.
The battery-electric buses can operate up to 247 miles on a single charge.
Next for Milwaukee County BRT:
Milwaukee County and The Southeastern Wisconsin Regional Planning Commission (SEWRPC) have been completing a feasibility study for Transit Enhancement in the North-South 27th Street Corridor, recommending BRT. Federally mandated levels of engineering, project design and National Environmental Protection Act (NEPA) analysis will be conducted in 2023 and 2024, with the goal to receive Federal Transit Administration (FTA) approval in 2025 and construction to begin as soon as 2026.