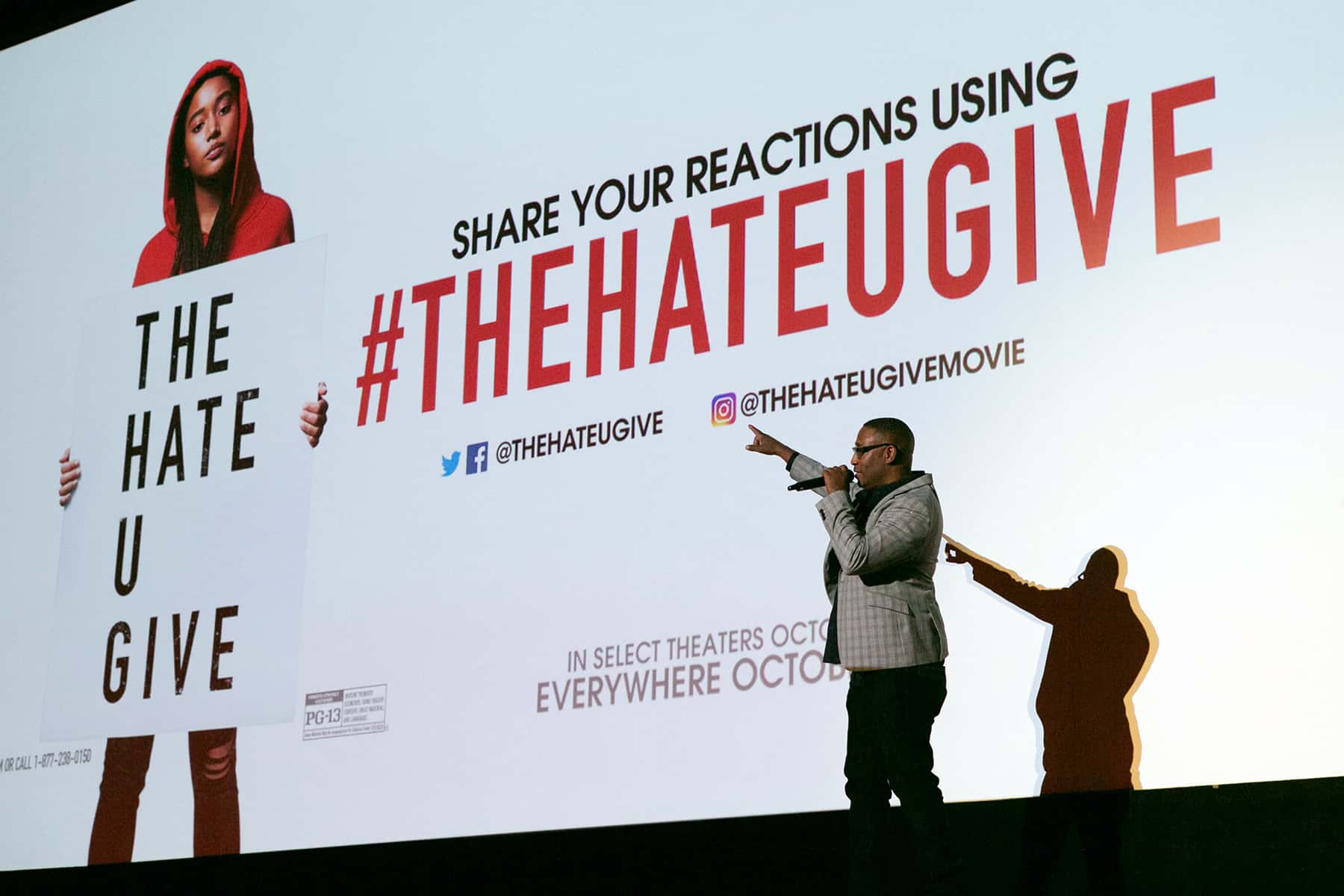 "Pac said 'Thug Life' stood for "The Hate U Give Little Infants F*cks Everybody. T-H-U-G-L-I-F-E. Meaning what society gives us as youth, it bites them in the ass when we wild out." – Angie Thomas, "The Hate U Give"
The Oriental Theater hosted an exclusive preview screening of the new movie The Hate U Give on October 10, including a question and answer talkback session with the film's director, Milwaukee native George Tillman Jr.
When Angie Thomas began writing what would become a 2017 young adult novel, The Hate U Give was a short creative writing project inspired by the 2009 police shooting of Oscar Grant. Her story chronicles the troubled life of Starr Carter, played by Amandla Stenberg in the movie adaptation by director Tillman.
Starr is a 16-year-old living with her parents and two brothers in the fictional Garden Heights neighborhood, a drug-afflicted neighborhood in Georgia. Garden Heights's local high school is – in Starr's words – where "you go to get drunk, high, pregnant, or killed." So the children attend an elite, and predominately white, private school instead.
Over time, Starr has learned to carefully code-switch between these two worlds, existing as "Normal Starr" in Garden Heights and "Starr Version Two" at school.
Despite her white classmates co-opting the language, clothing, and culture of black Americans, Starr V.2 knows that she has to be as softly spoken and non-confrontational as possible to avoid being stereotyped.
"Slang makes them look cool, but it makes me look hood," explained her character.
The pressure that Starr feels to maintain both versions of herself is a "double consciousness," a psychological notion that she cannot be black and have just one identity.
"We all code switch and change who we are. I experienced that when I first went to Hollywood," said Tillman during the talkback. "There weren't a lot of African-American directors, and I'd go to parties and events and there would only be a few. I was always feeling am I good enough, or should I change who I am? I started realizing it's important just to be who you are. That's how I was able to connect with Starr's journey. There are two worlds, and at a certain point in the movie these two worlds are going to collide, and she's unable to balance both of them because emotions are taking over. She has to do the right thing. Nothing is better than being yourself and being who you are. That's the more important lesson in the whole story."
Throughout The Hate U Give, Tillman and screenwriter Audrey Wells – who passed away just a day before the film's public release – are careful to frame the complex issues that the film raises through the reactions of its teenage character. When Starr does eventually embrace social activism, it is a moment that feels genuinely earned. The message of The Hate U Give works because its characters are richly drawn. It is a sobering story, but it also filled with romance and lightheartedness as well.
The film opened with a pivotal scene that set the pace and tone for the next couple hours of viewing. At the age of twelve, most parents have a talk with their children about the birds and the bees. No so with African American families. Their version of "The Talk" was about how to survive and encounter with law enforcement officers.
"One of the things I wanted to do was start the movie on the street, and see people playing basketball, kids riding bike, and then use a crane shot to come in on the family," explained Tillman. "I did that because it's an every day scenario for most black people. In the African-American community we have this talk all the time, because of the relationship between the police department and communities. That goes back for decades, all the way back to slavery, and slave patrols, that system. So I really wanted to bring the audience into that world."
Tillman talked about how he had that conversation very early in his life with various people in my family. His father told him that if he was ever pulled over by the police while driving, he had to turn down the music, place his hands on the dashboard, and be respectful because anything could happen to trigger being shot.
"I have a 15-year-old son now, and I've had the conversation with him. So this film was important to me for the community, to begin conversations and explain this situation to audiences outside of African American communities," said Tillman.
The director also reminisced about his experience growing up in Milwaukee, and how he channeled those experiences for his work on The Hate U Give. Tillman known for directing the films Soul Food (1997) and Men of Honor (2000). He was born in Milwaukee, and in his early childhood would borrow his father's 8mm camera to shoot things with Milwaukee's public-access cable TV channel.
"I can remember on Christmas Day, somebody actually broke into our house and stole our Christmas gifts. All these different things happened, but as an African-American and as a family, we always found ways to keep going, to keep pushing through no matter how many obstacles. That was the instinct for me growing up here in Milwaukee," added Tillman. "I felt all families can relate to that, but more specifically with families who don't have much. They have to find a way through humor, love, supporting one another. Those elements are all a part of life."
The Hate U Give has a great deal to say and is an unapologetically black film that presents itself as a straightforward Hollywood drama. It strikes a perfect balance between being a coming-of-age story nestled in a family narrative on the one hand, and a social drama on the other.
The basis of the plot revolves around the events that take place one night, when Starr goes to a party in Garden Heights. At the gathering, she sees her childhood friend Khalil. When a fight breaks out at the party, Khalil offers to take Starr home in his car. On the way, they are pulled over by a cop who shoots Khalil, mistaking his hairbrush for a gun.
Khalil dies, sparking a national outrage, and Starr is not only traumatized but conflicted. She struggles with the idea of speaking up for her friend, but risks attracting attention to herself and family from the police.
Making the situation more complicated, Starr learns that Khalil was working with drug kingpin in order to earn money for his family after his mother was diagnosed with cancer. So she to speak up for Khalil, she risked being targeted by the drug dealer.
Ultimately the main theme of The Hate U Give is about a girl like Starr finding her voice. It is a recurring theme in young adult literature, but it translates more forcefully to the screen. The audience can watch and hear Starr scream the truth about her murdered friend, but also laugh with her family.
In turning the novel into a family drama with vibrant urgency, Tillman and his cast have given Starr her own voice, while also giving a voice to the urgent matter of racial justice in America.
© Photo
Milwaukee Film, Erika Doss, and Fox 2000 Pictures