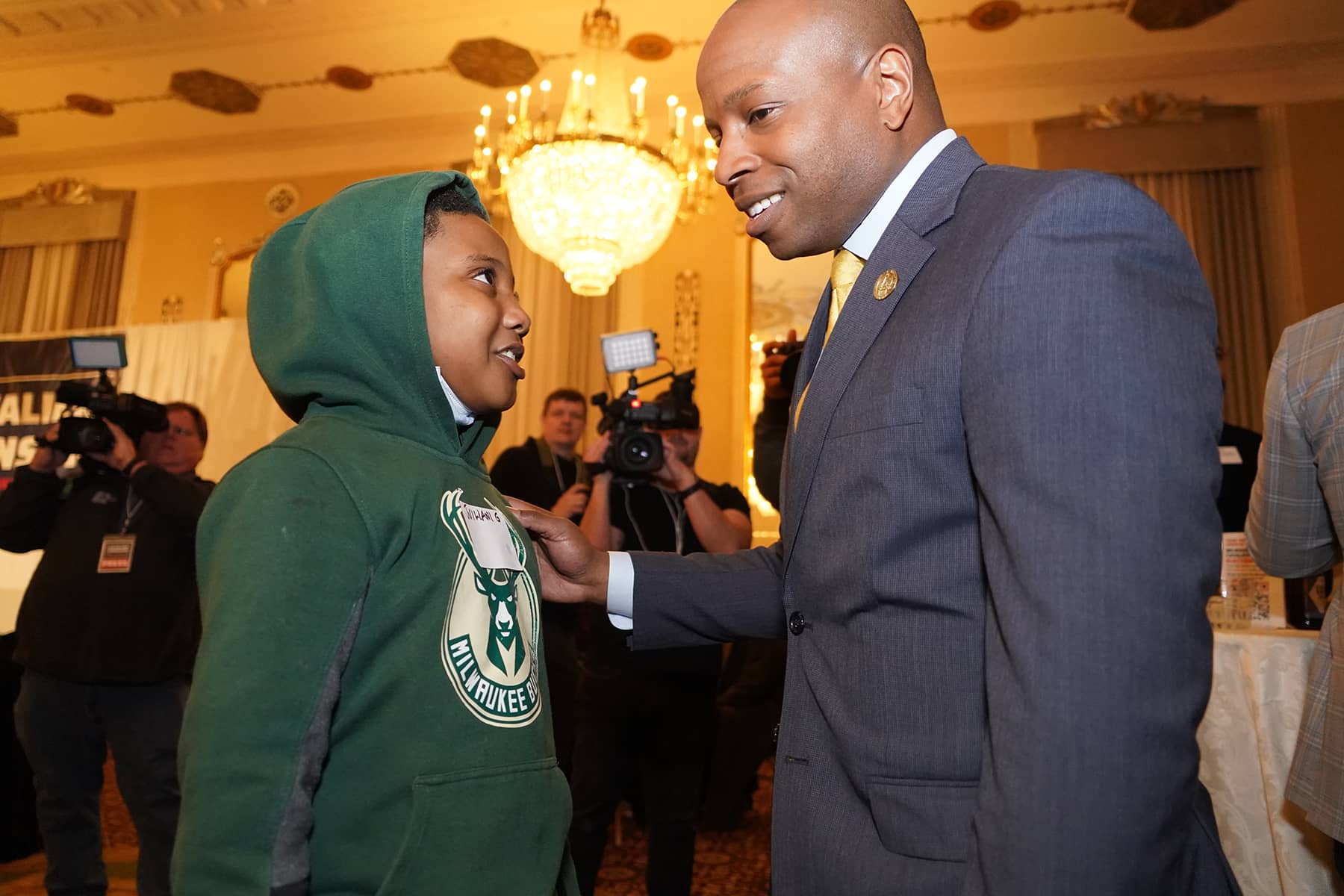 The day after Cavalier Johnson's historic and landslide victory to become the first elected Black Mayor of Milwaukee, he held his first public press conference from the Mayor's office at City Hall.
The press gathering on April 6 offered members of the news media their first chance to ask the new Mayor about his experiences during the campaign, his reactions on election night, and his vision for the next two years of his term. There were a range of questions, but four of his answers stood out above the rest. They expressed the significance of his election, and what it means to the Black youth of Milwaukee who now get to see a Mayor who looks like them.
Mayor Cavalier Johnson on conversations with his children and how he frames the historic win at home.
"This has been a historic thing in Milwaukee. My son is 11 years old, so he is a bit older. He was born in 2010. He was born under the presidency of an African American. There is this next generation of kids that are growing up who can see a president as being a Black person. For the beginning of their young life, at least, that was all that they knew. So my election, I think, is further beginning to normalize what it means for people of color to have access to the seat of power. My kids recognize that. More importantly for kids outside of my own home, who may have not had opportunities before, I think they can see that if they work hard, if they are committed, if they are focused and they serve, then in Milwaukee the sky's the limit. They can be doctors, they can be lawyers, they can be nurses, they can be teachers, they can be trade unionists. They can be business people, executives, and they can also be the Mayor. I think that is important. It brings a smile to my face. Like I said, my son knows that, and I think kids in Milwaukee will start to see that so much more."
Mayor Cavalier Johnson on what it was like during election night, the moment that he and his wife knew he secured enough votes to win the election for Mayor of Milwaukee.
"It was exhilarating. I started off as a 14 year old boy, here in Milwaukee, in the YMCA program Sponsor a Scholar. I often point to the green wristband that I wear. It has the four core values of the YMCA, caring, honesty, respect, and responsibility. I started off in that program as a young kid trying to get to college. That was the core function of the program, to get low income kids, poor kids from MPS, to become the first person in their family to graduate college. I did at UW-Madison. The other part of that program was service and giving back. And so that was how I got started. I was helping seniors rake leaves and shovel snow, and it just snowballed. I went to Chile to rebuild a school for poor kids, I went to London to work with at risk young people, I went to New York City to work with the YMCA, I went to New Orleans for my first spring break in college to help folks after Hurricane Katrina. Then I came back here and worked in workforce development, working with young people who were up at Lincoln Hills, working with seniors who were trying to retool their resume to get back to the workforce. After losing two races for County Board Supervisor, I came here to the Mayor's Office and had the opportunity to work with the faith community, and so many other community driven folks out of this office. I had 24 hour access at that point to City Hall and to this office. I was here by myself many times, but I never sat in the Mayor's chair. And I said the only way that I was going to sit in the chair was if I was Mayor. To have been Acting Mayor, after being Common Council President, and to have now won an historic victory by a large margin and to become the first African American Mayor, for one of the largest cities in the United States, to see the tallies come in on election night and to know that we had won was exhilarating."
Mayor Cavalier Johnson on why Milwaukee and so many cities across the nation had not reached the milestone of electing a Black Mayor years sooner than 2022.
"I cannot speak to other places around the country. I know that historically here in Milwaukee, we tend to hang onto incumbents for some time. So I think that certainly is a part of it. I think a part of it too, quite frankly, is the fact that if you are a person of color running for a city wide, countywide, or a statewide seat, there are challenges. We do not have this strong and developed African American middle class. Having access to the resources to run and win at this level is very difficult, is extremely difficult to do. And so it may be different in some other parts of the country, for African Americans to have gotten to that point. But I think those are two of the larger contributing factors. It was not for lack of trying. For African Americans, it is difficult to run and win big races in the city and in the state."
Mayor Cavalier Johnson on the moment he met a young boy at his election party, himself being someone who grew up in Milwaukee and overcome difficulties, and to see the young boy looking at him as the first African American Mayor of Milwaukee.
"I knew it right away, why he was looking at me. I knew that my name being on the wall all around that room presented an opportunity for him to see his own name on the wall. Years ago it would have been unthinkable in this city, for a kid that looked like him. Now he can believe it can happen. Seeing him reminded me of the advice that my father gave me when I was a kid. My dad told me that I needed to get off the block. I did not quite understand what he was saying, I thought he was talking about the four corners of an actual city block. But he was saying more than just that. For too many Black and Brown kids, the four corners of the block are their world: school, the corner store, a relative's house, and home. That is their whole world. There are a lot of kids who look like me that have never even seen Lake Michigan by the time they are a teenager. So when I got older, I began to understand what my dad was saying about getting off your block, like expanding your horizons. And this was key, because kids will be what they see. And now, that little Black boy gets to see a Mayor who looks like him."