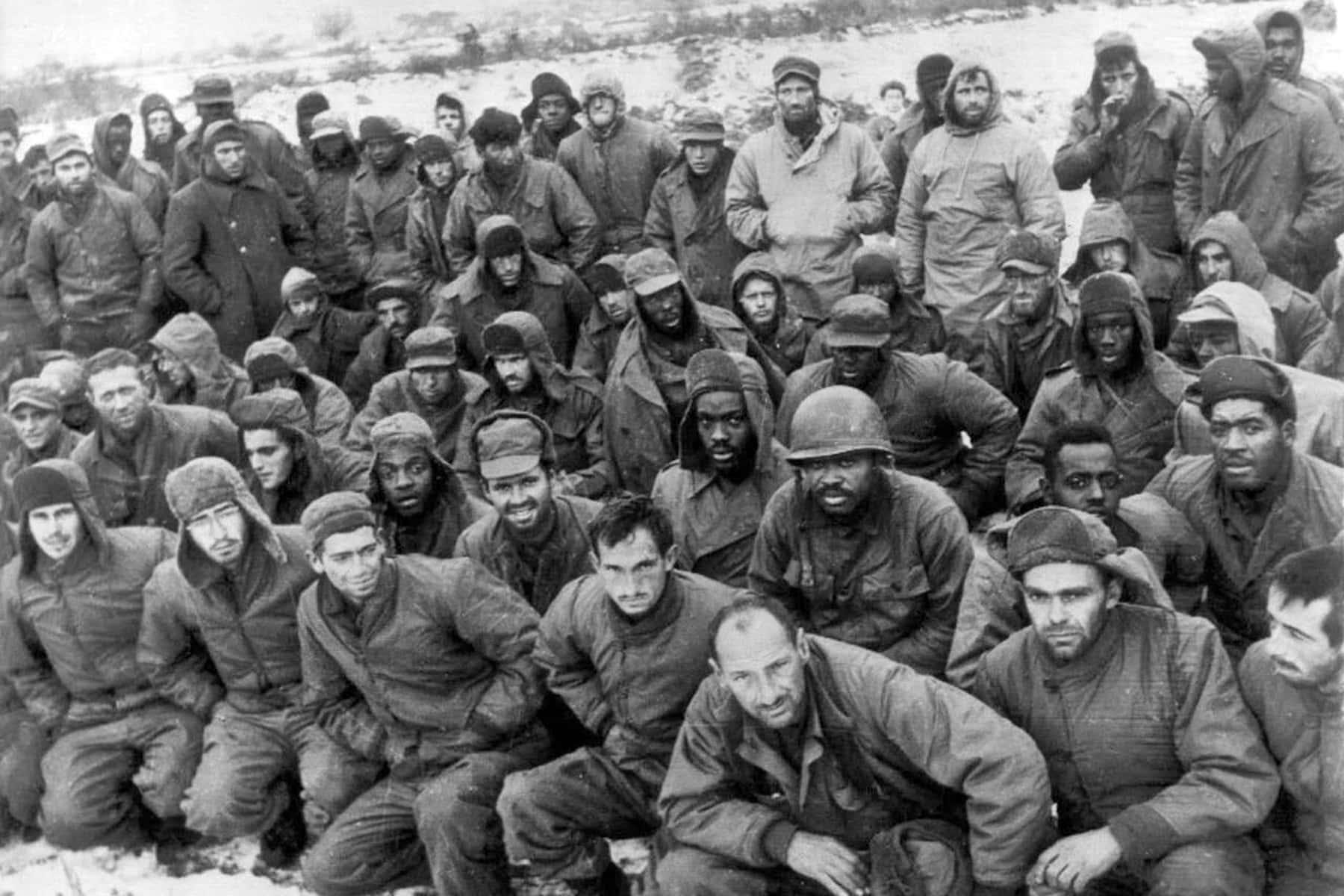 The Milwaukee County Historical Society (MCHS) has a small collection of letters and telegrams from a young Milwaukee soldier who fought in the infantry during the Korean War. The documents provide some insight into forgotten local connections with larger conflicts in the world.
There was no support information with background about the Korean War materials, as many relics in the Society's vast collection are donated without a backstory. People often have things of historical value that they want to see preserved for future generations, but the deeper stories about the objects were lost even to those donating the items.
What is known about the John S. Murlaschitz collection comes from the 21 year-old's letters and Western Union telegrams to his parents in Milwaukee.
Corporal John S. Murlaschitz was wounded in action Korea in September 1950. He returned to duty a month later, but by November 1950 he was declared missing in action (MIA). It appears that little was know about his status for almost a year, when the United States Army informed Marie Murlaschitz by telegram that her son was a prisoner of war (POW) being held by enemy forces.
By May 1952, Corporal Murlaschitz was able to write a letter home, and apparently received some in return from his family. The letters noted his location as "North Korea, Camp #3" and the postmarks were stamped in Hangul – the Korean language. However, the return address that Corporal Murlaschitz hand wrote was in care of the "Chinese Committee of World Peace in Peking (Bejing), China."
According to military records, Camp 3 was identified as the village of Ch'ang-Song on the Yalu River. The Prisoner of War camp was controlled by the Chinese Army, who entered the conflict on November 25, 1950. That corresponds to the time Corporal Murlaschitz was declared MIA. He would have been part of America's forward elements, because Chinese forces of the People's Volunteer Army (PVA) crossed the Yalu.
The Chinese entered the war in part from fear of North Korea unifying with the South as allies of America, but also because Milwaukee-native General Douglas MacArthur seemed intent on pushing the war onto Chinese soil. That strategy had the potential for a much larger war, that sought to oust the new Communist government which has just won the Civil War with the Chinese Nationalists.
Corporal Murlaschitz communicated that he was in good spirits and being well taken care of. It is hard to know how true that was, considering his captors would likely pressure him to be overly positive about his condition. At Changsong, Chinese forces held indoctrination sessions which many American prisoners thought of as attempted brainwashing.
In his letters, Corporal Murlaschitz repeatedly asked if the family had yet purchased a television set, and if his mother's home had been fixed up while he was away. In every letter, before and as a POW, he made it a point to tell his mother not to send him any money while he was in Korea.
The Korean Armistice Agreement was signed on July 27,1953. To this day, however, no peace treaty has been signed. That significant fact means that the Korean War has not officially ended.
By August 1953, thirty-two months as a POW, Corporal Murlaschitz was returned to the American command in Korea, and his family was informed that he would be sailing home at "an early date."
The last document in the Murlaschitz Collection was a telegram from Corporal Murlaschitz on August 28, 1953 to tell his mother that he was free and on his way home.
At the time of the Korean War, his mother lived in the 1100 block of N. 15th Street. The MCHS had no other information about Murlaschitz's return or life in Milwaukee after the war.
Public records show that Murlaschitz was an employee of the City of Milwaukee Department of Public Works for many years. He passed away on March 21, 2017 at the age of 88 years, preceded in death by his wife Marlene. While this Milwaukee story is far from complete, it is a very rare snapshot from a POW during the experience.
These Western Union telegrams and handwritten letters are from the Milwaukee County Historical Society's Murlaschitz Collection.
May 26, 1953
Dear Mother and Frank,
Just got your letter you wrote the 20th of March and was very happy to get it. It was the first one I got from home. As for me I'm getting along fine and hope you are doing the same. And Frank tell Mother that I'll be home as soon as I can get out of this mess. And what ever you do don't send me any money. Because in place like this I have no need for it and anyways there is no place to spend it. I've wrote more than one letter home and to Emma in fact it was about 5 or 6. Well if I ever do get home I don't want any rice to eat we get our full here. Well if you see Emma said hello for me and Tony to. Said hi to Bob and the rest of them. Said I got the card Bob send and I wish you would tell him to write one. Well tell mother not to worry about me and lets hope this get over with in a hurry.
As always,
Johnny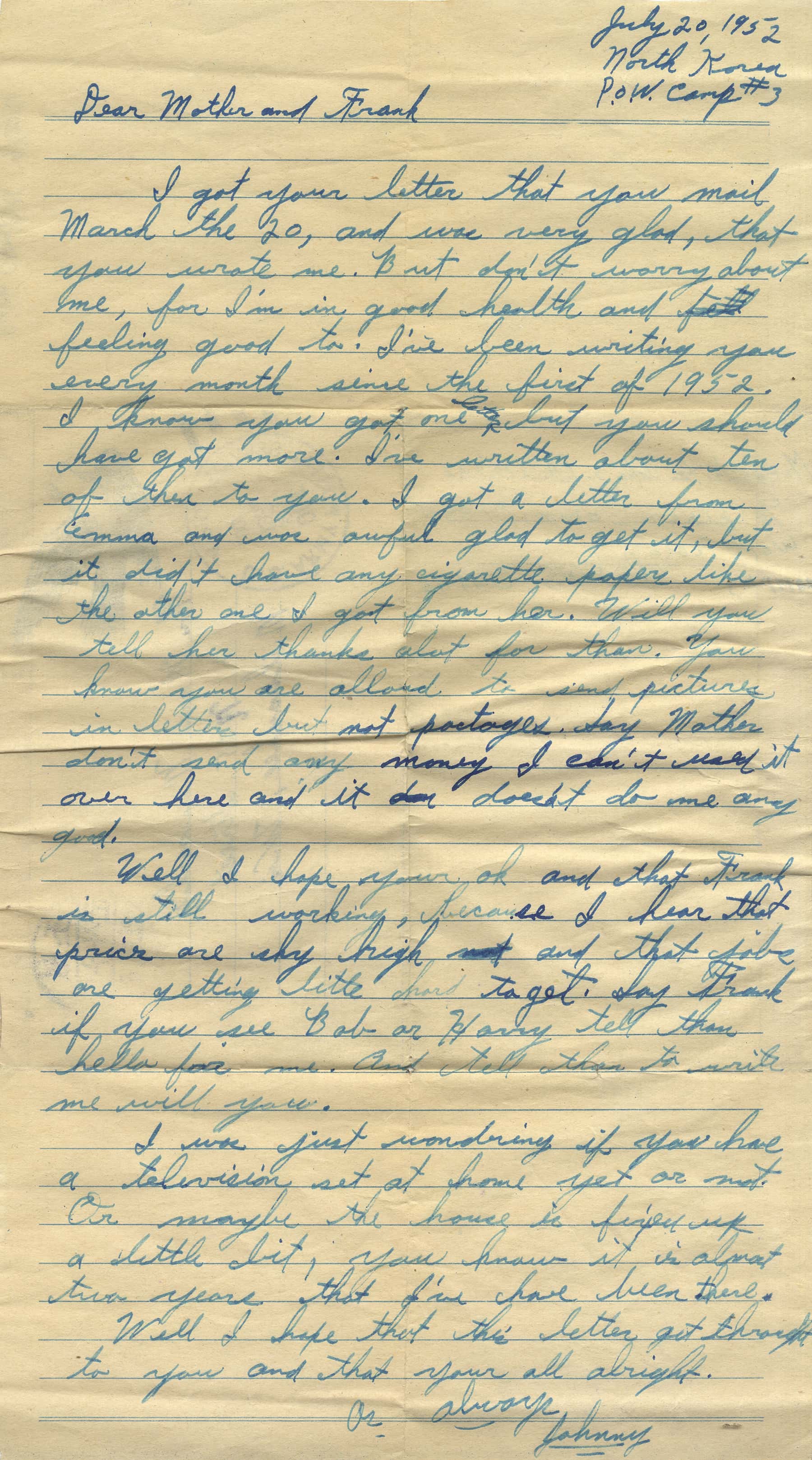 July 20, 1952
North Korea P.O.W. Cap #3
Dear Mother and Frank
I got your letter that you mail March the 20, and was very glad, that you wrote me. But don't worry about me, for I'm in good health and feeling good too. I've been writing you every month since the first of 1952. I know you got one letter but you should have got more. I got a letter from Emma and was awful glad to get it, but it didn't have any cigarette paper like the other one I got from her. Will you tell her thanks a lot for that. You know you are allowed to send pictures in letters but not postages. Say mother don't send any money I can't use it over here and it doesn't do me any good. Well I hope your ok and that Frank is still working, because I here that prices are sky high and that jobs are getting little hard to get. Say Frank if you see Bob or Harvey tell them hello for me. And tell them to write me will you. I was just wondering if you have a television set at home yet or not. Or maybe the house is fixed up a little bit, you know it is almost two years that I've have been there. Well I hope that this letter get through to you and that your all alright.
As always,
Johnny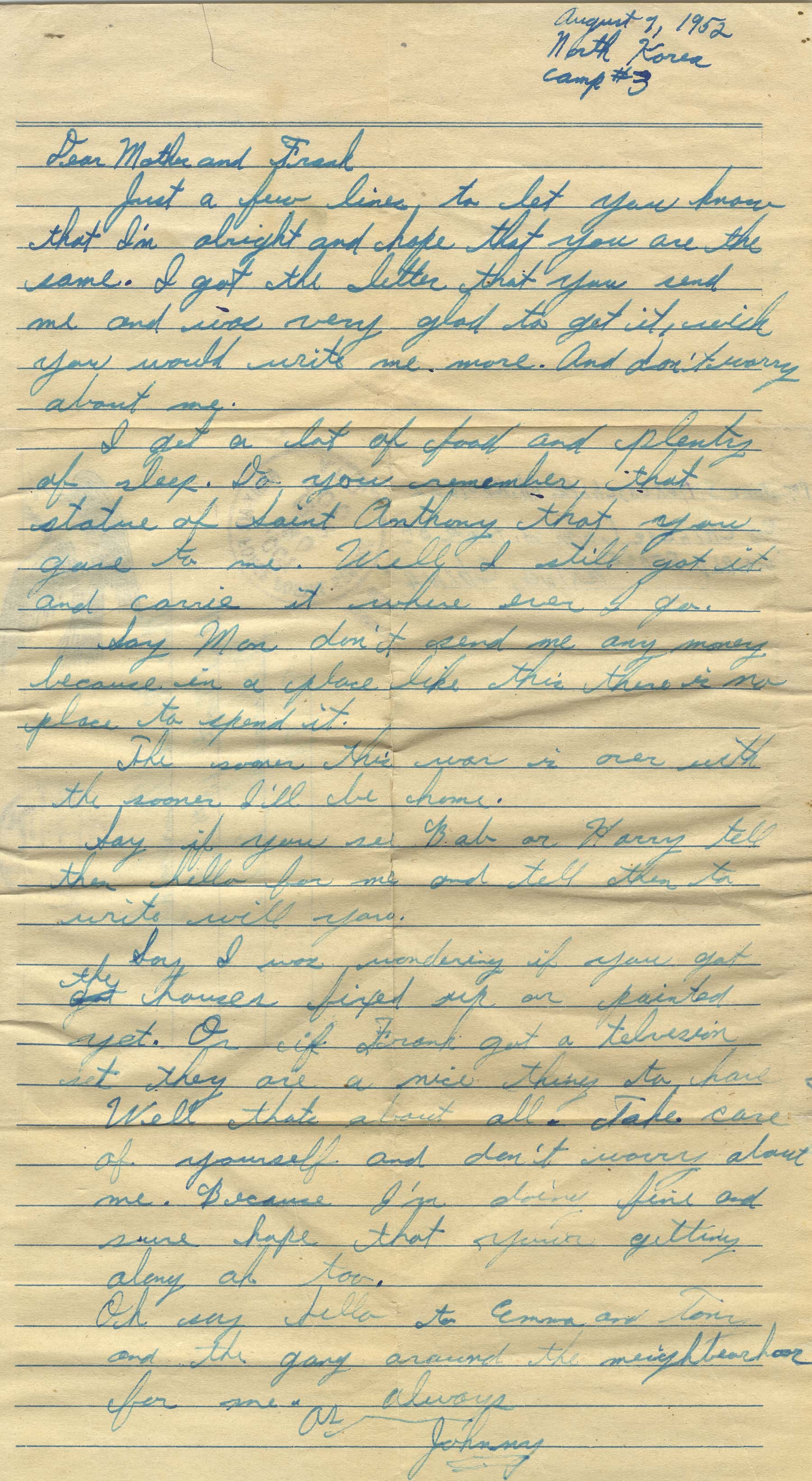 August 7, 1952
North Korea Camp #3
Dear Mother and Frank
Just a few lines to let you know that I'm alright and hope that you are the same. I got the letter that you send me and was very glad to get it, wish you would writ me more. And don't worry about me. I got a lot of food and plenty of sleep. Do you remember that statue of Saint Anthony that you gave to me. Well I still got it and carry it where ever I go. Say Mom don't send me any money because in a place like this there is no place to spend it. The sooner this war is over with the sooner I'll be home. Say if you see Bob or Harry tell them hello for me and them them to write will you. Say I was wondering if you got the house fixe up or painted yet. Or if Frank got a television set they are a nice thing to have. Well that's about all. Take care of yourself and don't worry about me. Because I'm doing fine and sure hope that you're getting along ok too. Oh say hello to Emma and Tony and the gang around the neighborhood for me.
As always,
Johnny
© Image
Milwaukee County Historical Society and Library of Congress