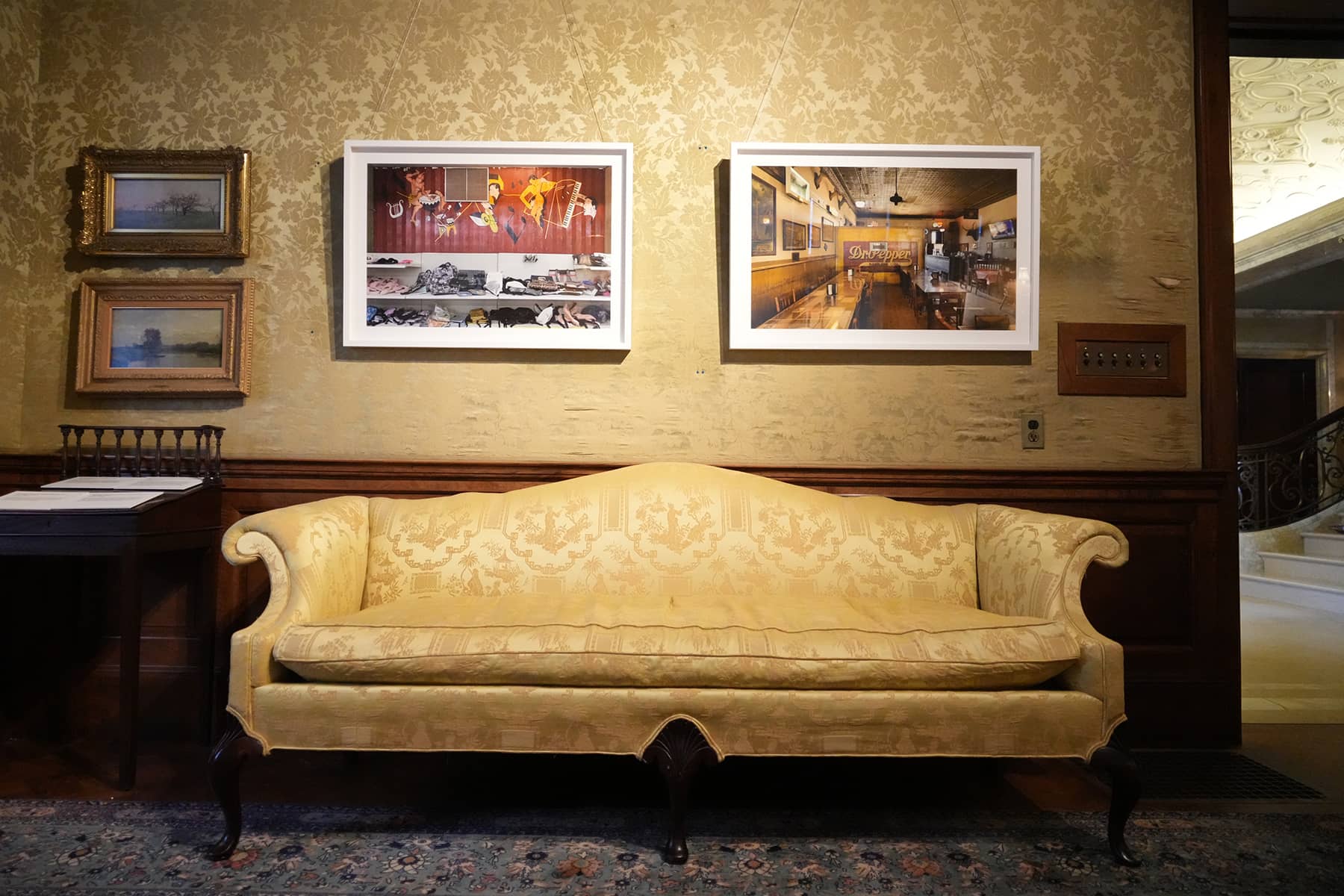 Beginning on July 28, Milwaukee's Charles Allis Art Museum will host "Ghosts of Segregation: America's Continuing Struggle," a traveling photography exhibition that explores the lingering presence of segregation, slavery, and institutional racism hidden in everyday American architecture.
Through his visual work, Washington state-based photographer Richard Allen Frishman demonstrates how the built environmental stand as a witness to history. From the New Orleans Slave Exchange to the abandoned Negro Nursing School in Houston, the shocking nature of Frishman's images reveals insidious evidence of segregation and historic racism.
"Jim Crow not only extended across America, but it also became part of everyday life in communities across the country. Our architecture – built environment – is society's autobiography writ large," said Frishman in a statement.
The artist's imagery shows viewers where Americans have been and where they are now as a society, and then asks "where do we go from here?"
The photographs by Frishman featured in the Milwaukee exhibit highlight examples of White nationalism, racial terror, acts of violence against people of color in America, and how those spaces where such horrific things have occurred impact the people who still live there today. The collection also celebrates the resilience of marginalized groups and their determination to not only survive but thrive.
"21-year-old Tuskegee Institute student Samuel Younge Jr. spent January 3, 1966, registering Black voters in Macon County, Alabama. When he stopped at a nearby Standard Oil gas station to use the restroom, the attendant, who was White, threatened to shoot him for attempting to use the regular public restroom and not the 'Colored' one in back. Younge reported the attendant to the police, then returned to the gas station and told him the police were coming. The two men argued and Younge was mortally wounded. The attendant was indicted for the crime, but an all-White jury acquitted him." – Whites-Only Restroom Where Sammy Younge was Lynched, Tuskegee, Alabama, 2019 (Richard Allen Frishman)
A Guggenheim Fellow in 2021, Frishman was raised in Chicago by newspaper-reading parents during the ascendancy of the modern Civil Rights movement. That background was foundational in his development as a photojournalist. Frishman was encouraged to be aware of the world beyond his middle-class bubble, to accept a very personal responsibility to address injustice, and to take action when necessary.
Growing up, he was taught that curiosity was more important than knowledge, because knowledge was sometimes created from myths, assumptions, and opinions rather than objective reality. That curiosity and retrospection was reflected in his production of Ghost of Segregation.
Frishman's photographs explore how built environments reveal cultural histories in America. People rarely consider constructions as evidence of true social priorities, beliefs, and behaviors, so the testimonies of architectural design and built landscapes offer an alternative and honest view.
"The enigmatic inscription "CHANGE" floating above Chartres Street in New Orleans' French Quarter largely goes unnoticed today. However, it is what remains of the sign over the St. Louis Hotel Slave Exchange. The luxurious hotel included a bank, ballroom, shopping arcade and trading exchange. Six days each week between 1838-1862, under the hotel's domed rotunda, auctioneers sold off land and goods as well as thousands of enslaved people." – Slave Exchange, New Orleans, Louisiana, 2019 (Richard Allen Frishman)
The Ghosts of Segregation traveling exhibition was organized by Curatorial Exhibitions of Pasadena, California. During its stop in Wisconsin, the Charles Allis Art Museum will utilize the collection as an opportunity to inspire local conversations about segregation within the context of Milwaukee's history of systematic racism through educational programming.
"I hope that this will help people consider the spaces around them differently. I think that we all interact with space and place in different ways. And I think we can develop a real sense of empathy from Frishman's work, by looking at these spaces, how they used to exist, and how they exist today," said Jaymee Harvey-Wilms, the new Executive Director of the Charles Allis and Villa Terrace Museums. "We can all ask ourselves the question: what does segregation mean to us? But really, until we see it, and we recognize what we are looking at, I do not know if we can fully process that really complicated set of emotions. So I hope people build empathy and think about their relationship to segregation here in Milwaukee and Wisconsin."
Harvey-Wilms is also a Milwaukee-based artist and cultural producer who holds degrees in painting, sculpture, and art history. She has a studio in Walker's Point and continues to show her work nationally and internationally.
"The Allis is stepping into its own history with this exhibition," added Harvey-Wilms. "As CAVT looks inward on its role in Century City as both homes and a Milwaukee institution, Ghosts of Segregation is our pivot point into investigating our collective history. CAVT has an opportunity to create productive, goal-oriented and empathetic conversation in housing Frishman's work."
"Shortly after midnight on June 12, 1963, Medgar Evers, the first Mississippi state field secretary for the National Association for the Advancement of Colored People, pulled into the driveway of his house in Jackson. He had been at an integration meeting, watching President John F. Kennedy's televised speech in support of civil rights. Emerging from his car carrying T-shirts that read, "Jim Crow Must Go," Evers was shot in the back with a bullet, which ricocheted into his home. He died at the local hospital 50 minutes later. Less than 24 hours earlier, Governor George Wallace had stood in a doorway at the University of Alabama's Foster Auditorium, blocking the entrance of the first two African American students enrolled at the university." – Medgar Evers' House, Jackson, Mississippi, 2018 (Richard Allen Frishman)
Milwaukee will have a chance to engage and listen to artist Frishman as he speaks about his photography practice during a virtual artist talk September 8. The talk will be hosted online via Zoom, and will be free and open to the public.
"The Charles Allis is a prime cultural institution to host Ghosts of Segregation and I am honored to have inherited this project. Because of the mansion's roots in Milwaukee's East Side neighborhood, near the rich shores of Lake Michigan, it forces the museum to be self-aware of the community it serves and its power to better serve those who have, historically, been disenfranchised by society," said Phoenix Brown, the new Senior Curator for the Charles Allis Art Museum. "Though conversations of segregation and institutionalized racism are rarely new to us, people of color, this generous exhibition is an ideal starting point for individuals who do not know the first thing about this living part of American history."
Brown is a Milwaukee-based artist scholar who has been with the museums since January 2022. She holds a degree in fine art, and her curatorial voice is influenced by popular culture, studio research, and institutional critique. As a contemporary art curator, she works to interpret art objects through socio-political and critical theory lenses. Ghosts of Segregation is the second exhibition she has curated at the Charles Allis and Villa Terrace Museums.
Designed in 1911 by prominent Milwaukee architect Alexander Eschweiler for Charles and Sarah Allis of Allis-Chalmers, the Tudor-style mansion, located on Milwaukee's lower east side, was gifted to the City of Milwaukee, and then Milwaukee County, to showcase the exceptional craftsmanship and grandeur of the home, as well as the Allis' remarkable collection of paintings and ceramics.