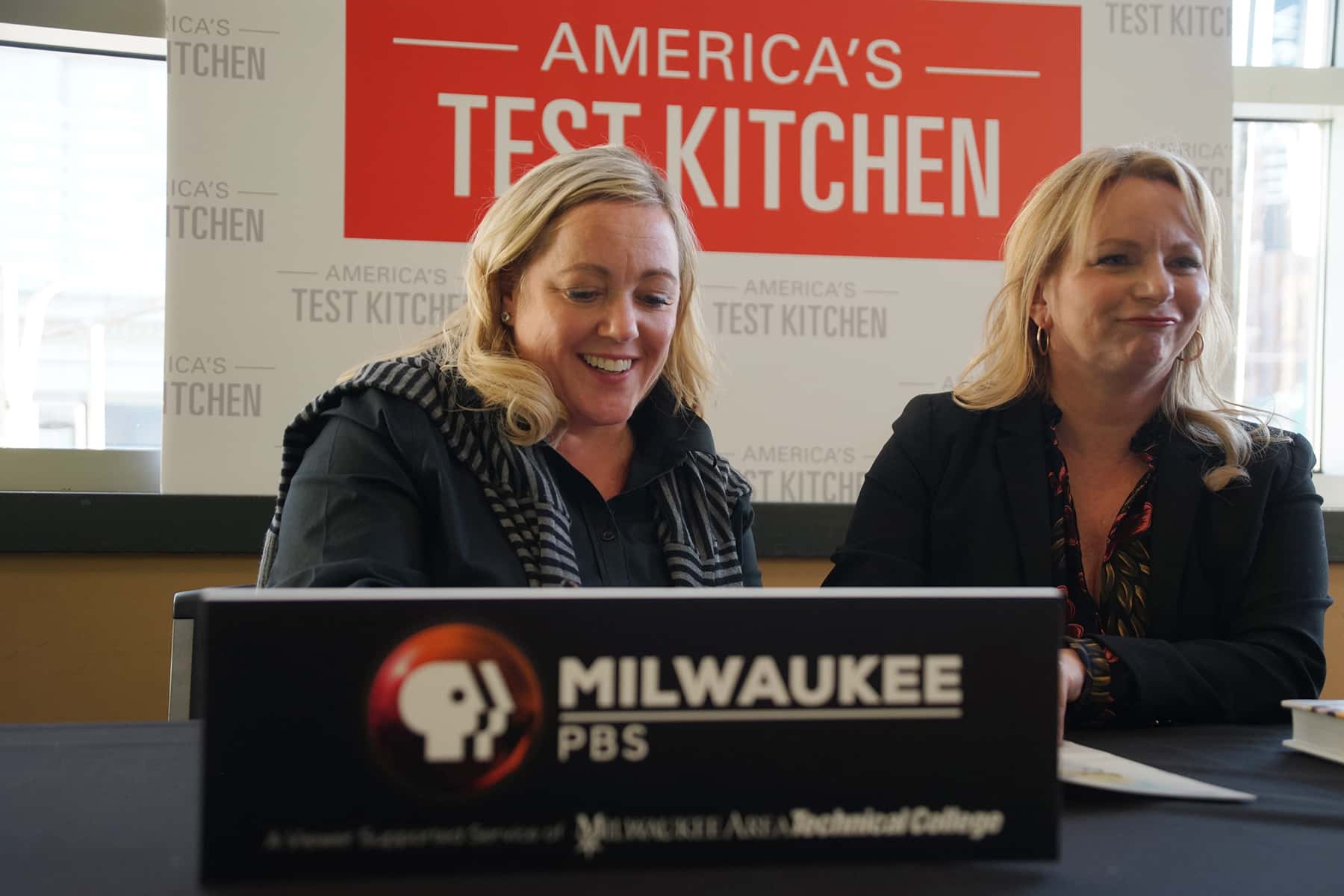 With more than 2 million viewers each week, "America's Test Kitchen" is the most watched cooking show on Public Television. Hosts Julia Collin Davison and Bridget Lancaster visited Milwaukee on October 18 and shared some of their recipes with fans at a special Public Market event.
America's Test Kitchen and Cook's Country feature recipes carefully developed to make sure that they work every time. Each week, Davison and Lancaster solve every day cooking problems, test equipment so that viewers never have to waste money on things that fail to work, and taste supermarket ingredients to save time in the store. It is a common-sense, practical approach not found on other cooking shows.
Milwaukee PBS, southeastern Wisconsin's premier non-commercial media organization, hosted the meet-and-greet event with Davison and Lancaster. The cooking celebrities shared updates about the show's set, and production secrets. For example, in a secondary kitchen, another chef is preparing the exact same meal in real time, which can be replaced if a problem develops while the co-hosts are cooking.
America's Test Kitchen airs on Saturdays at 4:00 p.m. on Milwaukee PBS Channel 10. Cook's Country airs on Milwaukee PBS 10 on Saturdays at 4:30 p.m. and on Milwaukee PBS Channel 36 Sundays at 11:30 a.m.
With Halloween around the corner, here is an recipe for Pumpkin Soup from America's Test Kitchen. This velvety pumpkin soup is surprisingly easy and fast thanks to canned pumpkin. The trick is getting rich, balanced pumpkin flavor out of a can.
We started by creating a deeply flavorful base for our soup by softening onion and then adding cumin, coriander, and nutmeg, which gave us a warm-spiced flavor that paired well with pumpkin. Maple syrup was the ideal sweetener, adding depth and enhancing the nuttiness of the soup without overwhelming it with sweetness.
A combination of vegetable broth and water gave the soup a subtle savory backbone, and just a half cup of half-and-half gave us an ideal creamy texture. Briefly simmering the pumpkin in the flavorful liquid allowed the flavors to meld and cooked off the tinny flavor of the canned pumpkin; we then pureed the soup to a silky consistency.Be sure to buy pure canned pumpkin, not pumpkin pie filling, which has sugar and spices added. Crumbled blue cheese and toasted, chopped walnuts make nice garnishes to this soup.
11th-Hour Harvest Pumpkin Soup
Servings: 4-6
Start to finish: 45 minutes
Ingredients:
2 tablespoons unsalted butter
1 onion, minced
2 garlic cloves, minced
1/2 teaspoon ground cumin
1/2 teaspoon ground coriander
1/4 teaspoon ground nutmeg
3 cups vegetable broth, plus extra as needed
2 cups water
1 (15-ounce) can unsweetened pumpkin puree
1/4 cup maple syrup
1/2 cup half-and-half
Salt and pepper
To Make The Soup:
Melt butter in Dutch oven over medium heat. Add onion and cook until softened, about 5 minutes. Stir in garlic, cumin, coriander, and nutmeg and cook until fragrant, about 30 seconds.
Stir in broth, water, pumpkin, and maple syrup, scraping up any browned bits, and bring to boil. Reduce to simmer and cook until flavors have melded, about 15 minutes.
Working in batches, process soup in blender until smooth, 1 to 2 minutes. Return pureed soup to clean pot and stir in half-and-half; adjust consistency with additional broth as needed. Heat soup gently over low heat until hot (do not boil). Season with salt and pepper to taste, and serve.
Nutrition information per serving: 198 calories; 86 calories from fat; 10 g fat (6 g saturated; 0 g trans fats); 26 mg cholesterol; 417 mg sodium; 27 g carbohydrate; 4 g fiber; 18 g sugar; 3 g protein.
© Photo
Food Image: Daniel J. van Ackere
Event Images: Lee Matz