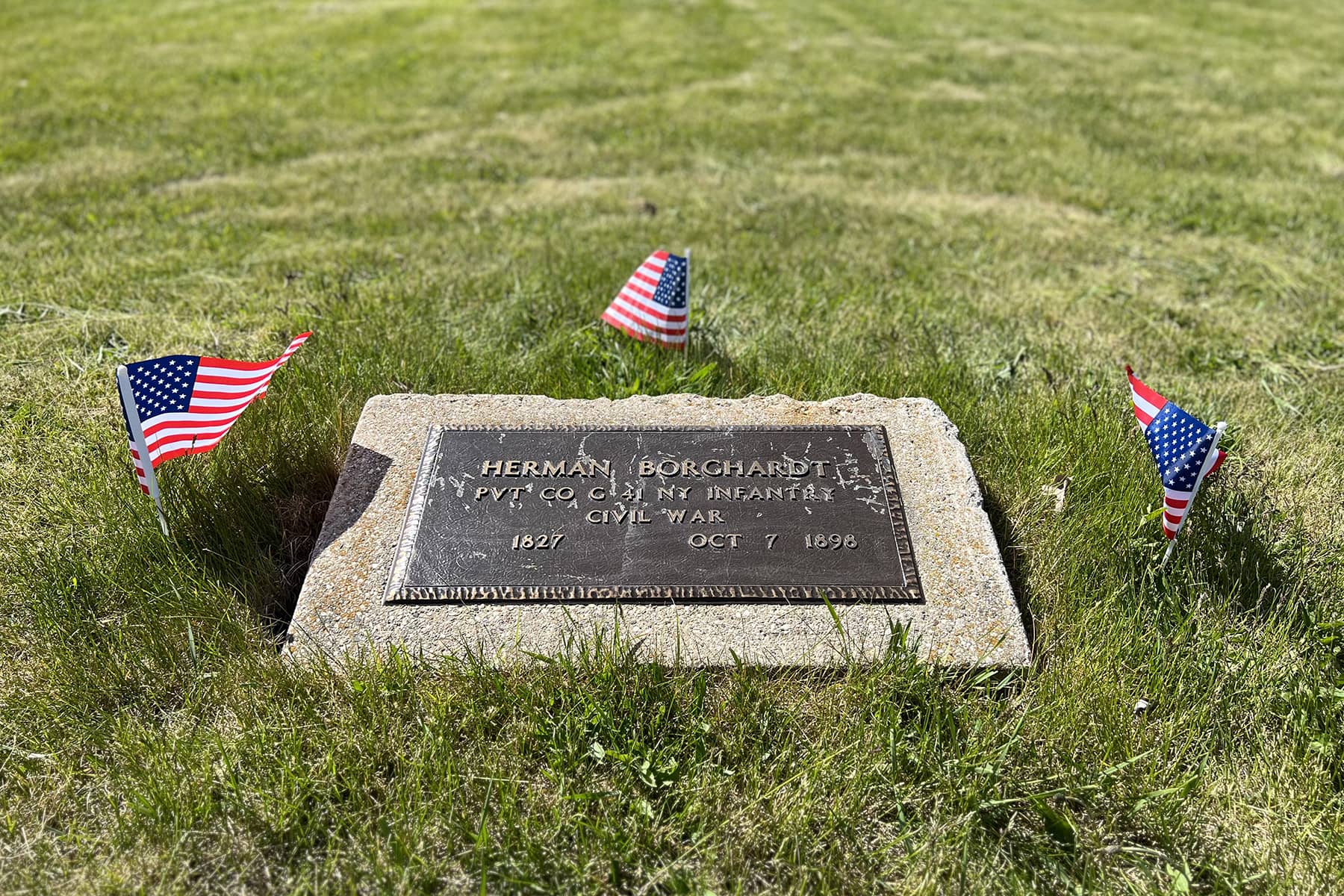 Memorial Day 2023 decorations at the Milwaukee County Poor Farm Cemetery #3 marks what is thought to be the first time three Civil War veterans buried in cemeteries on County Grounds were honorably recognized with a Memorial Day flag for their service to the nation.
Originally known as Decoration Day, Memorial Day was a tradition that began in the aftermath of the American Civil War. It was when citizens placed wreaths, flags, and flowers on the graves of those who had been killed in battle.
"America's history and the Memorial Day holiday forever go hand-in-hand, by providing recognition and honor of those who have served our country at most cemeteries across the nation," said Judy Klimt Houston, President of the nonprofit Descendant Community of the Milwaukee County Grounds Cemeteries. "But this has not been the case for veterans who were once buried at the Milwaukee County Grounds cemeteries. This year offered a change to that previous status. We are thankful to Milwaukee County Parks, who allowed us access to the Poor Farm Cemetery."
The Milwaukee County Grounds interred somewhere between 7,000 to 10,000 individuals, during the years of 1852 to 1974 at four locations. They are identified as Cemeteries 1, 2, 3, and 4, around the area of Watertown Plank Road near Wauwatosa.
Herman Borghardt, who once fought with Company G, 41st New York Infantry, and later passed away in Milwaukee in 1898, was given a VA headstone in 2013. Although he was interred in Cemetery #2, later disturbed on County Grounds, his headstone was placed in the cemetery north of Watertown Plank within the large but isolated fenced-in area.
This past year, the Descendant Community of the Milwaukee County Grounds Cemeteries discovered two more Civil War soldiers listed in the old leather-bound County Grounds burial ledger, held within Milwaukee County Historical Society's archives. The two soldiers have no VA headstones placed at County Grounds, yet their recognition flags adorn Borghardt's headstone in Cemetery #3.
Friedrich Bartsch, a farmer from Kewaskum, was a German immigrant who felt compelled to join the Union Army, even though he knew little of the English language. Bartsch enlisted on December 26, 1862 with Company E, 34th Wisconsin Infantry. The regiment's unique term of service lasted for nine months. He mustered out on September 8, 1863. Bartsch died in 1875 in Milwaukee, and was buried at Cemetery #1 near Windsor Court and Wisconsin Avenue.
William Craig, previous of Appleton, died in 1901 in Milwaukee, with his interment in Cemetery #2. Craig answered the call to serve his country and signed up at age 11 on December 10. 1861. The young man was a musician for Company K, 17th Wisconsin Infantry. Even though he was discharged for a disability on August 16, 1862, he then joined Company I, 32nd Wisconsin Infantry just one day later at the age of 12. After serving for 3 years and 6 months until the completion of the war, then 15-year-old Craig was discharged.
"Herman Borghardt, Friedrich Bartsch, and William Craig were buried on the Milwaukee County Grounds, rather than the distinguished Wood National Cemetery with their fellow soldiers," added Houston. "And while they have not received recognition on any other Memorial Day for more than a century, their service to our country was always appreciated. On this Memorial Day 2023, it is an honor to recognize these Civil War veterans once buried at Milwaukee's County Grounds."
© Photo
Judy Klimt Houston and Google Earth