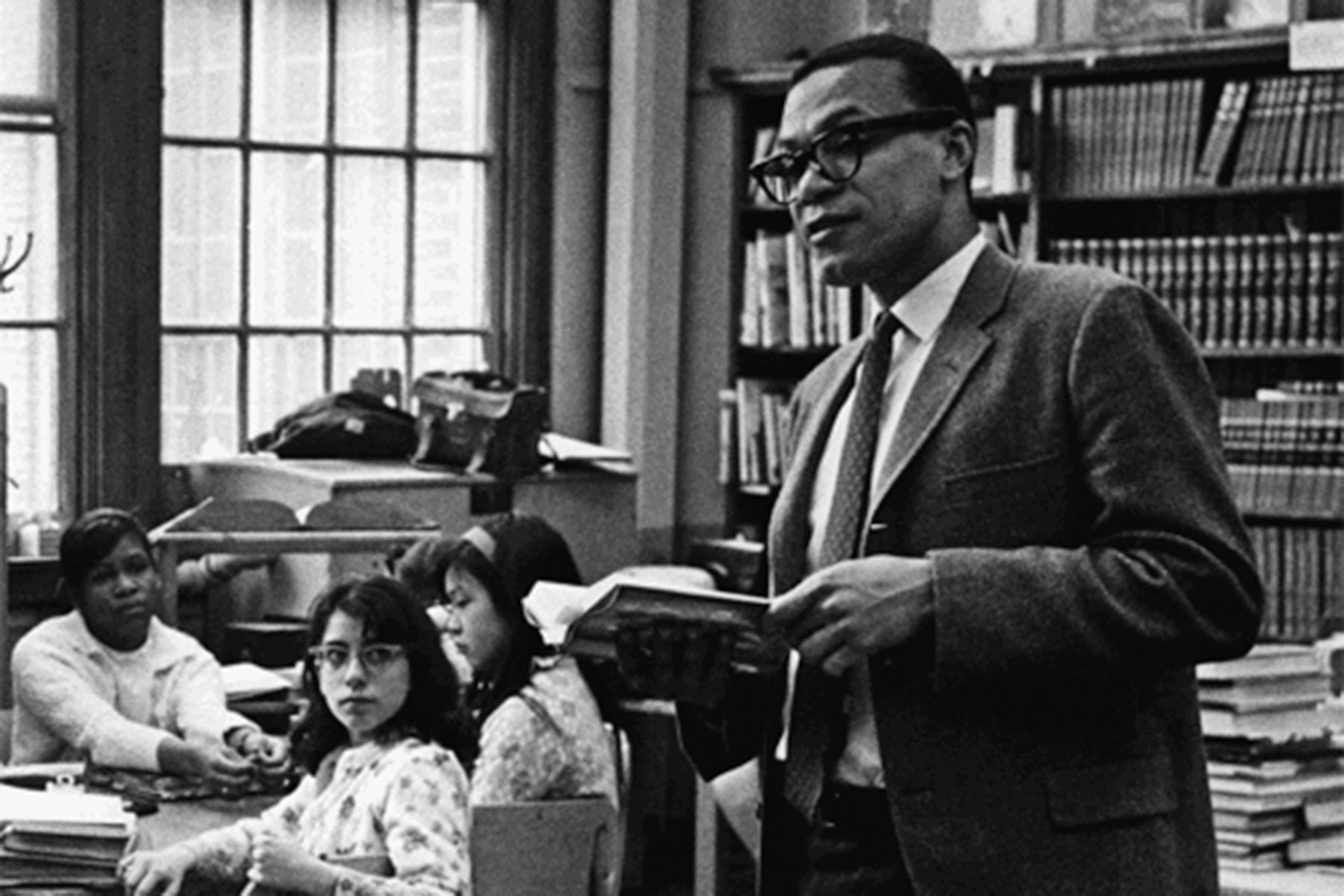 Prominent poet Jay Wright read poems about race and culture during a forum that engages community members in conversations about the inequalities of Milwaukee.
As esteemed African American poet Jay Wright began his poetry reading at Marquette University on October 25, the auditorium fell silent, spellbound by Wright's smooth reading voice.
Wright won both a Guggenheim and a MacArthur fellowship, and taught at Yale University where he was also awarded their prestigious Bollingen Prize.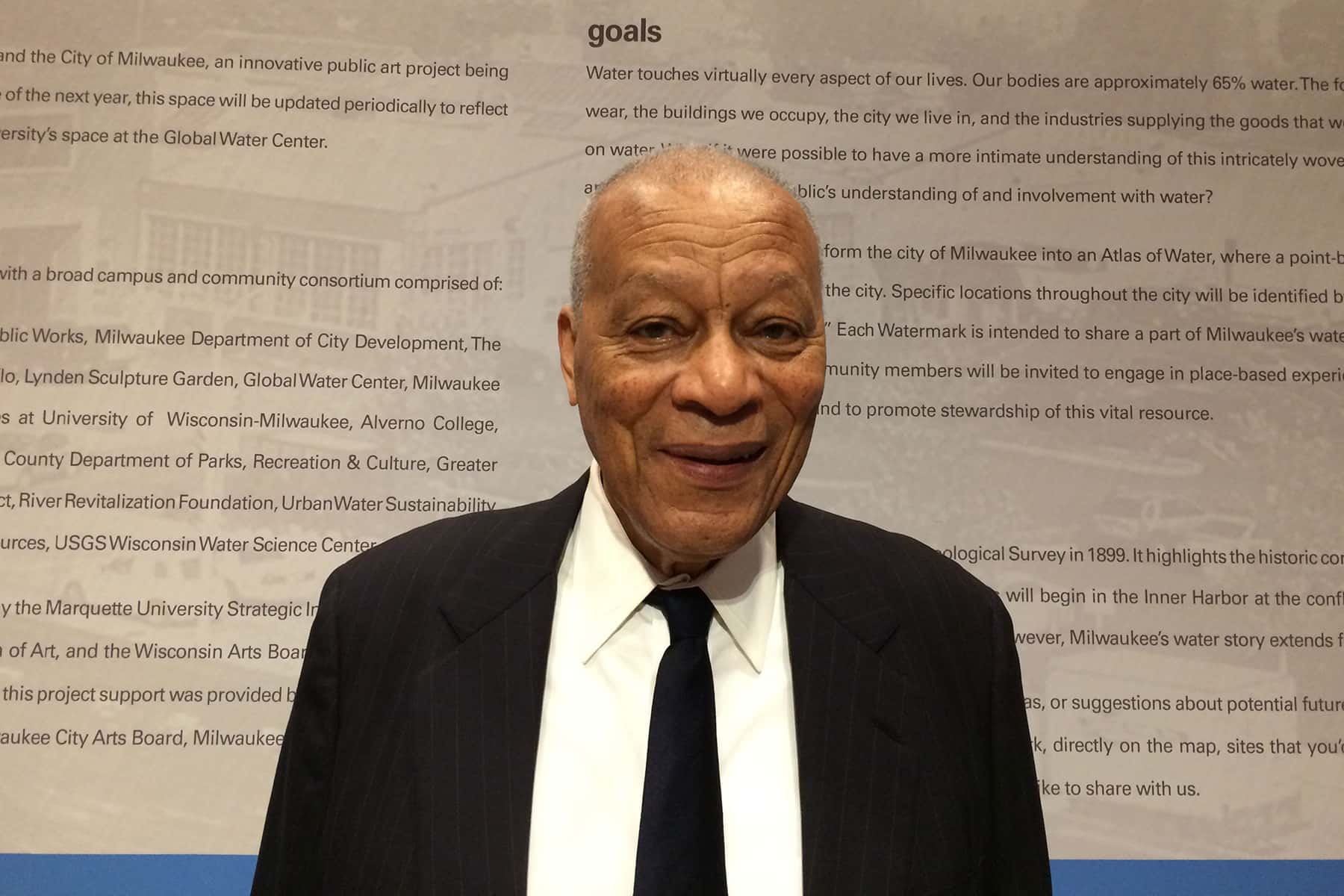 The Healing Improvisation of Hair
If you undo your do you would be strange. Hair has been on my mind. I used to lean in the doorway and watch my stony woman wind the copper through the black, and play with my understanding, show me she could take a cup of river water, and watch it shimmy, watch it change, turn around and become ash bone. Wind in the cottonwoods wakes me to a day so thin its breastbone shows, so paid out it shakes me free of its blue dust. I will arrange that river water, bottom juice. I conjure my head in the stream and ride with the silk feel of it as my woman bathes me, and shaves away the scorn, sponges the grit of solitude from my skin, laves the salt water of self-esteem over my feathering body. How like joy to come upon me in remembering a head of hair and the way water would caress it, and stress beauty in the flair and cut of the only witness to my dance under sorrow's tree. This swift darkness is spring's first hour.
I carried my life, like a stone, in a ragged pocket, but I had a true weaving song, a sly way with rhythm, a healing tone.
From Transfigurations: Collected Poems
© 2000 by Jay Wright
Audience members attended because of his prominence in the American poetry community, and his long list of accomplishments. And they were captivated by his poetry, which was centered around African American heritage, allegorical journeys, and mythology imagery.
Wright has written over 16 books, as well as essays and criticisms, all concerned with cultural and physical roots. His most recent books are Polynomials and Pollen: Parables, Proverbs, Paradigms, and Praise for Lois (2008) and the collection Disorientations: Groundings (2013).
"You will notice that as we go, there will be moments of silence. I've said this before and I'll say this again, silence is also a part of the poetry," Wright explained before he began his reading. "You will also notice that there will be other voices intervening in my poems."
He then dedicated the reading to his wife, Lois, let silence fall in the auditorium, and began.
Some of the poems he read came from his critically-acclaimed 2000 book Transfigurations: Collected Poems, such as The Healing Improvisation of Hair, a poem rich with ethereal imagery. Wright's birthplace of New Mexico and his Mexican, Spanish, and Navajo influences were displayed in poems that were named after the Mexican Calendar, telling personal stories through the lens of Native American mythology.
"Jay does not shy away from the cultural issues of the day," said Marquette aesthetics professor Dr. Curtis Carter, Wright's host at the forum. "As an African American artist of high cultural achievement, freely and with concrete poetic images, he explores what it means to be black in the 20th and 21st centuries. At the same time, his cultural reach has grown, embracing the cultures of Native Americans in the southwest and Mexico, as well as African and European culture."
When asked why he focuses so heavily on mythology and culture, Wright said that he is not like other writers who can plan what they write. Mythology is simply what inspires him. Wright's poetry also does not adhere to traditional form. As he neared the end of his reading, the rhythm of his voice naturally slid into song, revealing a voice nearly as beautiful as his poems themselves.
Wright's reading was part of Marquette University's Forum, a new yearlong series of events, speakers, films, and dialogue dinners. Each year the Forum will focus on one theme.
"This year the theme is Freedom Dreams Now, which is inspired by visions of inclusion and a better world emerging from Black Freedom struggles," said provost Dan Meyers. "We hope to look at the new challenges inequality presents at the national level, and in Milwaukee through the series of Forum events this year."
The next Forum event is a dialogue dinner about race and segregation in Milwaukee on November 3. Wright and his poetry will return to the Forum in spring 2017 for an event featuring the reading of one of his plays.