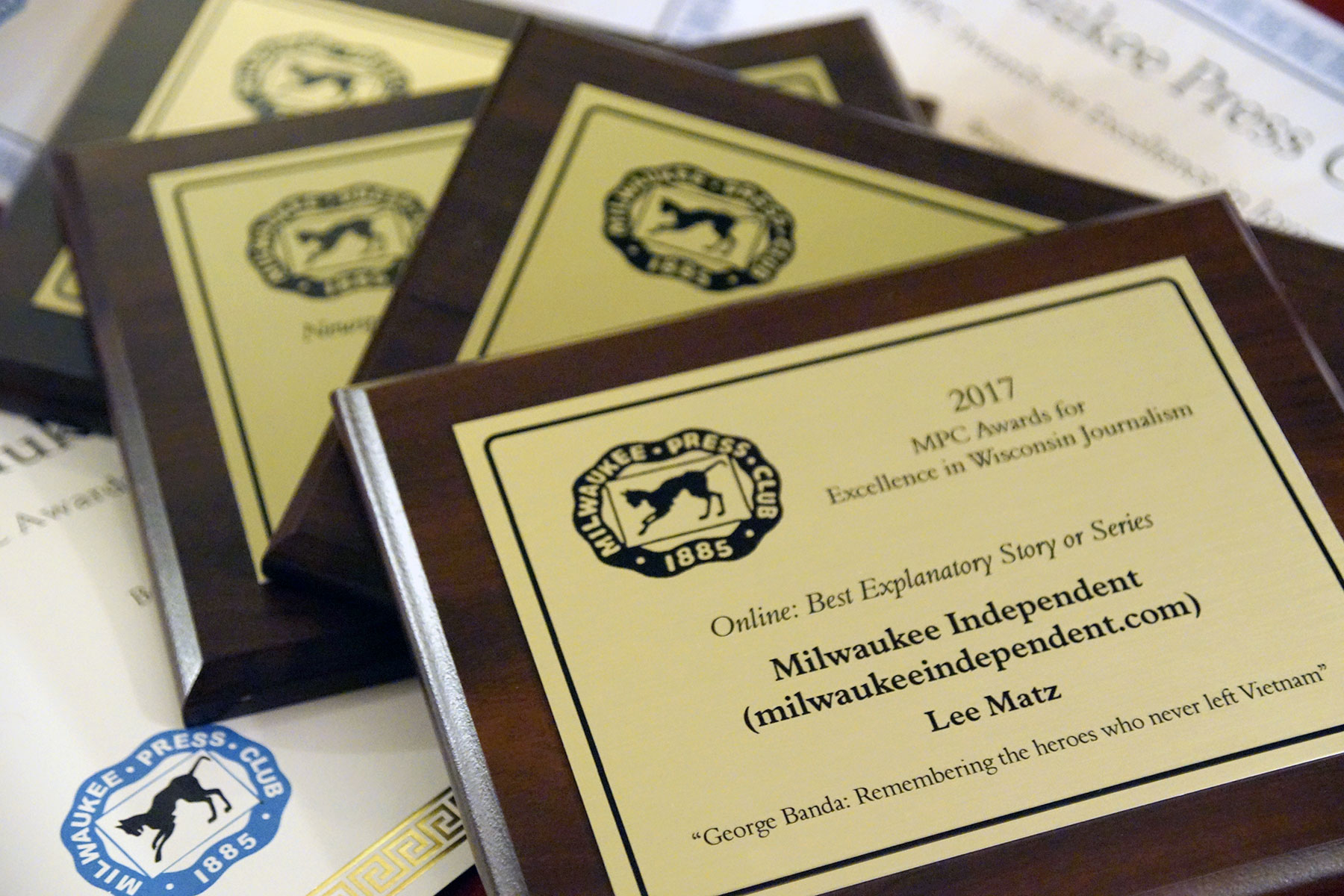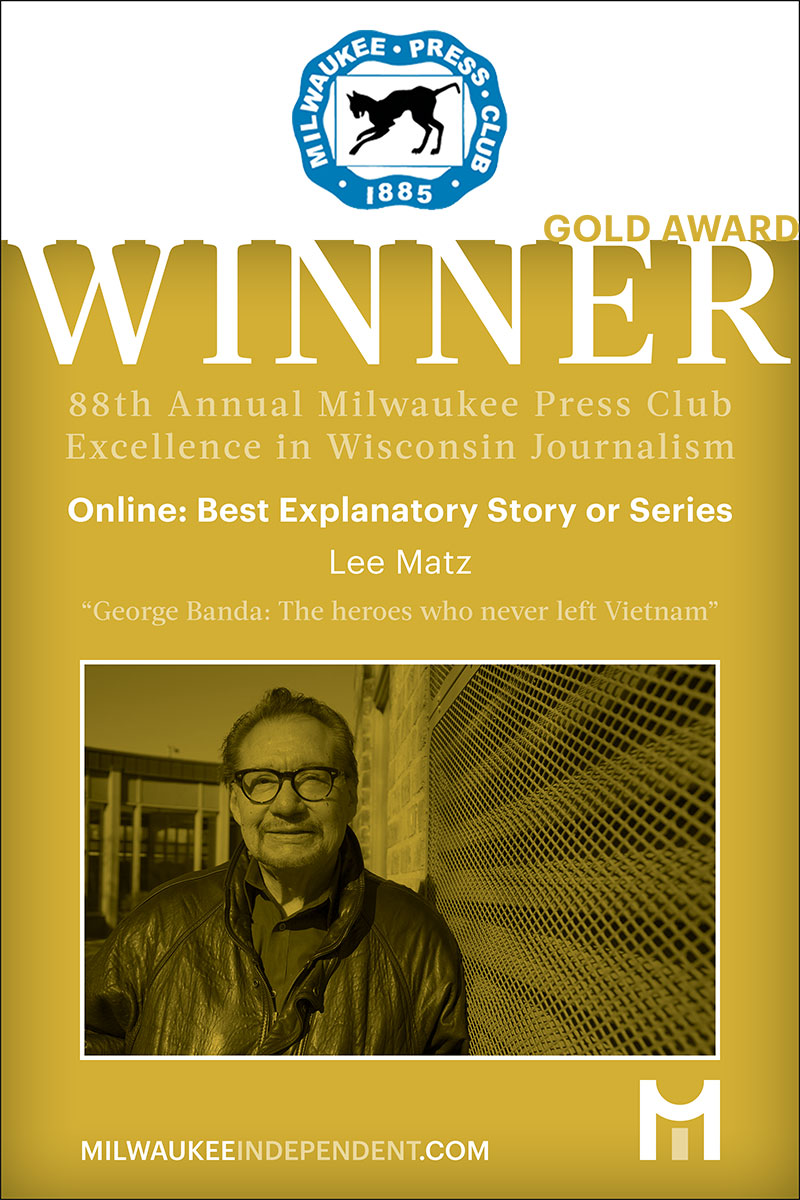 Winners of the Milwaukee Press Club's 2017 Excellence in Wisconsin Journalism competition were recognized at the May 11 event, with five significant awards going to the Milwaukee Independent.
The Milwaukee Independent has now won 7 awards for excellence in journalism over the past two years. While the recognition is an amazing honor, it is not the goal of our news organization. That focus will always be on telling transformative stories.
We have built a news platform to speak in an honest voice, through the perspective of the people in our reports. The George Banda series is an example of the time and dedication put into telling his story. We are equally proud of all our profiles, photo essays, and news articles, and do not need awards to celebrate our collection of work. But earning multiple press club awards for our reporting is a public validation of our editorial focus and shows the worth of our ideas about journalism.
I have been fortunate to win top journalism awards across the spectrum of categories for my print design, photography, multimedia interviews, and online news articles. But I am most proud of my friends and colleagues Reggie Jackson and Pardeep Kaleka for the honors they earned. I take great pride in their personal achievements in journalism, and using the Milwaukee Independent platform to elevate their message.
These two writers are now recognized by the industry as award winning columnists. They are both men of color who talk about difficult social issues in a way to inspire change through understanding and personal action. Acknowledgement of their work, especially for the uncomfortable but vital topics that each won for, stands as an example for others to follow.
"For me it has been an honor to work and write with the brilliant minds at the Milwaukee Independent. Last night we walked away with five awards, but the real reward comes from giving genuine voice and depth to people and issues facing our generation and communities," said Pardeep Singh Kaleka. "About a year ago I was asked to write an ongoing series that combined mental health issues within the context of our everyday struggles – in an understandable language. My goal is to make mental health understanding accessible through this column."
The goal for next year is not to win more awards, but to keep following our mission. The Milwaukee Independent will continue to look for ways to expand staff so more topics can be covered in depth. As an advertising-free nonprofit media organization, we encourage those who value our news reports to continue supporting us.
GOLD AWARD – ONLINE: Best Explanatory Story or Series
George Banda: Remembering the heroes who never left Vietnam
Celebrated as an American hero for his service in Vietnam, Milwaukee native George Banda has always been uncomfortable with any titles of honor. In a reflection of his humility for being awarded the Silver Star and Bronze Star as an Army Medic, he says he was just doing the job our country trained him for. As the grandson of legal immigrants from Mexico, Banda understands the social perceptions of Latinos in his hometown, and the shared struggle with self-identity and pride at being an American who is ethnically Mexican. This series follows George from his childhood home on Milwaukee's South Side to the graves of Arlington National Cemetery, and his Reading of the Names of the 58,318 service members on The Wall, which included his hometown Milwaukee classmates.
SILVER AWARD – ONLINE: Best Blog
How Trauma Affects Our Community: Blog Series
As a former Milwaukee Police Officer and co-founder of Serve2Unite.org, Pardeep is author of book The Gifts of Our Wounds, and a Community Relations Writer for the Milwaukee Independent. His blog focus is on a trauma-informed approaches to treat survivors and perpetrators of assault, abuse, and acts of violence in the city, from his own experience as a survivor of the 2012 Sikh Temple Massacre.
SILVER AWARD – ONLINE: Best Column
Reggie Jackson: Milwaukee and Segregation
As a voice for the silent generations affected by Milwaukee's history of segregation, Reggie Jackson shared inconvenient truths about the need for Economic Rights to finish what the Civil Rights movement started decades ago.
BRONZE AWARD – VISUAL JOURNALISM: Best News Photograph
Clock Tower demo makes way for Couture
Demolition of the Transit Center's clock tower took place on January 7 at 8:41 a.m. along the Milwaukee lakefront.
BRONZE AWARD – ONLINE: Best Explanatory Story or Series
Lance Sijan: A man beyond the Medal of Honor
While on a mission over Laos on November 9, 1967, Captain Lance P. Sijan ejected from his disabled McDonnell Douglas F-4C Phantom jet near North Vietnam. His journey avoiding enemy capture and later his P.O.W. experience eventually earned him a posthumous Medal of Honor. Lance's sister, Janine Sijan Rozina, has spent a lifetime preserving the story of her brother as an inspiration for people facing unimaginable hardships. Her mission has not been to remember his award of the Nation's highest honor, but to present Lance's courage and refusal to quit as an example. Her efforts celebrate his spirit of hope, with its power to touch and uplift the lives of others. this series features interviews with people affected by Lance's life, and photo essays documenting Milwaukee events honoring the fallen hero.
Sacred Cat and Headliner Awards for 2018
The Milwaukee Press Club also awarded Jodi Kantor and Megan Twohey, investigative reporters for The New York Times, as the club's 2018 Sacred Cat Award honorees. The award, which has been given annually since 1973, recognizes excellence in journalism at the national level.
Twohey and Kantor in 2017 broke the story of decades long alleged abuse of women by Harvey Weinstein, triggering worldwide recognition of the need to help victims speak up and to hold powerful men accountable for their actions and behavior. Among the awards for their work are a George Polk Award, conferred annually to honor special achievement in journalism, especially investigative and enterprising reporting that gains attention and achieves results. They also received the inaugural Impact Award from the Los Angeles Press Club.
Twohey joined the Times in 2016 and initially worked on the U.S. presidential politics team before becoming an investigative reporter. Her work during the 2016 campaign helped uncover President Donald J. Trump's questionable treatment of women, his history of not paying federal income taxes and his business ties to Russia. She formerly was a reporter for Reuters News, the Chicago Tribune and the Milwaukee Journal Sentinel; her earlier work revealed predatory physicians, untested rape kits and an underground network that allowed people to abandon adopted children.
Kantor joined the Times in 2003 as arts and leisure editor, after leaving her position as editor of Slate magazine. She later became a national correspondent and now is an investigative reporter for the Times, and a contributor to CBS This Morning. She covered former President Barack Obama and First Lady Michelle Obama for six years and wrote "The Obamas," a behind the scenes look at their adjustment to their positions in the White House.
"I can't imagine two better people to honor at this time. Across the country, women are standing up against sexual harassment, sexual assault and other injustices. Without Twohey and Kantor helping to shed light on sexual misconduct, this behavior would have continued unchallenged," said LaToya Dennis Milwaukee Press Club President. "We truly are honored to have Megan Twohey accept the Sacred Cat Award for herself and for Jodi Kantor."
Past Sacred Cat honorees include David Fahrenthold, Marty Baron, Ann Compton, Jonathan Alter, Cokie Roberts, Walter Cronkite, Malcolm Forbes, Judy Woodruff, Michael Bloomberg and David Maraniss.
Additional honors went to the club's 2018 Headliners, Gary Grunau, real estate developer, business and civic leader; and Juli Kaufmann, entrepreneur, developer and civic leader. The Headliner Awards are presented annually to those who are making a positive difference in Wisconsin.
Grunau, one of Milwaukee's most prominent business and civic leaders, is President of Grucon Group LLC. He is perhaps best known for his work revitalizing the former Jos. Schlitz Brewing Co. complex, transforming it into the current Schlitz Park office complex. Grunau has demonstrated a life-long commitment to Milwaukee and was instrumental in some of its most successful and innovative urban projects, including Grand Avenue Middle School, creating the Milwaukee Education Center from an abandoned Schlitz Brewery building, the Hyatt Regency, the Wisconsin Center, Discovery World at Pier Wisconsin, the Milwaukee RiverWalk, the Time Warner Building, the Boston Store revitalization, YWCA Villages, King Heights and Manpower's world headquarters.
His projects have won numerous awards including the Urban Land Institute Achievement Award and The National Council for Urban Economic Development Award for Schlitz Park. He has served on numerous nonprofit and civic boards, and currently is chairman of the Milwaukee Academy of Science, vice chairman at Discovery World, chairman of the Turner Hall Ballroom Historic Trust, and a member of the Greater Milwaukee Committee.
Kaufmann, a self-described serial entrepreneur, is president of Fix Development, an award-winning Milwaukee commercial real estate company. Kaufmann and her firm have developed more than $25 million in real estate projects and currently are focused on the Lindsay Heights, Sherman Park, Riverwest and Harambee Neighborhoods. Fix Development creates "quadruple bottom line" real estate projects that aim to have positive cultural, social, environmental and economic impact.
Kaufmann also is co-founder of Fund Milwaukee, a local investment group that matches unaccredited local investors with opportunities to support local entrepreneurs. To date, the effort has raised more than $1 million in local capital, funding dozens of local businesses like Purple Door Ice Cream and Coast In Bikes. Kaufmann also is board chair at 88.9 Radio Milwaukee and is a founder and board member at Bublr Bikes, Milwaukee's start-up bike-sharing system.
Past Headliner honorees include Carmen Pitre, Howard Fuller, Ted Kellner, Hannah Rosenthal, Ricardo Diaz, Linda Mellowes, Michael Pink, Barry Alvarez, Jane Pettit, Bud Selig, James Lovell, Ben Marcus and Steve Marcus.
Founded in 1885, the Milwaukee Press Club is the oldest continuously operating press club in North America. Its members represent a diverse community of media-focused professionals from nearly every local media outlet, and also include a strong contingent of public relations and marketing professionals and others with an interest in journalism and news media.