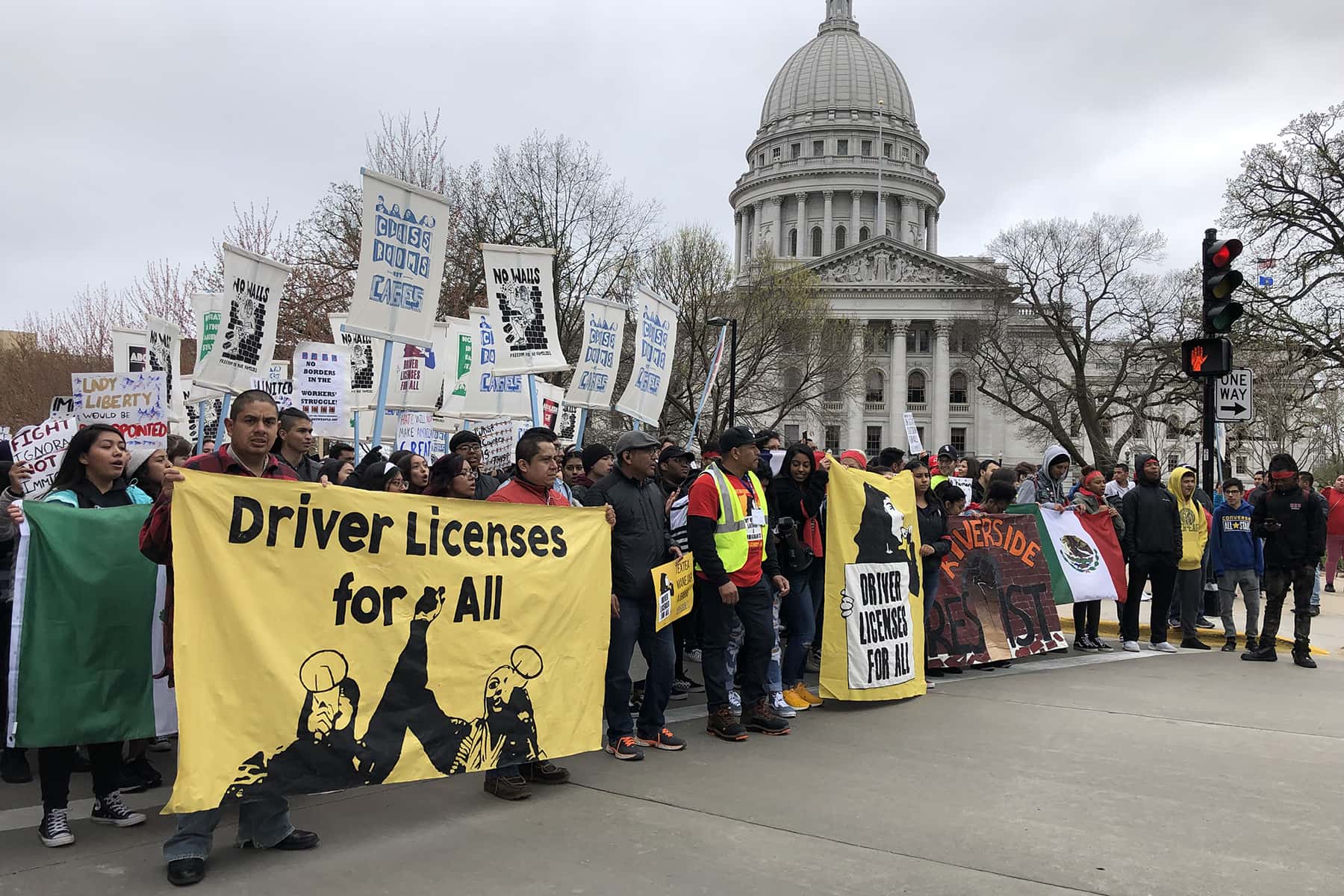 Thousands of people marched on the Wisconsin State Capitol in Madison as part of the Day Without Latinxs & Immigrants on May 1, a statewide general strike urging the state legislature to restore access to driver licenses for immigrant families.
More than 180 businesses were closed throughout the state on the day. Wisconsin Governor Tony Evers included measures to restore driver licenses for immigrants in his 2019-2021 state budget proposal, and the Dairy Business Association, as well as leaders from both parties have spoken out in support.
"I'm here as a co-owner of a dairy and an immigrant, I am here because our community needs driver licenses," said Omar Guerrero, co-owner of Drake Dairy in Elkhart Lake, Wisconsin. "Most dairy workers are Latino immigrants. We should all be able to work, pick up our kids, and get groceries without fear. This will also make the whole community safer. We make this state stronger, and we need driver licenses."
Wisconsinites could obtain driver licenses regardless of immigration status until 2007, when a law passed by the legislature the previous year to take licenses away from immigrants without a Social Security Number went into effect.
"This year, we fight for driver licenses," said Christine Neumann-Ortiz, Executive Director of Voces de la Frontera. "After a massive effort, our community elected a pro-immigrant, pro-labor, and pro-public education Governor. Tony Evers has put driver licenses and instate tuition in his state budget. We still need to build a stronger and more diverse mass movement across Wisconsin to demand that the leadership of the Republican Party work with Governor Evers to build bipartisan support to restore driver licenses for immigrants. We will not stop until immigrants in Wisconsin can go into a DMV and once again get their driver license and drive without fear."
May 1 is a traditional national day of action for immigrant and worker rights. Marches in at least ten cities nationwide protested the Trump Administration's attacks on immigrant and refugee families. The called for an end to deportations and split families apart and keep them separated.
"As the Chief of Police of the second largest city in Wisconsin, I want driver licenses for all," said Mike Koval, Madison Chief of Police. "Immigrants have contributed to our city's and our state's success. For us to thrive as a community we all have to participate. Immigrants have been denied that right for too long. Driver licenses are overdue. You should not have to drive to school or work or worship in fear of being pulled over. This is not just a question of good economics. This is a question of human decency and civil rights."
Movimiento Cosecha organized Day Without an Immigrant actions in New Jersey, Indiana, Georgia, Massachusetts, and Michigan to urge those states to restore access to driver licenses for immigrants and provide countywide protections as part of their #ManejandoSinMiedo campaign.
"Like Governor Evers, I and the Madison Common Council support your efforts to secure a state driver license," said Madison Mayor Satya Rhodes-Conway, who spoke during the rally. "It makes our communities safer when people can drop off their children at school or drive to their place of work without fear, and it makes our road safer too."
Marchers also addressed the need to restore driver licenses for low-income US Citizens. Over 200,000 Wisconsin citizens had their licenses suspended in 2017 for inability to pay fines. Seven states do not take away people's driver licenses for inability to pay fines. Most recently Virginia implemented this reform.
"Because we Jews were immigrants in Egypt who were not welcomed and not treated with justice, we are always commanded always to be mindful of the immigrants in our community," said Rabbi Bonnie Margulis of Wisconsin Faith Voices for Justice and Dane Sanctuary Coalition. "As it says in Leviticus: 'The stranger who resides with you shall be to you as one of your citizens; you shall love them as yourself, for you were strangers in the land of Egypt.'"
A day after the march on May 2, Republican leaders of the Joint Finance Committee announced that they intended remove several non-fiscal provisions from proposed budget presented by Governor Evers, including measures to restore access to driver licenses and in-state tuition at public colleges to immigrants in Wisconsin.
"The justification given by the Republican leadership on the Joint Finance Committee to remove these pro-immigrant provisions because they are 'non-fiscal' items is false," added Neumann-Ortiz. "Investing in driver licenses and educational opportunities for Wisconsin's youth will help our economy grow."