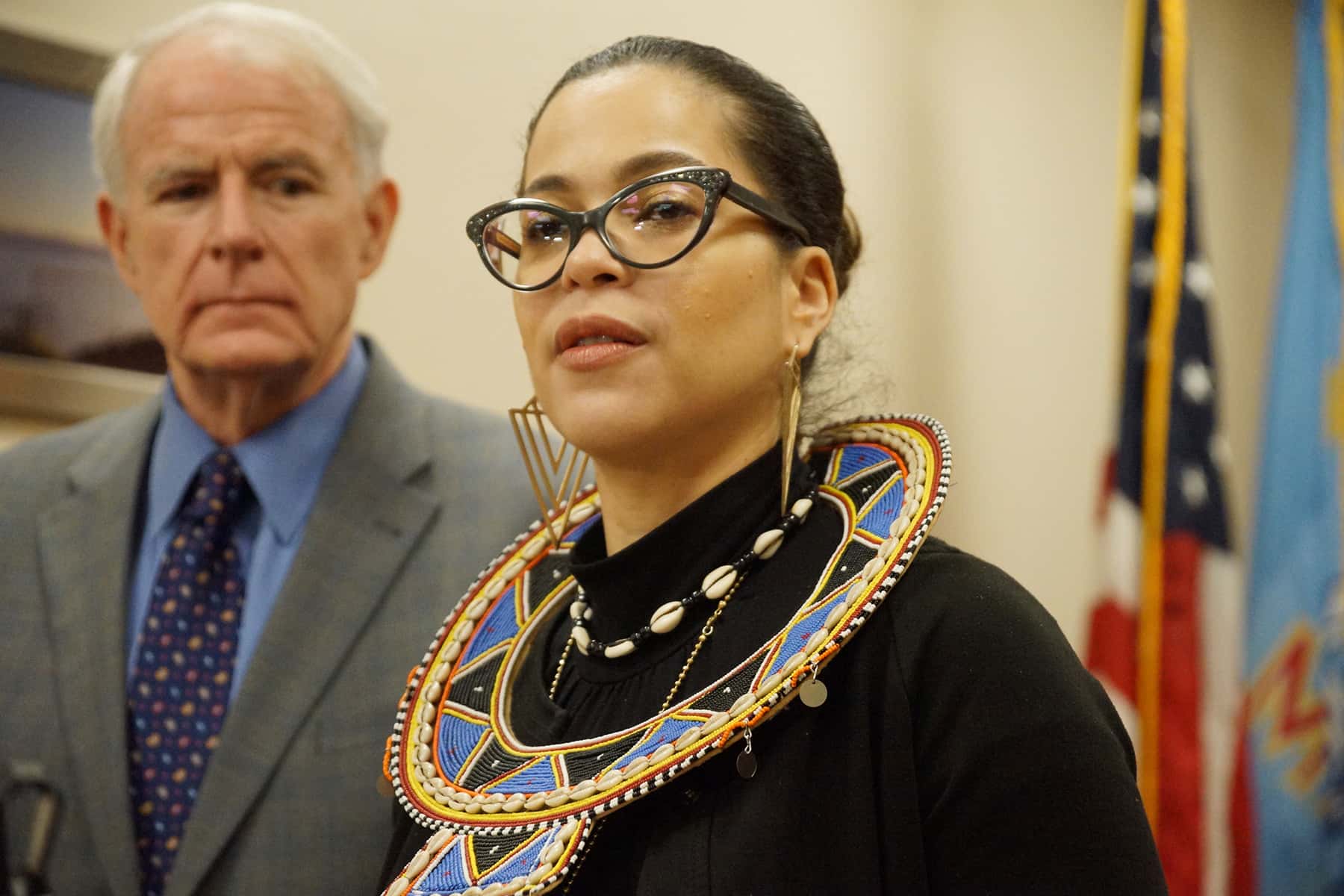 Mayor Tom Barrett and Health Commissioner Jeanette Kowalik hosted a news conference on February 28 at City Hall to update the public on steps being taken to protect Milwaukee against COVID-19.
The city's Health Department is currently only monitoring travelers coming from China, where the COVID-19 strain of the coronavirus outbreak originated. Four people are currently under voluntary home quarantine in Milwaukee as a precaution.
"Our goal at this time is around the response to COVID-19. It's to make sure that travelers from places where the disease is active are identified through our surveillance systems and receive rapid recommended follow-up and testing," said Jeanette Kowalik, Milwaukee Health Commissioner. "Currently, we're only monitoring travelers from China, per the CDC and the state of Wisconsin Department of Health Services recommendations."
Commissioner Kowalik highlighted some of the efforts being done by the health department, as the emerging public health threat evolves. They focused on communicating with educational and medical institutions to discuss questions, address concerns, and detail local preparedness activities around COVID-19.
"Those people who have traveled to areas where the COVID-19 outbreak is happening and who are under self-quarantine are performing a valuable service to everyone by helping to make sure this disease does not spread further," said Commissioner Kowalik.
Mayor Barrett said that the risk to the Milwaukee public of getting the disease remained low. However, he stressed how important it was to continue taking precautions against COVID-19 and other circulating respiratory pathogens, such as the seasonal flu.
"If there is one message that I can give the public, in addition to the fact that we are working very closely with the state and federal government, is for our residents to take whatever actions they can to prepare themselves and avoid contracting the disease," said Mayor Barrett. "This is very basic stuff, like washing your hands thoroughly and some common sense steps like for dealing with any respiratory disease – to cover our mouths when we cough, all the things we learned in kindergarten should be applied now."
The City of Milwaukee Health Department is asking that travelers returning from countries with a CDC level 3 travel health notice (currently, China, Italy, Iran, and South Korea) to self-quarantine for 14 days after leaving the country and follow instructions for people with medium risk of exposure to COVID-19. Returning travelers from a CDC level 2 travel health notice (currently, Japan) should monitor themselves for symptoms of the illness, such as fever, cough, and difficulty breathing.
For travelers who develop symptoms of COVID-19 within 14 days of leaving the country with a level 2 or 3 notice, call your health care provider. Call ahead before you go to your doctor's office or to an emergency room. Tell them your symptoms and that you traveled to an area of the world experiencing a COVID-19 outbreak.
Do not use public transportation, ride-sharing, or taxis.
If you have a face mask, wear it if you need to be around other people.
Cover your mouth and nose with a tissue when you cough and sneeze.
Anyone needing emergency medical attention during their monitoring period should call 911 and let them know that they traveled to an area of the world experiencing a COVID-19 outbreak.
Days after the Centers for Disease Control (CDC) issued a warning about the global spread of COVID-19, City of Milwaukee leadership began communicating with state and federal agencies in preparation. Wisconsin health officials have said that the flu was more of a threat in the state than COVID-19. However, the recent outbreaks in Washington and other states exposed the unpredictability of how the illness was passed person-to-person. World financial markets have plunged in recent days over coronavirus fears, and the World Health Organization has increased its risk assessment of the virus to the highest level.
"As a community, we do need to be vigilant against fear and anxiety around the virus that can lead to social stigma towards Chinese or other Asian Americans," said Mayor Barrett. "Stigma hurts everyone by creating more fear or anger towards ordinary people, instead of the disease that is causing the problem. So we would ask people to be respectful and treat others as we want to be treated."
Mayor Barrett outlined measures that the city was prepared to take to limit transmission, like restricting public gatherings in closed spaces. However, the Mayor stressed that the city was "not anywhere close to that."
"There are measures that we could take, but we would not do them prematurely to create hysteria," Mayor Barrett added. "We are following the scientists very carefully and the health care professionals, and that's why we're doing all this monitoring. That is why we're doing all this communication. But I don't want this to be a fear-producing conversation."
How to protect against coronavirus
World Health Organization recommends people take simple precautions against COVID-19 to reduce exposure and transmission
How does the coronavirus spread?
The COVID-19 coronavirus outbreak is a new illness and scientists are still assessing how it spreads from person to person, but similar viruses tend to spread via cough and sneeze droplets.
When an infected person coughs or sneezes, they release droplets of saliva or mucus. These droplets can fall on people in the vicinity and can be either directly inhaled or picked up on the hands then transferred when someone touches their face, causing infection. For flu, some hospital guidelines define exposure as being within six feet of an infected person who sneezes or coughs for 10 minutes or longer.
Viruses can also be spread through droplets landing on surfaces such as seats on buses or trains or desks in school. However, whether this is a main transmission route depends on how long viruses survive on surfaces – this can vary from hours to months.
There is anecdotal evidence that the virus can be spread by people before they have symptoms. Some other illnesses such as flu can be passed from one person to another before symptoms occur – but the extent to which this is happening with the Wuhan coronavirus is not well understood yet.
How to protect yourself and others
Wash your hands: wet your hands with clean, running water and apply soap. Lather your hands, including the backs, between your fingers, and under your nails and scrub for at least 20 seconds. Rinse.
Cover your mouth and nose with a tissue when you cough or sneeze, then throw the tissue in the bin and wash your hands. If you do not have a tissue to hand, cough or sneeze into your elbow rather than your hands.
Face masks offer some protection as they block liquid droplets. However, they do not block smaller aerosol particles that can pass through the material of the mask. The masks also leave the eyes exposed and there is evidence that some viruses can infect a person through the eyes.
Seek early medical help if you have a fever, cough and difficulty breathing, and share your travel history with healthcare providers.
If visiting live markets in affected areas avoid direct, unprotected contact with live animals and surfaces that have been in contact with animals.
If you are in an affected area avoid eating raw or undercooked animal products and exercise care when handling raw meat, milk or animal organs to avoid cross-contamination with uncooked foods.
If you have returned from an affected area in China in the last two weeks, stay indoors and avoid contact with other people for 14 days. This means not going to work, school or public areas.
If you have returned from an infected area and develop a high temperature, cough, runny nose, sore throat or difficulty breathing do not leave your home until you have been given advice by a doctor.
– Hаnnаh Dеvlіn
The
Milwaukee Independent
began reporting on what was then referred to as the mysterious "Wuhan Virus" in January 2020. Other local media did not picked-up on the story until many weeks later. Our early features focused on the economic impact, social issues, and health concerns long before other Milwaukee news organizations even mentioned the coronavirus. Over the following year, we have published hundreds of articles about the pandemic and how it has affected the lives of Milwaukee residents. This extensive body of work can be found on our
COVID-19 Special Report
page, a chronological index of links by month. Our editorial voice remains dedicated to informing the public about this health crisis for as long as it persists.
For medical resources, please visit the
CDC's COVID-19 page
or the
Wisconsin Department of Health Services
. All editorial content published by
Milwaukee Independent
can be found at
mkeind.com/COVID19
. With a mission of transformative journalism, our staff is free from commercial bias and are not influenced by corporate interests, political affiliations, or a public preferences that rewards clicks with revenue. As an influential publication that provides Milwaukee with quality journalism, our award-winning photojournalism and features have helped to achieve a range of positive social impact that enriches our community. Please join our effort by entrusting us with your contribution. Your Support Matters -
Donate Now