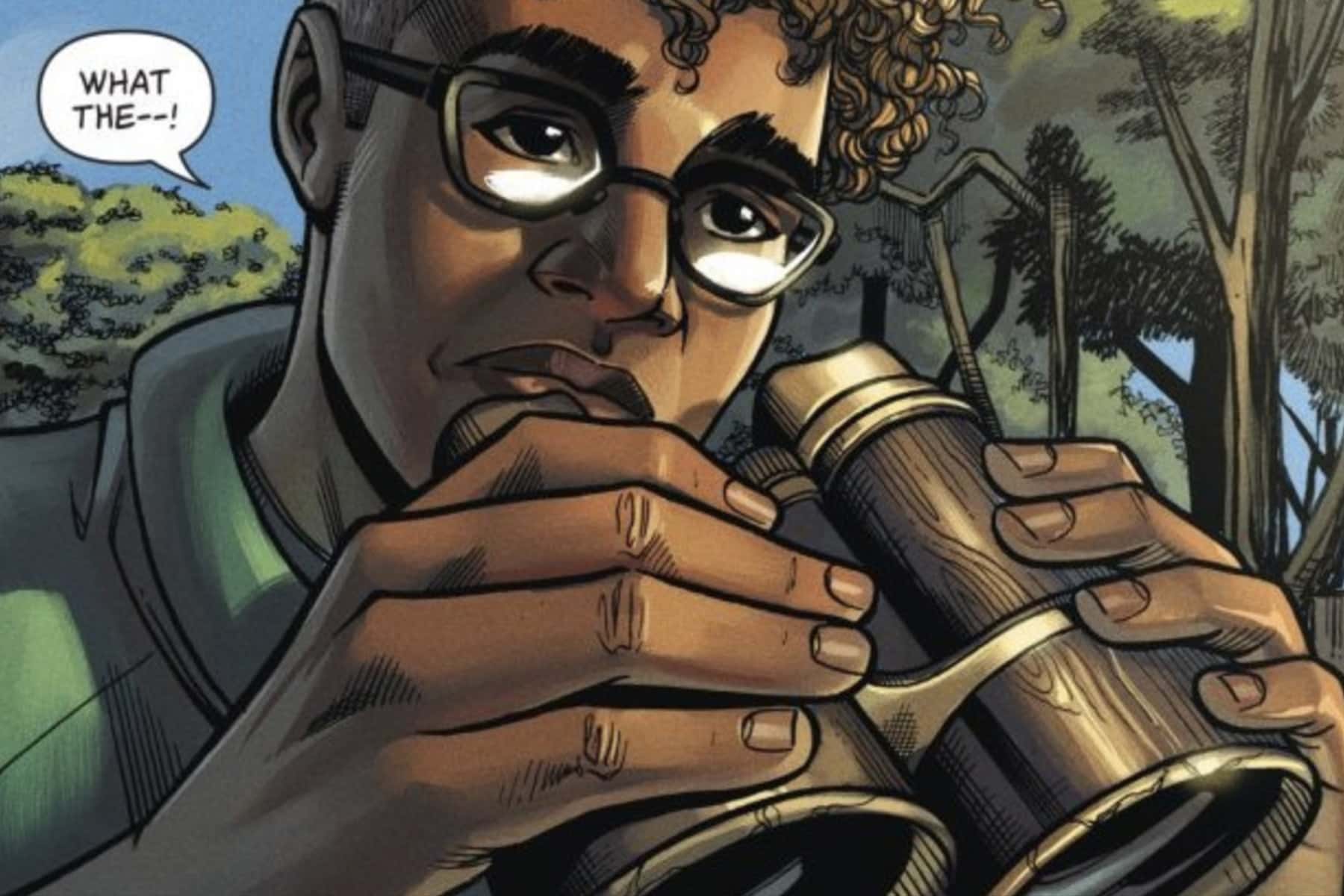 DC Comics released a new digital-first anthology series, Represent! on September 9. It launched with It's a Bird by Christian Cooper, the science fiction writer who experienced a racial confrontation on May 25 while bird watching in Central Park.
Produced with Alitha E. Martinez, Mark Morales, Emilio Lopez, and Rob Clark Jr., the first chapter is available for free on participating digital platforms including Amazon Kindle and Apple Books. Additional chapters of Represent! will be available digitally in 2021.
"This digital series is designed to showcase and introduce creators traditionally underrepresented in the mainstream comic book medium," said Marie Javins, executive editor. "We'll highlight both new and familiar voices, beginning with It's a Bird by writer Christian Cooper and artist Alitha E. Martinez, a semi-fictionalized account of Christian's very real evolution from a kid with a pair of binoculars to a man in an unexpected media spotlight after an altercation with a woman walking her dog in Central Park."
DC is one of the largest English-language publishers of comics and graphic novels in the world, and home to some of the most iconic and recognizable characters ever created. Cooper is a former comics editor and writer, returning to the industry after two decades away. For the Represent! project he drew inspiration from his real-life experience on May 25. While Cooper was birdwatching in Central Park, a woman called 9-1-1 to falsely report that he was "threatening" her and her dog, in a charged attempt to leverage pre-existing bias and systemic racism.
That same day, George Floyd was killed by police in Minneapolis, igniting a summer of protests calling for change and bringing further attention to incidents of police brutality against Black people, such as the shooting of Breonna Taylor, who was killed by police in March in her Louisville, Kentucky home. Those events fuel It's a Bird, which tells the story of a young Black birdwatcher gifted with a pair of binoculars that allow him to learn the stories of Amadou Diallo, Breonna Taylor, and George Floyd.
Comic books have been praised for their ability to offer an escape, with thrilling tales of good vs. evil entertaining fans for decades. Yet the true power of comics as a medium is that it can tell any kind of story with power, style, and resonance.
Christian Cooper spoke about the experience during a recent news conference with DC Comics, to discuss the first chapter of Represent!
Given how rooted this is in real life, Represent! and specifically this first chapter feels like something unexpected from DC, in all the right ways­. How did this story come together?
Christian Cooper: DC approached me about possibly doing a comic story that tapped into my experience. I thought, "I don't know, DC Comics? Superheroes? Not sure how that's going to work." We kicked around a couple of ideas. They said they had gotten the title, I'm not sure exactly from who, but somebody pretty high up in the DC food chain: It's a Bird. It took me half a beat. "Oh…I get what you did there." Once I had the title, the story wrote itself.
This is an undeniably powerful and poignant story, involving very real tragedies and injustices. What was it like putting those emotions into a comic book story — especially as it draws upon a first-hand experience?
Christian Cooper: When I saw the artwork come back, there were aspects of it that made me gasp, just seeing it. There are a lot of emotions to the whole thing. I like the journey the young character goes through, from naïve and flippant; to the end, he's quite sober about everything. When I see the violent images, they really made me gasp at the power of them. The one that really hurt me was the one of Breonna Taylor—just the idea of someone losing their life in that way. The most important part for me is the last two pages, because of what they focus on. That person chattering away, trying to make it all about her, and our character turns his back on her. And her voice becomes smaller and smaller, because she is insignificant, and what matters is the ones we've lost, and how we keep from losing any more. And that's what he turns his attention to on that last page. I think that's probably the most important message in the whole thing.
A lot of the times we think of comic book as escapism, and It's a Bird, by its nature is the opposite of that. What do you see as the capacity of comics to tell a story like this?
Christian Cooper: The thing I always come back to is, with comics, anything is possible. With film, with television, there are budget limitations. With comics, there are no limits. Whatever you can put with pen on paper, can come to life and appear in ways that are so stylized that it intensifies the storytelling, and intensifies the drama.
The story feels like it has the capacity to reach a very broad audience of comic book fans, so who do you see as the audience for this story?
Christian Cooper: I hope as many people as possible read it, but I'm hoping in particular that young people read it. I think a lot of them may not know some of these stories, particularly as we got into detail in the appendix. We not only give the bare bones details of how they died, but also a little bit about them, because they were people. They weren't just want happened to them. I hope young people read it, and that they're inspired to keep the focus where it needs to be, which is on those we have lost and how we keep from losing more. There are people who are invested in distracting us right now, and there are people who want to distract us from their failures on so many other things. That's not what this moment is about. This moment is about the ones we've lost, and how we're going to keep from losing any more. And if you're not talking about that, I don't want to hear it.
This is actually a return to comics after many years away from the medium. What was that like for you, and do you see this as the start of doing more in the field?
Christian Cooper: When I was sitting down to do this, I'm like, "This is the first comics story I've written in 20 years. I don't know what I'm doing. I can't resurrect that part of myself." Then I started writing it, and I'm like, "Not only can I do this, but I'm having a hell of a lot of fun! Finally! At last!" It was wonderful to return to comics format, and it felt right. It felt natural. As I said, there are no limits to what you can do in comics. I think that is a large part of what made me create this particular approach to the story, with so many different elements of my experience—from the binoculars themselves which are passed down, from generation to generation. In real life, the binoculars that I use were a birthday gift from my dad, who was very active in the Civil Rights movement, and was a Korean War vet. All of these real elements combine with these fantastical elements to create something that is more than the sum of its parts, I hope. That's something that comics do so magnificently well. It was wonderful to be back in comics, and I hope to do more. We'll see!
This is a bleak time in history in a lot of ways. But still, there's hope to be found, and it feels like this story ends on something of an optimistic note. What's it like to find optimism in this time, when that's not an easy thing to do?
Christian Cooper: I didn't see it as optimism so much as a moment of grace — giving in fiction, at least, what these people didn't get in life. A grace note finale to what happened to them. If I find optimism in this present moment, I'm very stingy with that. I do not want to give that up. We have been here so many times. So when the latest happened, and all these protests erupted, and things were so widespread and seemed to keep going, I was still really stingy. "We've been here before. This isn't any different." I've allowed myself the slightest bit of hope that this time actually things will be different. Not going to solve everything. We're not going to suddenly reach a happy la la land where systemic racial bias has been lifted from the land, but I see the potential for at least some progress this time. Some substantive progress. And I say that because so many young people are involved, and they are the future — and because so many people of all ethnicities were out in the street, and the protests are sustained.
Many organizations are also working to advance social justice and civil rights in support of #BlackLivesMatter, including Color of Change, Equal Justice Initiative, NAACP Legal Defense & Educational Fund, National Center for Civil and Human Rights, National Urban League, and the Bail Project.
These headline links feature the daily news reports published by Milwaukee Independent about the George Floyd protests, the revival of the Black Lives Matter movement that followed, and their impact on the local community in for 8 months from May to December of 2020.