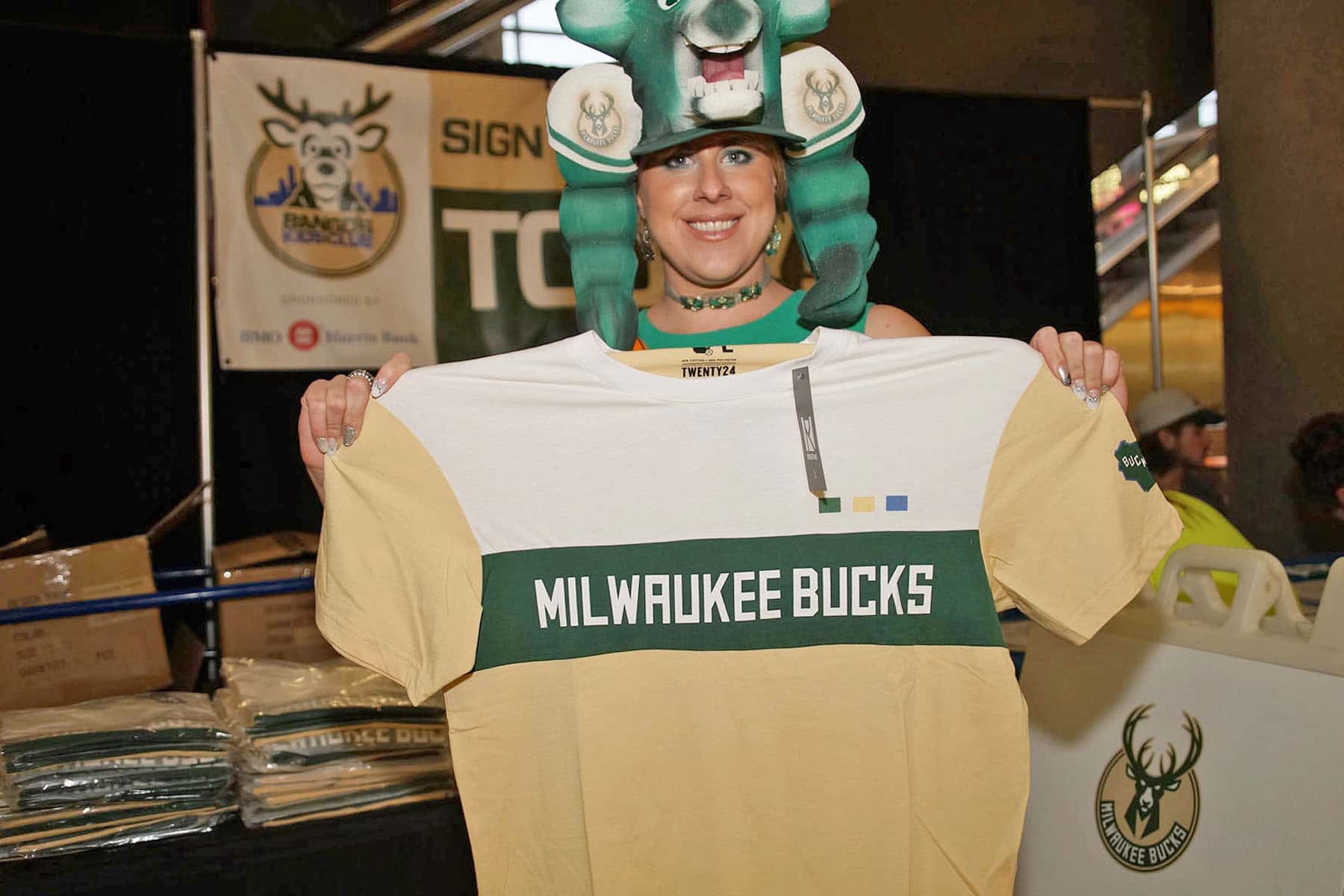 The Milwaukee Bucks and 88Nine Radio Milwaukee organized a series of celebrations focused on local people and communities, during each Monday home game this season as part of the Milwaukee Monday program that concluded on April 10, at the BMO Harris Bradley Center.
Milwaukee Bucks fans had a lot to cheer about well before the game against the Charlotte Hornets concluded with a 89-79 win, and a slot in the first round of the NBA playoffs. Two-time Grammy Award-winning hip-hop group "Arrested Development" gave a special halftime performance during the last "Fan Appreciation Night" of the regular season. It was a particular honor for co-founder and lead vocalist Todd 'Speech' Thomas, who grew up in Milwaukee.
"A lot of friends that I know, teachers, and just people I grew up with are here tonight. That means the world to me on a personal level. I'm in love with the City of Milwaukee, and of course its given so much to me. So its an honor to give back," said Speech. "There are so many issues that I yearn to help solve right here in Milwaukee, it is very personal to me. I think is so important for people to have a way to get inspired. But then after they're inspired, there be something that they can follow up with. That's one of the things that we're doing, on a personal level."
In its second year, Milwaukee Mondays has offered a variety of connection points for basketball fans and members of the public. Using locally designed t-shirts, hometown musicians, mentorships programs, mini-documentaries about area neighborhoods, and with participation by various community organizations, the Bucks and 88Nine told stories and educated fans about the unique fabric of Milwaukee. The special home game events also provided an opportunity for both partners to showcase different aspects of the city, culture, and people.
"We want to be that megaphone for things that are going on in Milwaukee, for more than 41 nights of basketball. We want to be a community partner, and take our global platform to create something special that showcases everything going on in the city," said Dustin Godsey, Chief Marketing Officer for the Milwaukee Bucks. "We've seen results, from people watching our games on league pass in Canada or Los Angeles, saying they just saw this really cool musical act at a Bucks game. That's exactly what we want, to not only create a unique fan experience within the Arena, but also to showcase and tell the story about the great things Milwaukee has the offer."
Leaders and staff from both organizations have been aware of the real problems and issues faced by the city and its population. They knew that for those needed changes to start, the public must begin to engage in conversations that lead to understanding. Milwaukee Mondays have been a small part of that ongoing effort. It began with thinking local, supporting local, and educating local.
"I think the series has really ignited some positive synergy with the creative community and sports fans alike. Milwaukeeans have an incredible sense of Milwaukee pride, and Milwaukee Mondays have helped localize that momentum," said Sarah Fierek, Director of Underwriting Partnerships and Weekend Host at 88Nine Radio Milwaukee. "When you can buy a ticket package that comes with a limited edition Milwaukee Bucks T-shirt created by a designer from our community, experience a live Milwaukee band at halftime, and visit your friends from a local public radio station while at an NBA game, I'd say that is an example of supporting the fabric of your community. I'd love to see other NBA teams join with public radio stations in their community to create a similar partnership."
Monday night games can be tough to draw big crowds, especially early in the season. Bucks research showed that 80% of the fans who came to games on Mondays were from Milwaukee. The team felt that it offered a real opportunity for them to do something special on those nights. While the new basketball arena was under construction with metal and glass, the Bucks Foundation was created to build deeper relationships with people and communities.
"The arena that Milwaukee bands get to play in due to this partnership helps to legitimize the quality of their music, to those who don't always go to small Milwaukee clubs to hear these amazing bands. It goes a long way to help these artists grow their fan base, and it introduces great Milwaukee bands to many who may not have heard of them," said Jordan Lee, Program Director at 88Nine Radio Milwaukee. "We really want to expand this idea, as the Buck expand their footprint downtown with the new stadium. We see a real opportunity for Milwaukee's music scene to grow, along with this new development."
The Milwaukee Bucks have also been a presenting sponsor of 88Nine's 414 Music Live program for the past two years. Milwaukee bands give live performances that are open to the public every Thursday at the station's studio on 220 E. Pittsburgh in Walker's Point. In addition, the Bucks have also sponsored the Independent Artist of the Year event at 88Nine's annual Radio Milwaukee Music Awards. The commitment has shown the local music scene that both organizations are actively involved and dedicated to creating new opportunities.
"Supporting local music is a big part of Radio Milwaukee's mission," said Glenn Kleiman, Executive Director at 88Nine Radio Milwaukee. "This program gives Milwaukee artists great exposure, and the chance to play for many thousands of people. Such a great opportunity. We are proud to help make this happen."
The current efforts evolved from the Milwaukee Originals T-shirt program that the Bucks started four years ago. For Milwaukee Mondays, the basketball franchise asked the public radio station to help curate the bands that would play during paid halftime shows in the series.
"We were lucky enough to bring some family and friends to the game with us on Monday. When we all walked into the BMO Bradley Center it was a very surreal experience," said Michael DeGrave, Co-Founder of Routine Baseball. "The whole group was excited to see so many people wearing our shirts around the arena, it was a wonderful experience to share with them. The great thing about Milwaukee is the support our community offers brands like ourselves to participate in programs like this, and how well they support it. They are the ones buying the tickets to get the shirt, and if it wasn't for the fans this experience for us wouldn't exist. So we are thankful to all the Bucks fans who support the local musicians and artists, and for giving us the opportunity to grow our brands even more."
It is rare that bands or musicians can say they sang the National Anthem at a pro baseball game, or played halftime at an NBA game. In addition to the chance to grow their fan base, the Milwaukee Monday program gives artists a boost of confidence to help take their music, and careers, to the next level.
"I think the reaction has been phenomenal. I see the T-shirts all around town and every game I go to. Whether it's a Milwaukee Monday game or not, people are sporting these local designs," said Peter Adams, Media Partnerships and Sponsorships Manager at 88Nine Radio Milwaukee. "Musically, it's great to see people not leaving their seats at halftime and taking in the Milwaukee bands at half court. This is an amazing opportunity for these bands to grow their reach to a new crowd outside of the traditional club scene."
As part of this season's Milwaukee Mondays platform, the Bucks highlighted a Milwaukee neighborhood during each game to share the positive things happening in the community. The Bucks partnered with TRUE Skool and 371 Productions to give local youth an opportunity to share the stories of their neighborhoods through their urban art and video production expertise. TRUE Skool provided the opportunity for youth to advance their knowledge in social justice, education, and workforce development through a variety of programming. 371 Productions is an award-winning, Milwaukee-based media company that produces documentary films and other media projects, like the ongoing radio series about youth and gun viоIеncе, "Precious Lives."
"We've worked with TRUE Skool to create minute long videos and vignettes about each of the neighborhoods that we focus on," added Godsey. "Each of the Monday nights we run them in-game, and they are from the lens and perspective of the kids living in those neighborhoods. So it's a great authentic story. They're not produced from the perspective of the Bucks, but from the youth who share a truthful perspective of the neighborhood, telling their story."
"Mentoring Mondays" has also been a visible program, where the Bucks host 250 youth and their youth leaders from a wide variety of mentoring organizations across the greater Milwaukee area. One in three young people grow up without a mentor and the Bucks have been committed to being a voice that helps change the statistic. Mentoring strengthens young people, neighborhoods, and the communities. At each game the Bucks have highlighted mentoring organizations, which encourages all fans to get involved in the life of a young person.
Throughout game night on the concourse, there are different community organizations, music groups, and performance artists from around the area that also give people different exposure to aspects of Milwaukee life they may not always experience. Milwaukee Monday has been just one of the year round programs that both the Bucks and 88Nine are involved in to uplift the city that Milwaukee residents call home.
"For me personally, I'm from here so you know I always brag about Milwaukee when I'm around anybody. To be home is special, it means a lot to me, I grew up with the Bucks and to play here at the Arena feels great," added Speech.
2016-17 Milwaukee Originals
View the extended coverage of this complex story, with a full package of news features.