Black Holocaust Museum breaks ground in Milwaukee neighborhood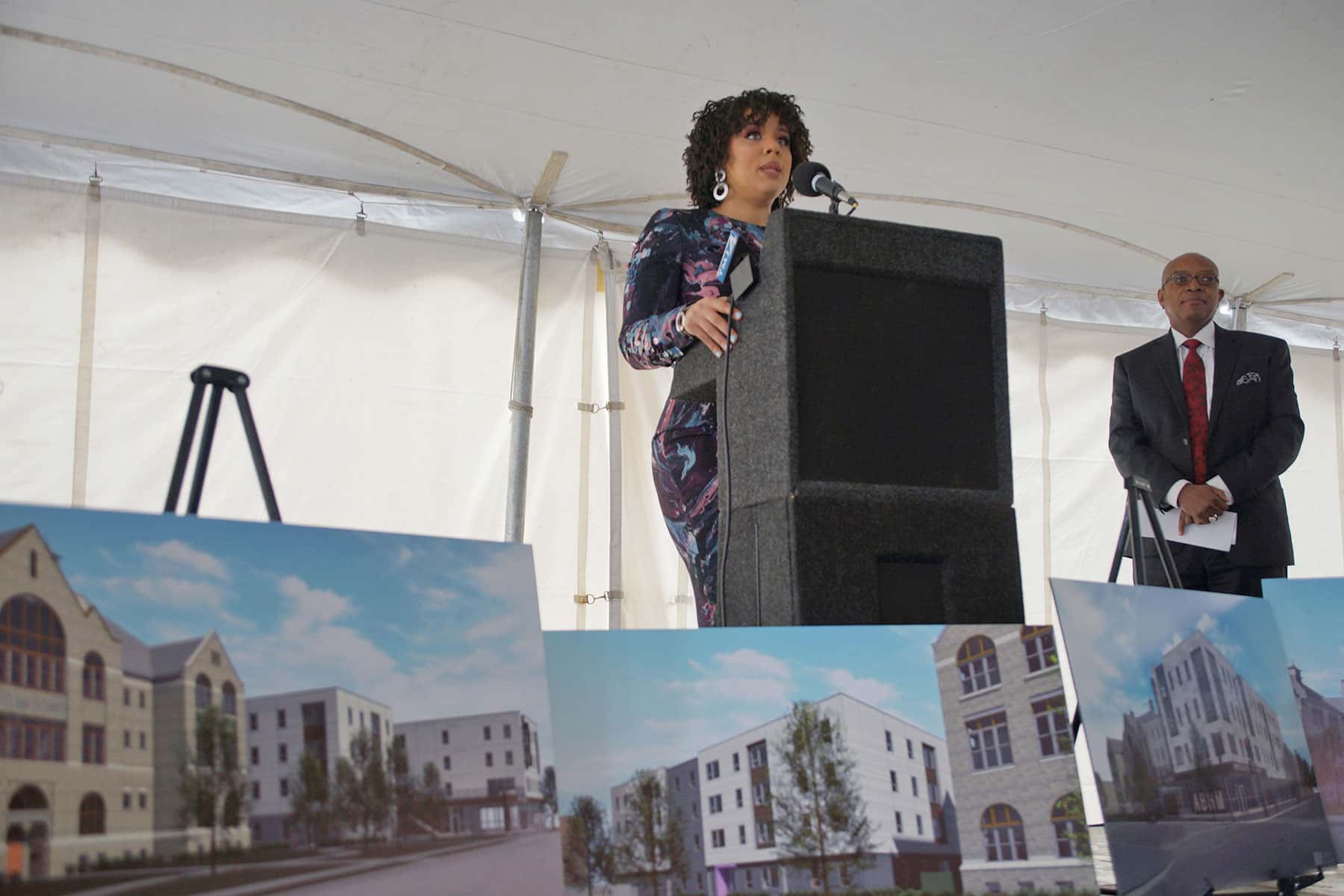 Local residents celebrated of the revival of the Bronzeville commercial corridor and one of its anchor institutions, America's Black Holocaust Museum, during the groundbreaking festivities on April 4.
The $17.4 million catalytic project will transform a currently vacant city block into a vibrant mixed-use campus. In Phase I, the school building will be reborn as the Historic Garfield Apartments comprised of 30 units of high-quality, mixed-income housing. In Phase II, the adjoining vacant properties will be demolished and developed as the The Griot, a newly constructed building with 41 residential units and 8,000 square feet of commercial space.
"In the years since the museum was forced to close its doors, the Bronzeville community has sought a new home for what was once an anchor institution for the neighborhood," Alderwoman Milele A. Coggs said. "I am delighted to see this transformative project move forward, and I truly believe that this will serve as an incredible catalyst for building on Bronzeville's growing economic development momentum."
The commercial space will house America's Black Holocaust Museum (ABHM), one of Milwaukee's most revered cultural institutions, which shares the African American story as part of U.S. history and supports racial repair and reconciliation. The museum will re-open its doors in Spring 2018, and is projected to bring over 10,000 visitors annually into the Bronzeville neighborhood. The Celebration also serves as the launch for the museum's $1.5 million capital campaign.
"We are transforming a largely vacant block into vibrant places for people to live, work, gather, and learn," said Melissa Goins, President and Founder Maures Development Group. "We are also catalyzing development for Halyard Park and Brownsville, as we connect the momentum from downtown into our neighborhood."
The City of Milwaukee first identified the Garfield Project in its 2005 Bronzeville Cultural & Entertainment District Plan. The community was once a thriving economic and cultural hub within a historic African American community. In the 1960s, however, hundreds of homes and businesses were demolished for the proposed Park West Freeway, which was never built. Subsequently, the once-thriving commercial corridor deteriorated, as property values plummeted and buildings fell into disrepair.
"Melissa Goins has been a unique developer, by connecting the brick and mortar together with people. That makes a community, and without community there is no city," said Wyman Winston, WHEDA Executive Director. "The city is not the buildings, it is the people. Melissa is a developers who realizes that, and it can be seen in her work. $17 million does not come with a fairy godmother, it comes with a Maures Development team that does the hard work to get it done."
Located just a mile from major downtown investments, including the new Bucks Arena, the Historic Garfield redevelopment will help connect downtown's growth to the Bronzeville neighborhood. The project is forecasted to create over 115 jobs through construction, property management and the museum. In addition, 40 city residents will receive on-the-job training through an innovative partnership with Employ Milwaukee and the Northcott Neighborhood House.
"I have said this before, as Milwaukee goes so goes the state. We want Milwaukee functioning on all cylinders, and this project is representative of exactly that," said Lt. Governor Rebecca Kleefisch.
Read the article, listen the audio, and view the photo essay that were produced as companion features for this news report.