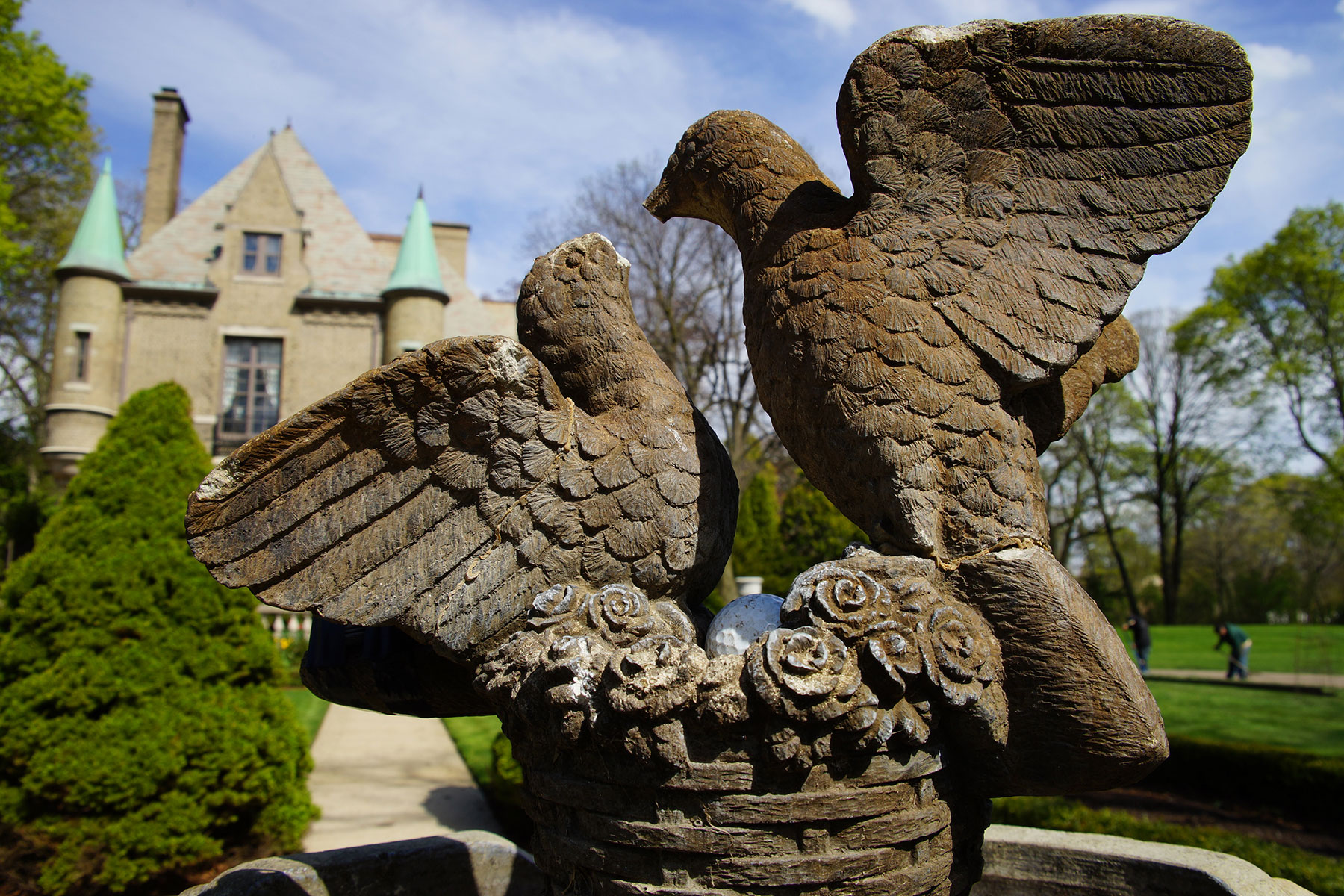 The 35th annual Spaces & Traces neighborhood tour highlighted the foundational environment of Milwaukee. The 2016 event took place on May 14, with a walking route of 3 miles that weaved through the heart of the Historic Water Tower Neighborhood area.
"Historic Milwaukee has been inviting the community to explore Milwaukee's architecturally, historically, and culturally vibrant neighborhoods since 1981," said Stacy Swadish, Executive Director of Historic Milwaukee, Inc. "We are proud to showcase a wide range of homes in the Watertower Neighborhood, from a French Castle on Lake Drive, to a prairie style duplex on Summit, and many styles in between."
Similar to its Doors Open program in downtown Milwaukee, the tour event offered a rare opportunity for the public to see deeper into familiar landmarks that have stood as part of community for over a century.
"The Historic Water Tower Neighborhood overlooks the most beautiful seaside bluff in the world, and its residents do so from a collection of century-old homes that are always worth a second look," said Nik Kovac, 3rd District Alderman for the City of Milwaukee. "This program offers a chance to tour the insides of several homes and buildings that have always piqued our curiosity."
W. B. Rubin Duplex No. 1 & 2
The two-and-a-half story duplex shows many features of the Prairie Style, a design characterized by Frank Lloyd Wright. Its original owner, William Rubin, was born in Russia and moved with his family to Milwaukee as a boy to escape Jewish persecution.
This residence features many of the characteristics of the Queen Anne Revival Style, and was built as the home of Clarence and Elizabeth Chapin.
Constructed originally as a single family home, it was converted into a nursing home and assisted living facility in 1927, then later restored to a family residence in 1998.
The building's architect, Alexander Eschweiler, designed the home to mirror the Chateau d'Azay-le-Rideau, a landmark the Robertsons had visited in France. A principal feature of the home is its symmetrically placed pair of corner turrets.
John F. Dahlman Investment House
This style of architecture, expressed as Federal Revival, was popular from about 1780 to 1820 and emerged from variants in styles that were popular in Europe.
The former lodge is an example of the Venetian Gothic Revival style of architecture, adopted by the Masons in the early twentieth century to distinguish their lodge halls from other fraternal orders.
This Tudor Revival style dwelling is crowned with two prominent chimneys and intersecting gabled roofs with end parapets.  A two-story polygonal bay protrudes from the front facade.
Protestant Home for the Aged
The Protestant Home was originally created as a retirement home for elderly women. It grew over time to meet the needs of its tenants, and expanded to accommodate more residents.
One of three parks designed by Frederick Law Olmstead, the noted landscape architect who helped plan the layout of Central Park in New York. He is also responsible for creating River Park (now Riverside Park) and West Park (now Washington Park).
Under the name of St. John's Infirmary, the institution became the first in the Milwaukee area to offer patient care under the supervision of a physician.
In the early years of Milwaukee, a clean water supply was practically non-existent. Wagons distributed water from thousands of wells around the area. This steam-engine powered tower was build to provide the city with with a constant resource.
Lloyd Raymond Smith House
Lloyd R. Smith, President of the manufacturing giant A.O. Smith, commissioned this home in the style of 16th century Italian Renaissance villas. It was connected to a terrace with beautiful gardens located down to the edge of Lake Michigan.
The exterior reflects influences of French provincial and English Tudor. The owner, Elizabeth M. Black never married and her life's work consisted of private philanthropy resulting from an inheritance.
Designed during Prohibition, the home's blueprints could not be labeled with a Tavern Room, and was titled Den Remodeling. The room was based on an Irish public house from the 1600s.
The need emerged for garages and carriage houses to accommodate all the large homes built along East Lafayette Place. The whole area became known as Chauffeur's Alley.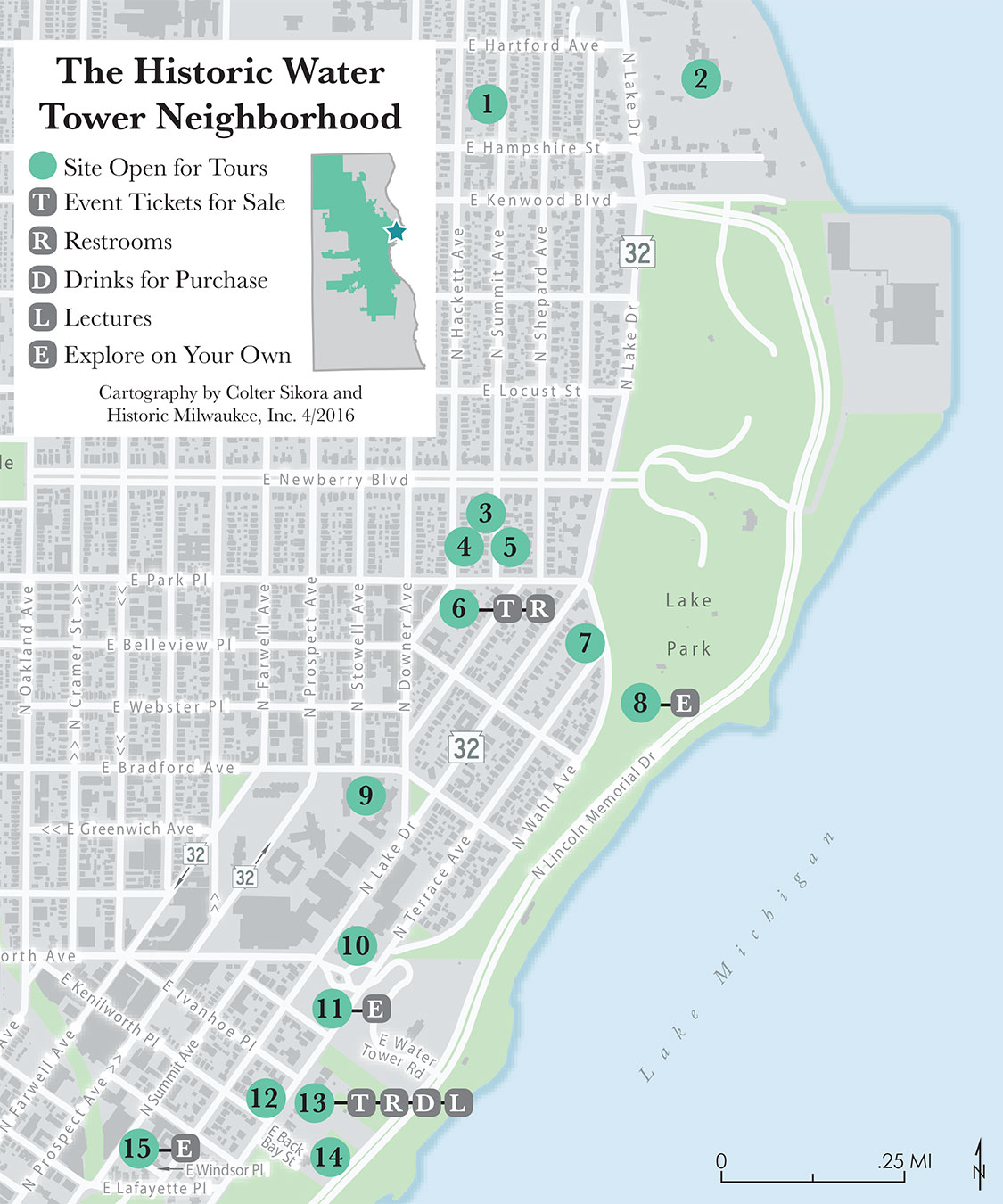 "The presence of so many homes of such high quality in such a small area makes the neighborhood physically unique. No two dwellings are identical, and all are substantial. Brick and stone are so common that frame houses are a rarity. Libraries, multiple  replaces and maid's quarters are practically standard."
– John Gurda
Milwaukee: City of Neighborhoods