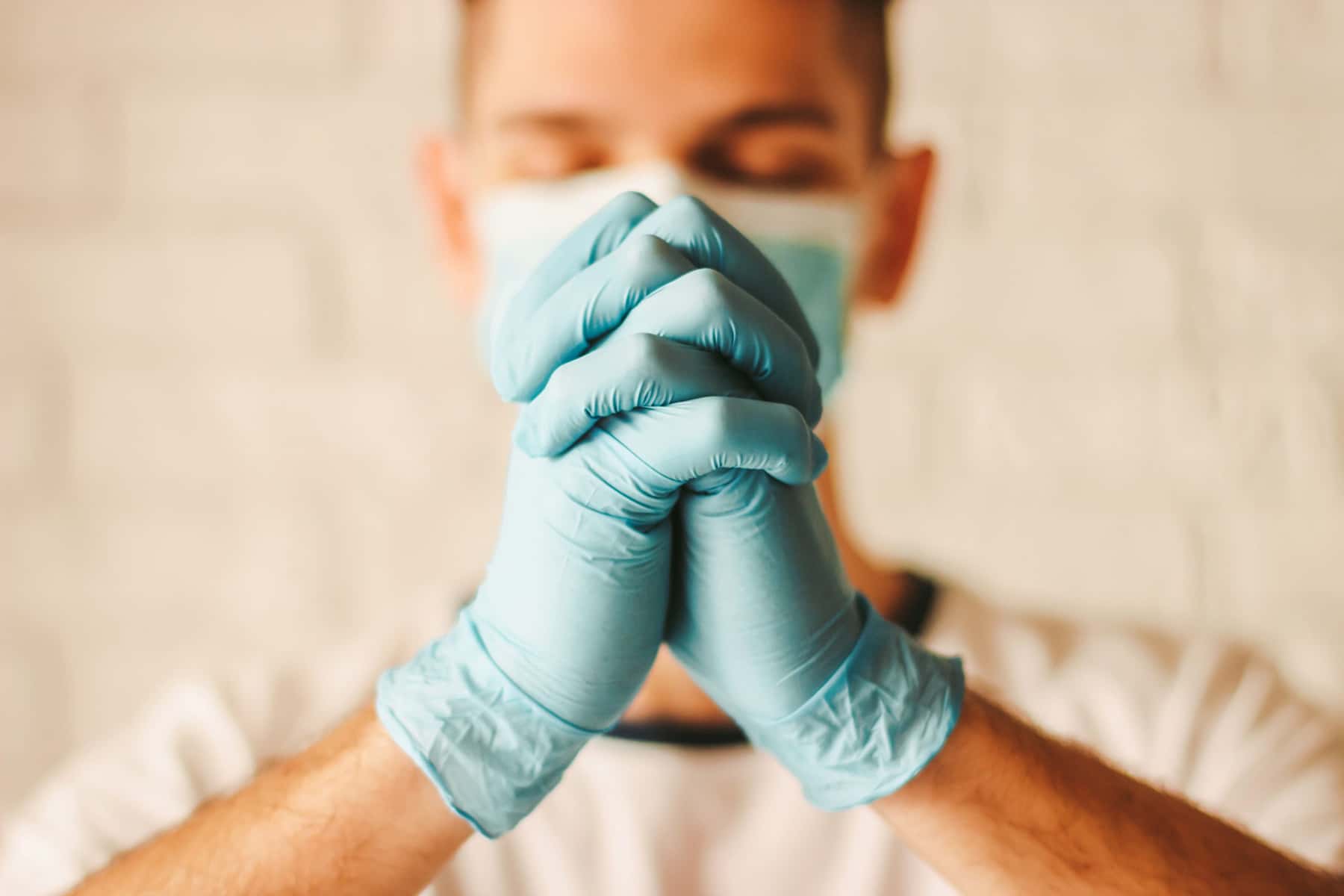 Some religious leaders have called measures to stop the spread of the coronavirus — including limits on crowd gatherings and mask requirements — an assault on their religious liberty. The Rev. Sonja Ingebritsen, a Madison pastor, strongly disagrees.
"When Jesus is asked which of the commandments is most important, he answers, to love God with one's whole being and to love one's neighbor as oneself," says Ingebritsen, pastor at the Community of Hope United Church of Christ in Madison. "Despite some of the rhetoric, religious liberty is not threatened by health mandates to limit indoor gatherings, require masks or socially distance."
Ingebritsen is part of a wide stream of faith groups from many traditions who consider steps to ensure public health, even regulations that require group compliance, as expressions of the highest spiritual and ethical principles.
On Wednesday, October 14, as the number of confirmed cases of COVID-19 in the state continued to set new records, the six Wisconsin bishops for the Evangelical Lutheran Church in America (ELCA) issued a call for the Legislature to adopt statewide policies requiring masks and restricting indoor gatherings based on recommendations from the state Department of Health Services (DHS).
"Nonpartisan science and public health experts are very clear that masks, distancing, and hand-washing help prevent the spread of COVID-19," the bishops stated. "Without unified state mandates, decisions are left to local municipalities and community leaders, resulting in piecemeal policies that weaken our front against the pervasive coronavirus and promote enmity between neighbors."
The same day, the Wisconsin Council of Churches and Wisconsin Faith Voices for Justice published a pledge for faith communities "to steward the health of all by prioritizing remote worship and other activities until this crisis has passed." More than 200 religious leaders from around the state have signed, representing Christian, Jewish, Muslim and other traditions.
"Friends, this pandemic is preying upon our neighbors, especially the most vulnerable among us. people of faith must speak out and take action," said Ingebritsen, the Community of Hope pastor, at a webinar sponsored by the council and Faith Voices for Justice on Thursday. "The most significant step faith communities can take to stop the spread of COVID-19 is to restrict attendance at indoor religious gatherings or avoid them altogether. Doing so is a sacred expression of love."
'A moral imperative'
The Council of Churches has been working since the spring with faith leaders and communities to help them adapt worship to online platforms in order to protect congregants from the spread of the virus, said the Rev. Kerri Parker, the council's executive director.
"Pastors, priests, rabbis and imams want to do right by their community to keep people safe to serve well," Parker said. "We're faithful people seeking the counsel of science as well as our higher power."
Yet even as leaders worked across the lines of different religious traditions, "we've watched partisan battles take precedence over reasoned debate, and armchair experts shout over those with decades of experience," she continued. "This hyper-polarized environment hurts us all."
Parker called the pledge's commitment to refraining from in-person worship until it is safe "a moral imperative — and one that the state as a whole should emulate.
"Counting simply on individual responsibility and behavior in the absence of statewide public health protections "has not achieved a desirable outcome," she said. "COVID-19 is not going to get itself under control — it's up to us."
If the spread isn't halted, it will compromise the health of many more people than just those who get sick from COVID-19, said Dr. Mushir Hassan, Vice President of Medical Affairs at Ascension Elmbrook Memorial Hospital in Brookfield.
"We're going to have broad populations limiting and delaying their care that they need for other conditions," said Hassan, a practicing Muslim who has given advice to mosques in Milwaukee and across the state on how to maintain safe worship communities. "The more we can work together right now, the better it will be for our overall community health."
He added: "We need everyone to help do preventive care right now. That preventive care is masking, social distancing, careful hand washing, and limiting indoor interactions."
Rabbi Renee Bauer spoke of the pandemic's "heartbreaking effects" even on people who haven't been infected. She officiated at the funeral of an elderly woman who became isolated and whose health declined after her daughter stopped visiting because she feared accidentally transmitting the virus to her mother.
"Her daughter is sure that the quarantine shortened her life," Bauer said. The mother "is a casualty of COVID even though she never contracted the virus."
Bauer also sat with five members of the family of a man in his 40s who was dying in the hospital. As death neared, a doctor told the relatives only two of them could go see him in his final minutes. The choice was "necessary to protect the health of the patients," Bauer said — and at the same time "seemed to me to border on cruelty."
Those kinds of terrible choices can only be reduced if people take the virus seriously and act to keep it from spreading, she said.
"The longer citizens of our state ignore the public health guidelines, more of our elders and frail family members will be collateral damage of this pandemic," Bauer said. By following the orders faithfully, "we can bring families and communities together again, to take care of each other."
Rethinking spirituality
For several of the faith leaders participating in the faith groups' webinar, even as the pandemic is a time of hardship and pain, it can open a path to spiritual renewal.
"I watched an aunt die, over the phone," said the Rev. Willie Brisco. "I could not be there by her side. I have seen 10 friends perish, where I couldn't attend their funerals … I couldn't even be near their families."
Disregarding restrictions that would protect people from COVID-19, society treats those vulnerable to the virus as expendable, said Brisco, who is president of WISDOM, a multifaith statewide social justice group. But he also sees in the crisis the potential for hope.
"God has given us a chance to look at how we worship, what we worship, and how we care for each other. We have a grand opportunity now to come together and to fight against a common enemy," Brisco said. "God put us here for each other. And we have got to take up that mantle, and make sure that we are living for each other. And make sure that everything that we do is not for ourselves, but for someone else — for our neighbors."
In April and May, still early in the pandemic, Wisconsin Muslims observed Ramadan, the month-long period of prayer and daytime fasting. "This is the first time, probably in living memory, that they could not gather for the community prayers in the evening and the breaking of the fast," said Janan Najeeb, executive director of the Milwaukee Muslim Women's Coalition and Islamic Resource Center. Worldwide, Muslims also suspended the annual pilgrimage to the Muslim holy city of Mecca.
"This is unprecedented," said Najeeb. "But again, it goes back to the whole concept that the sanctity of life supersedes even worship practices that could put people's lives in danger."
For Muslims she has spoken with, "this has also been a time for reflection," she added. "There are so many people that have said that actually, in spite of all of these restrictions, this was probably the first Ramadan that so many people felt it was incredibly spiritual to spend it all with family at home, praying together, sitting with your children."
The pandemic offers people a time "to think about their lives and the purpose for their creation, what they're doing for the rest of humanity," Najeeb said. Instead of seeing the virus and the regulations that prevent its spread as impinging on faith, "We need to take a look at this as a way to strengthen our faith."
Donate: Wisconsin Examiner
Help spread Wisconsin news, relentless reporting, unheard voices, and untold stories. Make a difference with a tax-deductible contribution to the Wisconsin Examiner
The
Milwaukee Independent
began reporting on what was then referred to as the mysterious "Wuhan Virus" in January 2020. Other local media did not picked-up on the story until many weeks later. Our early features focused on the economic impact, social issues, and health concerns long before other Milwaukee news organizations even mentioned the coronavirus. Over the following year, we have published hundreds of articles about the pandemic and how it has affected the lives of Milwaukee residents. This extensive body of work can be found on our
COVID-19 Special Report
page, a chronological index of links by month. Our editorial voice remains dedicated to informing the public about this health crisis for as long as it persists.
For medical resources, please visit the
CDC's COVID-19 page
or the
Wisconsin Department of Health Services
. All editorial content published by
Milwaukee Independent
can be found at
mkeind.com/COVID19
. With a mission of transformative journalism, our staff is free from commercial bias and are not influenced by corporate interests, political affiliations, or a public preferences that rewards clicks with revenue. As an influential publication that provides Milwaukee with quality journalism, our award-winning photojournalism and features have helped to achieve a range of positive social impact that enriches our community. Please join our effort by entrusting us with your contribution. Your Support Matters -
Donate Now