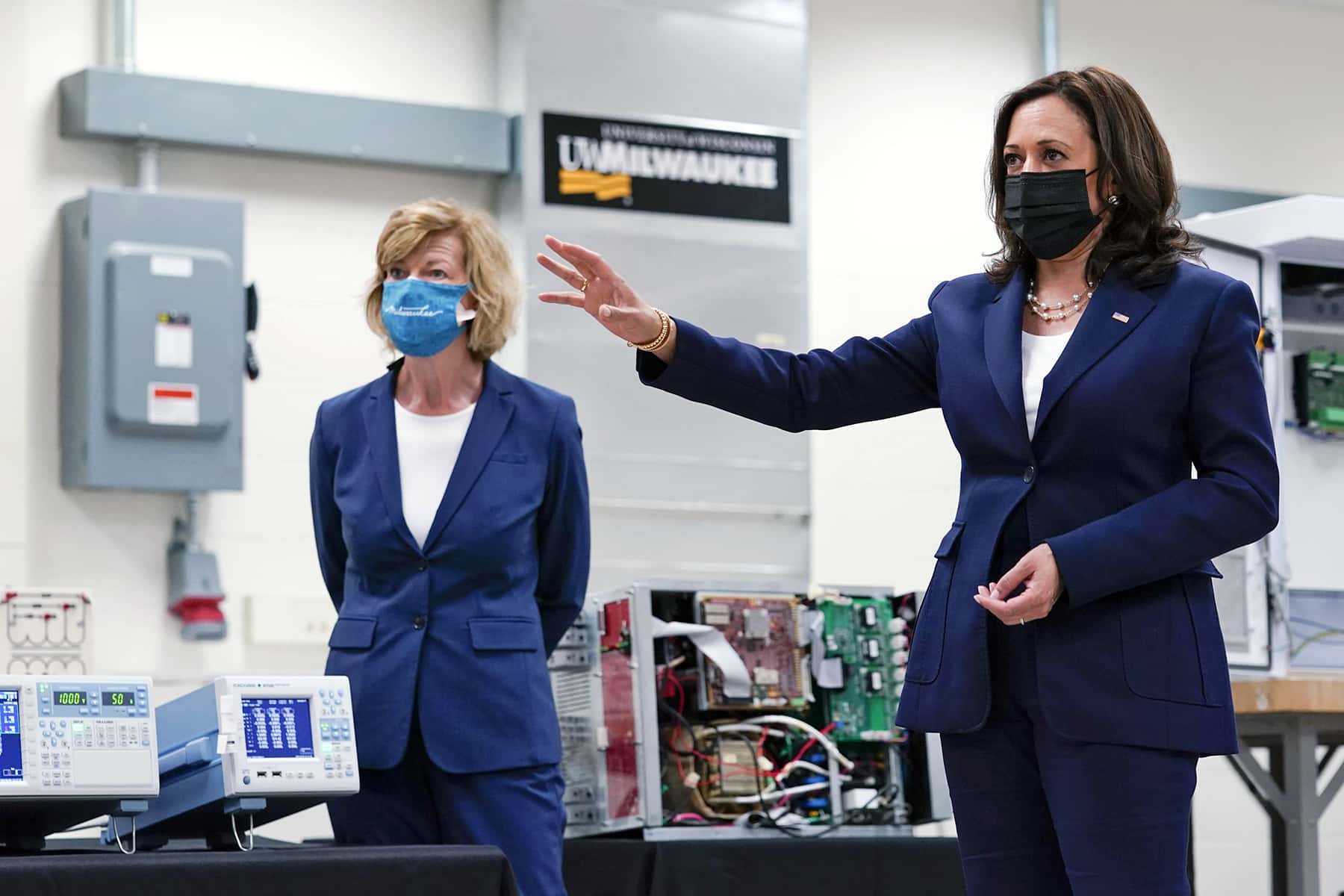 Vice President Kamala Harris visited Milwaukee on May 4, where she promoted the president's $2 trillion infrastructure proposal and toured two university research centers.
Harris highlighted the federal funding the Biden administration plan would allocate for research and development programs aimed at clean energy and climate change solutions, as well as $100 billion that would be spent modernizing K-12 schools.
Harris' chief spokeswoman, Symone Sanders, said that next week there "will be a number of meetings at the White House with bipartisan lawmakers trying to find common ground on the Biden and GOP Infrastructure proposals," according to White House pool reports. Republicans have objected to the cost of the plan and say it contains too many items not directly related to infrastructure.
Sanders said that Harris has been making calls to lawmakers about President Joe Biden's infrastructure plan, known as the American Jobs Plan.
During a roundtable meeting on May 4 with U.S. Senator Tammy Baldwin and U.S. Representative Gwen Moore, along with researchers, school administrators and a librarian, Harris discussed the $180 billion in research and development spending proposed in the jobs plan.
She also visited two clean energy research centers at the University of Wisconsin-Milwaukee — one focused on wind turbines and wind tunnel research and the other on sustainable energy research on batteries.
According to pool reports, Baldwin and Moore accompanied Harris on a tour of the labs, along with Milwaukee Mayor Tom Barrett; electrical engineering Professor Adel Nasiri; Chief Technology Officer at Imagen Energy, Ezana Mekonnen; and the assistant director of research, Andrew Graettinger, who gave the tour.
The Biden administration's infrastructure proposal also includes $175 billion in incentives for manufacturing electrical vehicles. The plan would pay for 500,000 charging stations and provide $25 billion for electric public transit buses and $20 billion for electric school buses.
Of the $180 billion in research and development funding, $40 billion is proposed to upgrade research infrastructure across federal research and development agencies such as labs, with 50% reserved for Historically Black Colleges and Universities, including the creation of a new national lab for climate at an HBCU.
With climate change a priority for the Biden administration, the proposal allocates $35 billion for climate research in some specific areas such as offshore wind, carbon capture and electric vehicles. The plan would also invest $50 billion in nature-based infrastructure to make communities more resilient to climate change.
Lаwrеnce Jаcksоn and Susаn Wаlsh
Donate: Wisconsin Examiner
Help spread Wisconsin news, relentless reporting, unheard voices, and untold stories. Make a difference with a tax-deductible contribution to the Wisconsin Examiner