Trump-nominated judge considers unprecedented Wisconsin lawsuit to invalidate state's votes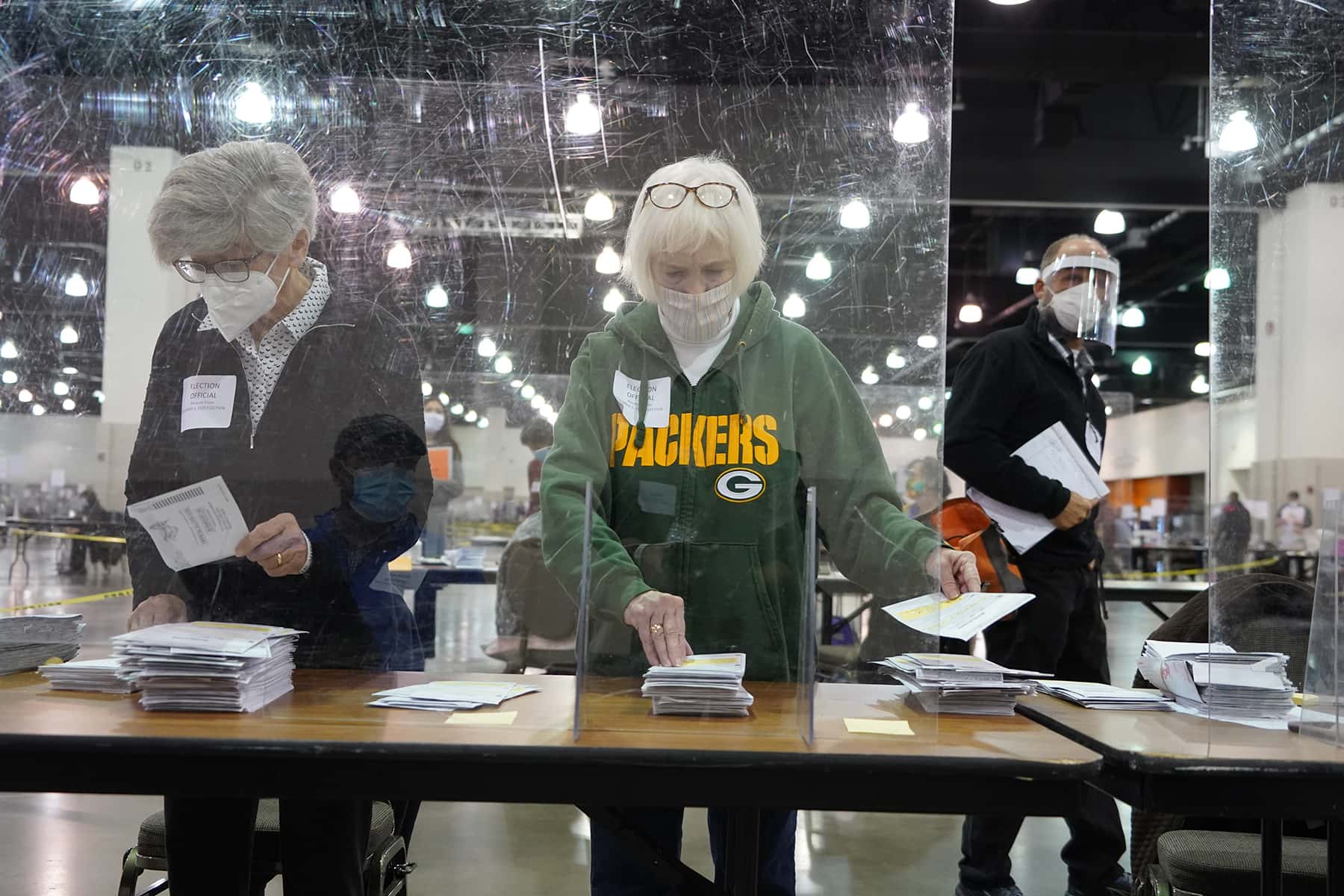 The judge hearing President Donald Trump's federal lawsuit seeking to overturn Wisconsin's November election said on December 10 that such a move would be without precedent in U.S. history.
The comments were the latest example of a skeptical tone struck by U.S. District Judge Brett Ludwig, who is being asked to reverse President-elect Joe Biden's victory in Wisconsin. Trump's lawyers are asking Ludgwig to declare Wisconsin's entire presidential election unconstitutional, leaving it to Wisconsin's GOP-controlled Legislature to choose the state's presidential electors.
"The relief that's been requested, if that relief were granted, this would be a most remarkable proceeding and probably the most remarkable ruling in the history of this court or the federal judiciary," Ludwig said Thursday during arguments in Milwaukee. "That's not lost on me. I get that."
Ludwig was nominated for his judgeship by Trump earlier this year.
At its core, Trump's lawsuit argues the Wisconsin Elections Commission's guidance to clerks and voters ran contrary to state law when it came to several categories of absentee ballots.
"This case is about new methods of voting that were not approved by the Wisconsin Legislature," said Trump lawyer William Bock.
Bock argued those methods "dramatically lowered guardrails" in Wisconsin, leading to an election that was "less secure, less reliable, less fair and more susceptible to fraud," although the Trump campaign's lawsuit does not include any specific allegations of fraud.
Bock argued the Elections Commission was wrong to approve absentee ballot drop boxes, which were used by communities throughout Wisconsin as voters looked to avoid the polls and post office delays during the COVID-19 pandemic.
Bock also challenged the WEC's guidance allowing people to claim they were "indefinitely confined" when voting as well as the guidance it gave clerks to fill out witness addresses on absentee ballots. He also said it was unlawful for Madison city clerks to hold "Democracy in the Park" events where election workers collected absentee ballots in city parks.
While state Republicans raised questions about "Democracy in the Park" when it happened, they never filed a formal complaint in court before the election.
An attorney for Assembly Speaker Robin Vos, R-Rochester, and Senate Majority Leader Scott Fitzgerald, R-Juneau, also said at the time that the Legislature's top Republicans supported absentee ballot drop boxes.
"We wholeheartedly support voters' use of any of these convenient, secure, and expressly authorized absentee-ballot-return methods," wrote attorney Misha Tseytlin in a September letter.
Attorneys fighting Trump's lawsuit, including Jeff Mandell, the lawyer for Democratic Gov. Tony Evers' lawyer, told Ludwig that a federal court had no right to overturn the results of a state's election.
"There is no conceivable basis for disenfranchising the 3.3 million voters who cast their votes in good faith," Mandell said, adding that for a court to reverse election would be "an act of judicial fiat."
Mandell also argued that the time for Trump to challenge this guidance was before the election and not after.
"He didn't do it until he got an election result he didn't like," Mandell said.
Both state and federal courts have typically held that challenges to election procedures should be filed before elections.
Ludwig suggested he thought that argument was persuasive.
"I don't think I heard a very good explanation as to why the plaintiffs didn't raise these issues in advance of the election when the guidance was issued," Ludwig said, noting that some of the Wisconsin Elections Commission guidance being challenged in this case dated back a decade.
"The response that I heard was that the plaintiff had too much going on — that he couldn't pay attention to what issues were being raised in the state of Wisconsin. That strikes me as incredible."
Ludwig said he would issue a decision in the case within the next day or two.
In addition to Trump's federal lawsuit in Wisconsin, arguments will be held in a state lawsuit Friday. Those arguments were originally scheduled to be heard Thursday afternoon but were delayed because of the ongoing federal court proceeding.
There is also a lawsuit filed directly with the U.S. Supreme Court by Texas Attorney General Ken Paxton that looks to overturn election results in four swing states Trump lost, including Wisconsin. Republican attorneys general in 17 states have filed a motion supporting the lawsuit, as have 106 members of Congress, including GOP Wisconsin U.S. Rep. Tom Tiffany.
In another federal lawsuit seeking to overturn Wisconsin's election, U.S. District Judge Pamela Pepper rejected the case, ruling that she lacked the jurisdiction to overturn Wisconsin's election. That ruling was a setback to attorney Sidney Powell, who has filed similar cases around the country without success. Powell appealed Pepper's ruling Thursday.
The Wisconsin Supreme Court has already disposed of two additional lawsuits seeking to overturn Wisconsin's election, ruling 4-3 in each case against hearing the cases.
Donate: Wisconsin Public Radio