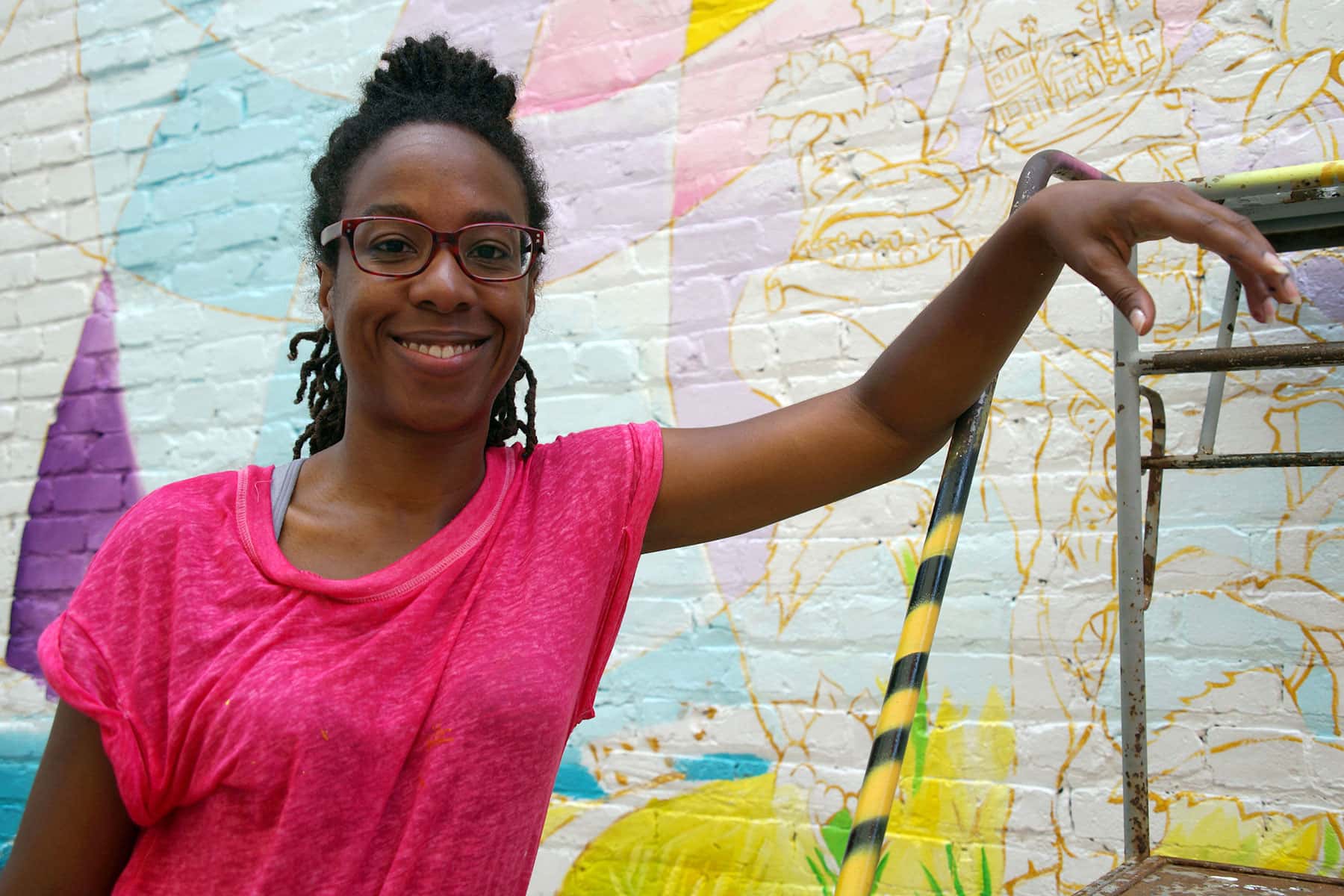 "I feel like what I'm doing is a powerful way to bring people together and a powerful way for people to express themselves and their ideas. I believe the kind of work that I'm doing needs to happen more and more often. There needs to be other avenues for artists that want to do this kind of community building." – Tia Richardson
In the sanctuary at All Peoples Church, 2600 North 2nd St., Tia Richardson stands in front of a painted white wall with a watercolor pencil in her hand. The lower right section of her mural, "The Love that Holds Us," is projected on the wall in front of her. As Richardson hums Christmas carols, she begins to trace the outline of vegetables on the mural, which will represent the church's community garden.
She loves her work because there's magic in the process. Richardson calls herself an "integrative community artist," meaning that she works on visual arts projects with young people and adults in Milwaukee. Richardson has served as an artist-in-residence for schools, churches, community organizations and nonprofits such as Artists Working in Education, Arts @ Large and Artworks for Milwaukee. Her projects include community murals and bookmaking programs.
"I've never been interested in just using the brush and the pen and paper," Richardson said. "I've always been someone who's interested in holistic ideas and healing and spirituality and how we're able to develop ourselves as people, myself included. This work that I'm doing allows for all of that."
In 2016 Richardson has worked on 13 murals including projects in Black Cat Alley, Butterfly Park, Bruce Elementary School, Milwaukee Spanish Immersion School and a series of four murals that will rotate each season at the Milwaukee Public School District's central office auditorium.
"I'm always peeling back layers to see who we are," she said. "That's what my interest is. Who are we and who are we to each other and what is this process that we've been involved in, whether it's a community struggle or wanting to change something or address something."
Richardson emphasizes collaboration and reflection in her community art. Last summer she worked on a mural she refers to as her Mount Everest, a project titled "Beauty Opens the Door to Join Us," at Butterfly Park on 13th Street and Forest Home Avenue on the wall of El Rey Foodmart, 1320 W. Burnham St. The mural, which was part of a project through the South Side Neighbors Helping Neighbors and the Building Neighborhood Capacity Program, was unveiled in September.
Richardson joined the project in May and was in charge of seeing the mural through to completion. She held three sessions in June where she facilitated dialogues with community members to reflect, share stories and create ideas for the mural. Richardson also held community paint days before it was completed.
"The community has loved it. They feel that that's their space," said Juanita Valcarcel, site coordinator for the Building Neighborhood Capacity Program. "Her whole process of putting all of that together, to get the residents involved, capturing their interests and keeping them interested throughout the process was really, really good."
"She did an amazing job. She takes a lot of pride and she does put her all in her artwork," Valcarcel said.
Artist Paula Jones, Richardson's friend and neighbor, has worked with her on projects including a student-led mural at Shalom High School through ArtWorks for Milwaukee. She said Richardson has a generous spirit and is a master at creating connections.
"She possesses an extraordinary brilliance, unlike anyone you will ever meet," Jones said.
"Perhaps that's attributable to her incredible sensitivity and her capacity to elicit the best of humanity in whatever project she's doing. She just draws out the best in people and you can see it in her work."
Arts @ Large director of programs Sean Kiebzak has connected Richardson with artist-in-residence projects. He said Richardson's creativity and collaborative nature make her unique.
"For as long as I can remember, Tia's been one of those individuals when we're thinking, 'hey we need a brilliant visual artist who can do some really good collaborative work with students and teachers,' she's the first person that comes to mind," Kiebzak said.
One of those projects was the "Multicultural Tree of Life," which Richardson worked on during an Arts @ Large artist residency with students from Elm Creative Arts School. Murals of a tree throughout the four seasons represent diversity in Milwaukee schools and the cycle of life. Kiebzak said the murals, like much of Richardson's art, resonate with people in an emotional way.
"I really think artwork itself has the capacity to engage people in conversation and to look at landscapes and physical environments differently," he said. Richardson's ability to engage the community using the arts has made her an agent for social change, he added.
"Every good mural is a story." – Tia Richardson