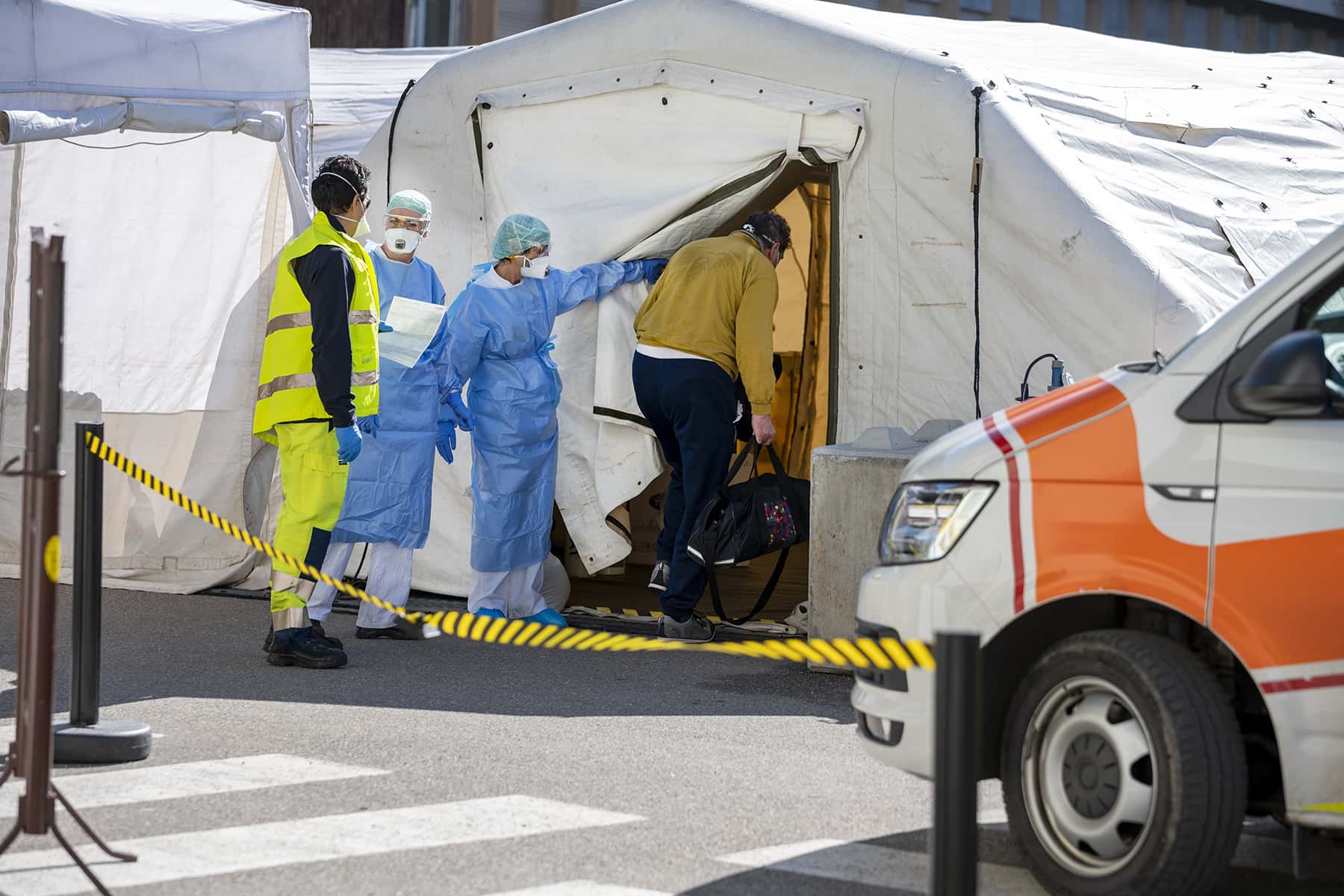 Hospitals in northeast and central Wisconsin are nearing capacity as COVID-19 infections spike in the region.
It is a heartbreaking situation whenever an ICU needs to transfer a patient, according to Dr. Imran Andrabi, president and CEO. And recently, transferring patients has required "begging and pleading" as other hospitals face similar challenges brought on by the current wave of COVID-19 infections. More than 1,000 Wisconsinites are hospitalized with COVID-19, and more than 90 percent of the state's ICU beds are full, as reported by the Wisconsin Hospital Association.
"We are here to take care of patients with COVID, but we're also here to take care of patients with trauma and cardiac issues and strokes and heart attacks and pancreatitis and cancers and all the other things we have to be here to do for our communities," Andrabi said.
Wisconsin is currently averaging more than 1,400 new COVID-19 infections per day, according to the Wisconsin Department of Health Services. The state is seeing fewer daily infections than when COVID-19 began to spike a year ago — ultimately averaging nearly 8,000 cases per day in November 2020. But Andrabi said heath care providers are now seeing different groups getting sick.
Unlike earlier in the pandemic, most hospitalized patients are under age 50, he said. While younger patients are more likely to recover, they also spend longer in the hospital, which further strains the health care system. Even though health care providers know more about COVID-19 and are better prepared in terms of testing and supplies, things are worse during this surge due to the highly contagious delta variant.
"We are dealing with a completely different virus than we were dealing with in 2020. This is not the same virus," he said.
'We Can't Hire People Fast Enough'
Along with the delta variant, another big challenge is facing hospitals across the country. As the pandemic drags on, it's becoming more difficult to attract and retain health care workers. ThedaCare would need to hire about 200 people "to give some relief to people at the front lines," Andrabi said.
When hospitals reference the number of beds remaining, they are not always talking about the physical objects. Right now, there are not enough workers to care for the sick. Recently, ThedaCare has postponed some elective surgeries on a case-by-case basis.
"It is not the ventilators, it is not PPE, it is not testing, it's not the number of beds available. It's people," Andrabi said. "It's a combination of people that are just tired, and some of them have just left health care totally. We can't hire people fast enough to take care of all the needs, and there's the issue of burnout."
Health Care Workers Are Asking For Help
ThedaCare, which operates seven hospitals in the area, is now asking for the community's help. Residents can slow the spread of COVID-19 by wearing masks, avoiding gatherings and getting vaccinated, Andrabi said. More than 60 percent of Wisconsin adults are fully vaccinated against COVID-19, according to DHS.
Data from ThedaCare shows that it makes a difference. Since July 1, nearly 80 percent of ThedaCare's hospitalized COVID-19 patients were unvaccinated, while 83 percent of COVID-19 patients in the ICU didn't have their shots. The community can help decide when this pandemic ends.
"We all have to be part of the solution. The solution is not in a hospital bed in the ICU on a ventilator. That is not going to be the way we are going to save our communities," he said.
Donate: Wisconsin Public Radio
The
Milwaukee Independent
began reporting on what was then referred to as the mysterious "Wuhan Virus" in January 2020. Other local media did not picked-up on the story until many weeks later. Our early features focused on the economic impact, social issues, and health concerns long before other Milwaukee news organizations even mentioned the coronavirus. Over the following year, we have published hundreds of articles about the pandemic and how it has affected the lives of Milwaukee residents. This extensive body of work can be found on our
COVID-19 Special Report
page, a chronological index of links by month. Our editorial voice remains dedicated to informing the public about this health crisis for as long as it persists.
For medical resources, please visit the
CDC's COVID-19 page
or the
Wisconsin Department of Health Services
. All editorial content published by
Milwaukee Independent
can be found at
mkeind.com/COVID19
. With a mission of transformative journalism, our staff is free from commercial bias and are not influenced by corporate interests, political affiliations, or a public preferences that rewards clicks with revenue. As an influential publication that provides Milwaukee with quality journalism, our award-winning photojournalism and features have helped to achieve a range of positive social impact that enriches our community. Please join our effort by entrusting us with your contribution. Your Support Matters -
Donate Now