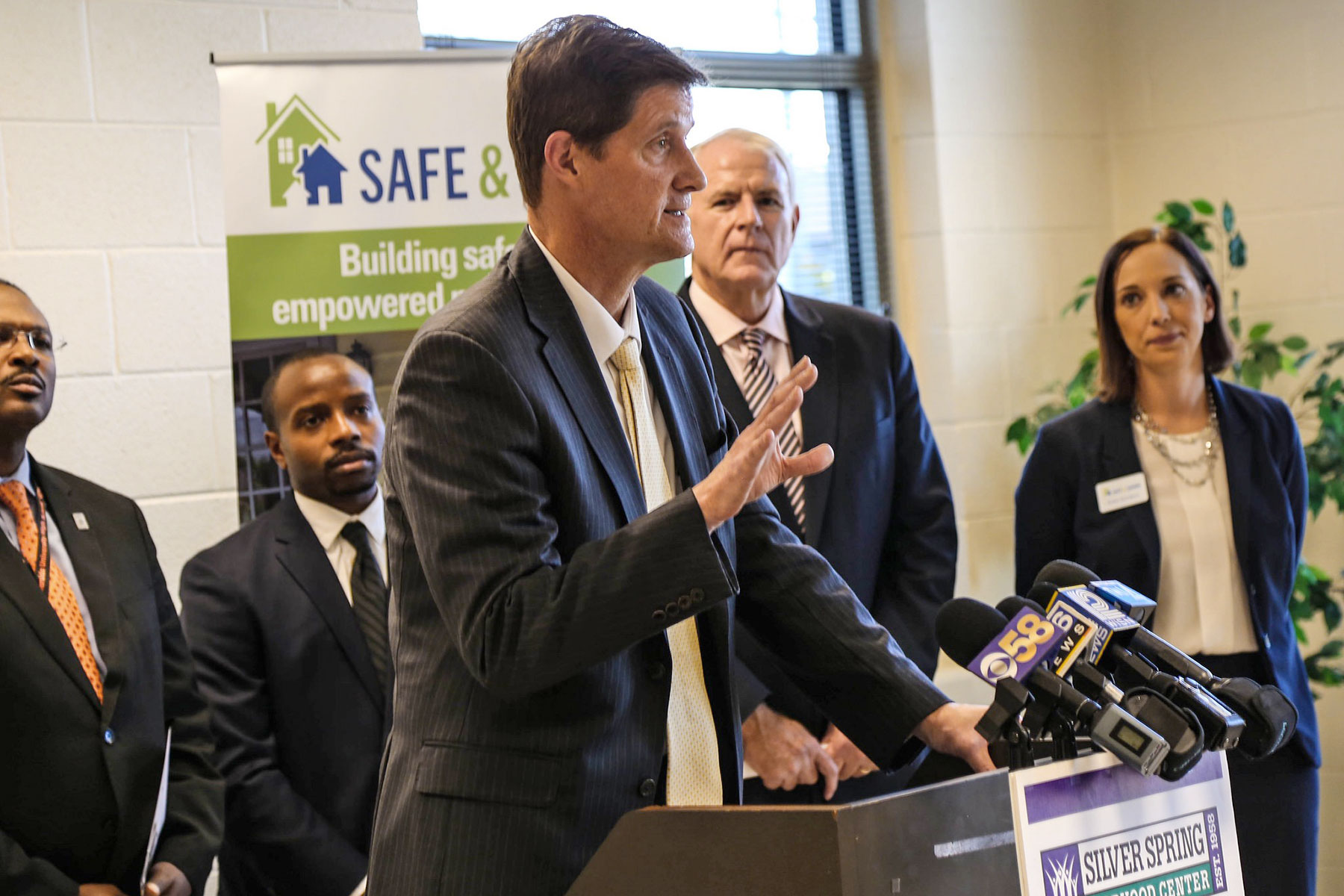 During the past 18 months Safe & Sound raised $270,000 for the expansion, which will focus on two priority neighborhoods, West Lawn and Thurston Woods/Old Milwaukee.
Afeni Grace, 22, grew up in Harambee, learning firsthand what it means to be an inner city kid.
"I have experienced not being knowledgeable," said Grace. "I didn't know what resources were available to me, I didn't know the aldermen and women of my district. I just didn't know. It is a very hopeless feeling."
Grace is now a youth coordinator at Safe & Sound, which recently announced its expansion into Milwaukee Police District 4 at the Silver Spring Neighborhood Center. "I was that person. I am that person, that very same person I am now trying to help."
Safe & Sound Executive Director Katie Sanders said District 4 lacks resources — specifically youth programs, adult outreach programs and overall support — and has more crime than surrounding neighborhoods.
Grace, along with community organizer Selma Aly and Beth Rosenow, Community Prosecution Unit (CPU) coordinator, will make up the neighborhood team working to build networks of residents and partners focused on improving safety in the area.
Up until now, Safe & Sound has worked within MPD Districts 2, 3, 5 and 7. It has knocked on thousands of residents' doors, held hundreds of community meetings, helped relieve neighborhood nuisances and removed large swaths of graffiti in the four police districts, according to its 2015 annual report.
"Neighborhood transformations start with safety…home by home, neighborhood by neighborhood, community by community," said Grady Crosby, vice president of public affairs and chief diversity officer at Johnson Controls, a company that has supported and partnered with Safe & Sound.
"Safety brings cohesion," added Eric Gass, executive director of Agape Community Center, located at 6100 N. 42nd St. in Thurston Woods. "We want people on their front porches talking to their neighbors. We want our parks used and our playgrounds full. We don't want people living in fear."
To accomplish these goals, the District 4 neighborhood team intends to bring resources, support and opportunities to residents through community improvement projects, community meetings, youth councils, art and literacy projects, and block watches. Sanders explained that weaving together neighborhoods with resources and opportunities benefits the entire city.
The CPU, made up of prosecutors and police officers, will help reduce nuisance properties such as abandoned homes, which can draw negative attention and increase criminal activity, said Safe & Sound spokesperson Anne Temple. However, "police cannot do everything," said Rosenow. "I am hoping we can act as another set of eyes and ears."
If residents don't feel comfortable talking to police they can relay their concerns to the neighborhood team. "A lot of residents have lived in the area for a long time, but the city has changed," said Rosenow. "I don't think residents know who to reach out to anymore.
"We want to tell them about Safe & Sound, tell them where the closest post office is or doctor's office, tell them about crime and safety."
Jackie Burrell, president of the Westlawn Resident Council Board, said the expansion into District 4 "means a whole lot to the community, especially for safety and protection purposes." The problem is that a lot of residents aren't aware of it yet, she added.
"We haven't exactly put our boots on the ground yet," Rosenow noted. "But I plan to figure out where Safe & Sound was successful in other districts and replicate it."