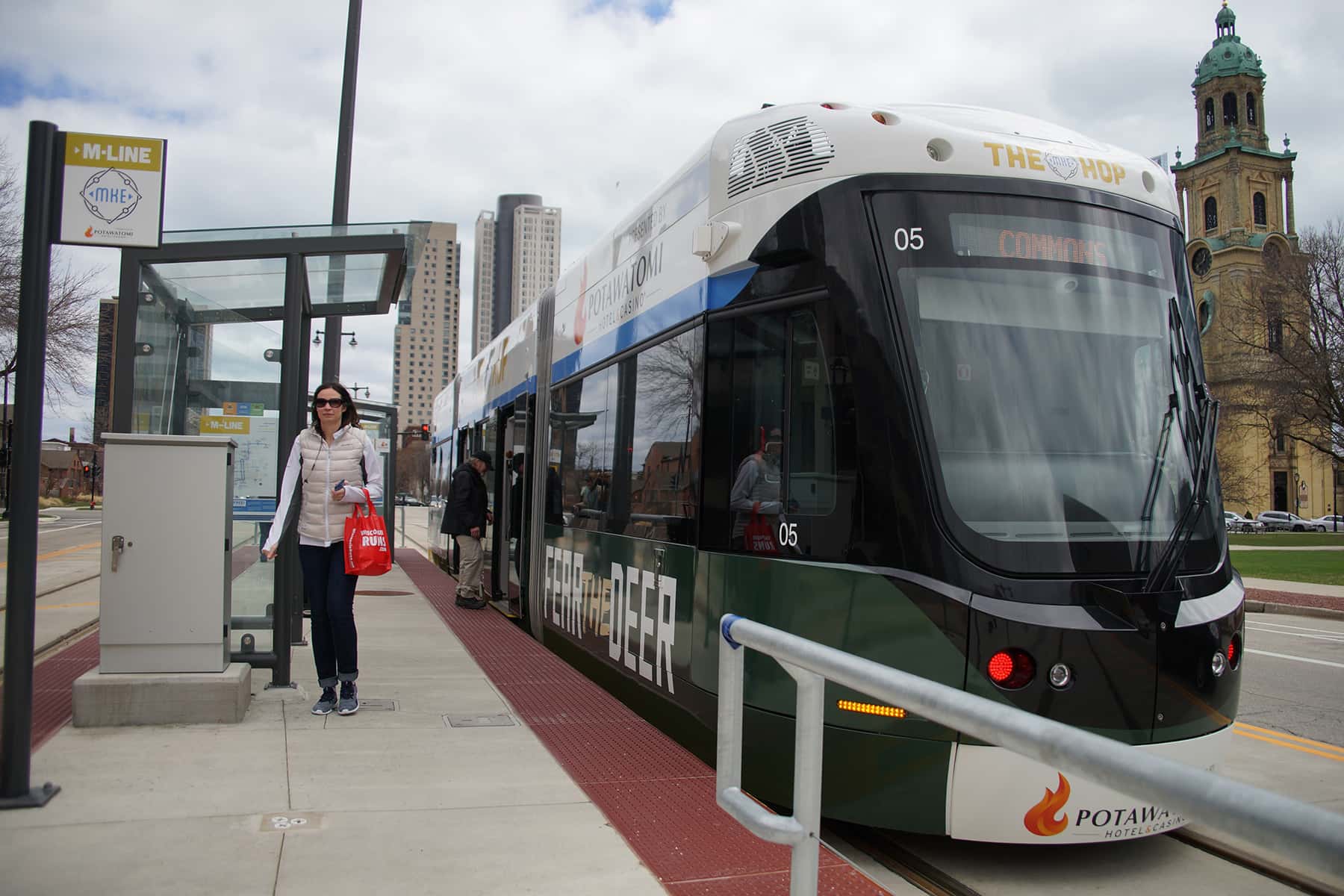 The City of Milwaukee announced on June 26 that its streetcar, The Hop, will remain free for riders through 2020.
Ridership fees were expected to go into effect after November 2019, but David Windsor, a project engineer with the city of Milwaukee, said charging people will likely result in a 20 to 40 percent decline in ridership. Windsor cited Kansas City, Missouri, which found its streetcar was more successful when ridership remained free of charge.
The $124 million Milwaukee streetcar began its operations in November. Ridership for The Hop exceeded expectations in November and December at about 76,000 each month. In January it dipped to 49,501. Due to a reported glitch, numbers weren't released in February and March. Ridership in April was 55,558.
The infrastructure to collect fares has also not been purchased yet and takes seven to eight months to install, Windsor said. The city has about $400,000 reserved to buy the equipment if needed at a later date, Windsor said.
City engineers gave a report to the common council's Public Works Committee. Committee members were surprised by the announcement. They also pushed city employees on how The Hop would fund its $4 million 2020 budget.
"If you don't have any money to commence operations, then what happens," asked Alderman Robert Bauman. "Do you run as far as you can and then shut down?"
Currently, the $3.5 million annual operating costs are paid for through the federal Congestion Mitigation and Air Quality Improvement (CMAQ) Program. Potawatomi Hotel & Casino also has a sponsorship agreement with the city and is providing free rides through November 2019. The CMAQ program provides $3.4 million a year. It expires before the end of 2020. No other sponsors have been secured.
City Engineer Samir Amin said he is confident The Hop will obtain additional sponsorships and grants. Amin said about $2 million of The Hop's $4 million budget is secured for next year. Hop officials are also planning to add "smart kiosks" around the city to collect extra money for the streetcar. They estimate that could generate $250,000 to $500,000, although details were unclear.
If an additional $2 million is not generated, the gap will likely be made up from the city's parking fund. Aldermen made it clear Wednesday, they weren't happy about that, but if the Hop doesn't continue to operate, Milwaukee will have to pay back a $68 million federal grant.
"What stuns me is the lack of political reality," said Alderman Mark Borkowski said. "We are all coming into an election year next spring. I find it interesting that the powers that be would allow it to get to this stage. If we don't understand the political power of this thing, we've really missed the boat."
All of this is happening at the same time Milwaukee Mayor Tom Barrett is lobbying the council members to expand the 2.1 mile streetcar line 2.4 miles. The expansion includes about a half-mile extension to Wisconsin Avenue, where the city's convention facilities are located.
Barrett announced the $47 million plan in May. Under Barrett's plan, after the half-mile expansion to the convention center, the city would begin studying expanding into Walker's Point, just south of the Historic Third Ward, and north into the city's Bronzeville neighborhood.
The city's zoning committee has tabled the matter. On June 20, Rocky Marcoux, commissioner of city development, urged members of that committee to revisit expansion on July 2. Delaying could reduce the amount of funding available, Marcoux said.
Donate: Wisconsin Public Radio