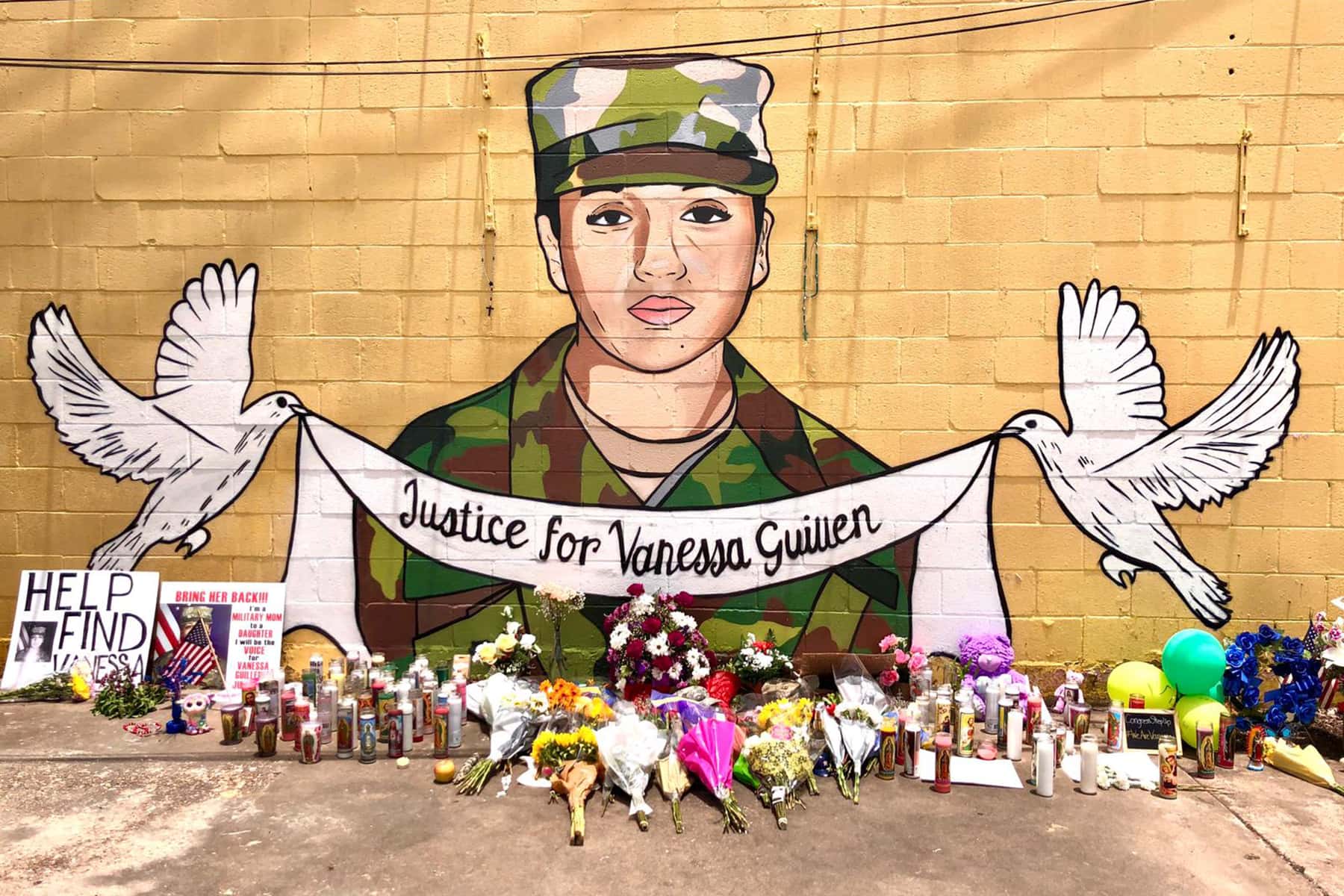 Thousands in Milwaukee are calling for the firing of a University of Wisconsin-Milwaukee lecturer and former Wisconsin Air Guard Lt. Colonel following alleged comments on social media about the death of U.S. Army soldier Vanessa Guillen.
The Federal Bureau of Investigation filed a criminal complaint this week alleging that Guillen had been killed by fellow soldier 20-year-old Aaron David Robinson. Guillen was last seen at Fort Hood in Texas and had been missing for months, but her family believes Guillen's remains were recovered last week.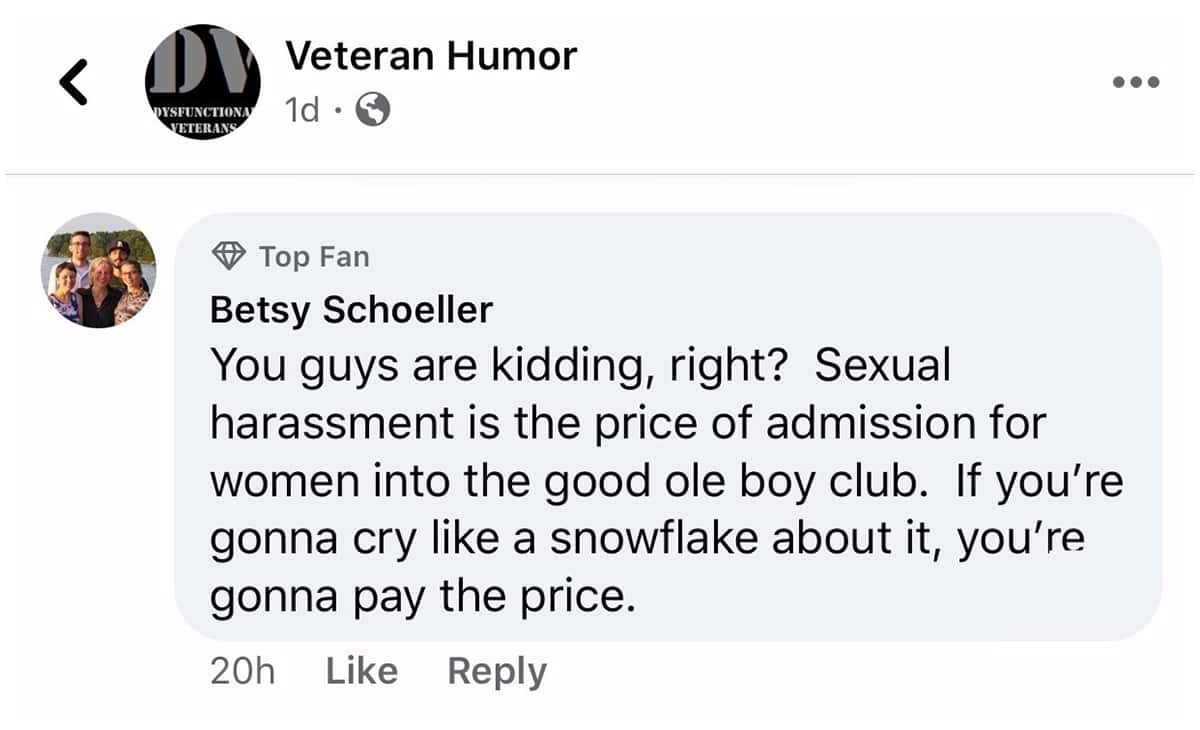 Screenshots show UW-Milwaukee lecturer Betsy Schoeller made comments on Facebook about Guillen's death.
The post read: "You guys are kidding, right? Sexual harassment is the price of admission for women into the good ole boy club. If you're gonna cry like a snowflake about it, you're gonna pay the price."
Schoeller's comment suggests the price Guillen paid for speaking out against sexual harassment or assault in the armed forces was fair.
Guillen's family thinks her death was tied to sexual harassment she was experiencing on base, although Guillen made no official reports about any harassment. More than 65,000 people had signed a change.org petition as of July 4 calling for Schoeller's termination from UW-Milwaukee.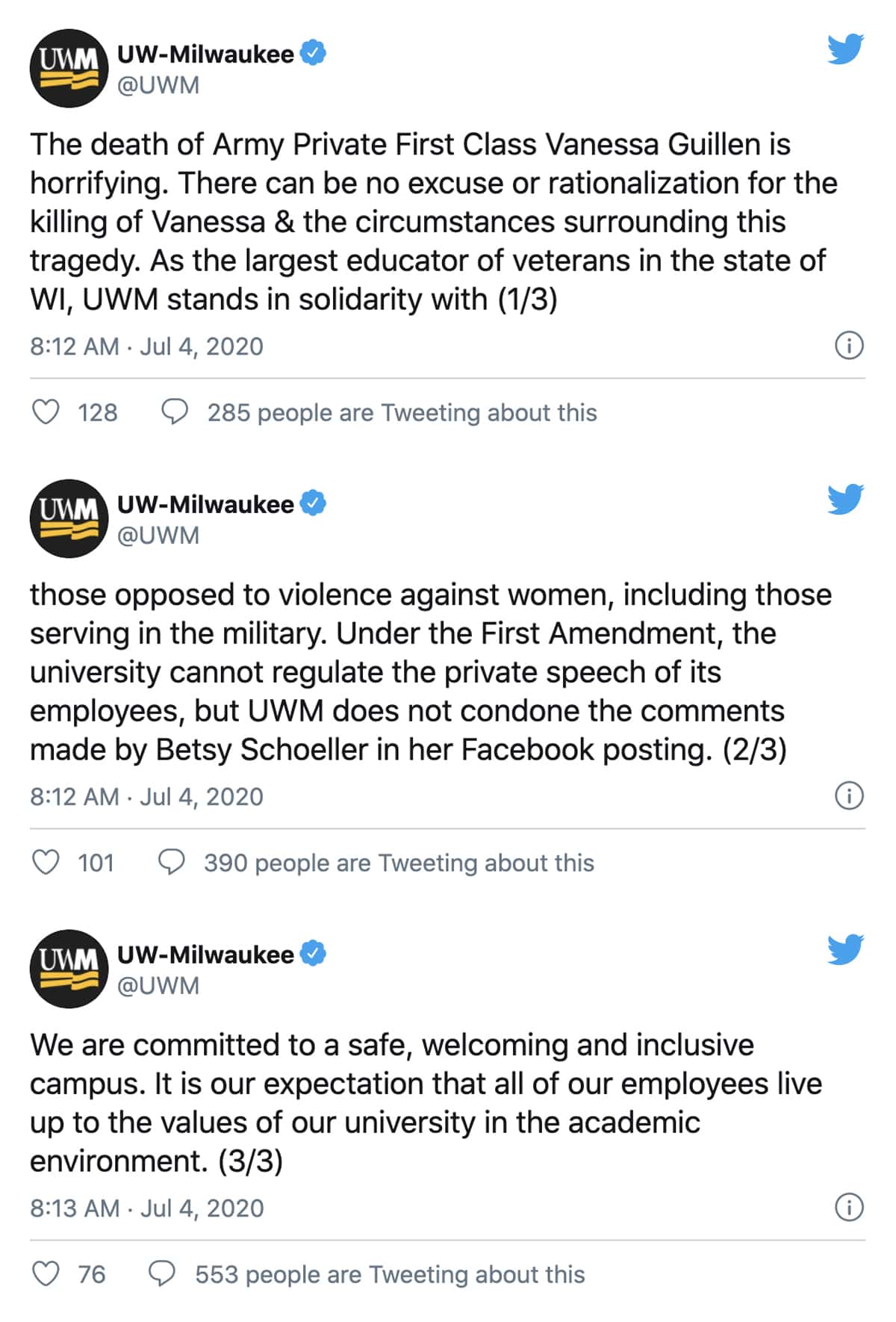 In a series of tweets on Saturday, UW-Milwaukee responded that there can be "no excuse or rationalization" for the killing of Guillen.
"As the largest educator of veterans in the state of WI, UWM stands in solidarity with those opposed to violence against women, including those serving in the military," the university wrote. "Under the First Amendment, the university cannot regulate the private speech of its employees, but UWM does not condone the comments made by Betsy Schoeller in her Facebook posting."
UW-Milwaukee students have organized a protest of Schoeller's remarks, which will be held at UWM's Spaights Plaza on July 8.
The Wisconsin National Guard has been under scrutiny for its handling of sexual harassment and assault complaints. A report by the National Guard Bureau's Office of Complex Investigations found the Guard failed to properly track allegations and mishandled sexual assault response under the leadership of Maj. General Donald Dunbar, who was asked to resign by Governor Tony Evers in December.
Evers issued an executive order in December that directs the Wisconsin National Guard to implement changes recommended in the report by this September, which includes updating all policies and procedures to comply with federal law.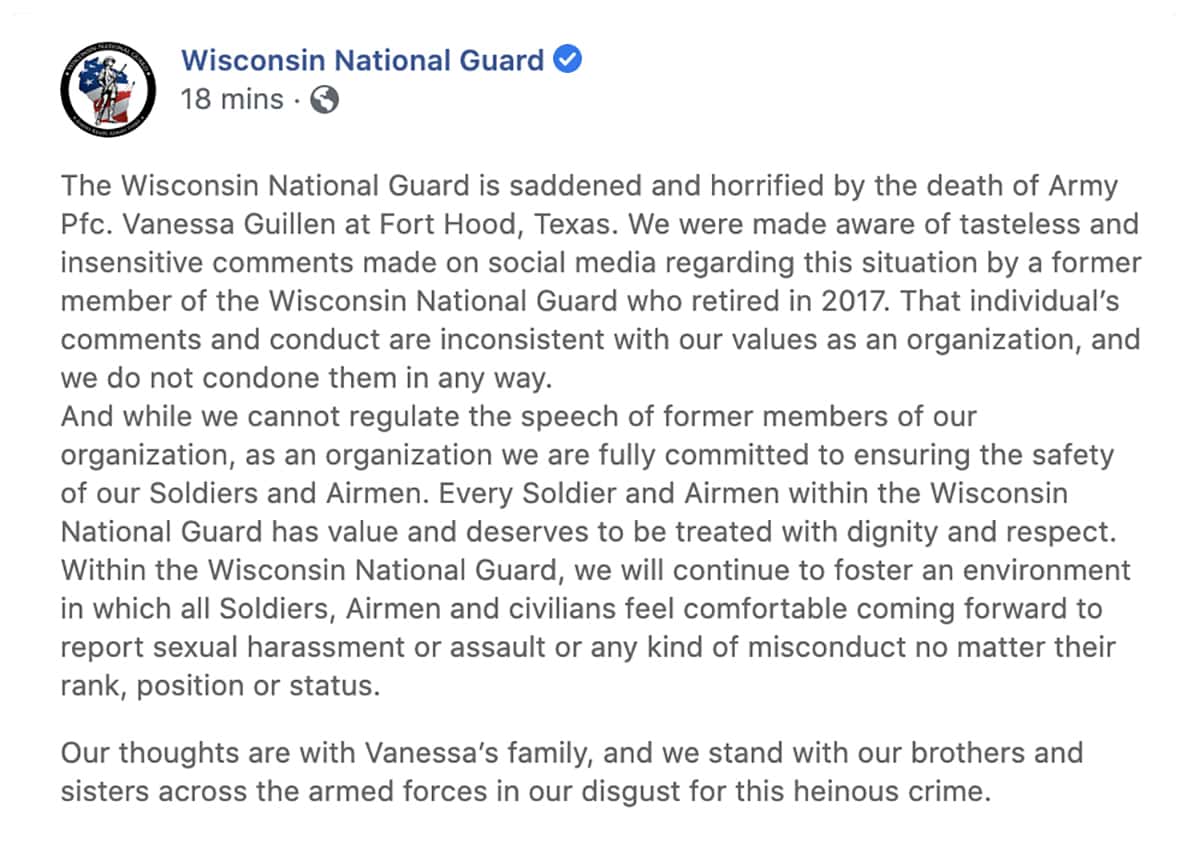 On July 4, the Wisconsin National Guard made an official Facebook statement expressing sorrow over the loss of a Guillen, and a rebuke of Schoeller for her comments.
"We were made aware of tasteless and insensitive comments made on social media regarding this situation by a former member of the Wisconsin National Guard who retired in 2017. That individual's comments and conduct are inconsistent with our values as an organization, and we do not condone them in any way. And while we cannot regulate the speech of former members of our organization, as an organization we are fully committed to ensuring the safety of our Soldiers and Airmen."
Donate: Wisconsin Public Radio
These headline links feature the daily news reports published by Milwaukee Independent about the George Floyd protests, the revival of the Black Lives Matter movement that followed, and their impact on the local community in for 8 months from May to December of 2020.