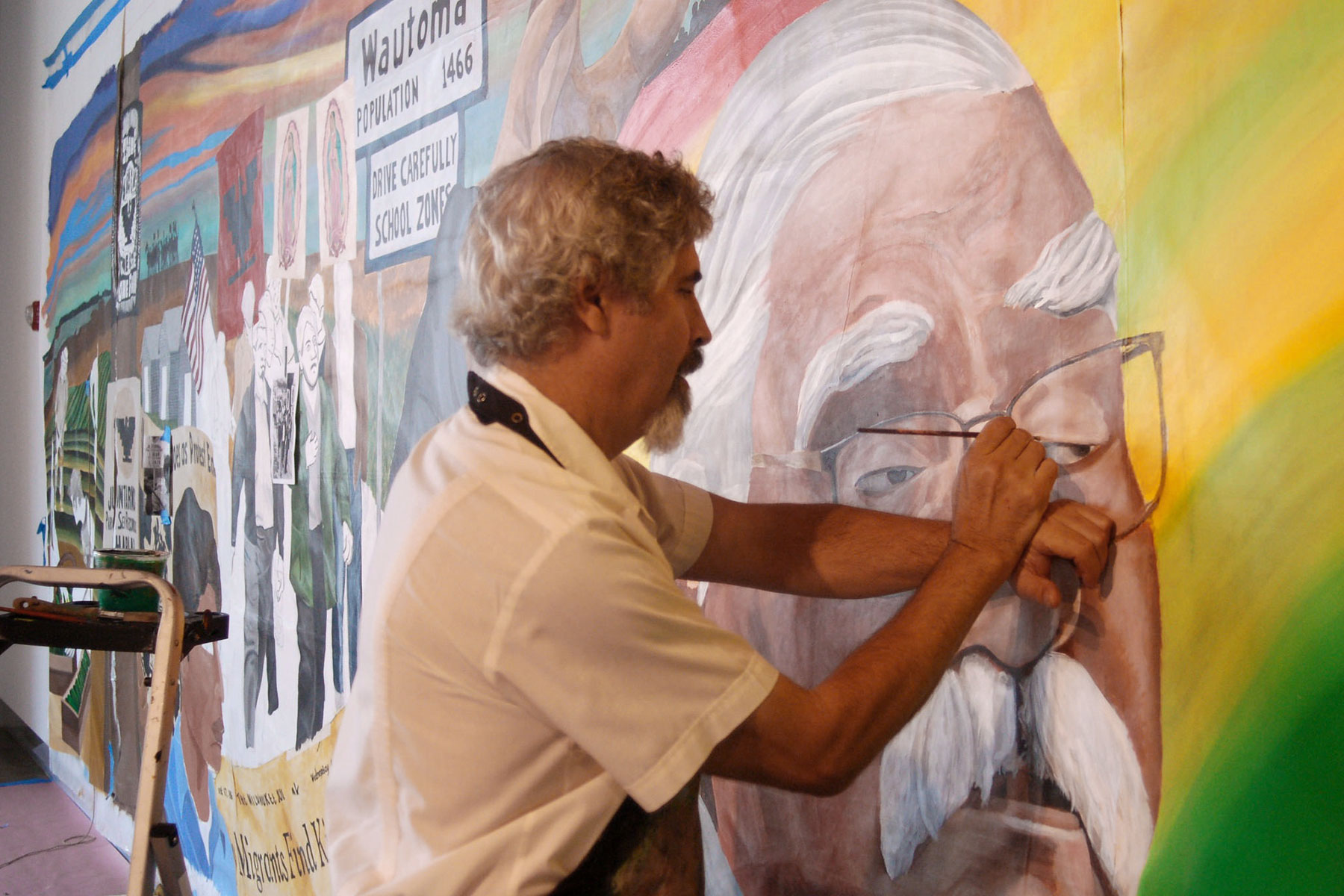 Jesus Salas, former executive director and board member at UMOS, remembers the struggles of migrant workers and other immigrants who arrived in southeastern Wisconsin more than 50 years ago in need of social services.
"There was a great need for bilingual education, job training and other basic services to help newcomers adjust and survive," Salas said.
In the process of filling those needs, Salas and other visionaries helped create the first nonprofits to serve the growing Latino community in Milwaukee and other parts of Wisconsin. From those efforts, organizations including UMOS, which began by offering adult education and daycare programming for migrant workers, were born.
The 50-year history of UMOS, which now provides employment, health, housing and a host of additional services to the community, is being honored with a mural and oral history project. The project is spearheaded by artist Raoul Deal, a senior lecturer at UW-Milwaukee's Department of Art and Design at the Peck School of the Arts. Helping to design and paint the mural are UWM student researchers and artists, volunteers and youth members of ArtWorks for Milwaukee, which is partnering with the university on the project. ArtWorks for Milwaukee provides paid arts-based internships to local high school students.
As part of their research, Deal and the students conducted interviews with long-time UMOS CEO Lupe Martinez and Salas. Salas shared memories from his participation in a nine-day march from Milwaukee to Madison in 1971 to demand better housing conditions for migrant workers and elimination of trespass laws, which kept UMOS outreach workers from meeting with migrant families. He also talked about his involvement with other Latino activists in occupying UWM's Chapman Hall on Aug. 27, 1970, to protest discriminatory admission policies.
"Latino students were being shut out from the university. It was unbelievable that the door was being closed to us," recalled Salas.
Milwaukee native Isa Cortes, a community arts student at UWM, said she'd heard of UMOS before, but didn't know about the connection between the organization and the struggle for equal rights. She and other students learned about those connections through interviews and by reviewing archival footage and documents related to the history of Milwaukee's Latino community.
"I didn't realize that a lot of the things they were fighting for, people are still fighting for now," Cortes said.
For Eduardo Rangel, a student at Ronald Reagan High School and an intern at ArtWorks for Milwaukee, the fact that there were migrant workers in Wisconsin was a surprise.
"Being from the city, I didn't even know that there were and still are migrant workers in Wisconsin [nor] about their long struggle for housing and fair pay," Rangel said.
The end result of the project will be a 9- by 90-foot mural featuring cornfields, migrant workers, Father James Groppi, breweries, foundries and other images. Together, they symbolize the "swirling winds of activism and movement," Deal said.
"This mural not only connects the agricultural movement to that of immigrant workers demanding jobs at foundries and breweries, but it also demonstrates how history applies to current events and ongoing struggles for equality," he added.
Deal and the students have spent the summer painting the mural in the UWM Student Union Art Gallery and at the INOVA Art Gallery at UWM's South Campus. Upon completion, It will be transported and displayed on a building at South 1st and West Mitchell Street in the Walker's Point neighborhood. Financial support for the mural is being provided by the Greater Milwaukee Foundation, the National Endowment for the Humanities, Milwaukee School of Engineering, ManpowerGroup and the federal Community Development Block Grant program. The artwork is expected to be completed this fall, said Deal.
For Rangel, the mural is his way of leaving a mark on the city. "The mural and the meaning behind it are something I will always be able to look at and be proud of," Rangel said.
Salas said he shared his stories so that today's students could learn about the history of Latinos in Milwaukee.
"We didn't just come here with sweat on our hands; we came to build a community," Salas said.