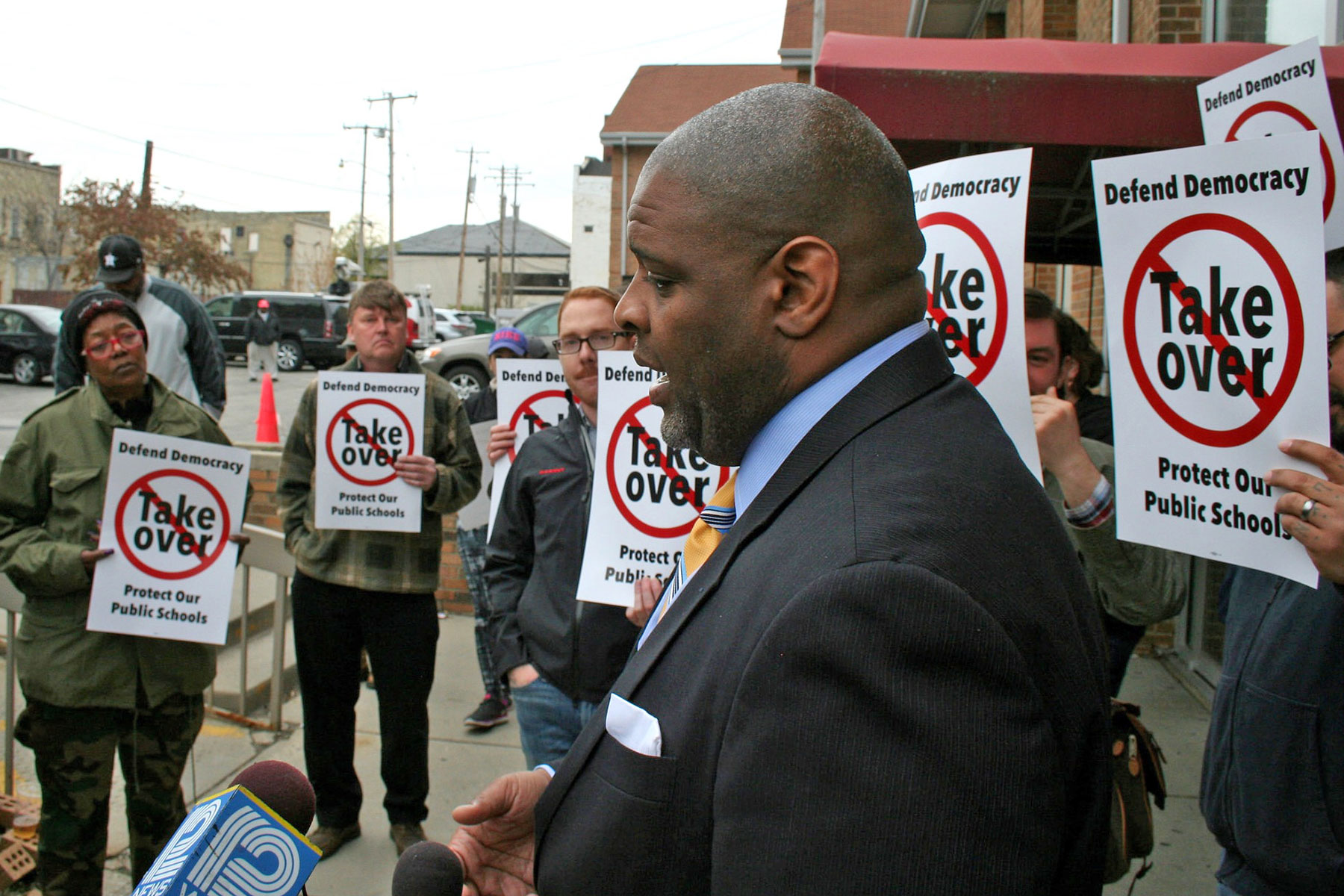 The Milwaukee Public Schools (MPS) Board of School Directors has until June 23 to make a decision about whether to accept a proposal to partner with Opportunity Schools Partnership Program (OSPP) Commissioner Demond Means.
Means submitted a proposal to the MPS board in April; it outlines a partnership that would create one community school in 2016-17. Community schools, a national model that the district is already pursuing with United Way, are community controlled and governed, offer expanded learning opportunities and connect students and families with social services. However, the positions Means' proposal would create — to provide coaching and administrative support, and to engage parents and provide wraparound services — would be contingent on additional state or philanthropic funding.
The board has already met regarding the proposal and will hold more discussions in the coming weeks, sources say.
MPS teachers, parents and other community members demanded answers about specifics of Means' plan at a recent OSPP advisory committee meeting, saying the process has lacked transparency. About 20 people shouted at Means as he answered reporters' questions. Later, near the end of the meeting, Milwaukee Teachers' Education Association (MTEA) President Kim Schroeder walked out saying he would not be an "accomplice" to what he called an unjust law.
"I'm just tired of hearing the rhetoric and the attacks on our students," said Schroeder, who has since resigned from the committee. "When I hear somebody sitting around the table saying our students are failing after the state legislature has cut funding for year and years and years, I'm not going to put up with that — it's not our students' fault."
Means was appointed commissioner of the controversial program, which was created after Wisconsin's Republican-led legislature passed the law in 2015. The OSPP requires the commissioner to identify failing schools in MPS and recommend between one and three in the first two years and up to five in 2017-18 for transfer to charter or private school operators.
Means has said he would not transfer schools to third-party operators, instead committing to work with MPS to bring resources to failing schools.
He said he has been surprised by the community's reaction. "What we have offered and proposed … is a partnership," said Means. "A partnership that gives the money back to Milwaukee Public Schools; a partnership that keeps [teachers] employed with all their benefits, with all their salaries."
According to the proposal, OSPP schools would employ union (MTEA) teachers. MPS would be responsible for facility management and hiring, and would have access to financial records.
"We have found a way to comply with the law without hurting MPS," said Means. "This is not a takeover. This is not New Orleans; this is not Detroit."
Means acknowledged the OSPP legislation, if enacted as it was written, could be "devastating to MPS" but stressed that his proposal would not have that effect.
Schroeder, a fourth-grade teacher, said the decision about how to move forward is bigger than politics, or complying with a law. "These are my students … we're talking about," he said. "You take it personally."
Jenni Hofschulte, of Parents for Public Schools, who is on Means' advisory committee, said his proposal doesn't include anything about what children are facing outside of the classroom, such as gun violence. Hofschulte said there need to be more trusted adults in the most challenged schools.
Gary L. Williams, a professor at the UWM School of Education, said educating children in high-poverty environments is not just about academics. "[It's] about taking into consideration the fact that this kid not only comes from poverty but has been traumatized. … And, if that kid is traumatized, that family and that community are traumatized."
The legislation
The OSPP, an extension of the New Opportunities for Milwaukee proposal authored by Republican state Sen. Alberta Darling and Rep. Dale Kooyenga in January 2015, calls for an independent commissioner appointed by the Milwaukee County Executive to transfer failing MPS schools to charter or private voucher school operators.
Fifty-five of 154 schools in MPS do not meet expectations, according to the Department of Public Instruction; those schools make up more than 80 percent of all failing schools statewide. The New Opportunities for Milwaukee plan proposes charter schools and turnaround schools as the solution, calling Milwaukee "a laboratory for experimentation."
Kooyenga cited the federal Every Student Succeeds Act (ESSA), which was signed into law about a year after his original proposal, as a justification for OSPP. ESSA, the successor to No Child Left Behind, requires states to "use evidence-based models to support whole-school interventions in the lowest-performing five percent of schools." According to the ESSA criteria, eight MPS schools would be eligible for intervention.
"I'm scared of what's going on in our city. I'm scared when you see [9-year-olds] getting hit by stray bullets," Kooyenga said. "When you have high schools that graduate 50 percent of their students, those other 50 percent (of students) aren't economically viable … And it creates violence."
Milwaukee's poverty rate is 29 percent, twice the national average.
"I have a great idea on how to fix failing schools: let's actually fund them," said Schroeder. "MPS has been underfunded, our students have been under attack … and it's gotten worse."
MPS received $89 million less from the state in 2013-14 than in 2007-08, factoring in inflation. Since 2007, the state budget has grown by almost $9 billion.
Marva Herndon, an African-American education activist, said, "We don't like the fact that our tax money is being taken to support voucher schools, and our public schools keep getting stripped and stripped and stripped."
Angela Walker, a school bus driver, said the conversation should be about living-wage work for parents. She said schools should be places that help support people by providing access to food, medical care and other services.
"This law is unjust," said Walker. "It's heinous. It isn't intended to break poverty — it's going to exacerbate it. And, it's taking children who are the most directly affected and commodifying them."
Moving forward
Means has committed to implementing the OSPP at no more than one school in 2016-17. A legal opinion from the Corporation Counsel of Milwaukee County, solicited by Means, states that the commissioner could act as a school operator, skirting certain aspects of the law.
OSPP schools will receive the independent charter amount of $8,100 per student. Though that amount is about $2,000 less per student than MPS typically receives, Means said the deal is better than nothing.
"I'm trying to help my home school district," he said. "I went to MPS, my parents went to MPS, my grandparents went to MPS." Means added, "I'm trying to be someone who can bring parties together."
Kooyenga said Means and County Executive Chris Abele are giving MPS too much control, and that the law gives them more leeway to "just take the ball and run with it." He added that the OSPP is more likely to succeed if they do not work with the school board.
"What they're doing — and I understand it — is they're trying to diminish the amount of educational friction and animosity that's surrounding the idea," said Kooyenga.
Kooyenga said that if MPS does not go along with Means' plan, the legislature could change the governing structure of the OSPP or increase the number of schools to be transferred every year.
MTEA Executive Director Lauren Baker said the union's fundamental issue is to protect public education. Despite Schroeder's resignation from the advisory committee, she said, "We're delighted to be a part of any substantive conversations about our kids in MPS."
Debra Jupka, who is also on the committee and co-chairs MICAH's education task force, said, "If we don't sit down and start having some decent, honest, non-vilifying conversations, we are doing … a disservice to those kids."