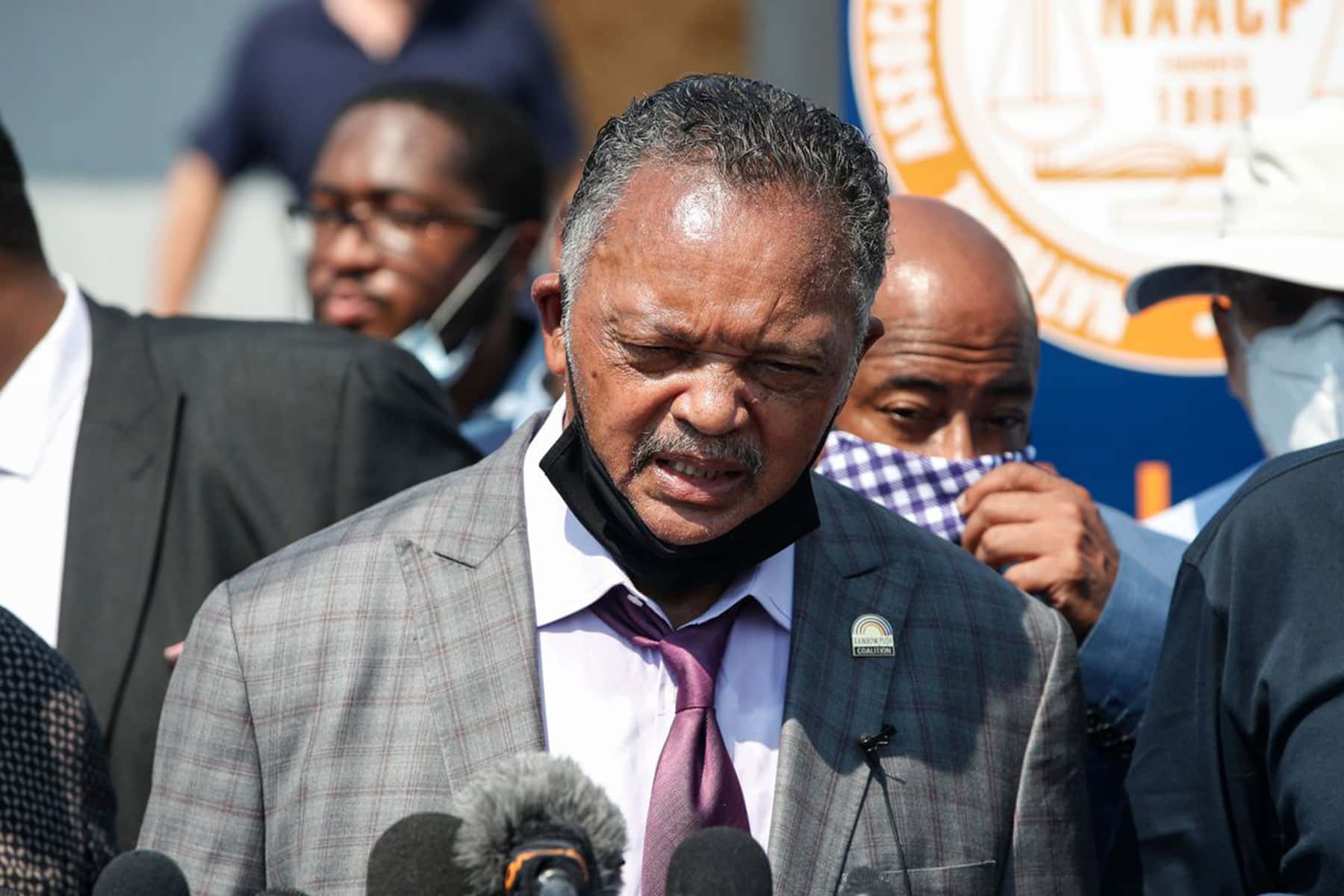 Criticism of law enforcement leadership in Kenosha intensified recently, with the Rev. Jesse Jackson calling out the county sheriff for comments he made two years ago, and the American Civil Liberties Union calling for the resignations of both the sheriff and the city's chief of police.
Jackson visited Kenosha on August 27 to show his support for the family of Jacob Blake — a 29-year-old Black man whose shooting by Kenosha police on August 23 has spurred four consecutive nights of protest in the city.
Jackson played audio of Kenosha County Sheriff David Beth from 2018 that started circulating across social media on August 26. In the tape, Beth says: "At some point, we have to stop being politically correct — I don't care what race, I don't care how old they are. If there's a threshold they cross, these people have to be warehoused, no recreational time in the jails."
He also says "there's some people that aren't worth saving."
In the press conference, Jackson drew a line between the shooting of Blake and other shootings of Black people over the last several years.
"I want to make this point clear. There's a pattern of killing Black people. When Roof killed nine people in a church in Charleston, South Carolina, police took him to get a hamburger before taking him to jail. He walked away," said Jackson.
He noted that the officer who killed George Floyd went home that night, and the officers who killed Breonna Taylor and shot Blake are still free. He asked Wisconsin's attorney general to "move and move quickly."
"We must know that justice works for the people," he said. "Whether Laquan McDonald, Breonna Taylor or Jacob here in Wisconsin, there's a pattern … there's a kind of moral desert at the top."
Later in the afternoon, the American Civil Liberty Union of Wisconsin issued a statement calling for the immediate resignation of both Beth and Kenosha Police Chief Daniel Miskinis. In addition to calling out the sheriff's remarks from 2018, the statement also points to the fatal shooting of two protesters in Kenosha on August 25.
The statement alleges that sheriffs deputies fraternized with "white supremacist counter-protesters" that night, and later allowed the shooter to leave the area of the incident, even though "people yelled that he was the shooter," as seen in a widely shared video.
An arrest in the shooting has since been made by Illinois authorities: Kyle Rittenhouse, 17, of Antioch, Illinois, was taken into custody on August 26 on suspicion of first-degree intentional homicide.
In the statement, the ACLU "strongly condemns Sheriff Beth and Police Chief Miskinis' response to both the attempted murder of Jacob Blake and the protests demanding justice for him." It also says that "their actions uphold and defend white supremacy, while demonizing people who were murdered for exercising their First Amendment rights and speaking out against police violence."
ACLU Wisconsin said if Beth and Miskinis refuse to immediately resign, it will call on Mayor John Antaramian to demand removal of the law enforcement leaders by the Kenosha Police and Fire Commission and Governor Tony Evers.
Law enforcement and government officials in Kenosha held a press conference as well on August 27, which featured Beth and Miskinis, along with Antaramian, Kenosha County Executive Jim Kreuser, and Wisconsin National Guard Adjutant General Paul Knapp. The group largely focused on the peaceful nature of Wednesday night's protests.
"Last night was very peaceful," said Beth. "Tuesday night not quite so peaceful, but it wasn't too bad. Monday night was our big night. Hopefully we're over that hump of what we have to face."
The shooting that left two protesters dead and one injured was on Tuesday.
Beth also said he believed Wednesday night remained peaceful because protesters were likely from Kenosha and not out of state. He said "a lot of our issues start when different people with different agendas come here to Kenosha."
Kreuser also thanked protesters for remaining peaceful Wednesday night, saying it made the jobs of law enforcement "a lot easier."
"I'm confident that what we saw Sunday, Monday and Tuesday night isn't who we really are," Kreuser said. "I call on our community to seek change with peace. And I thank them again for how they adhered to the curfew to keep our community safe during this time."
Knapp announced that Wisconsin has received commitments from Arizona, Alabama and Michigan to send National Guard soldiers to help maintain safety in Kenosha. But he stressed those soldiers had not been "federalized."
"They're here on state active duty," Knapp said. "They're here through a mutual aid agreement or a compact between the states and specifically the the governors. And they will be under my command as the adjutant general, ultimately under the command of the commander in chief for the state, Governor Evers."
Officials also talked about bringing the community together, while rebuilding businesses that had been damaged or destroyed since Sunday.
"After the damage had been done, people came out, neighbors came out to help neighbors," said Antaramian. "The downtown had numerous people cleaning up the streets, fixing buildings, doing everything they could to help their neighbor. And that is what this community really is about."
Antamarian had also been at the Jackson press conference earlier in the day. There, he said the city would be working with the NAACP and other organizations to try to solve systemic racism.
"We are going to make sure that in the future, we have a community that is safe for all," he said.
After he was pressed on specifics, Antaramian said the city already started working with clergy several months ago on how to address racism and other problems in the city. He said they're putting committees together, and working with the Department of Justice on setting up future meetings in churches to communicate with city residents.
At his press conference, Jackson called for protests in the city to be peaceful.
"I would say to citizens of this area, be nonviolent and disciplined, not because they're scared, but because they're smart," he said. "They want to use the riots as commercials for this president. Do not let them use the fires as commercials."
The previous night's protest over the police shooting of Blake was itself relatively peaceful.
At around 9:00 p.m. Wednesday, some protesters in Kenosha had been marching and chanting, defying the curfew, but there were few signs of police presence on the streets and no signs of violence. A couple hundred protesters gathered outside the Kenosha County Courthouse and marched around the city repeatedly, but police and National Guard soldiers mostly stayed out of sight.
An organization called Impact Demand organized Wednesday's protest. The group had been behind many of the protests since the death of George Floyd in Minneapolis in May. The protest came after the Wisconsin Department of Justice released a new statement with details on the shooting of Blake, which reportedly has left the man paralyzed from the waist down. The statement and a subsequent press conference by state Attorney General Josh Kaul identified the officer who shot Blake as Rusten Sheskey, a seven-year veteran of the Police Department.
Donate: Wisconsin Public Radio
These headline links feature the daily news reports published by Milwaukee Independent about the George Floyd protests, the revival of the Black Lives Matter movement that followed, and their impact on the local community in for 8 months from May to December of 2020.