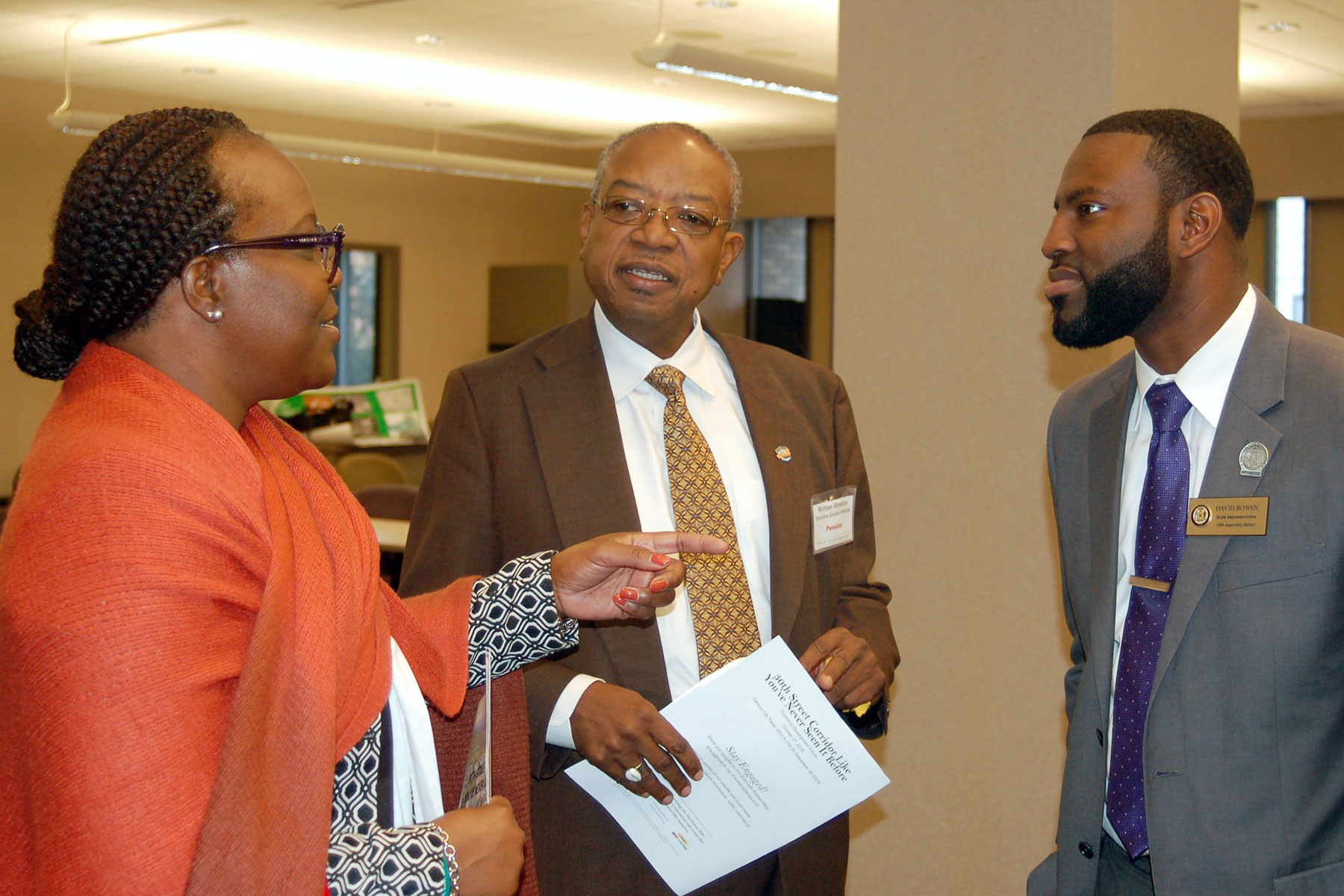 30th St. Industrial Corridor leader urges area residents to join in redevelopment planning.
Cheryl Blue, interim executive director of the 30th St. industrial corridor and BID 37, wants northwest side neighborhood residents to participate in a plan to restore the long-blighted industrial corridor to its former glory.
"There are many people in this neighborhood…that need to be engaged in this process as well so that it's not just people from outside of the neighborhood determining what's going to happen," she said in an interview. Blue believes it is important to have neighbors engaged at every level in the process.
Boasting the highest per-capita income for African-Americans in the country in the 1970s, the neighborhood around the 30th St. Industrial Corridor earned the moniker "Blackfish Bay," according to Blue. Residents of the area were left jobless after companies left in the 1990s. The region's economic troubles were further compounded by the 2008 recession.
After years of decline, the area has begun to attract investment.
The U.S. Forestry Service has awarded the NWSCDC a $200,000 grant, according to Joel Parker, an environmental engineer who played a key role in revitalizing a post-industrial space now known as Chevy Commons in Flint, Mich.
The funding will be used to promote green infrastructure in the area through storm water runoff management, a community solar energy facility and "phytoremediation," a low-cost, clean energy technique for remediating contaminated land, specifically a brownfield site at 4101 N. 31st St. that planners call "Innovation Park."
"There's a place for an epicenter, a nexus of storm water technology incubation, and why not here in Milwaukee on the northwest side? It's a perfect setting," said Parker.
He noted that local institutions such as the Milwaukee Department of City Development and Employ Milwaukee have demonstrated commitment to the project and said he sees potential for universities and professional societies to serve as anchor institutions.
"All the planets are well aligned for success, working and collaborating well together," Parker added.
Parker was the keynote speaker at a recent economic development forum, "The 30th Street Corridor Like You've Never Seen It Before." Hosted by the Northwest Side Community Development Corp. (NWSCDC), the forum brought together members of the public, private and nonprofit sectors to recognize recent accomplishments and hear from community leaders about plans for environmental development in the area.
This development may lead to new lines of business, according to Andrew Haug, a resource manager with NWSCDC. "We want this site to be like an urban playground where people can see green technology in action," Haug said.
Commissioned by NWSCDC's Executive Director Howard Snyder, a video created by local videographers WC Tank and Adam Carr highlighted the perspectives of local residents about the past and visions for the future of the northwest side.
The forum, at the Century City Tower in the new Century City Business Park, also featured a panel of Milwaukee business leaders collaborating to increase the area's economic prosperity. Earl Buford, CEO of Employ Milwaukee, Rocky Marcoux, Milwaukee's Department of City Development Commissioner, Wyman Winston, executive director of Wisconsin Housing and Economic Development Authority and Kevin Shafer, executive director of Metropolitan Milwaukee Sewage District, expressed optimism about the partnerships and the positive impact the project is expected to have on the northwest side and the city as a whole.
"We have the ability to actually do something that an American city has not done: [putting] people back to work, growing neighborhood prosperity, repairing our city and providing an example for this nation," Winston said.
"Whoever figures out how to turn our cities around will change the trajectory of the United States and I believe Milwaukee is the place to do it."