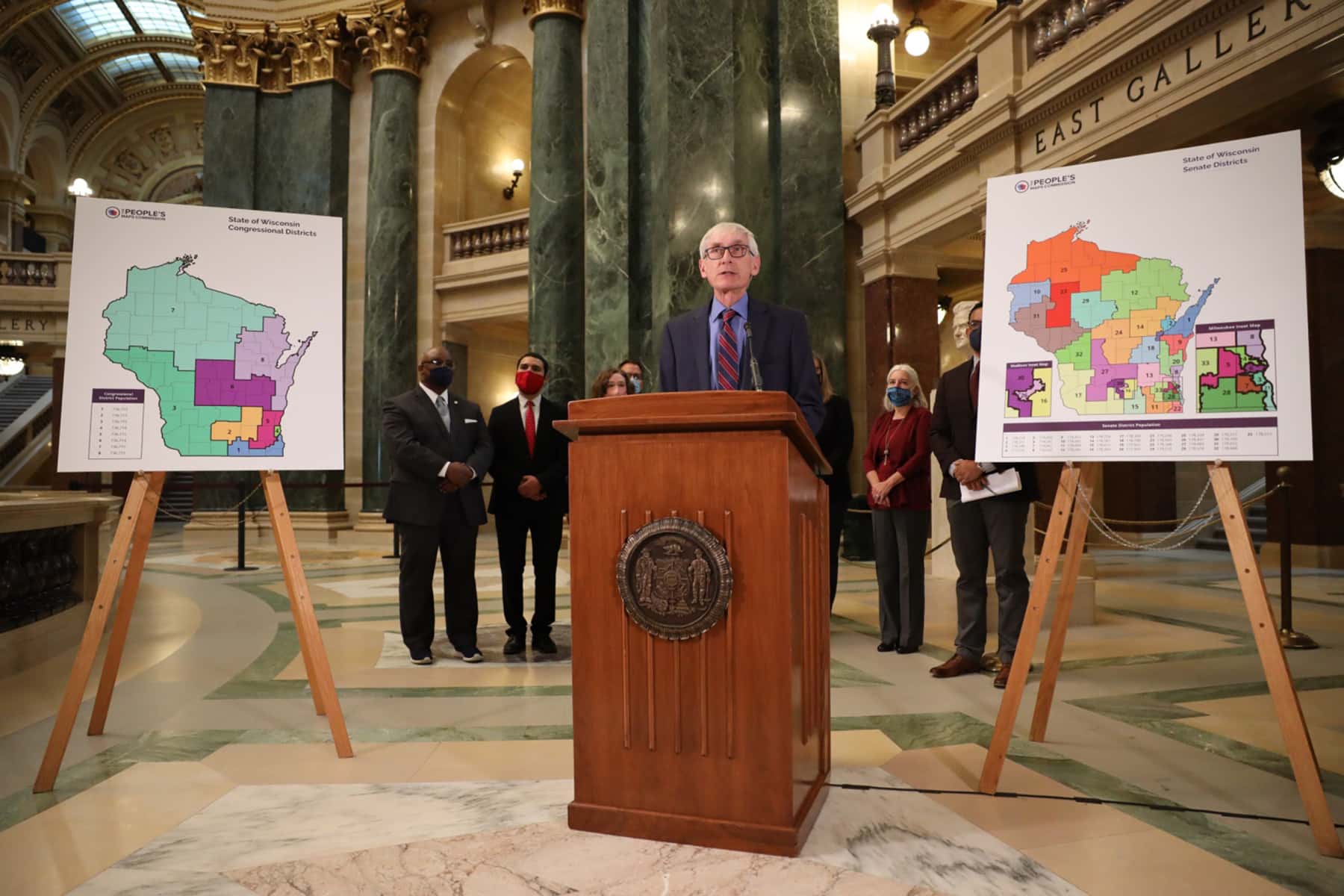 Governor Tony Evers is touring the state to promote new electoral maps he says will make elections in Wisconsin more competitive. The maps are an alternative to a redistricting plan recently introduced Republican legislators, which the governor says he plans to veto if they remain in their current form.
As lawmakers and courts prepare for a likely legal battle over what Wisconsin's voting districts will look like next year, Evers is touting a new set of electoral maps drafted by the People's Maps Commission. The commission, which was created by an Evers' executive order in January 2020, consists of nine members from around Wisconsin and includes a school board member, physicians, a nonprofit leader, a tribal board chair and a business leader.
Redistricting experts have stated that the maps released by Evers' commission would leave Republicans with a smaller electoral advantage than they have with current maps drafted entirely by Republicans a decade ago. Still, Republicans are expected to have a slight advantage because many Democratic voters are clustered in large cities like Milwaukee and Madison.
Evers said the commission's maps were the result of an open and non-partisan process that included multiple public meetings, listening sessions and submissions from nearly 2,000 residents across the state.
"For years, the people of this state have demanded better and fairer maps," Evers said during a press conference in Madison on November 2. "And for years, the people of the state have been ignored. The gerrymandered maps the Republicans passed a decade ago, have enabled members of the Legislature to comfortably ignore the will of the people. There is no incentive to compromise."
Republican legislative leaders released their own set of maps in October. The maps are expected to preserve Republican majorities in the Legislature until 2032.
Evers said if those maps make it to his desk without changes, he would veto them. Republicans have responded in kind, by previously stating that they won't pass maps created by Evers' commission.
At another stop in Eau Claire, Evers said he would call a special session of the Legislature if needed to approve the commission's maps. Evers has called several special sessions since becoming governor, but Republican lawmakers have ended the sessions without taking action on bills promoted by the governor.
Evers said he's "somewhat cynical" about whether Republicans will vote for the commission's maps but hinted having the maps could help in likely legal battles over redistricting.
"So, I think any court of law would welcome this opportunity to have this looked at when making a final decision," said Evers.
Donate: Wisconsin Public Radio