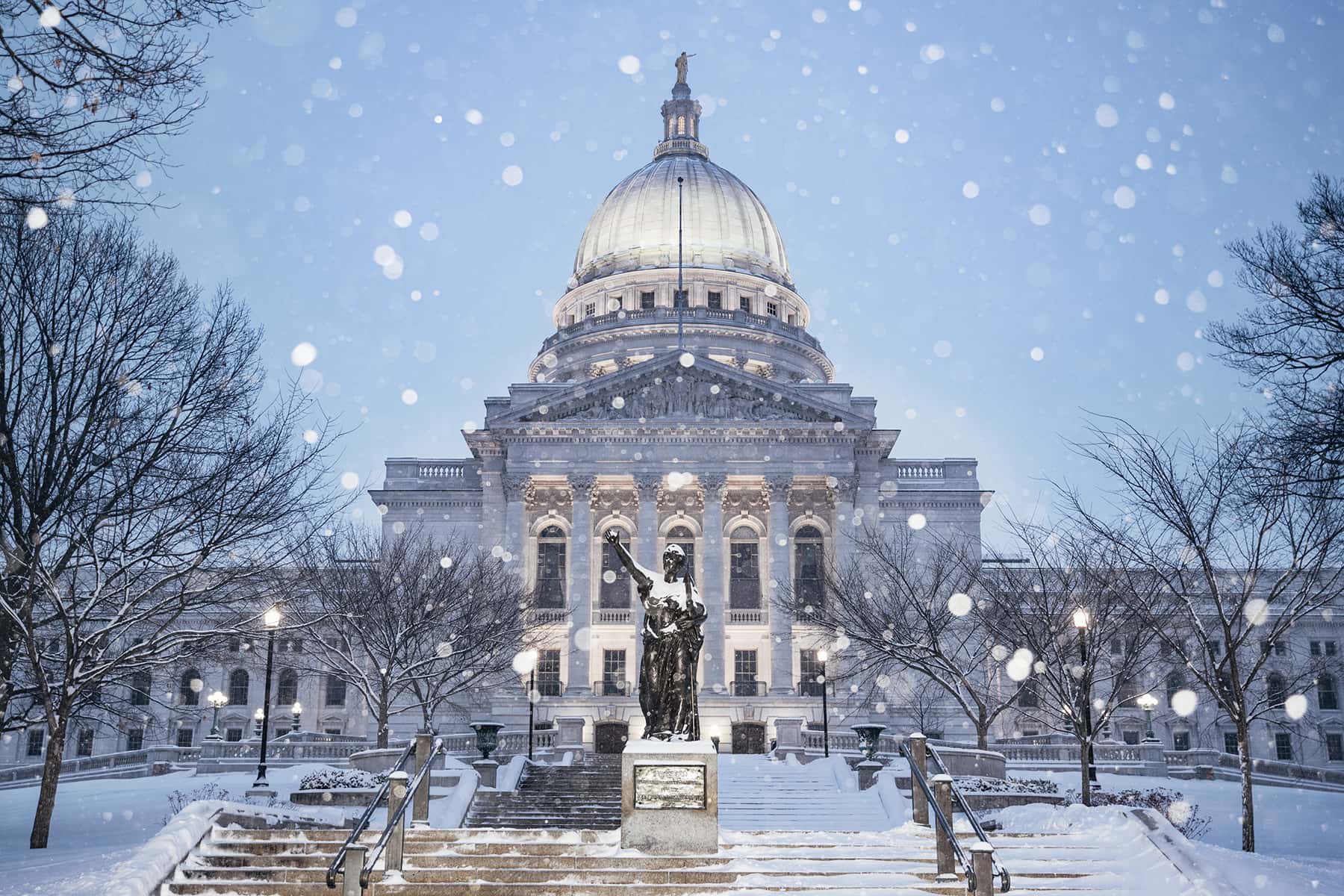 From the early days of the pandemic to the fever-pitched and riotous last days of the Trump presidency, Wisconsin's conservative movement was swept up in conspiracies and extremism in 2020.
Over the past year, online provocateurs, fringe lawyers, Republican lawmakers, wealthy donors, militias and right-wing media created a feedback loop that poisoned politics in Wisconsin and the country. This web became a mechanism of radicalization, starting with Facebook groups formed to organize protests against coronavirus lockdowns and culminating in the violent insurrection at the U.S. Capitol on January 6.
Anti-government sentiment, mistrust of experts, racial dog whistling and flirtation with violence aren't new to the American conservative movement. But in 2020, the Republican party leaned in. Whether they were attacking the officials and methods trying to protect people from a deadly virus or lying about election results, Republican officials in Wisconsin and across the country moved beyond winking toward and fully embraced a politics of conflict, conspiracy and violence. How it started is a chicken and egg situation.
Did state Senator Kathy Bernier (R-Lake Hallie) speak at an April 2020 "Reopen" rally in Madison because she really believed Wisconsin's stay-at-home order was tyrannical or did she speak at the rally because she wanted to prove her ideological purity to the angry activists in her conservative district? Did 15 of Wisconsin's legislative Republicans ask then-Vice President Mike Pence to overturn the state's election results because they actually believed disproven allegations of fraud? Or did they want to take advantage of a base of voters who had been lied to by the president of the United States? Does it really matter which came first?
"It's unclear to me if they feel they have the ability to influence their voters," Dr. Ben Warner, an expert in political communication and polarization at the University of Missouri, said about Republican officials. "I don't know how much it's elected officials being afraid of their voters, feeling they have to follow their voters. Ideally, elected leaders would lead their party and their voices would have sway. It's unclear who has the capacity to lead these voters out of these potentially dangerous ideas."
Reopen Wisconsin
In early April 2020, protests against COVID-19 measures, organized online, sprung up across the country. A Facebook group was formed to plan a rally against the stay-at-home order that had been instituted by Governor Tony Evers. The group combined faux science, absurdity and memes with concerns over mental health and small businesses. Members of the group included right-wing activists and politicians but also doctors, nurses and healthcare workers, who were in turn joined by conspiracy theorists and anti-vaxxers — an alliance of strange bedfellows that helped legitimize the more extreme views espoused by parts of the group.
"By galvanizing so many groups — people who are skeptical of COVID and people who are absolutely confident it's a conspiracy, people who were far-right militias — by galvanizing all these groups, the protests were not only seen as this far-right conspiracy, they had this additional legitimacy because these white-collar workers were joining," said Dr. Magdalena Wojcieszak, a professor of political communication at University of California-Davis.
The rally drew around 1,500 people some carrying assault weapons and some spreading QAnon conspiracy theories. A guillotine was set up on the steps of the State Capitol.
"Protesting is one of the most sacred American acts," said Ben Wikler, chair of the Democratic Party of Wisconsin. "There are protesters for all kinds of causes on any given day of the week. Showing up to protest in full tactical gear with long guns is an alarming trend. We saw some of that with reopen protests last year and we saw some of that in D.C. on Jan. 6. The militarization of right wing protest is a deeply concerning trend in a country whose fundamental basis is the peaceful transition of power."
Other, smaller rallies were held across the state in cities like Burlington and Mosinee, attracting crowds and legislators to rail against COVID restrictions.
"I recognize there are hotspots in Wisconsin," Bernier said on the topic of COVID-19 at the Madison rally. At the time, the highest rates of infection in the state were in cities with large minority populations like Milwaukee.
"Most of the state, 64 counties, could be opened up for business," Bernier continued. Months later, the virus would take a brutal toll on Wisconsin's rural communities.
With the base thoroughly engaged, Bernier's Republican colleagues in the Legislature saw an opportunity to win points with voters while kneecapping Evers' authority. They sued Evers and then-Secretary-designee Andrea Palm of the Department of Health Services to end the statewide stay-at-home order. In a 4-3 decision, swung by conservative lame duck Justice Daniel Kelly, the order was ended and Wisconsin was left without any measures to control the spread of COVID-19.
In arguing that the statewide order equated to tyranny, legislative Republicans insisted that the decisions should be left with local and county governments, yet when those local governments instituted their own orders, Republicans again fought back. With the help of right-wing radio hosts such as Vicki McKenna, a group of legislators began to argue that locally imposed restrictions were also unconstitutional — despite just weeks earlier calling for local control.
Militia Movement
As the protest movement against measures to curb the spread of the virus grew, then-President Donald Trump — who had been saying things like "the cure can't be worse than the disease," since March — egged on the protesters, tweeting to "LIBERATE" several states, including Michigan. Michigan was the site of especially intimidating and divisive protests against virus restrictions that included an armed storming of the Capitol building in Lansing and hateful attacks against Democratic Gov. Gretchen Whitmer.
The events in Michigan last spring directly foreshadow what was to come, and Wisconsin's extremists came along for the ride. It was in this environment — Trump's tweets and reopen protests in states like Michigan and Wisconsin with long and winding histories of militia movements — that a group of militia members plotted to kidnap and execute Whitmer.
This group of 14 men included a Wisconsin resident. They conducted training exercises in Cambria, Wis., according to court records. The group's plan was to kidnap the governor from her vacation home, blow up bridges as a distraction and bring her to an outpost in Wisconsin where they'd hold a "trial."
The FBI arrested the plotters in October. But the episode highlighted the emboldened right wing that had been flexing its muscles and showing its heavily armed teeth all year. Paramilitary militias such as the Three Percenters and Proud Boys had been showing up at Reopen protests alongside online extremists such as the Boogaloo Bois, a loosely connected group of armed men known for wearing Hawaiian shirts.
Wisconsin Representative Glenn Grothman even referenced a Boogaloo martyr on the floor of the House of Representatives. Through it all, the spread of the COVID-19 pandemic continued. A combination of boredom and frustration created the right conditions for an increase of conspiratorial thinking. Bizarre movements such as QAnon spread beyond the dark corners of the internet.
Despite its ludicrousness, the theory gained tacit approval from many Wisconsin Republicans. Republican Congressman Tom Tiffany voted against a motion to condemn the conspiracy theory in the House. Beloit-area billionaire Diane Hendricks donated to the campaign of Marjorie Taylor Greene, the controversial first-term Georgia congresswoman who has expressed QAnon beliefs and was stripped of her committee assignments.
Kenosha and Kyle Rittenhouse
Throughout the summer the nation's focus moved to an outpouring for racial justice. Thousands of people took to the streets to protest the killing of Black people by police. Republicans across the country attacked the movement as "Marxism," and warned of the threat of street violence potentially created by loosely connected antifacist groups.
Protests took place across Wisconsin in small towns and big cities, occasionally resulting in confrontations with the police and destruction of property in Madison and Milwaukee. Then, in late August, a Kenosha police officer shot Jacob Blake seven times — unleashing a new wave of protests in the state.
Protests erupted in Kenosha. Buildings were burned down, windows were smashed. It was amid the chaos of those first days of protest in the city that a former Kenosha alderman put out a "call to arms" to defend against "evil thugs." One of the people who responded to that call was 17-year-old Antioch, Ill. resident Kyle Rittenhouse.
Rittenhouse drove to the city on Aug. 25, picked up an assault rifle from a friend's house and, as he described it, went to "defend" businesses from protesters. In the pandemonium of the protests, Rittenhouse is seen on video killing two people and injuring a third. His legal team has insisted he acted in self-defense, and the matter is still pending in Kenosha County Circuit Court. He became a hero to the right wing.
Rittenhouse was charged with two counts of murder, among other charges. Now a conservative martyr valorized for his actions, his $2 million bail was paid for through donations from prominent conservative figures such as MyPillow CEO Mike Lindell. Conservative lawyer Lin Wood joined his legal team. Wood later worked to overturn Georgia's presidential election results for Trump.
In September, Rittenhouse's mother attended a Republican party event in Waukesha County. She received a standing ovation. The events in Kenosha were supercharged by the then-heating up presidential election. Trump said Rittenhouse had acted in self-defense. Both Trump and Joe Biden made visits to the city.
Stop the Steal
With just months before Election Day, Trump began preparing a strategy to cast doubts on the results. He attacked the use of absentee ballots — popular as a voting alternative during a deadly pandemic. By the fall, there were fears Trump would refuse to leave the White House if he lost.
Then, in the early hours of Nov. 4, Trump went on live television to claim he'd won even though votes were still being counted. He'd claimed massive fraud had been committed and Democrats were stealing the election by inflating vote counts in largely Black cities like Atlanta, Philadelphia, Detroit and Milwaukee. His Republican base believed him, and soon Republican officials would follow.
The Friday after the election, with Biden nearing the 270 vote Electoral College threshold for victory, a group of Republican activists arrived at the Capitol to "stop the steal." Among the small crowd in Madison was Jenna Ellis — who would soon join lawyers Rudy Giuliani and Sidney Powell in a desperate and unfounded attempt to find a path to victory for Trump.
After Biden was declared the winner, the battle to overturn the election took to the courts. Powell ultimately filed two mistake-riddled lawsuits in Wisconsin, trying to overturn the election in both state and federal court. Rep. Tiffany would join with Republican attorneys general and hundreds of other GOP members of Congress in an ultimately fruitless attempt to have the Supreme Court overturn the election results in several swing states including Wisconsin.
Despite the judicial branch's repudiation of the efforts to change the result, Wisconsin U.S. Sen. Ron Johnson continued to cast doubt on the results, alleging without evidence that fraud had occurred. By December, the legal effort had flamed out, but Trump and the Republican party continued to search for ways to stop Biden from becoming president. On Dec. 7, a Trump-aligned group, Women for America First, held a stop in Madison on its "March for Trump" bus tour across the country.
At the rally, Republican Wisconsin Election Commissioner Bob Spindell attacked the election results but stopped short of alleging all-out fraud by Democrats. But Spindell stood by as speaker after speaker spun a web of lies, some encouraging rebellion and even violent action against the government.
MyPillow's Lindell, who had by December become one of Trump's most vocal advocates, also appeared at the rally, spreading disproven conspiracy theories about voting machines and false accusations of fraud. He told the gathered crowd that state legislatures could bypass the Electoral College to elect Trump.
Insurrection
Speakers told the crowd in Madison that on Jan. 6, there would be a rally in Washington D.C. to stand up for President Trump. By early January, Trump was acting desperate. He called Georgia Secretary of State Brad Raffensberger and urged him to "find" enough votes to change the state's election results. Joining Trump on that call was Cleta Mitchell, a partner at Wisconsin-based law firm Foley and Lardner.
The president continued to lie about alleged fraud as he addressed the crowd gathered outside the White House on Jan. 6. The rally was largely organized by Women for America First — arriving in D.C. after its bus tour. Also assisting in the planning was Tea Party Patriots, a right-wing group that has received financial support from Wisconsin billionaires Richard and Elizabeth Uihlein.
Trump, speaking as Congress convened in a joint session to certify the results, urged his followers to march to the Capitol and be ready to fight. Johnson had already announced he'd be joining a dozen other senators, including Josh Hawley and Ted Cruz, in voting against the certification.
The next several hours saw a violent attack on the seat of the federal government as a crowd, that included Wisconsinites, breached the Capitol, halting the certification and holding the building for several hours. Echoing the guillotine set up in Madison in April — a noose was erected outside the U.S. Capitol.
After several hours, the insurrectionists were removed from the building and Congress returned. In the early hours of Jan. 7, the results of the election were certified. Joe Biden was declared the winner. Johnson backed off his plan to object, but Reps. Tiffany and Scott Fitzgerald still voted to overturn the election.
Whether through a broken incentive system, gerrymandering, media echo chambers or fear of their voters, the Republican party lost control of its base in 2020 and decided it had no choice but to follow along.
"It's not surprising," said Dr. Nathan Kalmoe, a professor of political violence at Louisiana State University. "It's predictable but still a shocking thing to witness playing out, particularly on the scale it became."
In the weeks after the attack, the House would vote to impeach Trump for inciting the riot. The trial, currently pending before the Senate, is expected to result in an acquittal.
One week after the attack, Tiffany appeared at a closed-door "Save the Republic" rally in Wausau with a radio host who called for "war." Parts of the Republican base were spinning conspiracy theories about the riot or increasing their calls for war. Johnson recently appeared on television to claim House Speaker Nancy Pelosi was to be blamed for the attack.
Even as some Republican officials across the country reacted in horror to the attack — with some blaming Trump — most elected Wisconsin Republicans have refused to change tack. Political parties don't usually change course without an incentive — losing elections. Conspiracy and violence can only work so long as it keeps Republicans in power, according to Wikler.
"I think Republicans need to get their house in order," Wikler said. "As Democrats, we're only too happy to hasten that process by defeating Republican elected officials. Parties change course when they lose. Republicans should recognize they've lost seven out of the last eight elections in Wisconsin. From all appearances they'll need to take a deeper wave of defeats before there's a real reckoning with how repellent the national party has become."
Donate: Wisconsin Examiner
Help spread Wisconsin news, relentless reporting, unheard voices, and untold stories. Make a difference with a tax-deductible contribution to the Wisconsin Examiner