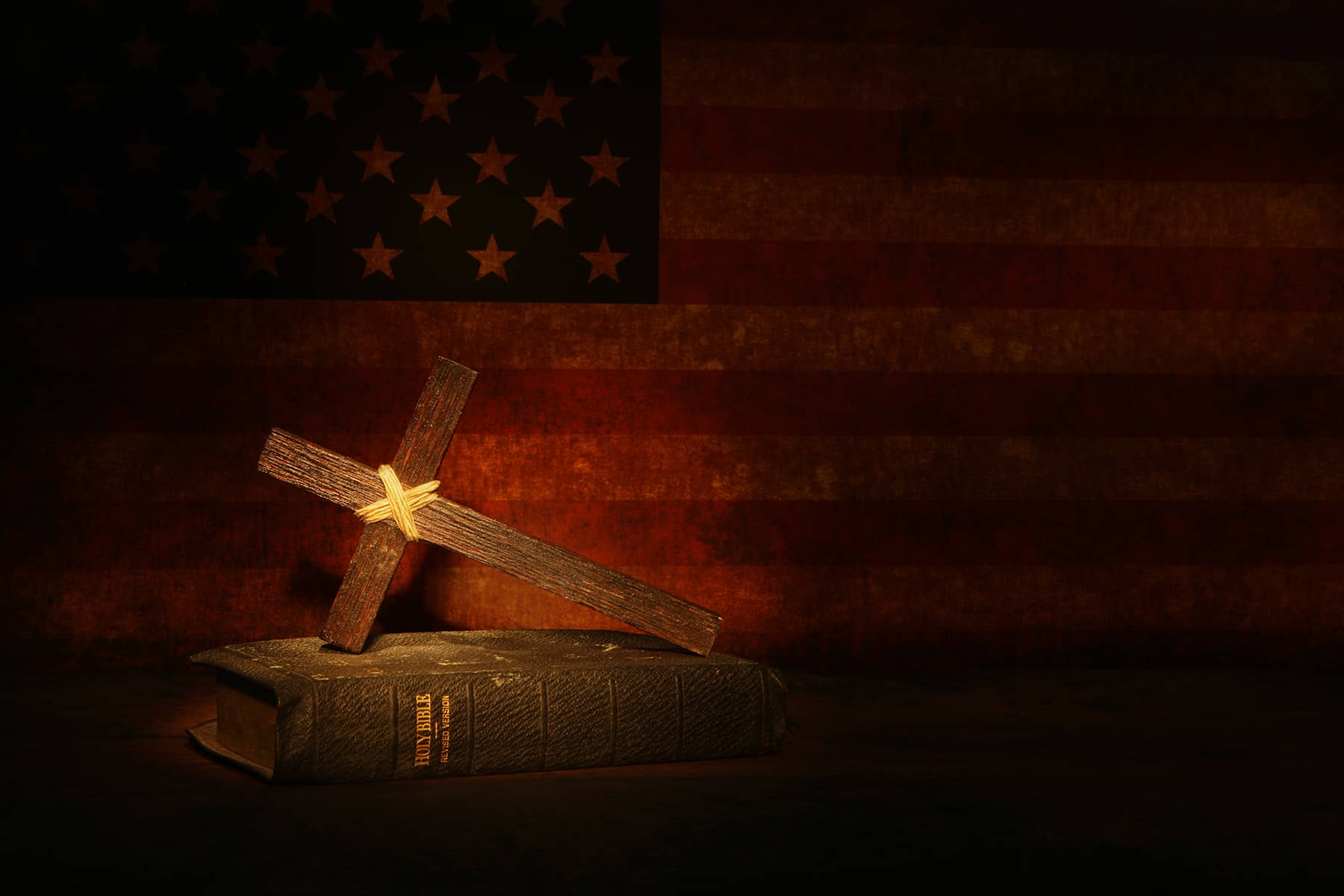 Far-right Republican lawmakers who have recently invoked Christian nationalist messages appear to be representing a growing portion of their voter base, according to a new poll released Wednesday showing that a sizable majority of Republicans believe the U.S. should be declared a "Christian nation."
As Professors Stella Rouse and Shibley Telhami of the University of Maryland wrote at Politico, the school's critical issues poll found that while a majority of Republican voters agree that such a declaration would be unconstitutional, most also believe that the U.S. should be officially known as Christian.
The professors surveyed 2,091 voters between May 6-16, 2022, first asking them "if they believed the Constitution would even allow the United States government to declare the U.S. a 'Christian Nation'" and finding that 57% of Republicans—as well as more than 80% of Democrats — said no.
Yet "fully 61% of Republicans supported declaring the United States a Christian nation," Rouse and Telhami wrote.
The poll, showing widespread disregard for one of the nation's foundational documents, was released as government watchdogs issue warnings about a plot some Republican lawmakers are pushing to rewrite the Constitution.
The critical issues poll showed that older Republicans were more likely than Millennial voters and members of Generation Z — who range in age from 18 to 41 — to think Christian nationalist beliefs should be codified, younger members of the party were also largely supportive.
"We see that 51% of Millennial Republicans and 51% of Generation Z Republicans want the U.S. to be declared a Christian nation," wrote Rouse and Telhami.
More than 70% of Republicans born before 1965 supported such a declaration.
The poll results were released as GOP candidates and elected officials have outwardly expressed Christian nationalist beliefs with greater frequency.
Earlier this month, Rep. Lauren Boebert (R-CO) told an audience at a conference held by the Truth and Liberty Coalition that "we need God back at the center of our country."
"It's time for us to position ourselves and rise up and take our place in Christ and influence this nation as we were called to do," she told supporters of the coalition, which says it "stands for preserving America's constitutional republic of government" and "guaranteeing to each citizen their Creator-given rights."
Florida Governor Ron DeSantis also advised students at Hillsdale College, a Christian school in Michigan, to "put on the full armor of God" and "stand firm against the left's schemes" earlier this year, and Rep. Marjorie Taylor Greene (R-GA) openly said in July that Republicans "should be Christian nationalists."
"We need to be the party of nationalism and I'm a Christian, and I say it proudly," said the congresswoman in July. Greene also suggested in June that those who warn against Christian nationalism are "domestic terrorists."
On September 21, Greene responded to Politico's report on the University of Maryland poll with the words, "In God we trust."
The poll was released a day after political analyst Jared Yates Sexton warned on social media and "The Muckrake Podcast" that the "incredible threat" of Christian nationalism "extends beyond" former President Donald Trump.
"Even if Trump loses his stranglehold on the GOP, Republicans recognize that QAnon and Christian nationalism are invaluable tools," said Sexton. "These faiths legitimize antidemocratic actions, political violence, and widespread oppression."