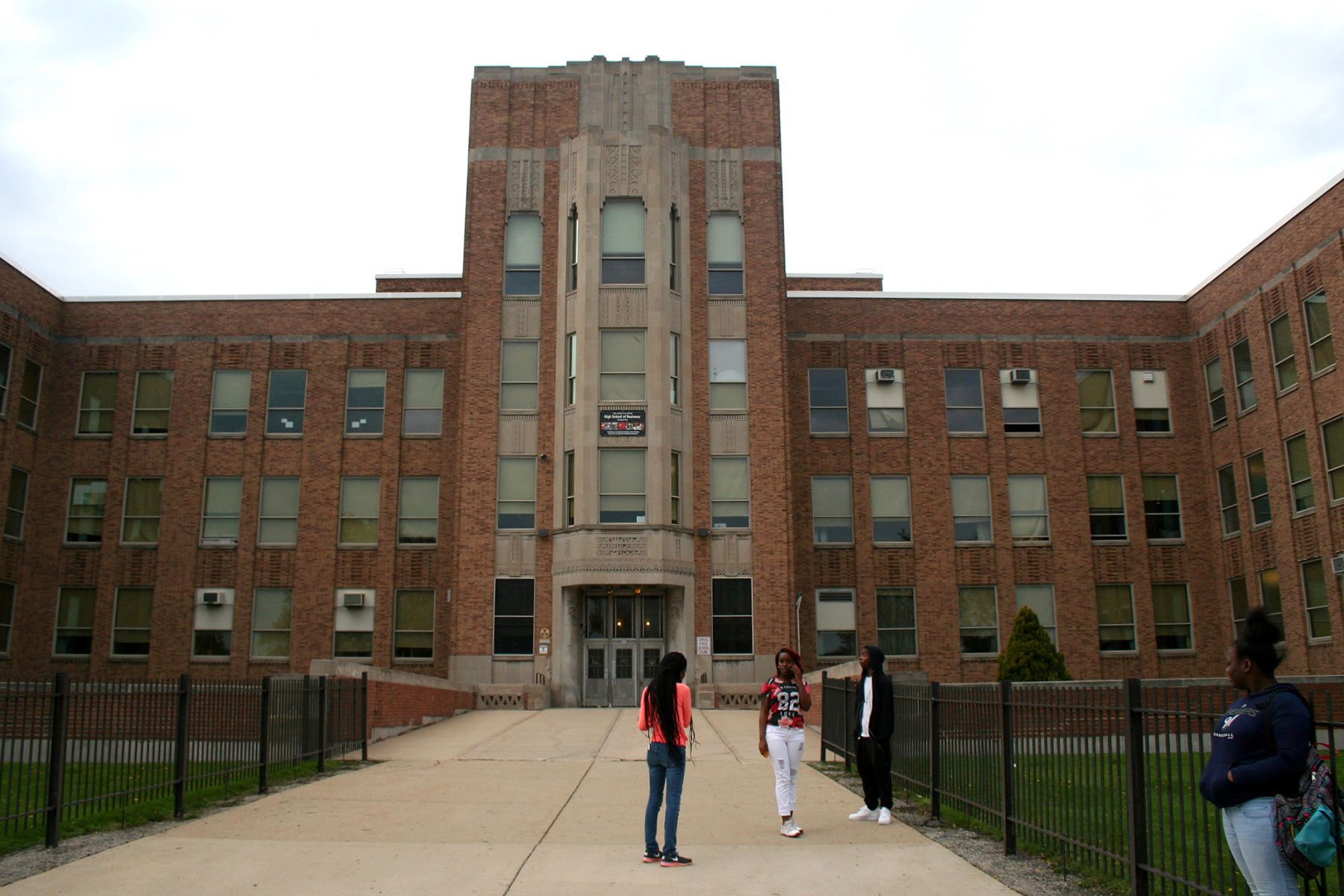 A controversial partnership between Casimir Pulaski High School, a traditional MPS school, and Carmen Schools of Science and Technology, an MPS charter school network, is underway, but questions persist about whether Pulaski students and teachers are sufficiently involved in the process.
The partnership, which was approved late last year by the MPS school board, will see staff, parents and students of the two schools working side by side within the Pulaski building, 2500 W. Oklahoma Ave., beginning in August. Each school plans to have 800 students enrolled at the 1,600-student capacity building by the 2019-20 school year.
"There have been schools that are in the same building … [but] what we're trying to do is a little different," said Jodi Goldberg, partnership co-director at Carmen, at a recent meeting of the Community and Partner Relations committee, one of five work groups involved in preparing the two schools for the partnership.
Goldberg said, "This is an opportunity for Pulaski to take on its new curriculum and have a partner who wants to help them be strong." She added that Carmen will be able to serve students it had not previously.
Graduation rates, attendance and enrollment have declined during the past decade at Pulaski. In 2006, Pulaski graduated 63.6 percent of students in four years or less, compared to less than half of its students in 2015. This year, attendance fell to 71 percent, well below the MPS high school average of 82 percent and Carmen South's rate of 97 percent.
In 2005-06, Pulaski enrollment was near capacity, at 1,560. Enrollment dipped below 1,000 in 2015-16. The lower enrollment means a handful of Pulaski teachers have already lost their jobs, according to Pulaski science teacher Dan Soiney. Another Pulaski teacher who did not wish to be named is seeking another job, partially because of the "instability" created by the partnership.
Soiney said, "My fear is that the kids are going to lose out."
Last year, Carmen's original south campus graduated almost 80 percent of students in four years. It was recently named the state's most challenging high school by the Washington Post and its ACT scores are among the highest in the district. The Pulaski campus, to be called Carmen Southeast, will be the network's third.
Beginning at the start of the 2016-17 school year, both schools will share the amenity-rich Pulaski campus, which includes a library, auditorium and pool, as well as a track and football field. Carmen will be housed largely on the school's third floor with access to rooms on the first floor for science and art classes. Carmen and Pulaski students will share some spaces, including the gym, cafeteria and auditorium.
One art class will be co-taught by a Pulaski and a Carmen teacher, with students from both schools, and sports teams will also be integrated. But otherwise, the schools will largely stay separate.
"Everybody wants to know, 'What is it going to look like four years from now?' We don't know exactly — that's for the working groups to decide," said Aaron Shapiro, MPS Regional Director of School Support.
Soiney said that although Pulaski teachers have had some input, some work groups did not include teachers initially, particularly the group making decisions on facilities. He said teachers were eventually told, after they had "made a lot of noise," that they could have been on the committee from the beginning. "But, by then, all the major decisions were made," he said. "So, it was too little, too late."
Soiney, who has taught at Pulaski for 21 years, said there are still unanswered questions, including where Pulaski's business department, formerly on the third floor, will end up and what will happen to science equipment from the rooms that were given to Carmen. "Especially in the early part, the communication was awful," Soiney said. "I don't think things are as transparent as they could be."
'We're in this together'
Pulaski Principal Lolita Patrick said she is working regularly with Carmen South Principal Aaron Lippman, who will lead Carmen's southeast campus next year. She said it's important to make sure that everyone is working together.
Goldberg said there have been some joint recruiting sessions in the neighborhood. "We want this to be a place where everybody who lives here is dying to get in, no matter which school they're coming to — that's our goal."
According to Patrick, 65 percent of Pulaski students come to school by bus. The school's projected enrollment for 2016-17 is 750, below the target of 775. Carmen has enrolled about 150 of a projected 200 freshmen, and each school will attempt to recruit 200 incoming freshmen every year.
Denisse Guzman's daughter will be a freshman at Carmen Southeast next year. Guzman said she wanted to be involved in the process because she has concerns about the environment at the school.
Guzman's children started in MPS elementary schools but have since attended charter schools. She said it was encouraging to hear that Pulaski students will wear uniforms (as Carmen students do) and that Carmen students would not be unsupervised in the building.
Guzman, who lives a few minutes' drive from Pulaski, said she didn't consider the school for her daughter or her oldest son. Her son currently attends Greenfield High School but will be transferring to Carmen's northwest campus next year.
"As of right now, Carmen is the way. If I see any improvement, any change in Pulaski [in] the future, I mean, I'll probably have a change of heart," said Guzman.
Pulaski is developing an International Baccalaureate (IB) curriculum. If everything goes to plan, the school will complete the IB certification process by the 2018-19 school year, according to Patrick. Once certified, Pulaski will join a handful of other MPS schools that offer such instruction.
Patricia Ortega, Pulaski's school social worker and vice president of the Southgate Neighborhood Association, hopes the school will be a "one-stop shop" that would allow families to get connected with resources, enable parents to use computers for job searches, and more.
"Pulaski needs to be a school where people choose to come," Goldberg said. "IB's going to be a great draw. Pulaski is a beautiful building, this is a great facility, there's energetic people … there's no reason why both schools can't be filled with people who want to be here."
Goldberg said the partnership is trying "to build a long, ongoing set of initiatives that people who want to participate in can really be part of," and encouraged people to get involved and "speak up."
Community and Partner Relations committee meetings will be held the first Tuesday of each month in the Pulaski library at 5:30 p.m. Agendas are to be posted online, according to Goldberg.