Capitol Injustice: Why statehood for Washington DC would be step toward racial equity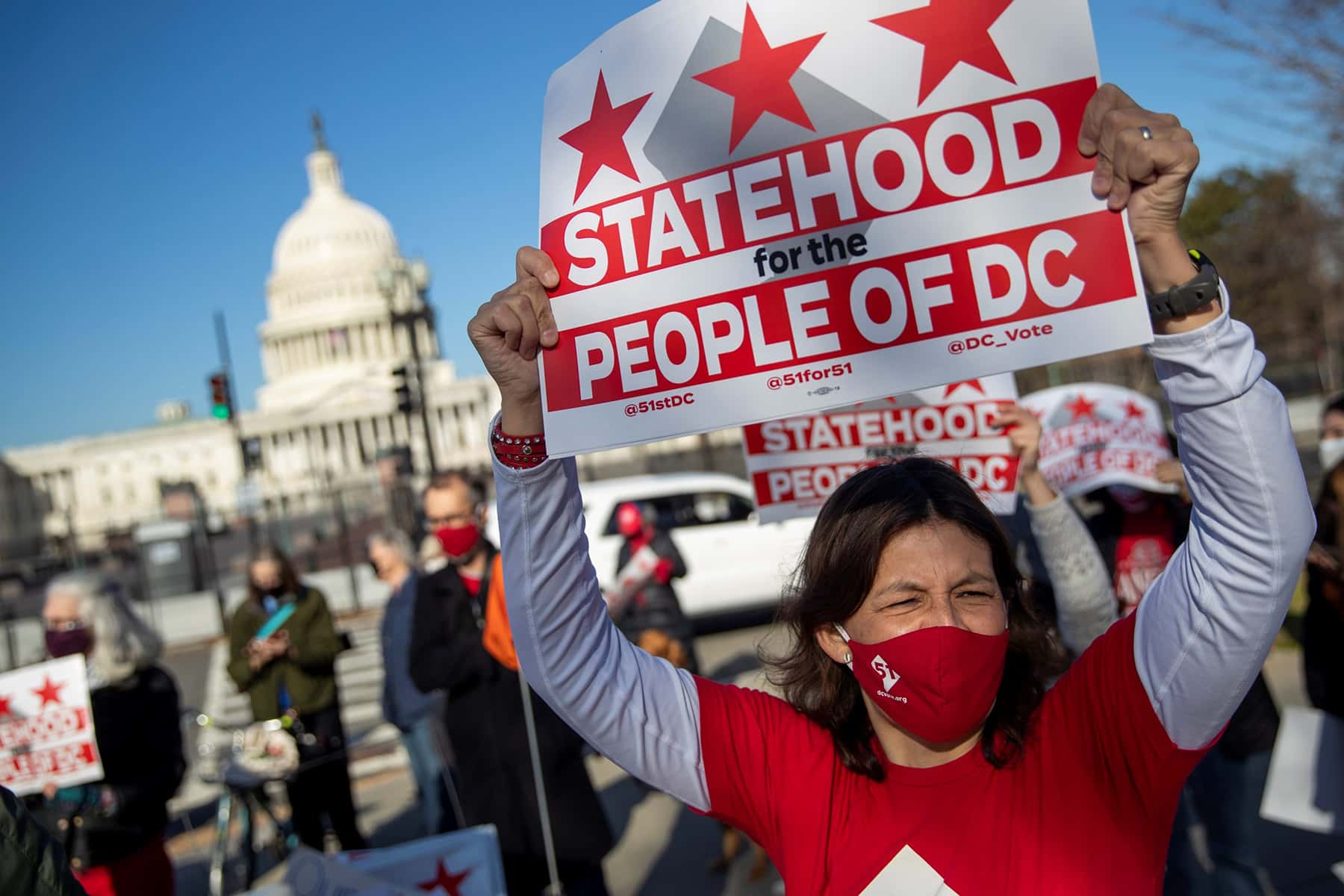 While lawmakers convened for an historic hearing on establishing statehood for Washington DC, a study by the Gender Equity Policy Institute demonstrated how giving full federal representation to the district's roughly 700,000 residents is a matter of racial and gender justice.
As a number of advocacy groups pointed out on social media as the hearing of the Senate Committee on Homeland Security and Government Affairs got underway — only the second Senate hearing on the matter and the first since the current momentum regarding DC statehood began — the GEPI's report highlighted how the system of taxation without full representation for the district's residents disproportionately affects people of color and women.
Washington DC's population is 52% female and 47% Black, while Black women and girls make up the largest single demographic group in the district, said GEPI in its report, Capitol Injustice: An Analysis of Statehood for Washington DC and its Projected Impacts on Disenfranchised Women and Black Americans.
"In this moment of racial reckoning, in the midst of a burgeoning movement to protect the fundamental right to vote, it should not escape notice that the nation's worst violation of civil rights falls heaviest on Black women," reads the report.
Republicans who oppose DC statehood have suggested the district is too small to qualify as its own congressional district, let alone a state — despite the fact that its population is larger than that of every district in Maine, New Hampshire, Nebraska, West Virginia, and Rhode Island, and of two states: Wyoming and Vermont, which have two of the highest percentages of white residents in the country.
• Wyoming – Population: 578,759
• Vermont – Population: 623,989
• Washington DC – Population: 692,638
Three of these groups pay taxes. ONE of these groups has zero representation in Congress.
"Passage of the Washington DC Admission Act would eliminate the source of one of the nation's most egregious violations of democratic rights," said GEPI's vice president of external affairs, Mona Shah, referring to the legislation passed by the Democratic-led U.S. House in April. "By restoring full self-determination and representation to a jurisdiction that is predominantly Black and majority women, statehood for DC would both rectify systemic discrimination and immediately and powerfully advance gender and racial justice."
The group's report pointed to attacks on women's reproductive rights as clear evidence that DC statehood is a matter of gender equity, noting that states can use their own funds to pay for abortion services through the Medicaid program, which is partially funded by the federal government.
"Yet, every year Congress bans DC from using its own funds for abortion care for people in their Medicaid program," the report explained.
Planned Parenthood called statehood for the district "a public health and reproductive freedom issue," adding that DC's status forces "many people with low incomes to pay out-of-pocket for essential healthcare services."
"Planned Parenthood of Metropolitan Washington DC sees firsthand how lack of DC statehood creates healthcare disparities — worsening the twin pandemics of COVID-19 and systemic racism, denying residents reproductive freedom, and creating real harm," said Dr. Laura Meyers, president and CEO of the organization's chapter in the district.
"Now the members of the Senate must stand up for the principle of equal representation that is a core tenet of our union," added Meyers. "It is time to end the disenfranchisement, and to place those who live in the nation's capital on equal footing with the rest of the nation by voting for DC statehood."
Delegate Eleanor Holmes Norton (D-DC) — who represents the district in the U.S. House and introduced the Washington DC Admission Act (H.R. 51) but cannot vote on final legislation — noted at the hearing that momentum is building across the nation for DC statehood.
"DC statehood now has 54% support nationwide, according to a recent detailed poll, and I expect that support to grow even more after the Senate hearing, as it has after the House hearings," Holmes Norton said. "As only the second Senate hearing ever on the DC statehood bill, it is historic."
Holmes Norton first introduced DC statehood legislation in 1993, but her bill failed with a vote of 153-277 and 105 Democrats opposing the proposal. The legislation which passed in the House in April has 225 co-sponsors, and the Senate's version of the legislation, introduced by Senator Tom Carper (D-DE) has 45 co-sponsors.