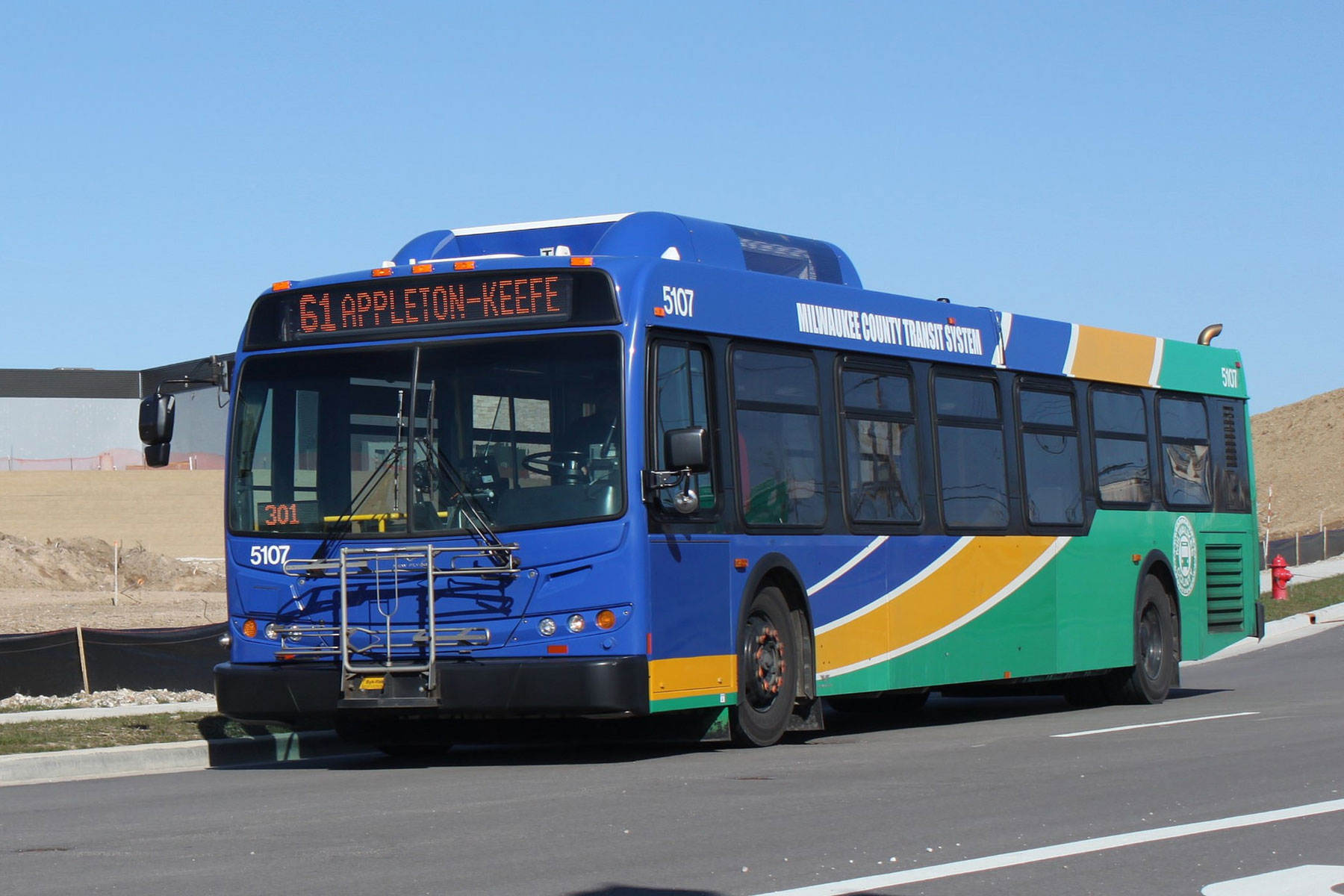 After Ashara Rogers gets ready for work and puts on her headphones she's set for anything. Boarding the Route 61 bus at Sherman Boulevard and Roosevelt Drive, Rogers, 18, sets her music streaming app to play the widest possible variety of tunes while riding to work. "I listen to all kinds of music, I love everything," she says flashing a big smile.
Getting to her job in Menomonee Falls hasn't always been as smooth as the mellow jazz Rogers sometimes listens to from her preferred window seat towards the back of the bus. Until last month, the nearest bus stop was about a half-mile away from the new Costco at W162 N9235 Pershing Ave. where she works. So, rain or shine, Rogers walked from the bus stop to her position as a customer service representative at the wireless telephone and technology kiosk.
The bus route was changed recently following Costco's grand opening and the continuing business and retail expansion in the White Stone Station development and other parts of Menomonee Falls. "That whole area has been growing so we coordinated with Costco and Menomonee Falls to move bus stops and adjust our scheduling," said Brendan Conway, chief marketing and communications officer, Milwaukee County Transit System.
According to Conway, ridership along the Route 61Appleton-Keefe line has been increasing steadily. The average number of weekly riders has grown from 433 in February 2015 to 624 this past February. In addition to Costco, Walmart is also an employment destination along the route.
Route 61 is one of three routes established to help connect residents in central city neighborhoods with suburban job hubs. They are the result of a lawsuit filed by the American Civil Liberties Union of Wisconsin and Midwest Environmental Advocates on behalf of Milwaukee Inner-City Congregations Allied for Hope (MICAH) and the Black Health Coalition of Wisconsin against federal transportation agencies and the Wisconsin Department of
Transportation. The suit alleged that the $1.7 billion Zoo Interchange Reconstruction and Expansion Project failed to adequately address the needs of persons who rely on public transit.
The Black Health Coalition and MICAH sponsor the new routes, which launched in 2014. Route 6 runs west on Capitol Drive to Mayfair Road and then south to Brookfield Square and Moorland Road, dropping off workers at FedEx and at BuySeasons. Route 279 runs from Burleigh Street and Fond Du Lac Avenue north to 76th Street and northwest to Menomonee Falls via Highway 145. It services the Menomonee Falls Industrial Park.
D'Juan Buford, from the Washington Park neighborhood, got into a car accident recently and has been taking the bus to work at Costco whenever he's unable to catch a ride with friends. "The bus comes all the way out here (to Menomonee Falls), so it's been great for me. It helped me out right when I needed it," he said.
The bus schedule isn't a perfect match for Buford's schedule, however. His shift starts at 6 a.m. and, although he catches the earliest bus, Buford usually arrives at work about 15 minutes late. Looking for a solution, Doug Peters, general manager of the Menomonee Falls Costco, called the bus company. "They adjust their schedules every quarter and they're going to look at it," he said.
Costco currently employs about 170 people at the Menomonee Falls location and at least six employees regularly arrive by bus from the central city, according to Peters. Employment is expected to reach 190 by the end of summer. Having the bus running past his front door gives Peters more recruiting possibilities. "It's nice for employers to have the option of hiring people who are qualified but may not have a car, or may not have one all the time," Peters said.
Beyond connecting workers in Milwaukee with outlying jobs in a few locations, some observers recognize the need for an expanded public transportation system. "Transportation contributes to the economic development of the whole area," said Rev. Willie Brisco, president of MICAH. "It's also social since it brings people across communities together."
Brisco sees Milwaukee's current transportation infrastructure as a patchwork that leaves many community needs unmet. "We need public transit like Chicago and other cities have where you can get around the whole area without needing a car," he said. "People should feel they can go everywhere they want and not feel restricted."
The Black Health Coalition and MICAH meet regularly with the Milwaukee County Transit System to discuss the three bus routes and to raise other transportation issues. According to Dr. Patricia McManus, coalition president and CEO, initial discussions are underway regarding options for continuing the routes after funding from the lawsuit runs out in 2018. One possibility includes discontinuing one of the routes in the near term to extend funding for the other two routes for an additional year. Since the outset, Route 279 has suffered from low ridership.
Conway confirmed that ridership along that route is lagging, but said more discussions are planned with community leaders before any long-term decisions are made about the routes. Route 61 has the strongest ridership but fare box revenue is rarely sufficient to sustain public transit routes, he said. In Milwaukee, as in cities the world over, public transportation relies on public funding.