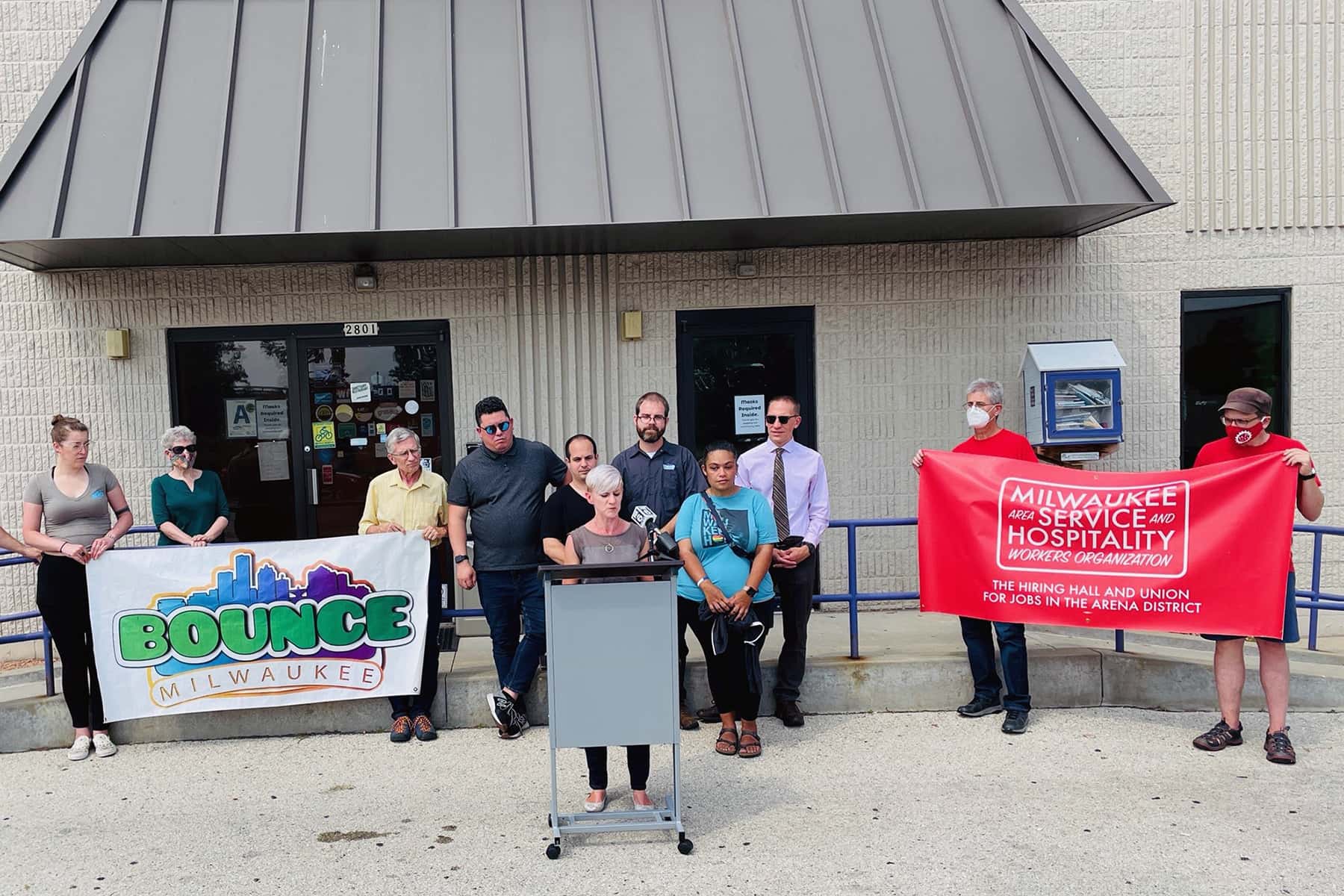 While other hospitality industry operators bemoan that their cupboard is bare when they try to hire workers, the owners of one Milwaukee venue are pursuing a dramatically different approach. Bounce Milwaukee and the Milwaukee Area Service & Hospitality Workers union (MASH) announced an agreement on August 6 that sets the stage for Bounce to reopen in the coming weeks after being closed for 18 months in the COVID-19 pandemic.
Bounce's owners did not simply acquiesce to MASH as a representative for their employees, however — they extended an enthusiastic invitation to the union.
"I think unionizing can be a great thing for an employer," said Becky Cooper, who owns Bounce Milwaukee with her husband, Ryan Clancy. "There's so much potential here for building relationships with longevity."
Economic analysts and hospitality industry veterans have been pointing out since early in the pandemic that COVID-19 highlighted deep-seated, long-festering workplace disparities.
"You can't look at this without saying the labor market model for the service and hospitality industry was broken before the pandemic," said Peter Rickman, president of MASH. "It's a labor market model that absolutely failed workers."
That prompted what Rickman calls "a collective, but uncoordinated withdrawal of labor — a general strike" when the economy picked up steam after its initial pandemic collapse, only for employers to fret that they could not hire enough people.
"Now folks who worked as cooks and cashiers and bartenders and baristas are saying, 'We're not going to work in this industry anymore,'" Rickman said.
"So many service industry workers bounce around from one job to another," said Cooper. "There's not a labor shortage — there's a shortage of good jobs for service industry employees."
Expansion — then shutdown
Cooper and Clancy opened Bounce Milwaukee in May 2014 as a family entertainment spot. It features "massive inflatables" — bounce houses, Cooper explains — along with rock climbing, laser tag, pinball machines and other arcade games. In 2018 they expanded the business and added ax-throwing.
Besides all the games, Bounce has a restaurant and bar with locally sourced food and beverages. The business hosts parties for adults and corporate events as well as birthday parties for children.
When the pandemic hit, they were about to pay off their Small Business Administration (SBA) loans that they had taken out to open Bounce. "COVID changed that in a hurry," Cooper said.
They decided to close the business temporarily in March 2020, paying their employees a furlough bonus, Cooper said, and keeping a few on staff. At first they tried to pivot to food carryout and delivery, and showing drive-in movies in the parking lot of their business. But the switch only generated about 3% of the sales that they had earned during regular operations.
Before the pandemic, Clancy, who is now a Milwaukee County Board supervisor, founded an alternative trade group for restaurant owners who felt that the Wisconsin Restaurant Association did not adequately represent their approach to business, especially when it came to employee matters.
As Cooper describes it, the business has always been about more than making money. "From the beginning, our number one question was, how can we be the best part of the community," she said.
Family entertainment business can offer fun and excitement for its employees. At the same time, "there is a lot that sucks about the service industry," she acknowledges. "It's exhausting, you put up with difficult people — and sometimes those difficult people are your employers."
Encouraging their staff to form a union fit right in with their philosophy. But before the pandemic, Cooper admitted, "it was difficult for our employees to wrap their heads around that."
The hiatus in operations, and looking ahead to reopening, gave them some time to connect with MASH.
The service and hospitality union is affiliated with the Service Employees International Union (SEIU). Along with SEIU Local 1, MASH represents about 1,200 employees who work in various capacities at the Fiserv Forum where the Milwaukee Bucks play, including food service workers who are employed by an outside contractor.
Forging a partnership
The agreement that Bounce and MASH developed "provides for the orderly and amicable formation and recognition of the union amongst Bounce employees as well as resources and involvement of MASH as a workforce pipeline in the recruitment and hiring of Bounce operations employees," according to a joint statement from the union and the business.
Some employers reach neutrality agreements when employees want to unionize, agreeing not to oppose union representation or interfere with the election process. Cooper said Bounce Milwaukee went farther — in effect telling MASH and prospective employees, "please organize, and I will give you all the time and space you need."
It was a first for Rickman. "I have never come across an employer engaging with a union and inviting them, [embracing] the role that a labor organization can play in their workplace," he said.
Because of the long hiatus after Bounce closed in 2020, 15 of its 20 employees found other work, Cooper said. Five are coming back, and the company has begun advertising for new positions. As people are hired, they will be encouraged to join the union, with a new union contract to be negotiated once the reopening round of hiring is complete.
Pam Spingola, a host and bartender for Bounce, is one of the returning employees. She's never worked in a union environment before, but in other jobs has seen how the absence of outside support tempers employee participation.
When she has worked elsewhere in a supervisory role, "I see employees who report to me struggle to provide feedback," out of concern it would come back to hurt them, Spingola said. With a union, "You're now voting — it's a democratic process. It feels safer for employees to create this partnership."
Spingola hopes that the Bounce/MASH agreement sets an example for other employers, and for service industry employees who are considering returning to the workforce. "Unionizing is something they can consider to improve the industry and make it better than it ever was before," she said.
Rickman and Cooper believe their approach also offers a solution to the challenges others in hospitality have faced filling jobs.
"MASH was launched to organize the service and hospitality industries and re-engineer the labor markets to deliver good jobs for folks in these occupations," Rickman said. "This may be the first time that this kind of event takes place, where the employer and the union can have this kind of joint partnership around a labor and workforce agreement — but it certainly won't be the last."
Milwaukee Area Service & Hospitality Workers Organization
Donate: Wisconsin Examiner
Help spread Wisconsin news, relentless reporting, unheard voices, and untold stories. Make a difference with a tax-deductible contribution to the Wisconsin Examiner
The
Milwaukee Independent
began reporting on what was then referred to as the mysterious "Wuhan Virus" in January 2020. Other local media did not picked-up on the story until many weeks later. Our early features focused on the economic impact, social issues, and health concerns long before other Milwaukee news organizations even mentioned the coronavirus. Over the following year, we have published hundreds of articles about the pandemic and how it has affected the lives of Milwaukee residents. This extensive body of work can be found on our
COVID-19 Special Report
page, a chronological index of links by month. Our editorial voice remains dedicated to informing the public about this health crisis for as long as it persists.
For medical resources, please visit the
CDC's COVID-19 page
or the
Wisconsin Department of Health Services
. All editorial content published by
Milwaukee Independent
can be found at
mkeind.com/COVID19
. With a mission of transformative journalism, our staff is free from commercial bias and are not influenced by corporate interests, political affiliations, or a public preferences that rewards clicks with revenue. As an influential publication that provides Milwaukee with quality journalism, our award-winning photojournalism and features have helped to achieve a range of positive social impact that enriches our community. Please join our effort by entrusting us with your contribution. Your Support Matters -
Donate Now