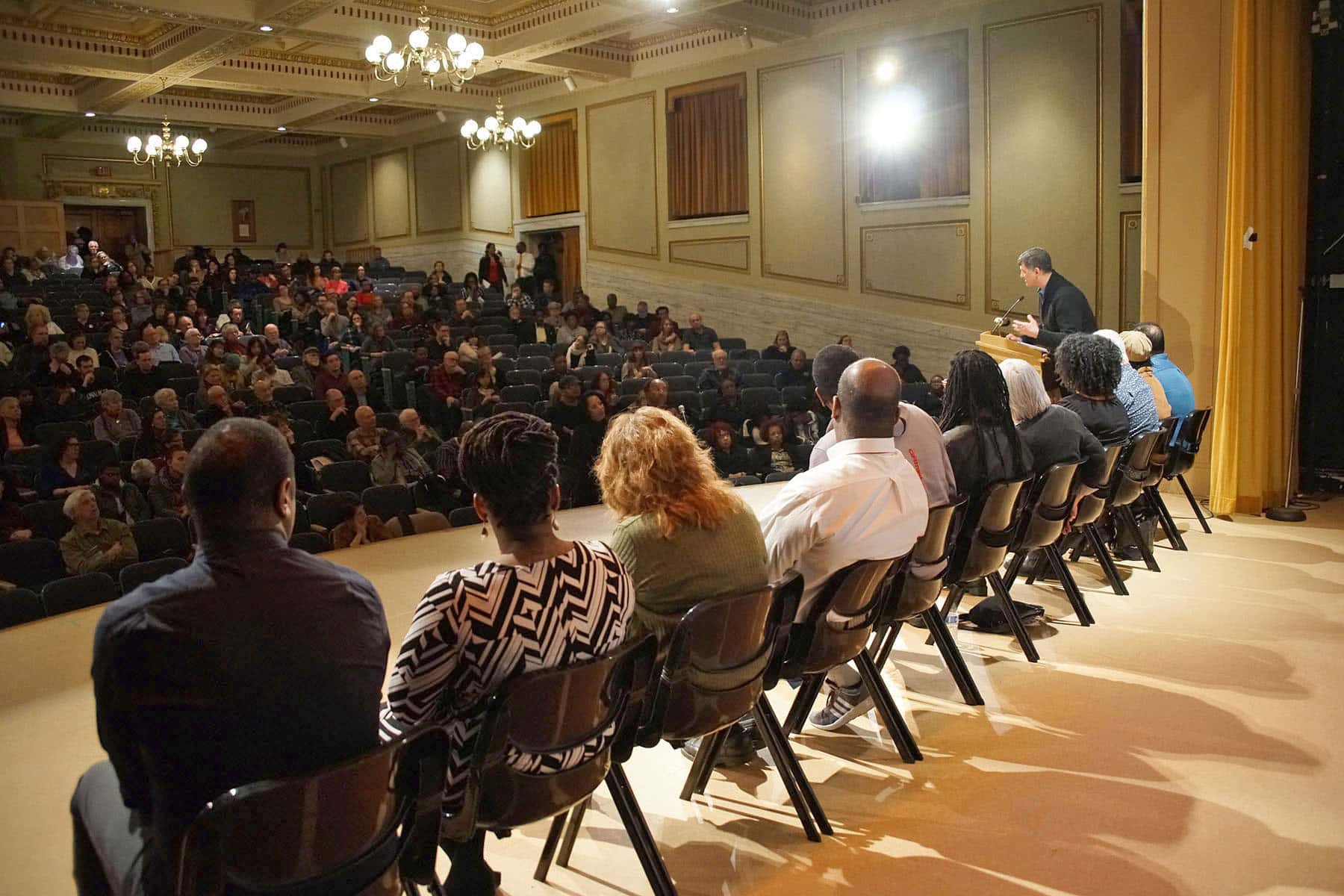 America's Black Holocaust Museum's 2017 Founder's Day event honored Dr. James Cameron's legacy through a discussion of America's complex racial history and steps that could be taken toward reconciliation and healing.
In 1995, Georgia native Karen Branan discovered that her great-grandfather, once the sheriff of Harris County, sanctioned the lynching of four innocent African-Americans. Deeply shaken by this revelation, she spent the next 20 years uncovering painful truths about the legacy of mob violence against African-Americans lingering in her own family and community. Her work culminated in the publication of a book, The Family Tree: A Lynching in Georgia, a Legacy of Secrets, and My Search for the Truth.
"As a nation we have some ugly parts of our history," said Reggie Jackson, head griot (a West African troubadour-historian) at America's Black Holocaust Museum (ABHM), addressing an attentive crowd gathered in Centennial Hall at the annual Founder's Day Gathering on a brisk Saturday morning.
"You can't repair anything unless you're honest about what happened," Jackson added. "We believe that our nation should open up and start telling this truth about our history."
The event, titled "Let's Face It: How Communities Remember and Repair Racial Trauma," explored the complexity of America's racial history and how to take steps toward reconciliation and healing. Founder's Day celebrates the legacy of Dr. James Cameron, founder of ABHM and a lynching survivor.
The audience also viewed previews of "American Reckoning," Milwaukee filmmaker Brad Lichtenstein's upcoming film about unsolved civil rights-era mυrdеrs, and Emmy award-winning director Jacqueline Olive's documentary project "Always in Season," slated to air on PBS in 2018.
"Always in Season is about telling the truth as best and honestly and accurately as I can…when you hedge on the truth you're really making things worse," said Olive. "All people involved in a lynching are affected by it, including those who attended…We're all living with that trauma, passing it along from generation to generation."
Branan joined 10 other panelists, which included Olive; Henry Banks, host of Wisconsin Public Radio's People of Color; Randy Gamble, leader of the Lynching Sites Project of Memphis; Cassandra Greene, director of the Moore's Ford Bridge lynching reenactment; public historian Doria D. Johnson; Serve2Unite co-founder Pardeep Singh Kaleka; Greendale middle school teacher Colleen Perry; Warren Read, author of The Lyncher in Me: A Search for Redemption in the Face of History; as well as Maria Cunningham and Jordan Davis, volunteers with the Dr. James Cameron Legacy Foundation.
More than 4,000 African-Americans were publicly mυrdеrеd between 1877 and 1950, and while many of these crimes were perpetrated in the Deep South, the shame of lynching stains the streets of Milwaukee as well, panelists said. Falsely accused of killing a white man, 22-year-old George Marshall Clark lost his life in 1861, hung by the neck at the intersection of Buffalo and Water streets at the hands of an angry mob.
"We need to revisit our past in order to restore the harm [done] and truly reconcile," said Kaleka, whose father, Satwant Singh Kaleka, president of the Sikh Temple of Wisconsin, died protecting worshipers from a white supremacist gunman in 2012.
Kaleka noted that he is concerned about the rise of "stochastic terrorism," the manipulation of mass media messages such as memes or fake news stories, and its culpability in prompting individuals to perpetrate ideologically motivated attacks.
The pain of truth-telling is especially apparent to Greene, who commemorates the 1946 lynching of George W. and Mae Murray Dorsey, and Roger and Dorothy Malcom in Walton County, Georgia, by directing an annual reenactment in an effort to illuminate the past and heal old wounds.
"The experience of standing on the ground where they died every year has been…emotional, to say the least," Greene said. "I cry as I'm directing people. I feel like their spirits…call out to me every time I'm on that ground."
Cold Spring Park resident Sheila Payton, 68, knew Dr. Cameron personally through a writing group, New World Griots, before he founded ABHM. Payton was 6 years old when the Supreme Court ruled against "separate but equal" schooling in the landmark case of Brown v. Board of Education. She fears that young people today are not as emotionally well equipped as her generation to survive and thrive in a society marked by ongoing interpersonal and institutional racism.
"I think it's very important to help them develop those skill sets so they can not only deal with those who might want to stop them but build upon a greater sense of 'we're all here together'…we can get to the point where Dr. Cameron was trying to get, where you can forgive but never forget."
Dr. Cameron, a historian, civil rights activist, and founder of ABHM, survived an attempted lynching at the age of 16. He died in 2006 at the age of 92.
The brick-and-mortar museum, which was established in 1984, closed in 2008. ABHM currently functions as a virtual museum, posting exhibits online. It expects to re-establish a physical museum in 2018.
The historical images of lynchings, not only of mυrdеrеd African-Americans but also of smiling observers in their Sunday best, weigh heavily on the spirit of Lindsay Heights resident Kima Hamilton, 39. For him and many of the panelists, there is a distinct parallel between the horror of the past and the police brutality and hate crimes of the present.
"It's disappointing as a human being," Hamilton said. "I'd like to think that we're just wired to be good and to do good, and we're programmed otherwise along the way."
Echoing Payton's hopes for young people of color, he said, "It's important for young people to know how valuable they are to the conversation and I think we miss that as adult activists." A generation raised with great technological capability, he said, has the potential to create powerful new models for activism and advocacy.
"When a person has something to wake up and live for and be involved in, I think that minimizes the likelihood that they'll just be blowing in the wind."