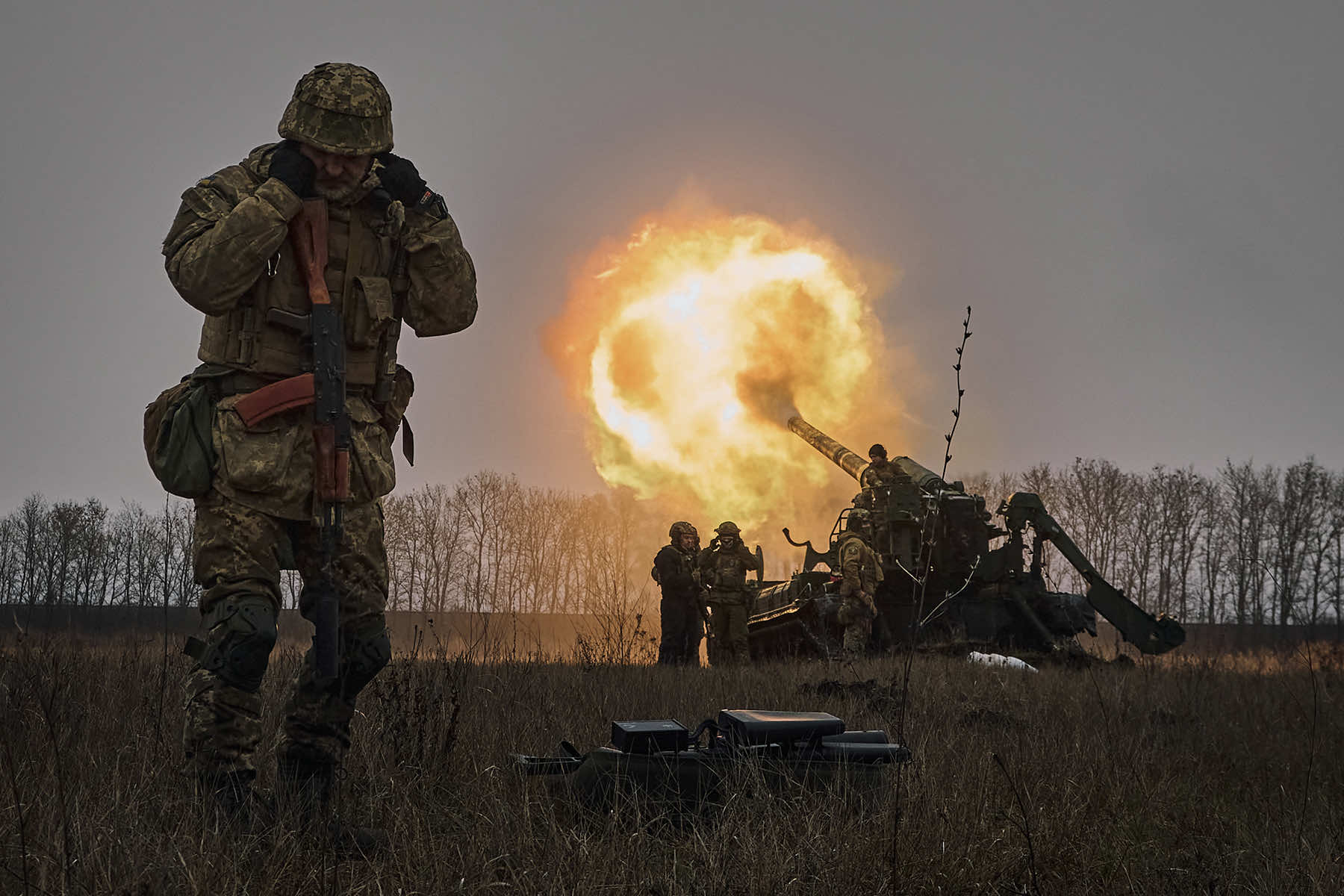 By Jonathan Este, Associate Editor, International Affairs Editor
Bitter fighting continues in the salt-mining town of Soledar, in the Donbas region of eastern Ukraine. And depending on who is doing the reporting, either Russia is poised to take Soledar any time now or Ukrainian forces are valiantly beating off what has been described as "wave" assaults.
On the Russian side, the fighting is reported to mainly involve mercenary troops and ex-prisoners contracted to the Wagner group of mercenaries loosely affiliated to Russia's military and run by Yevgeny Prigozhin, a key Putin ally. On January 11, Prigozhin insisted his troops had taken the town only to be gently rebuked by Kremlin spokesman Dmitry Peskov: "Let's not rush … Let's wait for official statements. There is a positive dynamic in progress."
Stefan Wolff, an expert in international security who has written extensively about the conflict for The Conversation, says that the fact there is still heavy Russian bombardment of the town suggests that the struggle for control continues.
Wolff believes that Soledar and the bitter struggle for control of the important city of Bakhmut, about 15kms to the south, have some important lessons about the war in general: that both sides retain their maximalist war aims – Ukraine wants Russia completely out of its territory and Russia is doubling down on its intention to at least seize and control the four provinces it annexed in September.
He also believes that the focus has shifted (at least for the moment) from Russia's aerial bombardment back to land war. And that Ukraine's need for international support in the form of more and superior weaponry remains urgent. He writes:
This is not a turning point. It's another strong indication that the war is likely going to be long and costly.
There have been strong rumors over the past couple of weeks that the Kremlin is planning another mobilization, this time of up to 500,000 more troops. You'd expect that any such announcement would prompt bitter protest from the Committee of Soldiers' Mothers of Russia (CSMR), who led highly effective protests during Russia's military campaigns in Chechnya and Afghanistan.
But the group is deeply split over the invasion, write Jennifer Mathers, a senior lecturer in international politics at Aberystwyth University and Natasha Danilova, an expert in politics and international relations at the University of Aberdeen. In fact, the Russian president has taken the opportunity to meet carefully selected mothers of soldiers to publicise their patriotic support for the war. Whether this support holds when a further half million women become the mothers of soldiers who didn't want to join up, is another matter, of course.
Many in the west were hopeful that the war would be so unpopular that a groundswell of opposition would force the Kremlin to rethink its objectives. And the steadily increasing regime of sanctions was designed to encourage that opposition by wrecking Russia's economy. But Alexander Titov, an expert in Russian politics at Queens University Belfast, returned to his hometown of St Petersburg in December and has given us his impressions of life on the home front in Russia.
When he visited 12 months ago his impression when talking with friends and contacts was that the war simply wouldn't happen, despite the massive troop build up that was so worrying international observers. After his recent visit, Titov says that most people he met tried to play the war down. He says people who were anti-Putin before the war are now even more entrenched in this view. Those who supported the Russian president are finding reasons to double down.
But supermarket shelves remain full and last year's mobilization of 300,000 men affected a relatively small number of people – Titov says the only person in his orbit who had been conscripted was a friend of a friend. The bottom line, he says, is if you want a true picture of what is happening on the streets of Russia, you really have to go there.
Trouble at the top?
So a popular uprising to topple the Russian president looks highly unlikely as things stand. But what of Russia's elites, those "siloviki" who wield the most influence in Russian politics and the military? Adrián del Río, an expert in elite politics, authoritarianism and regime change at the WZB Berlin Social Science Center, says it's hard to imagine what might happen if high-level Kremlin insiders speak out against Putin or genuinely challenge him, as it has never really happened.
Putin has been distributing favors in the form of appointments and added privileges to keep key insiders onside, while other powerful people who have dared to question the invasion – such as Ravil Magano, the chairman of Russian oil and gas giant Lukoil – have had their voices silenced. Magano died after falling out of the window of a hospital in Moscow. A lot, says del Río, will depend on how the war goes. More military failures could make a lot of important people nervous.
Class struggles
We wrote in the last recap that Russia had been targeting Ukrainian schools and colleges, This week we had a piece from Kristina Hook, an expert in conflict management at Kennesaw State University in the US which gives us a really vivid picture of how Ukrainian educators are improvising in the face of massive disadvantages to ensure their charges continue to get the education they deserve.
Classes conducted in bomb shelters, shops or petrol stations – anywhere with a generator that can provide power. Education, she says, is being prioritized. Online classes, which most countries developed during COVID lockdowns, have been priceless and some teachers are even instructing pupils who have fled Ukraine to settle in another country.
Finally, one of the features of the war has been the increasing use of ever-more sophisticated drones, part of the new technology of conflict making dramatic and worrying advances. Jonathan Erskine and Miranda Mowbray, experts in artificial intelligence at the University of Bristol, have charted the rise and rise of autonomous weapons. They are like Pandora's box, they write – now they have been introduced into warfare it's almost impossible to think they can be effectively banned. But there are things that the international community can do to exert a degree of control over their use.
Libkos (AP), Ukrainian Presidential Press Office (AP), and Dnipro Regional Administration (AP)