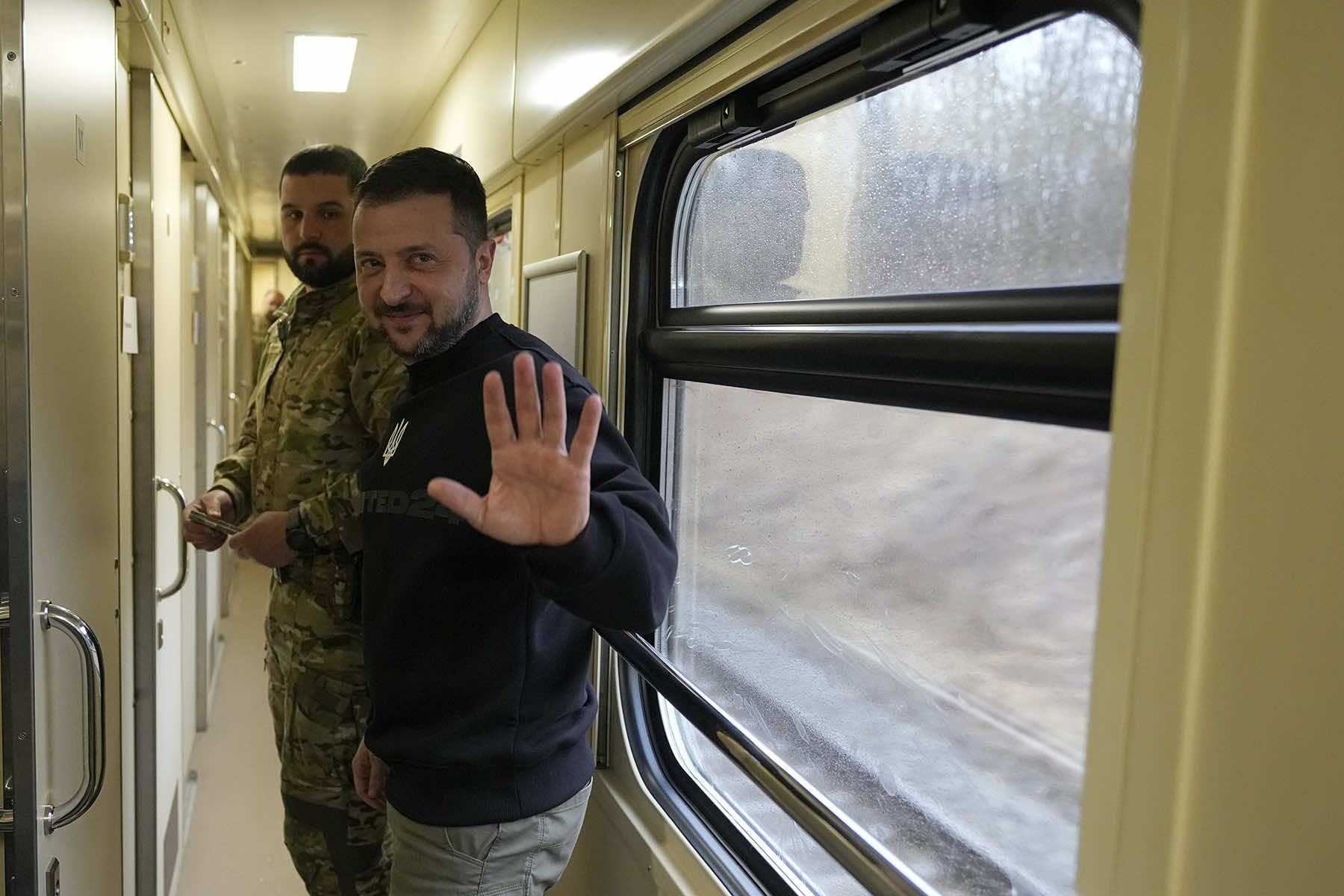 A team of journalists from The Associated Press spent two days traveling by train with Ukrainian President Volodymyr Zelenskyy as he visited the southeastern city of Zaporizhzhia, which still faces regular shelling from Russian forces, and northern towns in the Sumy region that were liberated shortly after the war began a year ago.
Zelenskyy rarely travels with journalists, and the president's office said AP's two-night train trip with him was the most extensive since the war began. Here are some takeaways from an interview with Zelenskyy as he returned to Kyiv on March 28.
WESTERN WEAPONS
Throughout much of the war, Ukraine's military has been bolstered by billions of dollars of ammunition and weaponry from Western nations. Zelenskyy welcomed the help but said some of the promised weapons had not yet been delivered.
"We have great decisions about Patriots, but we don't have them for real," he said, referring to the U.S.-made air defense system.
Ukrainian soldiers have received training in the U.S. since January on how to use the Patriot system, but it hasn't yet been deployed in Ukraine.
Ukraine needs 20 Patriot batteries to protect against Russian missiles, and even that may not be enough "as no country in the world was attacked with so many ballistic rockets," Zelenskyy said.
Zelenskyy added that a European nation sent another air defense system to Ukraine, but it didn't work and they "had to change it again and again." He did not name the country.
Zelenskyy also reiterated his longstanding request for fighter jets, saying "we still don't have anything when it comes to modern warplanes." Poland and Slovakia have decided to give Soviet-era fighter jets to Ukraine, but no Western country so far has agreed to provide modern warplanes amid concern that it could escalate the conflict and draw them in deeper.
PUTIN'S ISOLATION
Zelenskyy was unsparing in his assessment of Russia's Vladimir Putin, calling him an "informationally isolated person" who had "lost everything" over the last year of war.
"He doesn't have allies," Zelenskyy said, adding that it was clear that even China — an economic powerhouse long favorable toward Moscow — was no longer willing to back Russia. Chinese President Xi Jinping recently visited Putin i n Russia but left without publicly announcing any overt support for Moscow's campaign against Ukraine.
Zelenskyy suggested that Putin's announcement shortly after Xi's visit that he would move tactical nuclear weapons to Belarus, closer to NATO territory, was meant to deflect from the fact that the Chinese leader's visit did not go well. Putin said the move was a counter to Britain's decision to provide more depleted uranium ammunition to Ukraine.
Despite Putin's nuclear provocations, Zelenskyy said he does not believe the Russian leader is prepared to use the bomb.
"If a person wants to save himself, he really … will use these," he said. "I'm not sure he's ready to do it."
AVOIDING A NUCLEAR DISASTER
On Zelenskyy's itinerary this week was a meeting with Rafael Mariano Grossi, the visiting head of the UN's atomic energy agency. Grossi was in the region to take stock of the situation at the nearby Zaporizhzhia Nuclear Power Plant, which Russia took control of last year.
Fierce fighting around the plant, Europe's largest, has put the facility and the broader region at significant risk. During his meeting with Zelenskyy on March 27, Grossi said the situation was not improving.
Grossi has called for a "protection zone" around the plant but has failed to come up with terms that would satisfy both Ukraine and Russia. Grossi told the AP on March 28 he believed a deal was "close." However, Zelenskyy, who opposes any plan that would legitimize Russia's control over the facility, said he was less optimistic a deal was near. "I don't feel it today," he said.
THE FIGHT FOR BAKHMUT
The longest battle of the war is raging in the eastern city of Bakhmut, where Ukrainian and Russian forces have been locked in a grinding conflict for seven months.
Some Western military analysts have questioned why Ukraine is willing to suffer so many losses to defend the territory, arguing that the city is not of strategic significance. Zelenskyy argued otherwise, saying any loss in the war will give Russia an opening. He predicted that if Russia defeats Ukraine in Bakhmut, Putin would set out to "sell" a victory to the international community.
"If he will feel some blood, smell that we are weak, he will push, push, push," Zelenskyy said, adding that the pressure would come not only from the international community but also from within his own country.
"Our society will feel tired," he said. "Our society will push me to have compromise with them."
Zelenskyy recently traveled near Bakhmut for a morale-boosting visit with troops fighting in the hard hit city.
CALLS FOR TOUGHER SANCTIONS
Western sanctions against Russia don't go far enough, according to Zelenskyy, who called for more far-reaching measures against people in Putin's inner circle.
More than 30 countries, representing more than half the world's economy, have imposed sanctions on Russia, including price caps on Russian oil and restrictions on access to global financial transactions. The West has also directly sanctioned about 2,000 Russian firms, government officials, oligarchs and their families. More than $58 billion worth of sanctioned Russians' assets have been blocked or frozen worldwide, according to a recent report from the U.S. Treasury Department.
Zelenskyy said more should be done to target Putin's enablers, who "have to know that they will lose all their money … all their real estate in Europe or in the world, their yachts everywhere."
RIDING THE RAILS
Most of Zelenskyy's travel in Ukraine is done by rail. There are few other options: Commercial air travel has been grounded and Ukraine's expanse, as well as the unpredictability of life in a war-torn country, make road travel arduous.
The state railway system, however, has remained remarkably stable throughout the war and largely untouched by the constant barrage of Russian missiles. One notable exception: the April 2022 bombing of the crowded Kramatorsk train station that killed dozens of people.
Though Zelenskyy rides on a train set aside for him and his delegation, it is largely indistinguishable on the outside from the blue-and-yellow trains ferrying other people and goods across the country. Most Ukrainians barely looked up to acknowledge Zelenskyy's train as it zipped through towns across the countryside, passing picturesque fields and the occasional bombed-out building or bridge.
The caravan of unmarked vehicles tears across the muddy grass next to the playground. On the merry-go-round, the children stop swinging and spinning. The curious — parents and other residents of this southeastern town — gather around. Car doors swing open, and heavily armed security guards in battlefield fatigues spill out. And just like that, he is among them: Ukrainian President Volodymyr Zelenskyy, wartime leader and his country's chief morale officer. Zelenskyy shuttled across the country on a 48-hour train trip to rally soldiers who are battling Russian forces — and, just as important, to buoy the communities often caught in the crossfire. Here, about 30 miles (50 kilometers) from the front lines, Zelenskyy came to see for himself the destruction from a Russian attack that damaged dozens of apartments one week ago. The violence hit just steps from the playground and merry-go-round. One person was killed and 30 others wounded. For Zaporizhzhia, the attack was a reminder of the often arbitrary nature of the threats many Ukrainians face each day as Russian missile strikes stretch beyond the front lines. But with the conflict now in its second year, Zelenskyy worries that both the outside world and Ukrainians far from the front lines are starting to become numb to the harsh, daily realities of war. And so he comes — to reassure, to motivate, to comfort.
KEEPING A NATION FOCUSED
For the past year, Zelenskyy has served as the public face of Ukraine's unexpectedly strong resistance to Russia's invasion. Backed by billions of dollars in Western military aid, Ukraine has pushed Russian forces back repeatedly, including holding off efforts to take Kyiv in the early days of the war.
That success has led to what Zelenskyy sees as the split-screen "reality of modern war" — the capital city, where cafes and restaurants are filled, and the grinding, deadly battles in the east and elsewhere along Ukraine's expansive border with Russia.
"From one side, it's great that children, families, people — they love the life and it's great. It's great that our soldiers are bringing back normal life," he says. "But from another side, it's very dangerous."
Dangerous, he says, because soldiers on the front lines could lose motivation if they sense their fellow citizens are turning attention elsewhere. Dangerous because some Ukrainians seem willing to let down their guard about the risks that still exist far from the front.
He laments that it has become a "natural habit" to ignore air raid sirens and not decamp to bomb shelters. He compares it to the way many people dropped their guard before the second wave of COVID-19 infections hopscotched around the world.
Zelenskyy is not wrong. Moments before his caravan arrives at the apartment block in Zaporizhzhia, air raid sirens ring out across the city. No one flees. No one even flinches.
RIDING THE RAILS
Zelenskyy's travel across Ukraine is a closely guarded secret. His whereabouts typically aren't revealed until after he's already moved on, when his robust government communications team posts photos and video online — often featuring him speaking to the camera. At the request of the president's office, the AP is withholding some logistical information about his travel.
His schedule can be grueling. He departed Kyiv on Sunday night under cover of darkness for a 10-hour overnight train trip to the country's southeastern corner. There he made private visits to troops on the front lines, awarded medals to ailing soldiers at a local hospital and huddled with the head of the UN's atomic energy agency about a strategically important power plant that has faced repeated Russian attacks.
Zelenskyy has picked up the pace of his travel in recent weeks, often pushing closer to the front. He's seeking to remind Ukrainians of their successes so far, attending ceremonies in small towns and cities marking their liberation from Russian forces one year ago.
"These people saved our country against Russian tanks and armed vehicles," he told AP in Okhtyrka, a border city of about 50,000 that was heavily damaged in the war's first months. Residents wiped away tears as Zelenskyy heralded Okhtyrka's heroism as the names of soldiers who died defending the city were read aloud.
Most of Zelenskyy's travel is done by train. He works from a specially outfitted coach car that, from the outside, is indistinguishable from the mass of Ukrainian state rail cars that regularly crisscross the expansive country. Other cars in the train are filled with two- and four-bed sleeper cabins, most occupied by Zelenskyy's traveling advisers, security detail and railway staff.
Throughout the war, Ukraine's rail system has been a crucial artery for moving people and goods at a time when commercial air traffic is shut down and roadways can be dangerous or unpredictable. The trains keep remarkably on schedule, almost as if defying the broader uncertainty that has enveloped the country.
Zelenskyy doesn't keep still for long in any one place. He often zips off in well under an hour. He acknowledges that he sometimes pushes his security team beyond their comfort levels, particularly with his desire to visit troops in front-line positions. He knows the risks, though.
"I have to think also about their lives," Zelenskyy says of his security team. "That's why I'm as careful as I can be."
Still, the high-energy president does occasionally find himself chafing at the restrictions that come with being a wartime leader. After complaining recently about his fading eyesight, he approached his head of security to see if he could get some fresh air. Perhaps some walks outside?
His security chief had other ideas. "He said, 'OK. Open the window.'"
FINDING PURPOSE IN WAR
They called him a lightweight at first.
Volodymyr Zelenskyy came to politics through a circuitous route, building a public persona as an actor and comedian. He was dismissed by many, including in Western capitals, after he was elected in 2019. He became known to many Americans through the first impeachment trial of then-U.S. President Donald Trump, who tried to leverage a sought-after visit by Zelenskyy to Washington for dirt on his then-political rival Joe Biden.
Now, Zelenskyy's past as an entertainer is rarely mentioned. When it is, it's billed as an asset.
He communicated aggressively in the war's early days, rallying support at home and around the world with nightly videos showing him planted in Kyiv as it faced the prospect of Russian encirclement, resisting attempts to move him to safer ground. He's a regular presence — usually virtually — at a range of international events, including the Grammys and the Super Bowl. His celebrity supporters are legion, even as Russian President Vladimir Putin casts him as an enemy and a dangerous renegade.
He has embraced the optics of a wartime president, scrapping pre-invasion suits for military-style sweatshirts, cargo pants and boots, even when greeting world leaders. He has used his force of personality and public platforms to cajole dozens of them to visit Ukraine in recent months, casting each visit as another brick in the geopolitical wall isolating Russia from the rest of the world.
Like him, many of them take trains — a method of transport dubbed by Ukrainians as "Iron Diplomacy." A poster inside one of the cabins in Zelenksyy's train touts "300+ delegations safely delivered to the Capital of Bravery" and features photos of world leaders aboard the railway. Among them: Biden, French President Emmanuel Macron and Indonesian President Joko Widodo.
Zelenskyy has little down time. He says he stays energized by what he calls "moments of little victories" that provide a respite from the relentless war. The woman he met Tuesday in the liberated town of Trostianets who asked him for a hug. A quick phone call with his young son to talk about a second-place finish in a recent wrestling match.
"Sometimes these two or three minutes can bring you to a very adequate state," he says, "and you can relax."
'NOW I KNOW WHAT IS IMPORTANT'
Ask Zelenskyy what has surprised him the most about himself over this past year, and he laughs — and doesn't answer. "This question is the biggest surprise," he says. But he does acknowledge this much: The war has changed him, and it has focused him.
"Now I know what is important," he says. "My home, my God …. my country, my wife, my children and parents."
In the youngest of his two children — his son, who is nearly 10 — he sees a new generation of Ukrainians, young people who have been changed and shaped by a war he believes began nearly a decade ago with Russia's annexation of the Crimean Peninsula.
"My son (is) a real child of the war," Zelenskyy says. "He's a real Ukrainian. He understands who is enemy, who is hero, who are our friends."
Zelenskyy acknowledges the toll the war has taken on Ukrainians. He hears it from all over, and he is living some of it himself. Often he appears filled with feeling, particularly when he meets families who have lost loved ones.
"Everyone's very emotional because of stress," Zelenskyy says. "There is nothing good in the war. Children without childhoods, without school years, without moments of friendship, moments of love."
Yet just as he projects hope and optimism when he speaks at his whistlestops of reassurance, Zelenskyy finds something about his nation's war to be grateful for. It has, he says, forced Ukraine, a relatively young democracy, to grow up quickly and learn what it is willing to fight for.
"It wasn't a surprise for me that people are ready to fight for freedom," he says. "Freedom is really in Ukrainians' hearts. It means that we are ready to stay as long as we need."