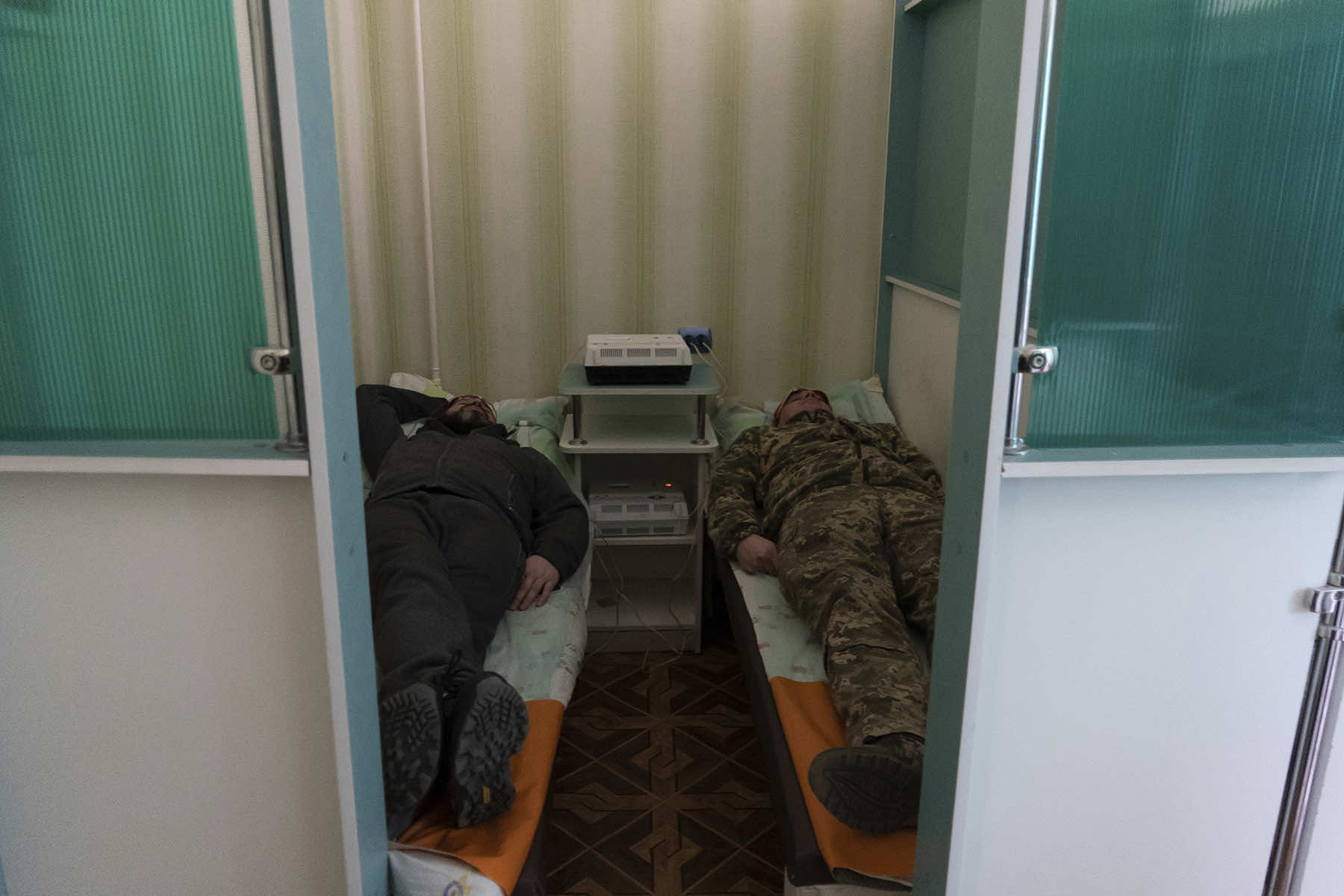 Sitting on comfy armchairs in a low-lit room smelling of lavender and pine trees, the men take deep breaths as they close their eyes and listen to meditation music. But this is not a spa.
Uniformed Ukrainian soldiers are taking a break at this rehabilitation center in the Kharkiv region to restore their bodies and minds before going back to the front line.
The relentless 10-month war has prompted a local commander to transform a Soviet-era sanatorium into a recovery center for servicemen to treat both mental and physical ailments.
"This rehabilitation is helping soldiers, at least for a week, to put themselves together," said Oleksander Vasylkovskyi, a lieutenant colonel in the Ukrainian Armed Forces.
Vasylkovskyi remembers how soldiers suffered silently after returning home from fighting Russia in Ukraine's Donbas in 2014. Suicide rates among veterans increased in the following years, with many untreated cases of post-traumatic stress disorder. He hopes a center like this can raise awareness of the need for mental health care and prevent suicides in the future.
Here, soldiers are offered a variety of treatments: aquatic therapy in a hot pool to heal muscle aches; red light therapy to improve heart and blood circulation, a salt room for better breathing; and for those having nightmares, electrosleep therapy — a Soviet-era low-frequency electrotherapy that is said to relax the nervous system and induce sleep.
Psychologists are also available, not just for the soldiers but also for their families dealing with the traumas of war.
The servicemen also undergo medical checks, explained Vasylkovskyi. "It's the most important thing because a person develops several illnesses from the stress of fighting."
In addition to the psychological scars of war, soldiers also come here to treat meningitis, contusions, amputations, lung and nerve inflammations, sleeping disorders, skin diseases, and cardiovascular illnesses, among others.
"If someone has trauma and cannot walk, my department will put them back on their feet," said Artem a physical therapist working at the center who cannot reveal his last name for security reasons.
More than 2,000 soldiers have been treated here since the center opened in June. It receives support from international partners in Latvia, Lithuania, Romania, Poland, the U.S. and Spain. The cost of one day of rehabilitation for one soldier is around 20 euros, according to Vasylkovskyi. But more funding is still needed, he said, "because (the war) is not over."
Viktor, whose last name cannot be published for security reasons, worked as a miner before joining the army. He took part in the military operation that pushed Russian occupying forces out of the Kharkiv region.
For months, he slept in muddy, cold trenches. "We worked in conditions that were bad for our health. It's bad, it's damp, it's wet," Viktor explained as he sat in a room where the walls and floors are covered in thick salt to clear his damaged lungs. "We have back pain, leg pain, we carry heavy equipment," he added.
Four days into the rehabilitation center he was feeling reenergized. "I'm already determined to go further, continue my work, destroy the enemy, and bring us each day closer to victory," Viktor said.
But perhaps the most appealing aspect of this rehabilitation center isn't the therapy but the ability to bring one's family along for a couple of days.
Maksym, who, like Viktor, cannot reveal his last name for security reasons, had not seen his wife and son in five months. One of the hardest parts of this war, he said, is when "you can't connect and speak to your loved ones."
He was relieved they could join him for a few days at the rehabilitation center and relax together. Without official vacations, this is the only way that many soldiers can get proper rest.
"I can see that men are returning to the unit after a week, rested and gaining more strength. And the thoughts that they had before go away," Maksym said. Some of those haunting thoughts are the memories of friends who died on the battlefield.
Asked how many comrades he had lost, Maksym lowered his eyes and answered bluntly: "Too many."