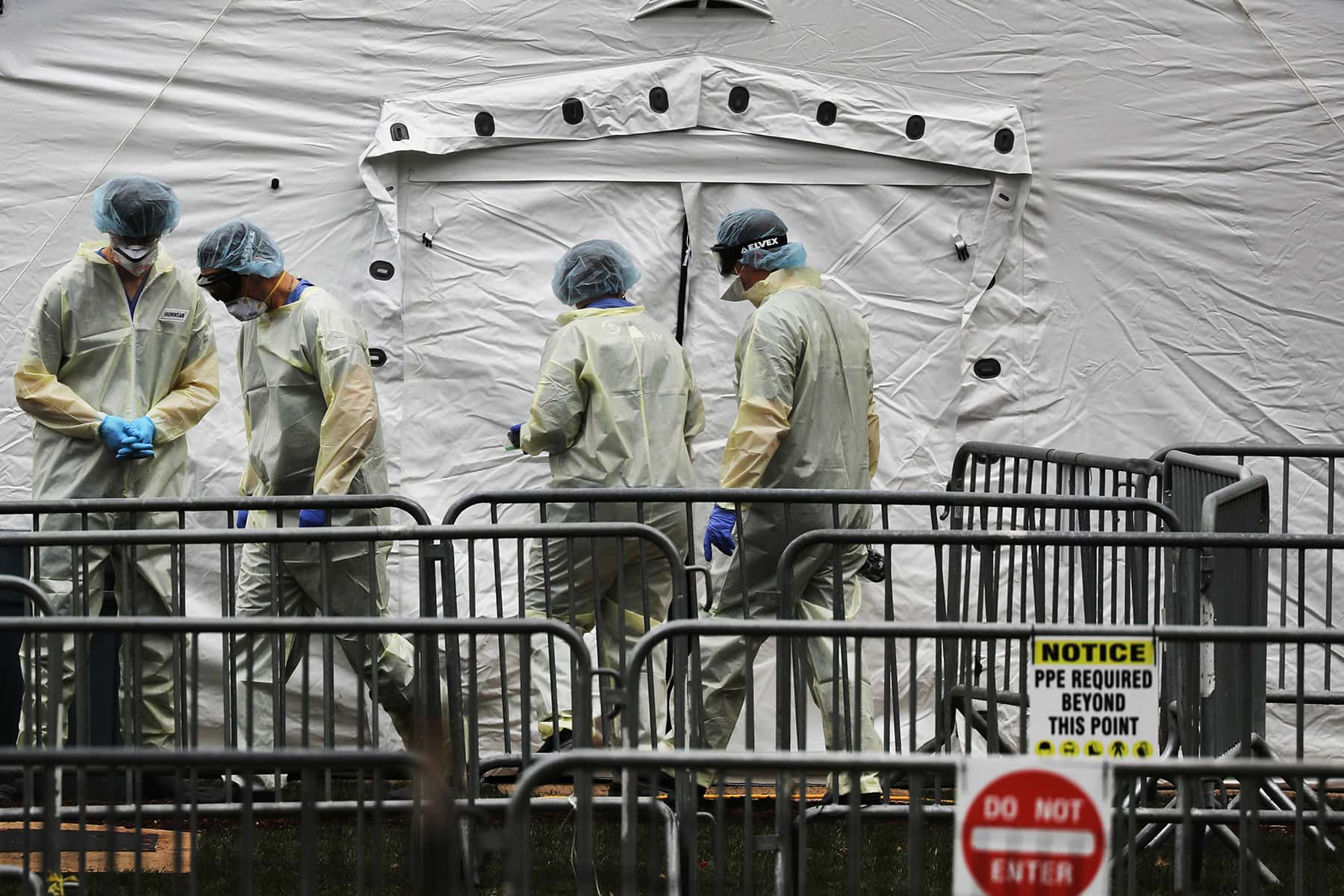 Due to increased COVID-19 hospitalizations and at the request of hospital systems, Governor Tony Evers announced on October 7 that the Alternate Care Facility (ACF) at Wisconsin State Fair Park would begin accepting COVID-19 patients for treatment.
The announcement came as Wisconsin health systems have experienced rising pressures to manage record surges in COVID-19 patient hospitalizations. As of October 6, there were 853 COVID-19 hospitalizations, an increase of 71 over the day before.
"We hoped this day wouldn't come, but unfortunately, Wisconsin is in a much different, more dire place today and our healthcare systems are beginning to become overwhelmed by the surge of COVID-19 cases," said Governor Evers. "This alternative care facility will take some of the pressure off our healthcare facilities while expanding the continuum of care for folks who have COVID-19. I want to thank the many frontline healthcare workers and first responders who are caring for our most vulnerable COVID-19 patients and I urge all Wisconsinites to step up to help these folks by staying home as much as possible so we can flatten the curve, prevent hospitalizations, and save lives."
Due to surges of COVID-19 cases in September, hospitals have become overwhelmed and fear reaching capacity. The state has been divided into seven healthcare emergency readiness coalition regions (HERC regions), which coordinate how public health, healthcare institutions, and first responder agencies respond to health emergencies and catastrophic events. The 7 HERC regions (Fox Valley Area, North Central, Northeast, Northwest, South Central, Southeast, Western) exhibit 'High' or 'Very high' activity.
"Our hospital system is strained and in some areas of the state reaching capacity and at risk of being overwhelmed," said Andrea Palm, Department of Health Services Secretary-designee. "And as COVID-19 cases rise, hospitals across the state are experiencing critical staffing shortages – largely due to staff members experiencing infection or exposure to the virus in their communities. This is why we need every Wisconsinite to follow our recommendations and take this seriously. When hospitals are at capacity, it doesn't matter if you need care because of COVID-19 or a heart attack. We have to disrupt transmission so Wisconsinites can get the care they need."
As the COVID-19 crisis intensified, hospitals across the state have experienced critical staffing shortages – largely due to staff members experiencing infection or exposure to the virus. Wisconsin has seen these current and imminent staff shortages in every HERC region.
On September 7, there were 289 patients hospitalized with COVID-19 in Wisconsin. One month later, hospitalizations nearly tripled with 853 patients hospitalized across the state and more than quadrupled in the Fox Valley, Northeast, Northwest, Northcentral, and Western regions of the state. Hospital leaders in Green Bay, Appleton, Neenah, and Wausau have reported ICUs at capacity, transfers of patients to other facilities, critical staffing shortages, and at their urging Governor Evers opened the Alternative Care Facility.
The alternative care facility is not a hospital and will not accept walk-in patients. The facility coordinates with healthcare systems to admit patients who still need care but are not seriously ill or in need of hospital-level care. It will serve as a transitional facility to offer oxygen and medical care for COVID-19 patients who still need support in their recovery.
The goal of this facility is to transition COVID-19 patients who are less ill out of hospitals and reserve hospital beds for patients who are more ill and in need of hospital-level care. The effort came a day after Governor Evers directed the state's Department of Health Services to issue an order limiting the size of crowds at bars, restaurants and other public spaces. The order limited some indoor public gatherings to no more than 25 percent of the total occupancy limit for a room or building.
State Republicans have continually challenged the Governor's orders amid the pandemic, and Wisconsin's Supreme Court in May struck down his stay-at-home order, which included restrictions on businesses. A judge is currently considering a lawsuit seeking to overturn the state's mask mandate.
© Photo
Spеncеr Plаtt and Google Map
The
Milwaukee Independent
began reporting on what was then referred to as the mysterious "Wuhan Virus" in January 2020. Other local media did not picked-up on the story until many weeks later. Our early features focused on the economic impact, social issues, and health concerns long before other Milwaukee news organizations even mentioned the coronavirus. Over the following year, we have published hundreds of articles about the pandemic and how it has affected the lives of Milwaukee residents. This extensive body of work can be found on our
COVID-19 Special Report
page, a chronological index of links by month. Our editorial voice remains dedicated to informing the public about this health crisis for as long as it persists.
For medical resources, please visit the
CDC's COVID-19 page
or the
Wisconsin Department of Health Services
. All editorial content published by
Milwaukee Independent
can be found at
mkeind.com/COVID19
. With a mission of transformative journalism, our staff is free from commercial bias and are not influenced by corporate interests, political affiliations, or a public preferences that rewards clicks with revenue. As an influential publication that provides Milwaukee with quality journalism, our award-winning photojournalism and features have helped to achieve a range of positive social impact that enriches our community. Please join our effort by entrusting us with your contribution. Your Support Matters -
Donate Now