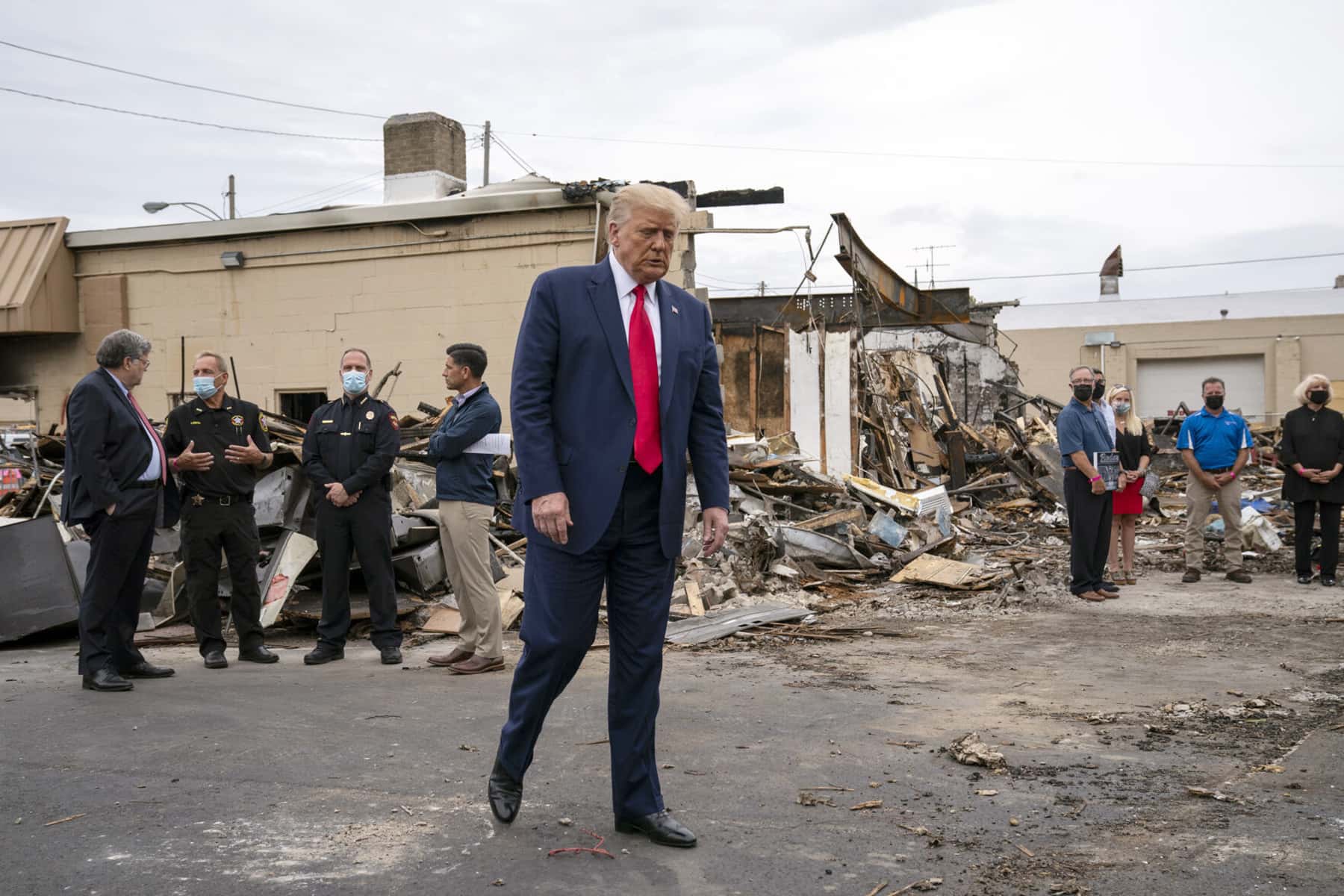 "If I didn't INSIST on having the National Guard activate and go into Kenosha, Wisconsin, there would be no Kenosha right now. Also, there would have been great death and injury. I want to thank Law Enforcement and the National Guard. I will see you on Tuesday!" – Trump Tweeted on August 31
President Donald Trump charged into the latest eruption in the nation's reckoning over racial injustice on Tuesday, September 1, blaming "domestic terror" that he said fueled the violence in Kenosha and falsely declared it was enabled by Democratic leaders.
While Trump asserted that the violence was "anti-American," he offered no words for the underlying cause of the anger and protests — accusations of police violence against Black men — and did not mention Jacob Blake, who was badly wounded last week in Kenosha.
Soon after arriving in the city, a visit made over the objections of state and local leaders, Trump toured the burnt remains of a block besieged by violence and fire. He tried to link the unrest to Democrats, blaming those in charge of Kenosha and Wisconsin, while raising apocalyptic warnings if their party should capture the White House.
"These are not acts of peaceful protest but, really, domestic terror. They just don't want us to come, These governors don't want to call, and the mayors don't want to call. They have to ask." – Trump remarked in Kenosha on September 1
Demonstrations began immediately after the August 23 shooting of Blake, who was hit seven times in the back by police as he was getting into a car. Protests have been concentrated in a small area of Kenosha, and while there were more than 30 fires set in the first three nights, the situation has calmed since then.
Trump's motorcade passed throngs of demonstrators, some holding American flags in support of the president, others jeering while carrying signs that read Black Lives Matter. A massive police presence, complete with several armored vehicles, secured the area, and barricades were set up along several of the city's major thoroughfares to keep onlookers at a distance from the passing presidential vehicles.
Pressed by reporters, Trump repeatedly pivoted away from assessing any sort of structural racism in the nation or its police departments. Instead he blasted what he saw as anti-police rhetoric. He also painted a dark portrait of a nation that he leads as the current president, again using politically charged rhetoric to sidestep his responsibility and instead blame his rivals.
Claiming the mantle of the "law and order" Republican candidate, Trump insisted that he was the leader best positioned to keep Americans safe. Ignoring the fact that he has been president during an unprecedented time of social unrest, much of which his policies helped instigate.
Democratic presidential nominee and former Vice President Joe Biden, in his most direct attacks yet, accused Trump on Monday, August 31, of causing the divisions that have ignited the violence. He delivered an uncharacteristically blistering speech in Pittsburgh and distanced himself from radical forces involved in altercations.
"[Trump] doesn't want to shed light, he wants to generate heat, and he's stoking violence in our cities. He can't stop the violence because for years he's fomented it." – Biden remarked on August 31
Trump and his campaign team have seized upon the unrest in Kenosha. His aides believe that a tough-on-crime stance will help him with voters, and that the more the national discourse is about anything other than the coronavirus, the better would be for the president.
Along with the visit, Trump also did not wait for a trial to sort out what happened on the streets of Kenosha where prosecutors say a 17-year-old with a semi-automatic rifle fatally shot two men on a night of protest and violence. He's giving an account at odds with the authorities who charged Kyle Rittenhouse with homicide. In statements before his trip to Kenosha on September 1, Trump also falsely claimed credit for a National Guard deployment that he actually did not authorize. Wisconsin's Democratic governor did.
Trump was asked if he was going to condemn the actions of Rittenhouse:
"We're looking at all of it. And that was an interesting situation. You saw the same tape as I saw. And he was trying to get away from them, I guess; it looks like. And he fell, and then they very violently attacked him. And it was something that we're looking at right now and it's under investigation. But I guess he was in very big trouble. He would have been, I, he probably would have been killed." — Trump remarked at a news conference on Monday before traveling to Kenosha on Tuesday.
THE FACTS: His implication that Rittenhouse only shot the men after he tripped and they attacked him is wrong. The first fatal shooting happened before Rittenhouse ran away and fell.
Trump did not say whom he meant by "they," the two men he shot or others in pursuit of him. But he spoke in defense of someone who opposed racial-justice protesters, who authorities say was illegally carrying a semi-automatic rifle and who prosecutors accuse of committing intentional homicide. According to the criminal complaint released by prosecutors, victim Joseph Rosenbaum was shot and killed first, after following Rittenhouse into a parking lot, where Rosenbaum threw a plastic bag at the gunman and tried to take the weapon from him. Rittenhouse then ran down the street and was chased by several people trying to stop him and shouting that he just shot someone, according to the criminal complaint and cellphone video footage. He tripped and fell. Anthony Huber, who was carrying a skateboard, was shot in the chest after apparently trying to take the gun from Rittenhouse, the complaint said. A third man was shot and injured.
Rittenhouse's lawyer said he acted to defend himself.
"One of the reasons I'm making the trip today and going to Wisconsin is we've had such a big success in shutting down what would be, right now, a city — that would've been Kenosha — a city that would've been burnt to the ground by now. And we're going to really say hello to law enforcement and the National Guard. And it all stopped immediately upon the National Guard's arrival." — Trump remarked on Tuesday before boarding Air Force One to Wisconsin.
THE FACTS: That is a distortion. He had nothing to do with the deployment of the National Guard in Wisconsin.
Governor Tony Evers activated the state's National Guard the day after a Kenosha police officer shot Jacob Blake, sparking protests and violence over police actions and racism. When National Guard forces from three other states came in to help, it was because the governor had asked for that help from fellow governors, not the White House. Governor Evers said National Guard troops from Arizona, Michigan and Alabama were operating under the control of those states and Wisconsin, "not in a federal status." National Guards answer to governors and sometimes state legislatures, not Washington.
Scоtt Bаuеr, Zеkе Mіllеr, and Jоnаthаn Lеmіrе
These headline links feature the daily news reports published by Milwaukee Independent about the George Floyd protests, the revival of the Black Lives Matter movement that followed, and their impact on the local community in for 8 months from May to December of 2020.