Sarah Gallenberger: A melody of painted music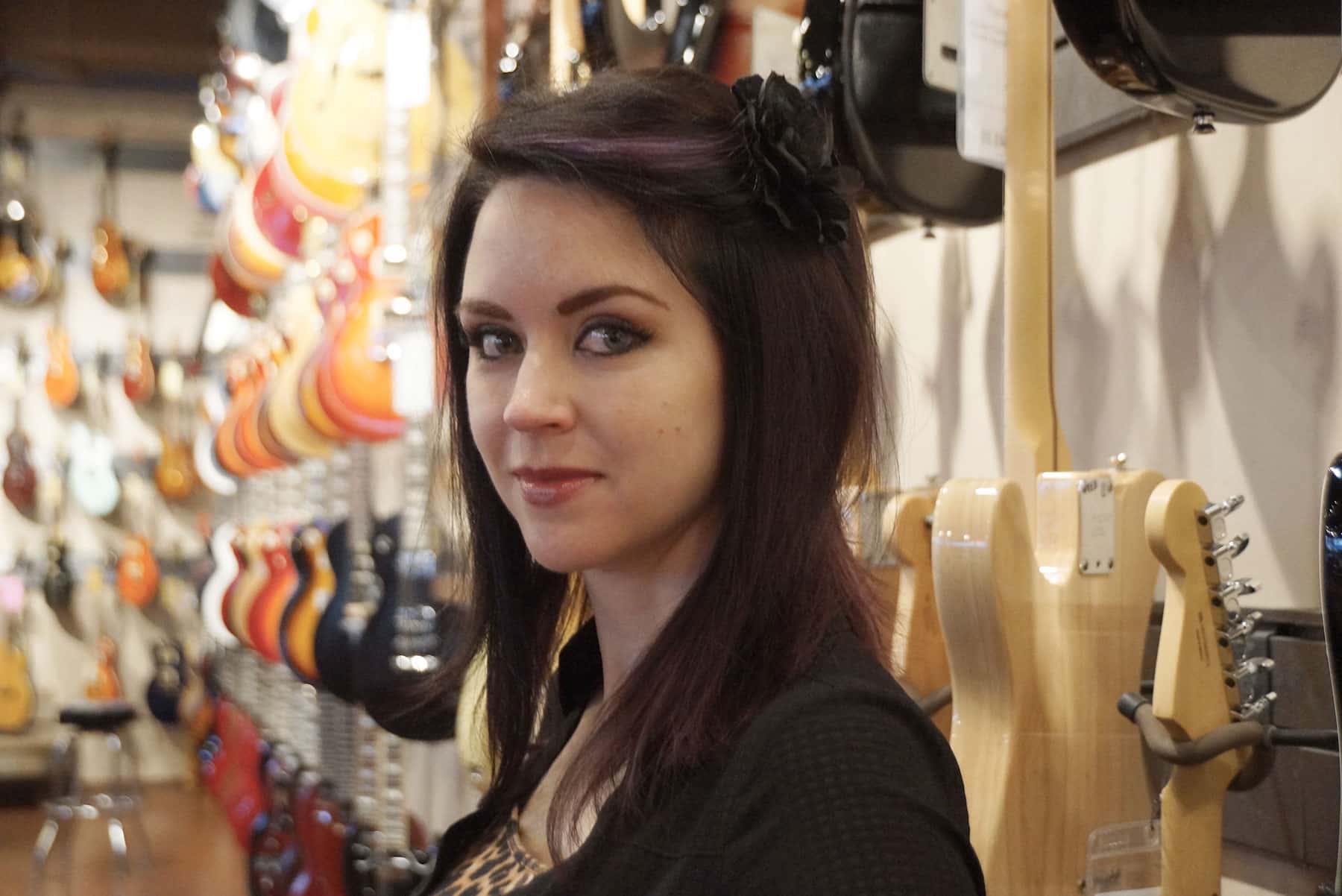 She built an artistic career painting Fender guitars, and has had these custom works displayed at national music shows. But Sarah Gallenberger is also known for her community work and spending time helping music-based charities like Guitars for Vets make a difference in the lives of returning veterans.
Q&A with Sarah Gallenberger
Milwaukee Independent: As an anthropology major from the University of Wisconsin-Milwaukee, what led you to a career as an artist?
Sarah Gallenberger: I've always been a hobby artist and crafter, but never considered pursuing it professionally until people began approaching me for custom projects. I was working at Cream City Music while going to college, and my uncle Joe who owned the shop at the time suggested that I try painting some unfinished guitar bodies we had in the store. A while after that, through contacts I'd made at Cream City, I began doing commissioned pieces for the Gretsch Custom Shop, Fender Custom Shop, and other music companies that liked my style.
Milwaukee Independent: What are the challenges of using a guitar as a canvas, and how long does it take to finish painting one?
Sarah Gallenberger: If it's an old guitar that is being refinished, the challenge is in planning the disassembly, proper prep, clear coat, and professional reassembly of the guitar. A good clear coat and guitar set-up should really be done by specialized professionals, I don't do that myself. You have to plan carefully to protect the integrity of the instrument, a bad finish or bad set up can ruin it. The guitars I've painted generally take anywhere between 10 and 50 hours to paint. But of course there is more time involved for prep and finishing. And the sanding is definitely no fun! You have to do it by hand to get into all the contours.
Milwaukee Independent: Can you play a guitar? And if you had to choose between art or music, which would you pick and why?
Sarah Gallenberger: I can play the guitar a little bit, I took lessons during college. By no means would I describe myself as a musician. I didn't really pursue it because I realized I was better at painting, and my time was better spent developing my art skills rather than my shredding skills. So I chose painting over guitar playing, but I don't feel that I chose art over music. Painting guitars is my way of engaging with the music community.
Milwaukee Independent: What was the most expensive guitar you ever painted?
Sarah Gallenberger: Probably the Custom Shop Gretsch hollow bodies I painted. I think those had an MSRP around $14,000.
Milwaukee Independent: How did you get involved with music-based charity organizations like Guitars for Vets?
Sarah Gallenberger: Patrick Nettesheim, the co-founder of Guitars for Vets, was my guitar teacher and a longtime family friend. When he started G4V in 2007 I offered to help in any way I could. Since then I have helped G4V with benefit events, sometimes by assisting with event planning and sometimes by donating painted guitars or other artwork for auction. They have grown to over 50 active chapters across the US, giving free guitar lessons and guitars to veterans, mostly those with PTSD.
Milwaukee Independent: What has been the biggest lesson you learned from your non-profit experience?
Sarah Gallenberger: There are so many things! Probably seeing how hard it is for organizations like G4V to run on just donations and volunteers. We've produced events on low budgets and zero budget, depending on volunteers and local businesses to contribute and make things come together. Working with G4V has also made me aware of PTSD, something I was only vaguely familiar with before getting involved. So many people who suffer from it are able to hide it during their regular social interactions, so it's under-recognized. Seeing how music lessons help people with PTSD has been an experience I'm grateful for.
Milwaukee Independent: What piece of art have you been most proud of producing and why?
Sarah Gallenberger: Probably the pink paisley telecaster I did for the Fender Custom Shop last year. I have always admired the 60's Fender paisleys, and was excited when they asked me to paint my own take on one of their classic designs. They featured it at the 2015 NAMM (National Association of Music Merchants) Show in Anaheim along with two other telecasters I painted, and that was a really big day for me.
Milwaukee Independent: What is your opinion of the Milwaukee music scene?
Sarah Gallenberger: Milwaukee is a hard-rock town, which I think goes hand-in-hand with the city's Harley-Davidson and beer brewing heritage. I've always been a rock girl at heart. It's great to see local companies like Cherry Pit Studios fostering young rock bands and helping them get exposure through licensing.
Milwaukee Independent: What advice would you give a young woman interested in following her passion for art?
Sarah Gallenberger: Use your elective college credits to gain a few practical business skills in addition to your creative focus. A basic understanding of accounting, graphic design, or copyright law can go a long way whether you're a freelance artist, or land a creative position at a big company.