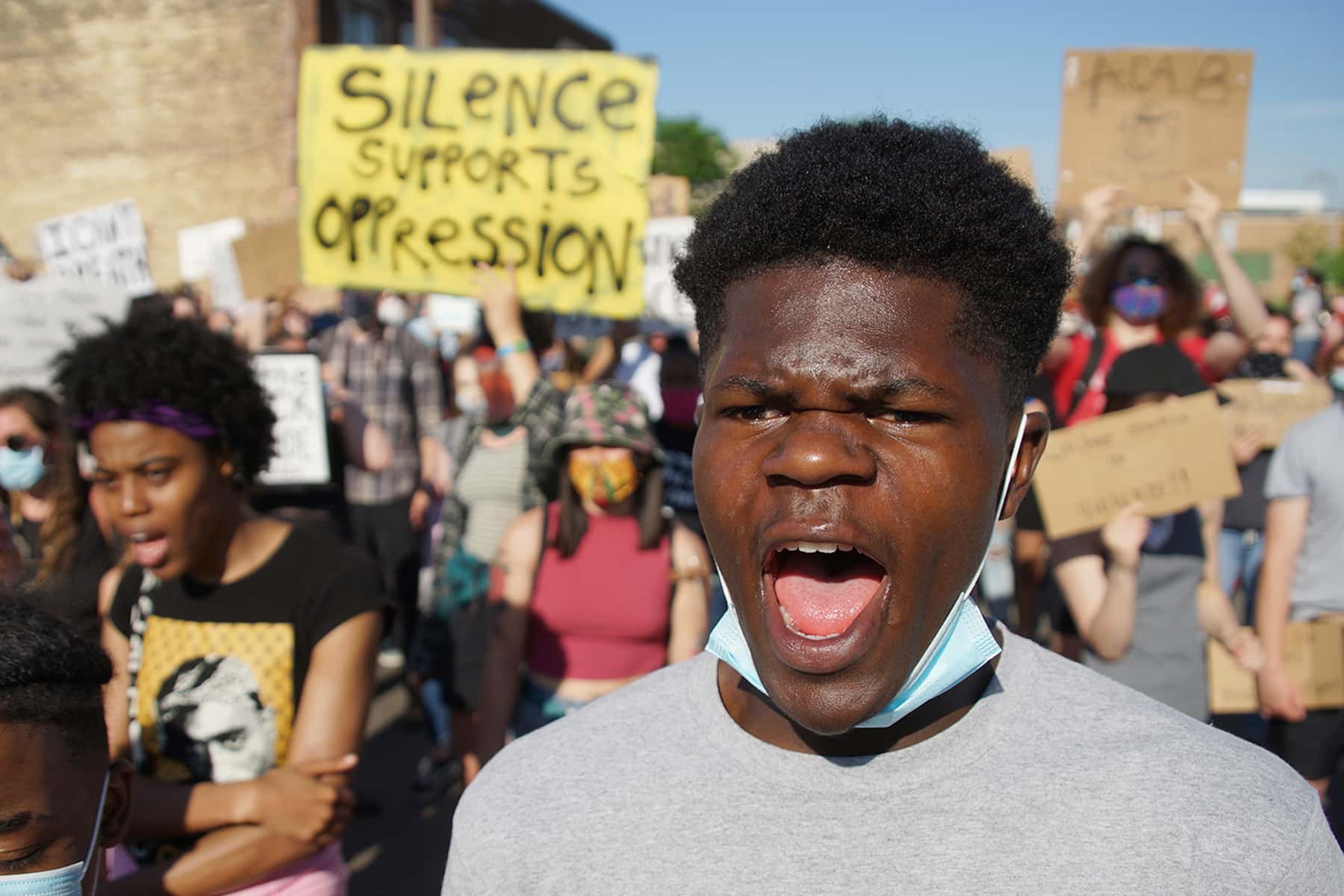 Peaceful protests demanding "Justice for George Floyd" have been held in Milwaukee since May 29, four days after the African American resident of Minneapolis was killed by a local police officer. The June 4 protest marked the seventh continuous day of marching across the city by residents of all colors.
The June 4 march began at 27th and Center Streets, the same spot as the original May 29 rally. Protesters took to the street and headed west, with the goal of reaching Wauwatosa for the first time. Groups have intentionally marched through different areas and neighborhoods to build a coalition of unity.
Armed security accompanied this march, after White Supremacists threatened to assassinate Milwaukee activist Frank Nitty in public. Sylville Smith's father joined the rally at the Wauwatosa border with the City of Milwaukee, and spoke to the mass of several hundred marchers. Sylville was also murdered by a Milwaukee Police officer in 2016, which inflamed an already damaged relationship between the African American community and the MPD. The incident sparked the Sherman Park unrest, which drew national attention.
The Day 7 march lasted for several hours, well past sundown and into the night. Many participants shared their stories along the way, and all proclaiming in union that Black Lives Matter. The peaceful and Constitutional expression was not met with any provocation from law enforcement.
What started as an impulse by Frank Nitty, Khalil Coleman, Rafael Mercado, and others, to march after the May 29 rally concluded has transformed into an organized movement with logistical support. Supplies are given out to keep participants hydrated and sustain their energy, and medical teams accompany the groups.
Much has been said about the death of George Floyd since he was killed on May 25, the systemic racism in America that victimizes people of color, and the lack of accountability from an abusive law enforcement culture. Much more will be said about these and other issues in the day ahead, as the peace movement continues for the second week in Milwaukee and around the country.
For now, the images in this photo essay stand as a snapshot from the ongoing struggle of this national movement that has taken root in Milwaukee. It follows in the tradition of the Open Housing Marches a half century ago led by Father James Groppi and Vel Phillips, which stretched for 200 consecutive days from August 1967 to March 1968.
Like then, the purpose was in protest of racial discrimination and met with hostility by white residents. But today, the marchers comprise every ethnic group in the city, and have an overwhelming participation by white local residents. The activists and supporters have again faced hostility, but this time from members of law enforcement.
These headline links feature the daily news reports published by Milwaukee Independent about the George Floyd protests, the revival of the Black Lives Matter movement that followed, and their impact on the local community in for 8 months from May to December of 2020.