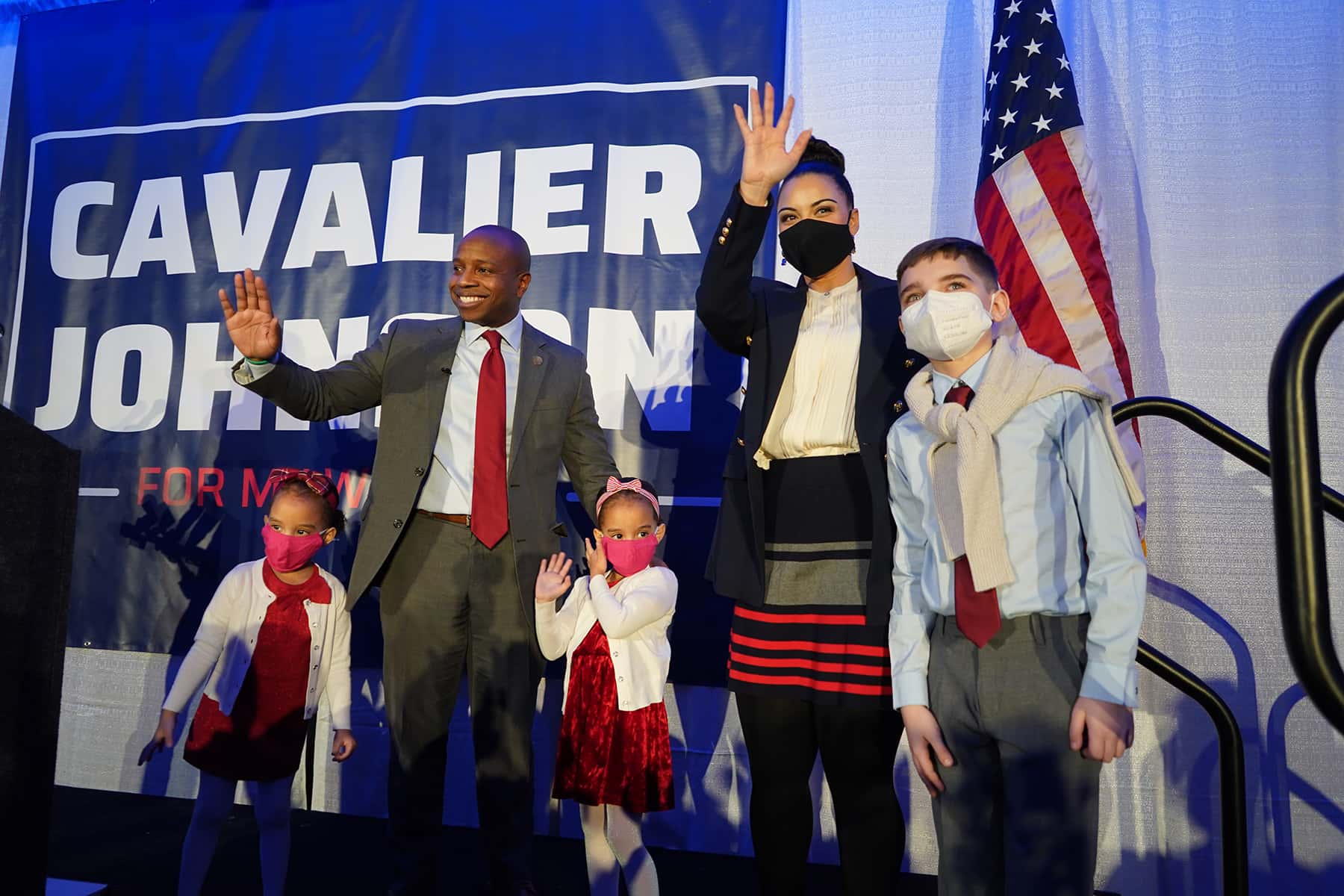 Milwaukee's February 15 primary election narrowed the field of Mayoral candidates from a collection of 7 to a final set of 2, Acting Mayor Cavalier Johnson and former Alderman Bob Donovan. The results position a historic vote for the general election on April 5 that would see the city elect its first Black Mayor, or slide very hard to right with its first Conservative Mayor.
Voters picked Johnson and Donovan from among candidates that included community activist Ieshuh Griffin, Milwaukee entrepreneur Michael Sampson, State Senator Lena Taylor, Milwaukee County Sheriff Earnell Lucas, and Milwaukee Alderwoman Marina Dimitrijevic.
Initial election results showed that Mayor Johnson received 42% of the votes, with 22% going to Donovan. By comparison, the former Alderman's unsuccessful 2016 campaign for Mayor brought him 30% of the vote in that election, against 70% for Tom Barrett.
The victory party for Mayor Johnson was held at Potawatomi Hotel & Casino. With his wife Dominique at his side and their three children, the Acting Mayor thanked the crowd of cheering supporters.
"I believe I am the right person for this moment. I am a Black man who has seen the best and worse in this community. I have lived these struggles. I have been the victim of crime in this city, and I have a bullet in my car to prove it," Johnson said. "I have a brother who runs a prison facility, and another brother in prison."
Milwaukee is Johnson's hometown. He stated his career serving the community at the YMCA, through a pre-college scholarship program was designed for low-income MPS Students. After graduating from UW-Madison and working in former Mayor Tom Barrett's office, he was elected to the Milwaukee Common Council to represent the 2nd District in 2016.
Johnson was was re-elected in 2020 and selected as the Common Council President. When former Mayor Tom Barrett resigned the remainder of his term to become Ambassador to Luxembourg, Johnson took on the role of acting Mayor on December 23.
Also born and raised in Milwaukee, Donovan became Alderman of the 8th District in 2008. He served in that role until 2020, when he retired from public office.
The February 15 primary marked the first time since 2004 that there was no incumbent running for Mayor in Milwaukee, and the fourth time since 1960.