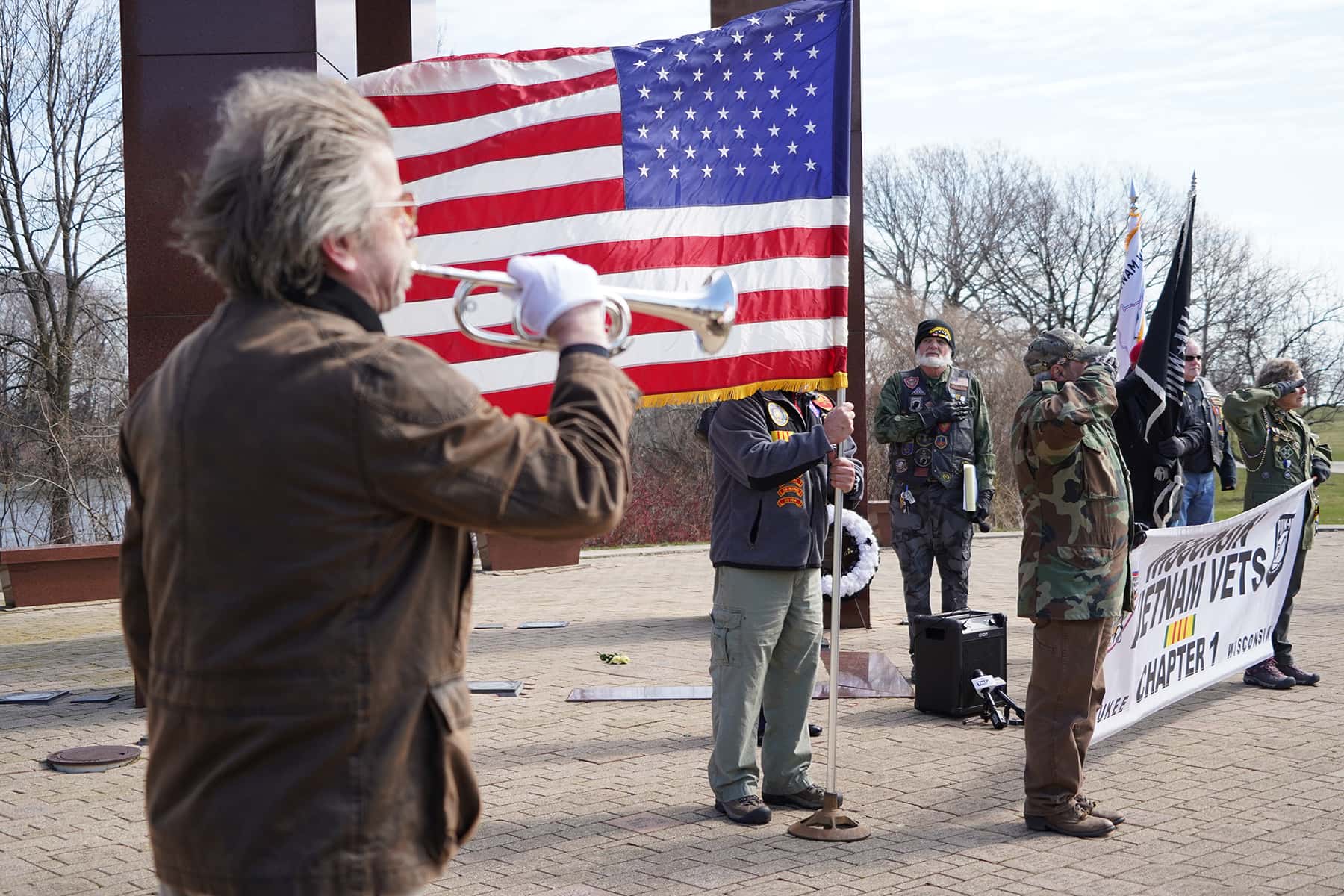 The Milwaukee County War Memorial Center recognized National Vietnam War Veterans Day with two special events on March 29, the day reserved each year to thank and honor Vietnam veterans and their families.
More than a dozen Vietnam veterans participated in a live virtual chat with Milwaukee-area middle school students. The 45-minute session was moderated by Dan Buttery, President and CEO of the War Memorial Center. Classes were sent a lesson plan about the Vietnam War. The youth returned a list of questions, asking the veterans about what led them to join the military, their experience in the conflict, what it was like to return home, and some of their journeys over the decades since.
"For me, Vietnam War Veterans Day is a day to show our pride as Vietnam veterans. This is our day. No more anonymity. No apologies. We served our country proudly and with dignity. We stepped up when others refused. We are brothers and sisters forever, and will never forget those who gave their tomorrows for our todays," said George Banda, Vietnam veteran.
On March 29, 1973, Military Assistance Command Vietnam (MACV) was disbanded and the last U.S. combat troops departed the Republic of Vietnam after 19 long years. March 29 was also the date President Richard Nixon chose for the first Vietnam Veterans Day in 1974.
Vietnam Veterans Day not only commemorates the sacrifices of Vietnam veterans, but also their families. It is part of a national effort to recognize the men and women who were denied a proper welcome upon returning home more than 40 years ago.
The Vietnam War Veterans Recognition Act was signed into law in 2017. It designated March 29 of each year as National Vietnam War Veterans Day. Many states previously celebrated "Welcome Home Vietnam Veterans Day" on March 29 or 30 of each year. Wisconsin enacted recognition of the March 29 date in 2009, to commemorate the 1,239 Wisconsin armed forces members who are listed on the Vietnam Memorial Wall in Washington DC.
"We look at remembering different eras in our life. What people shouldn't do is associate the war with the warrior. All around us here are a bunch of Vietnam vets saying thanks to each other, and letting America know that we're still here. We are proud Americans," said Gary Wetzel, Vietnam veteran and recipient of the Medal of Honor.
Following the Zoom chat with area students, a public ceremony was held at the Southeastern Wisconsin Vietnam Veterans Memorial located in Veterans Park, just north of the War Memorial Center. The program was organized by Wisconsin Vietnam Veterans (WVV) Chapter One. Milwaukee County Executive David Crowley, Milwaukee County Sheriff Earnell Lucas, and State Representative Ken Skowronski were among the civic leaders who attended and shared their respect for the Vietnam veterans and their families.
"I was a combat medic with the 101 Airborne Division. That year was mostly combat. I saw a lot of injuries, and a lot of my buddies did not make it back. This day is a very important day for me. I like to remember them," said Banda. When asked what the public can do to help support veterans, he added, "Acknowledge that veteran. Say, 'Thank you for your service and welcome home.'"
The SE Wisconsin Vietnam Veterans Memorial in Veterans Park is a sacred place for veterans. The three granite columns represent those killed in action, POW/MIA, and those who returned home. Every March 29, WVV Chapter One gathers there to honor those represented by this memorial. WVV Chapter One was the driving force in the construction of the memorial three decades ago this year. October 20, 2021 will be the official 30th anniversary commemoration of its dedication.