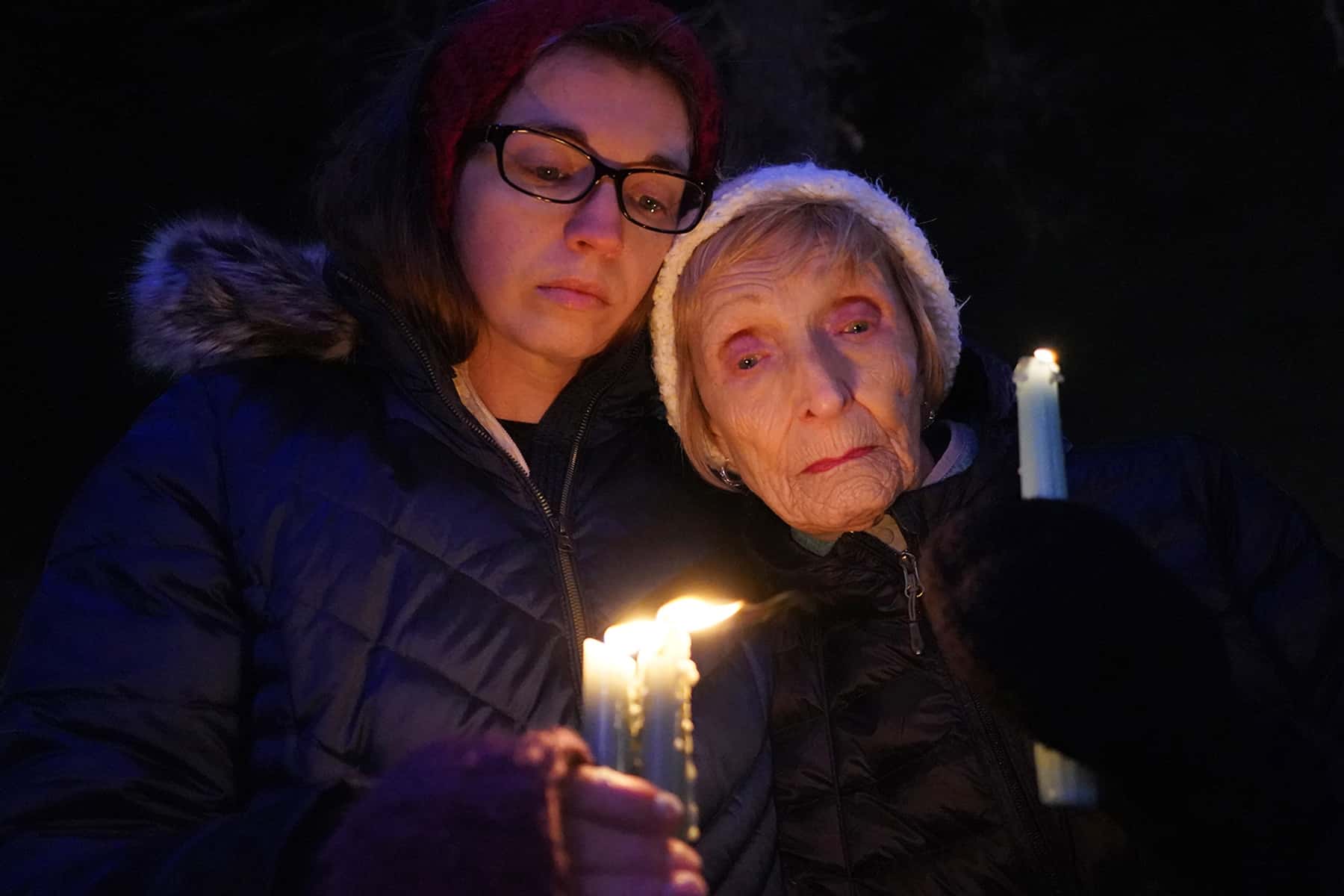 An interfaith prayer vigil was held at Cutler Park in the City of Waukesha on November 22, providing the community with an opportunity to join together in grief and hope, to remember those killed and injured in the Waukesha Christmas Parade tragedy just a day before.
Hundreds gathered on the frigid night holding candles, looking for comfort and strength in each other for the long journey ahead. On November 21, a SUV drove through the annual Christmas Parade in the City of Waukesha, killing five and injuring more than 40 people.
Photos and videos of the incident went viral across social media, showing the tragedy unfold and its graphic aftermath. Milwaukee Dancing Grannies, a dance band that performs at parades, said members of the group were killed in the incident without identifying them. Political and community leaders issued statements of condolences and support to those impacted by the tragic event.
During a news conference on November 22, authorities identified the suspect accused of driving through the parade as 39-year-old Darrell Edward Brooks Jr. Waukesha Police Chief Dan Thompson named the five victims who died in the incident, four women and one man between the ages of 52 and 81. He said that 48 people also were injured, including two children who were in critical condition.
At the interfaith vigil, Mayor Shawn Reilly, Police Chief Thompson, and Fire Chief Steve Howard were among the leaders who spoke to the crowd. Sharing prayers for healing were religious leaders from the Christian, Sikh, Muslim, Jewish, Unitarian Universalist, and other faith traditions. The event was hosted by the Association of Waukesha Congregations, with participation by the Brookfield-Elm Grove Interfaith Network (BEGIN), and the Interfaith Conference of Greater Milwaukee.
Although many who gathered at Cutler Park were filled heartbreak and anger, it was a moment of unity that families, friends, and strangers were able to come together as one community in fellowship. Pardeep Singh Kaleka, Executive Director of Interfaith Conference of Greater Milwaukee, delivered a message of hope for the difficult days ahead with a guiding prayer.
Good evening, Sat Sri Akal, Namaste, Salam, Shalom, and greetings. On behalf of the Interfaith Conference of Greater Milwaukee and our diverse faith communities and partners, we humbly offer this prayer.

I respectfully ask us to bow our heads as we offer this interfaith prayer; God in all things, God of all people, we pray for all those who have suffered and continue to suffer right now. Those who saw and experienced unimaginable tragedy and hurt last night.

Those that we have lost, please keep them in your mercy. Those that are struggling and holding on to life inside of our hospitals and critical care units, please keep them in your grace. Those that are gathered here tonight, breathing in your life and collectively praying right now, please keep them in your compassion.

We have had a difficult time and been going through some very difficult days, but we have not lost faith. We know that you are near. We need you to cover us. Cover all of us in your light. Show us how to embody this light. Show us how this light not only gives us life, but also gives us HOPE. And your HOPE is so crucial right now.

Tonight, we are blessed to be surrounded by our sacred faith families and amazing faith leaders who stand united to support each of us in the richness of their religions and spiritualities. We thank you for the law enforcement officers and first responders, we thank you for the medical professionals working so hard to save lives right now as we pray. We thank you for putting each and every one of us in this position to support one another, for this is the beloved community.

We know life is to be cherished, we are grateful for every second, minute and hour that you gifts us.

As we move forward, may we all serve towards a betterment of our World. We ask you for strength when we feel weak, we ask you for courage when we feel scared, and we ask you for unity when we feel divided. Tonight, we ask you for healing as we feel pained.

We are all your children and we are ever grateful for your love, your mercy, and your compassion.

Amen, Ameen, Shalom, Waheguru, Ashe, and may God bless us all.