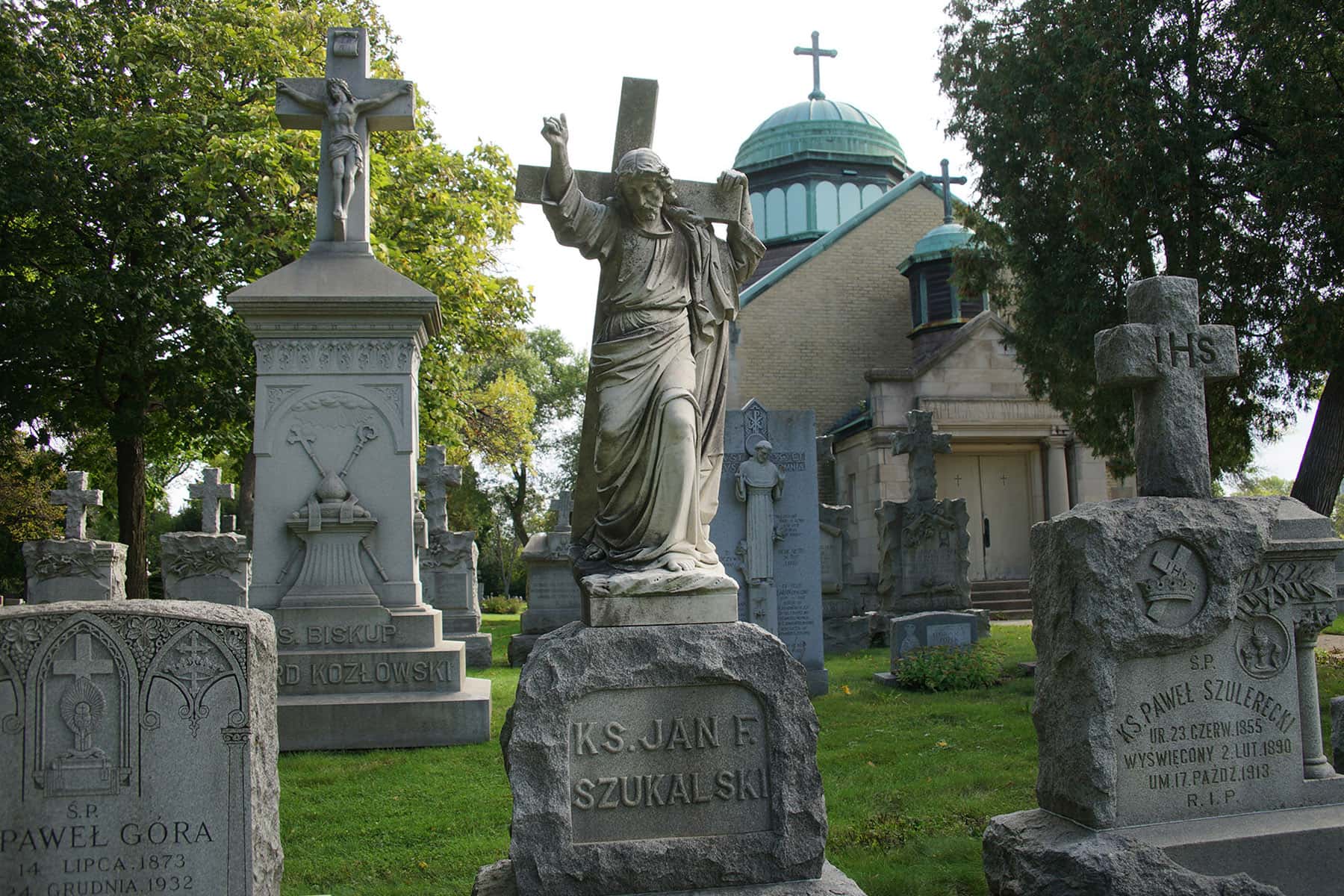 Like many ethnic groups that settled in Milwaukee in the early days of its frontier foundation, the Polish Diaspora and their descendants on the south side wanted a final resting place that would serve the community.
Catholic Archbishop M. Heiss bought 30 acres of land just south of Holy Trinity Cemetery for what was to become Saint Adalbert's Cemetery on December 7, 1888. Because it served all the local Polish parishes, it was commonly called the Polish Union Cemetery until Archbishop Messmer restored its original consecration name, Saint Adalbert's.
The cemetery memorializes the monk of Trier, Saint Adalbert, who became Archbishop of Magdeburg in the 10th century. His ministry was to the Slavic people who honor him as a patron saint.
In 1908 and 1916 more property was purchased east of the railroad tracks just north of the Howard Water Treatment Facility. Additional purchases on both sides of the tracks were made in 1928, 1931, and 1937, expanding the cemetery grounds to the current boundaries. The bridge spanning the railroad tracks to connect the east and west sections of the cemetery was opened in 1946.
At one time there was a fence between the Saint Adalbert's and Holy Trinity's cemeteries, but that came down several decades ago. The cemeteries kept their original identities but were combined in the 1970s. Unfortunately many of the pre-1900 records were destroyed in a fire.
The combined grounds cover 98 acres, with about 63,000 buried in graves and 19,000 in crypts. Aside from the main military section on the grounds of Saint Adalbert, there is another special area for service personnel. The memorial plot and marker were established in the 1930s, for soldiers from Milwaukee who died during the Banana Wars.
The Banana Wars were a series of occupations, police actions, and interventions on the part of the United States in Central America and the Caribbean, between the end of the Spanish–American War in 1898 and the inception of the Good Neighbor Policy in 1934.
The Archdiocese of Milwaukee Cemeteries are managed by the Catholic Funeral and Cemetery Services (CFCS), a charitable organization owned by the Catholic Church. CFCS has been devoted to earning the trust of family's throughout the nation by providing resources for local communities.
In late 2018 CFCS was brought in assess the post Hurricane Irma and Maria situation in Puerto Rico. It has since been working with FEMA and the Catholic Church in attempting to rebuild Puerto Rico's houses of worship.